This pumpkin risotto strays from the usual method of making risotto, taking it from the stove to the oven. The result is an easy vegetarian recipe centered on pantry ingredients that has an elevated comfort food vibe.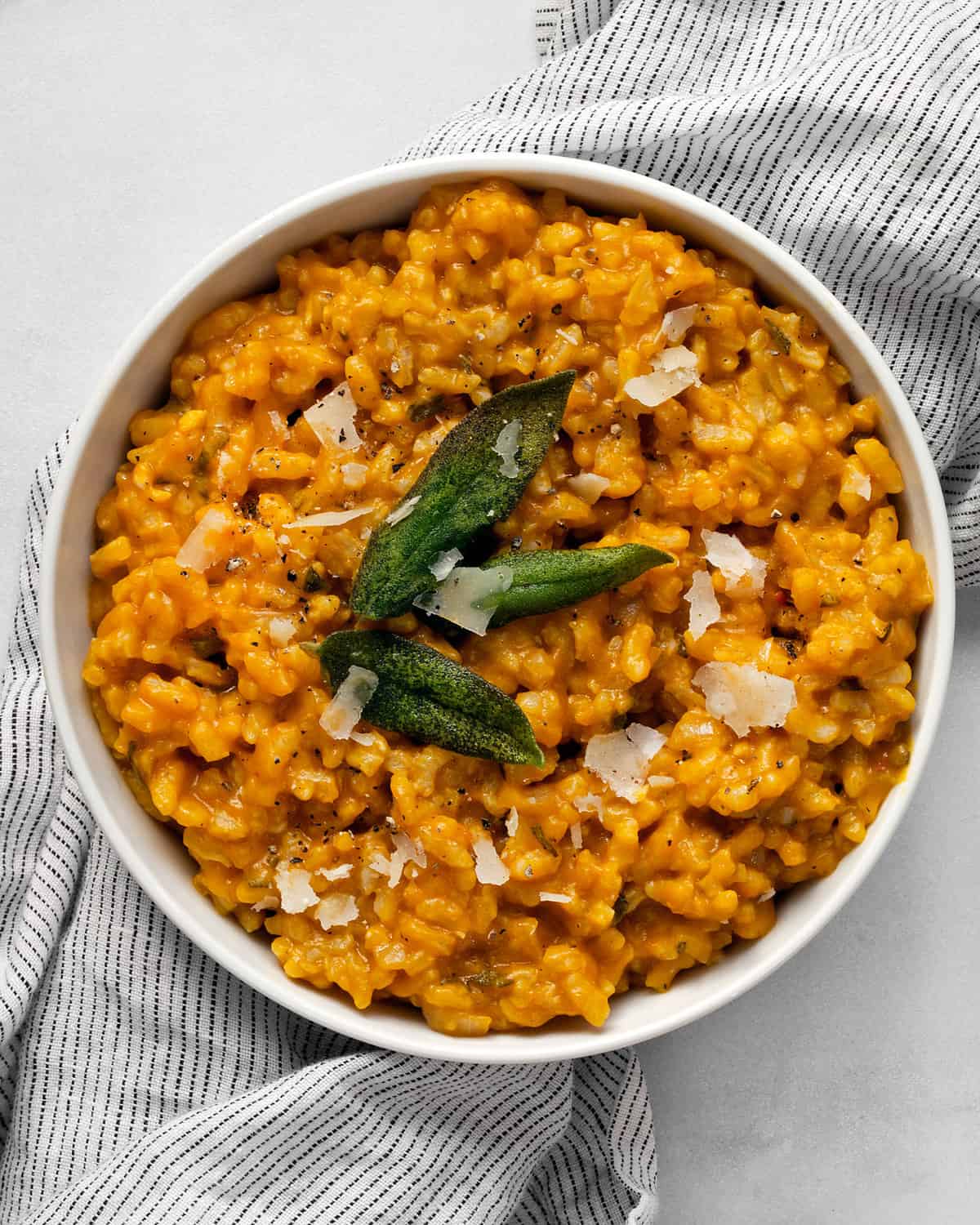 Fall is the time of year when you're obligated to have at least one can of pumpkin puree in your cupboard. But don't just default to something sweet and baked like pumpkin muffins or pie. There is absolutely nothing wrong with these treats, but try going savory.
Think autumnal one-pot dinners like this pumpkin risotto recipe. It is cozy and perfect for a September, October or November meal. Actually, I keep making it all the way through winter because it is a trusty recipe rooted in pantry ingredients, so it's what you need for those months when not much fresh produce is in season.
Why You Need This Recipe
It is a hands-free way to make risotto. Traditionally, risotto involves continually stirring broth into rice until the grains absorb it and turn creamy. You can let the oven do the work instead. Start by sautéing the aromatics, then add the rice and pour in the liquids. Bring everything to a boil, cover the pot with a lid and bake it in the oven.
Pumpkin puree is so convenient. I have a special spot in my kitchen for canned goods because they deserve it and more recognition. These humble shelf-stable ingredients lifesavers when it comes to throwing together a meal.
This risotto is autumn in a bowl. Warm, comforting and satisfying with fresh sage leaves, this recipe is all that you want for the taste of fall in an uncomplicated vegetarian meal.
What Is Risotto?
This Northern Italian dish is made with rice. When you gradually stir broth into the starchy grains as they simmer on the stove, they become creamy. But make no mistake; a good risotto doesn't involve any actual cream.
In Italy, risotto is typically served as a first course, but I treat it like a main dish. It cooks on the stove with a lot of care, attention and stirring to time the amount of broth soaked up by the grains of rice just right.
What Rice is used for Risotto?
Arborio is short-grain, high-starch rice that is great for making risotto. That's because as it cooks it releases that starch to give you a creamy consistency. Carnaroli and Vialone Nano are other varieties of Italian rice that are excellent choices for risotto.
Sometimes I like to bend the rules and use barley or farro and cook them in the style of risotto. They are packed with whole grains and nutrition.
The Ingredients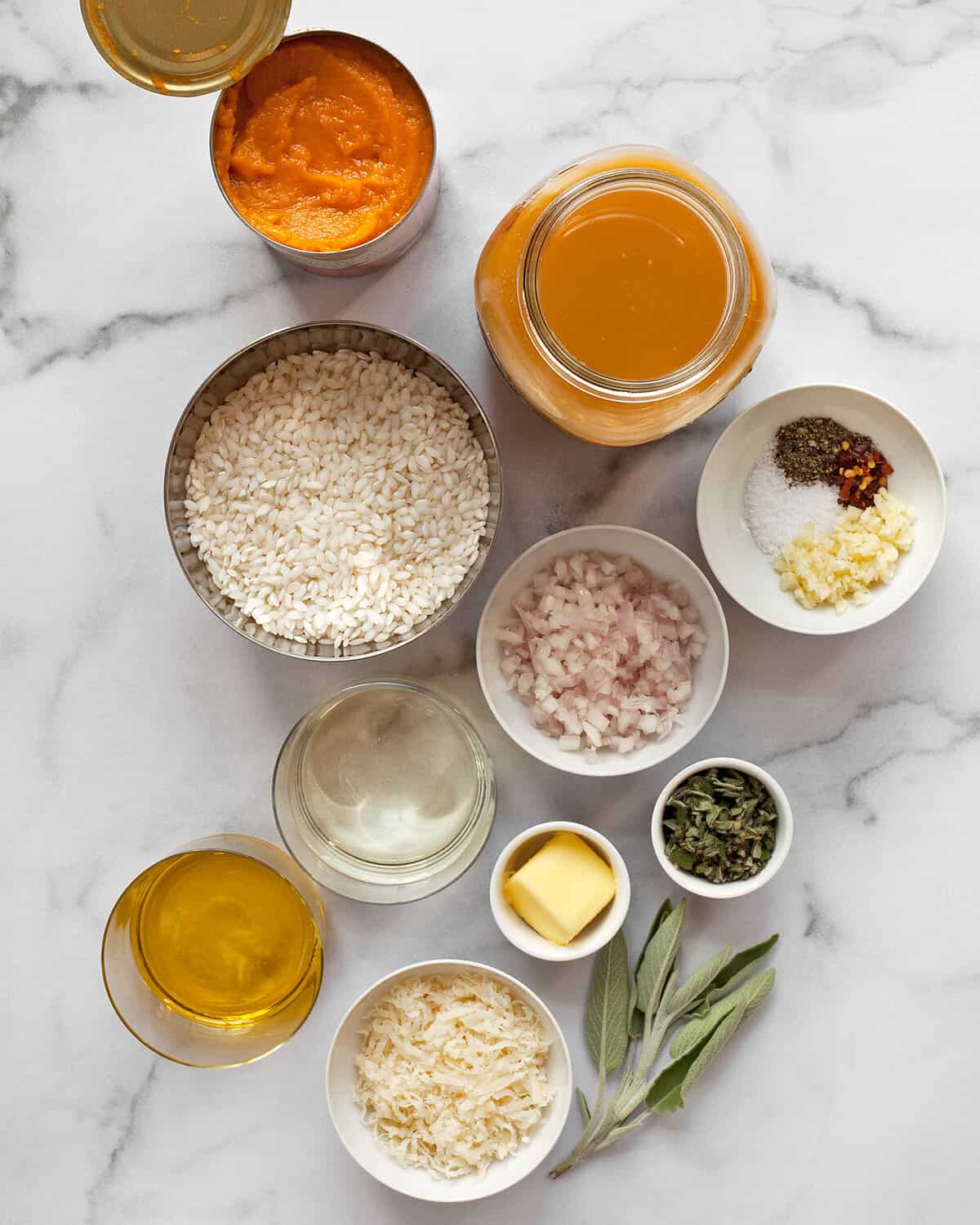 This is what you need:
Rice: As mentioned, Arborio is my go-to risotto rice because it is widely available and has a good texture. You can substitute with Carnaroli or Vialone Nano rice.
Pumpkin puree: Make sure to buy a can that doesn't involve any spices that would be more appropriate for pumpkin pie. You just need plain pumpkin puree.
Olive oil & butter: For the best flavor, use this combination to sauté the shallots, garlic and spices.
Shallots feel like fancier and more understated onions. They have a slight sweetness and are more delicate and mild than white or yellow onions that have a stronger sharpness.
Garlic supports the shallots and spices pulling the pumpkin puree squarely into the savory camp.
Sage is an herb that is distinctly earthy and often paired with pumpkin in pasta and other dishes.
White wine: A splash of dry white wine after you stir the rice into the sautéed shallots, herbs and spices, deglazes the bottom of the pan and adds acidity balancing out the richness.
Parmesan cheese adds to the creaminess of the risotto, giving it that savory, umami flavor.
Red pepper flakes, salt & pepper are the combination of dried seasonings for the risotto. The red pepper flakes are really important to add a slight spicy kick to cut through the richness of the rest of the ingredients.
Vegetable broth: Always use low-sodium broth. If you don't mind if the recipe isn't vegetarian, you can substitute with chicken broth.
How To Make Pumpkin Risotto
Preheat the oven to 400 degrees F.
1. Melt the olive oil and butter in a large ovenproof saucepan or Dutch oven over medium heat.
2. Sauté the shallots. They will become soft and translucent in 2-3 minutes.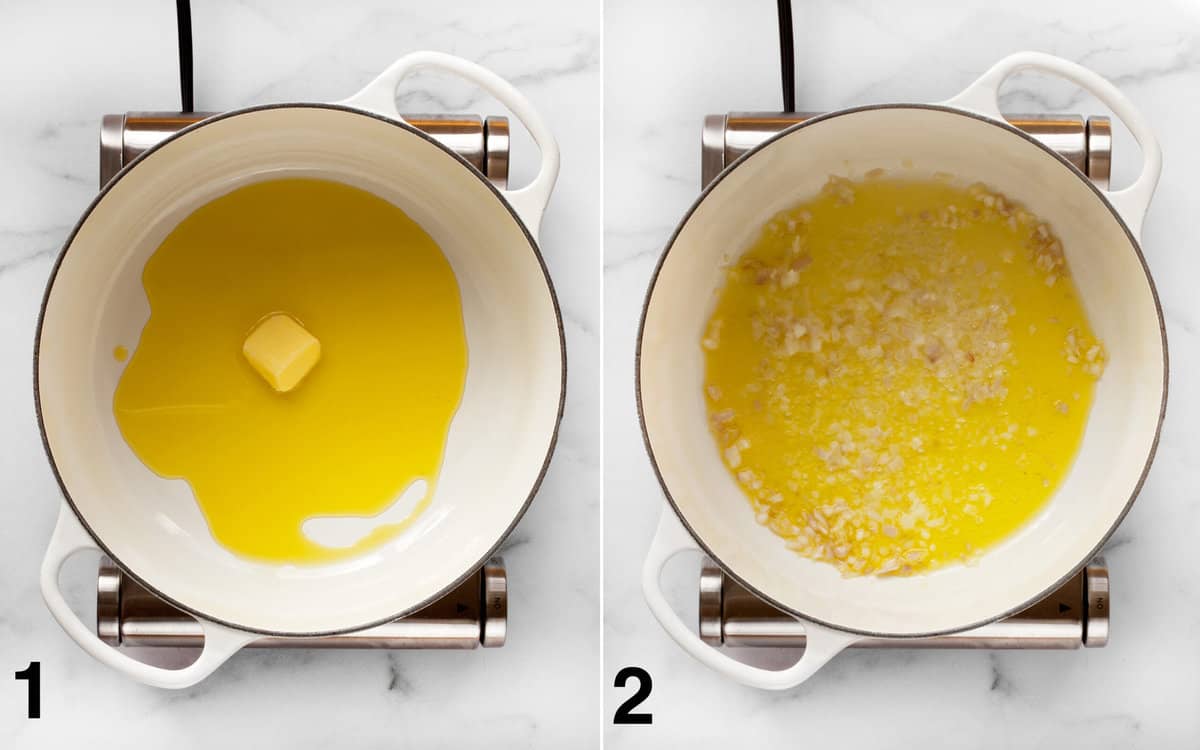 3. Stir in the garlic, red pepper flakes, salt, pepper and chopped sage. Cook until fragrant, about 30 seconds – 1 minute.
4. Then stir in the Arborio rice, mixing it in with the shallots, garlic, spices and herbs.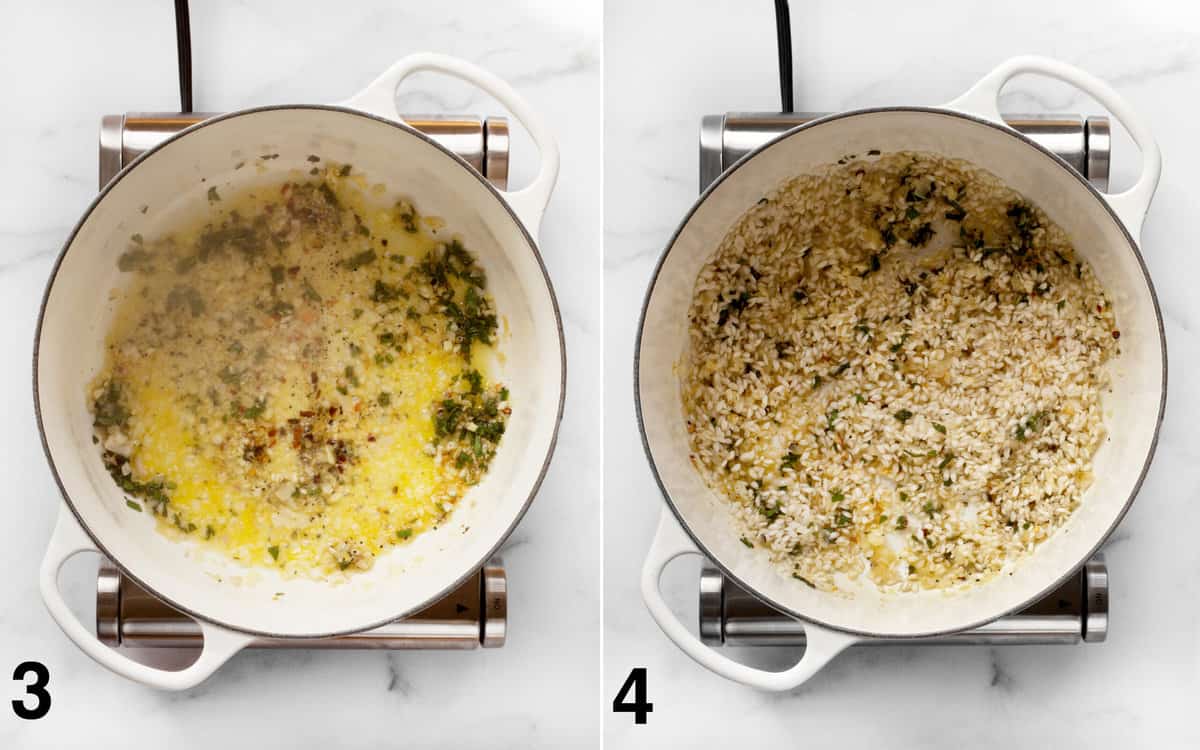 5. Pour in the white wine. It will bubble and deglaze the pan and be absorbed by the rice.
6. Add the pumpkin puree and vegetable broth. Stir it all together and bring the mixture to a boil. Cover the pot and transfer to the oven to bake until the rice is tender, and it has absorbed most of the liquid, about 20-25 minutes.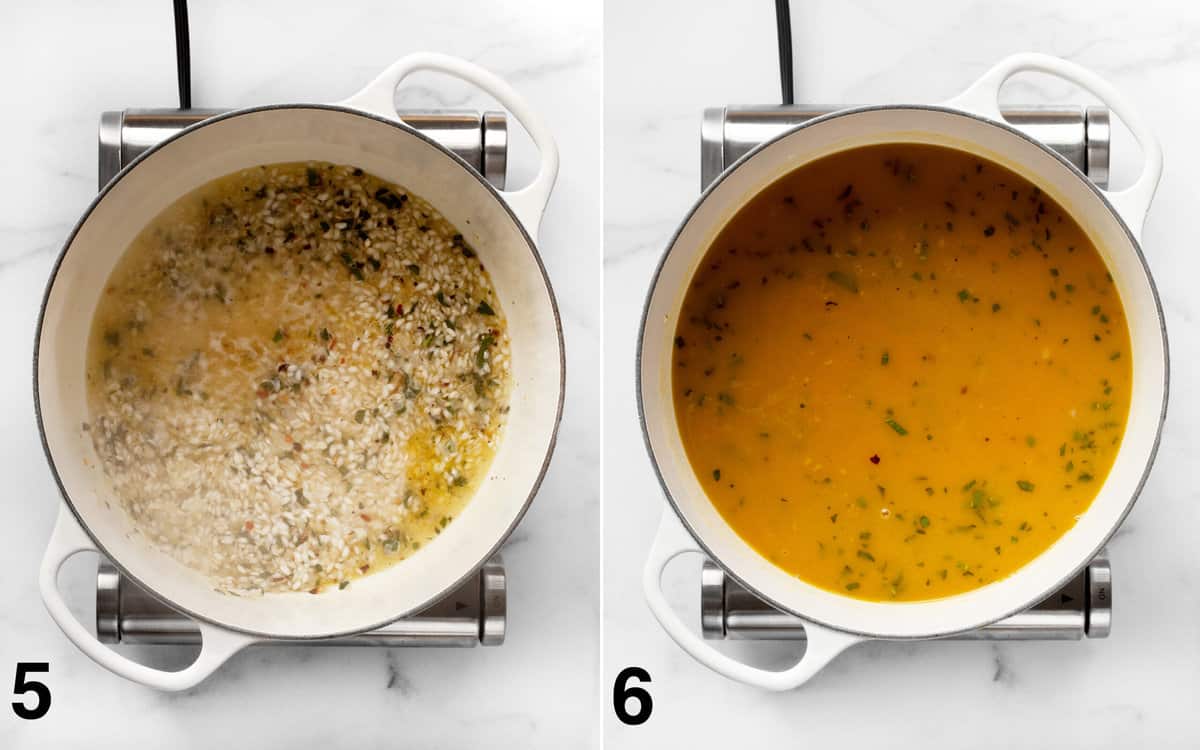 7. Fry the sage leaves in olive oil until they are crispy. Do this while the risotto is baking in the oven.
8. Stir the grated Parmesan into the cooked risotto. Divide it into bowls for serving and garnish with crispy sage and additional cheese.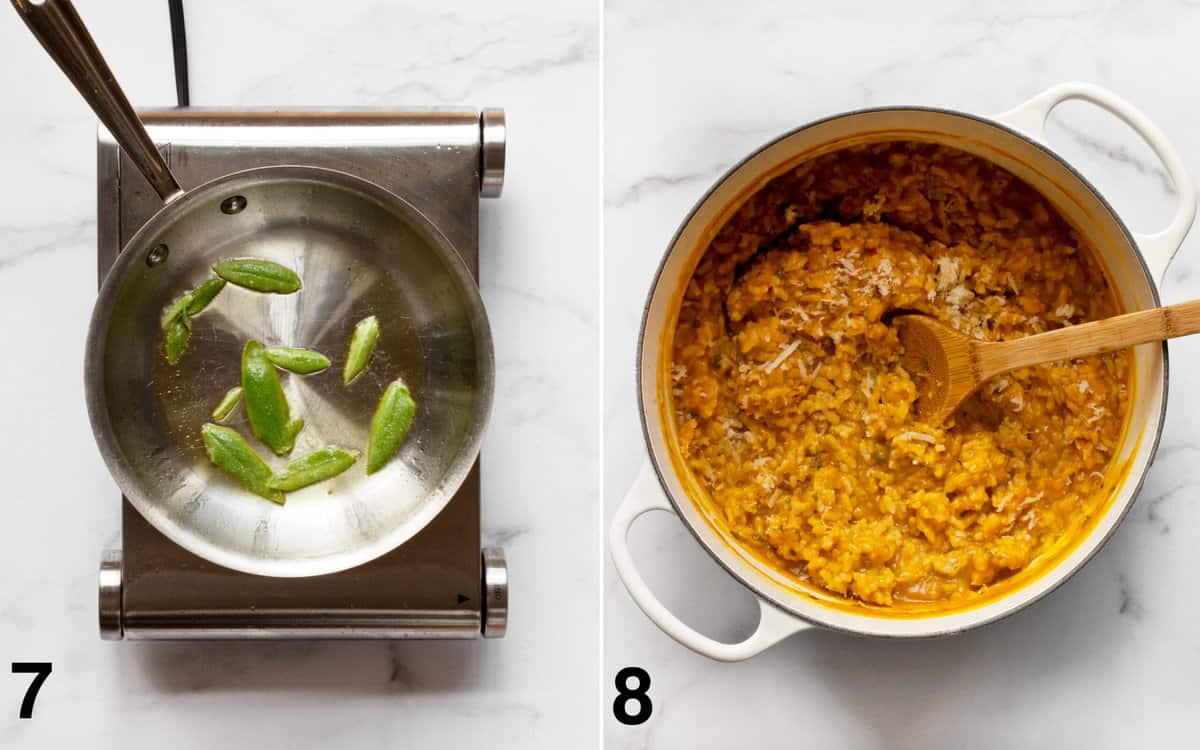 Serving
You can serve the risotto as a main course with greens such as an arugula salad with lemon vinaigrette or an Italian chopped salad.
For a side dish, try vegetables prepped on the stove to save oven space for the risotto. A couple suggestions include sautéed broccolini or sautéed butternut squash and kale.
Leftovers
If you have leftover risotto, store it in an airtight container in the fridge up to 3 days. Warm it on the stove in a skillet over low heat, stirring around the rice. You can also warm it up in the microwave. The grains will become softer as they sit and when they are re-warmed.
FAQs
Is risotto gluten-free?
Yes, Arborio rice is naturally gluten free. Of course, always read the labels for all the ingredients to make sure there is no gluten.
Can you make baked risotto ahead of time?
No. It's best prepped and cooked at once and then eaten right away.
Is risotto rice or pasta?
This dish is made with short-grain rice and is not considered pasta.
More Risotto Recipes
Butternut Squash Barley Risotto
Tomato Farro Risotto
Kale Barley Risotto
More Pumpkin Recipes
Tofu Pumpkin Curry
Fresh Pumpkin Pasta
Pumpkin Wild Rice Salad
If you try making this baked risotto, let me know. Please leave a comment and rating below. Thanks!
Baked Pumpkin Risotto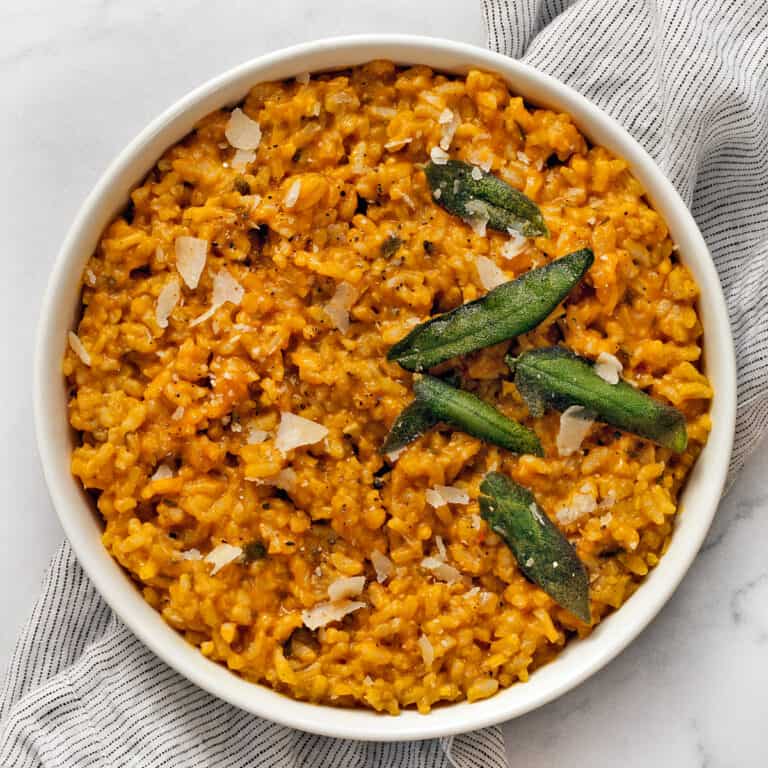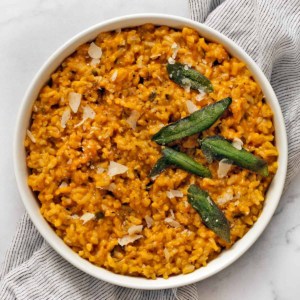 Canned pumpkin puree is just one reason to love this easy one-pot baked pumpkin risotto. It is total comfort food with everything to love about fall.
Ingredients
2

tablespoons

olive oil

1

tablespoon

butter

2

shallots

finely chopped

2

garlic cloves

minced

1/4

teaspoon

red pepper flakes

1

teaspoon

kosher salt

1/2

teaspoon

black pepper

1

tablespoon

chopped fresh sage plus 1/4 cup whole sage leaves

1

cup

Arborio rice

1/2

cup

dry white wine

1-15

ounce

can pumpkin puree

2-1/2

cups

low sodium vegetable broth

1/4

cup

grated Parmesan plus more for serving
Instructions
Preheat the oven to 400 degrees F.

In a large ovenproof saucepan or Dutch oven, heat 1 tablespoon olive oil and butter over medium heat.

Sauté the shallots until they start to turn soft and translucent, about 2-3 minutes.

Add the garlic, red pepper flakes, salt, pepper and chopped sage. Continue cooking for 30 seconds – 1 minute until fragrant.

Stir in the Arborio rice and toast for 1 minute.

Pour in the wine, letting it bubble, deglaze the pan and be absorbed by the rice.

Stir in the pumpkin puree and vegetable broth. Bring to a boil, cover the pan with a lid and transfer to the oven.

Bake the risotto for 20-25 minutes until the rice is tender.

While the risotto is in the oven, make the crispy sage. In a small saucepan over medium-high heat, warm the olive oil. Fry the sage leaves for 30 seconds – 1 minute until crisp.

Stir in the grated Parmesan letting it melt into the risotto.

Divide the risotto into bowls and top with crispy sage and additional Parmesan.
Notes
Store leftovers in an airtight container in the refrigerator up to 3 days. You can warm them over low heat in a pan on the stove. You can also warm them in the microwave. The risotto will become softer as the leftovers are in the refrigerator and when you warm them up.
Instead of Arborio rice, you can use Carnaroli and Vialone Nano rice.
If you want, you can skip frying the sage for the garnish.
Nutrition
Calories:
377
kcal
|
Carbohydrates:
55
g
|
Protein:
7
g
|
Fat:
12
g
|
Saturated Fat:
4
g
|
Polyunsaturated Fat:
1
g
|
Monounsaturated Fat:
6
g
|
Trans Fat:
0.1
g
|
Cholesterol:
13
mg
|
Sodium:
725
mg
|
Potassium:
351
mg
|
Fiber:
6
g
|
Sugar:
5
g
|
Vitamin A:
16726
IU
|
Vitamin C:
6
mg
|
Calcium:
107
mg
|
Iron:
4
mg
Nutrition information is automatically calculated, so should only be used as an approximation.
Originally published October 19, 2020. Updated: October 17, 2022.