Canned pumpkin puree is just one reason to love this easy one-pot Baked Pumpkin Risotto. It is total comfort food with everything to love about fall.

Risotto eats like a fancy version of comfort food.

With the temperature dropping and everything else these days, I think we all can use more ways to feel warm and fuzzy inside.

We deserve it.

We need it.
In the last couple years I have given up on cooking risotto the traditional way.

There is nothing wrong with stirring veggie or chicken broth into a pot of arborio rice and letting it bubble away until the grains have absorbed most of the liquid.

Actually, I'm the one who has the problem. It's my fault not the risotto.

No evening goes by, whether weekend or weeknight, when I am not multi-tasking.

I still haven't gotten to the point of my six-year-old eating the same thing for dinner as mom and dad.

So add making a separate dinner to my list of evening tasks along with a bunch of other to-dos.
Baking risotto turns it into the kind of one-pot meal that a lot of people tell me are the recipes they have on repeat.

It's pretty obvious why.

Less effort on the cooking side and fewer dishes at the end. It's a total win-win.
Another Reason to Love Canned Pumpkin
Besides the convenience of a single pot, this baked pumpkin risotto uses canned pumpkin.

Of course, there is always the time and place to get out a chef's knife and slice into a big squash or pumpkin, but this risotto isn't it.

Take advantage of the convenience of pumpkin puree for this recipe.
How To Make Baked Pumpkin Risotto
After preheating the oven, the first step of making baked pumpkin risotto is to sauté chopped white onions in olive oil in a large ovenproof saucepan with a lid.

I like using my cast iron enameled dutch oven.

Once the onions are soft, add minced garlic, red pepper flakes, salt and pepper.

Probably because of pie, pumpkin is a sweet first ingredient.

I like the hint of heat from the red pepper flakes.

Along with salt and pepper, they reinforce that this is a savory dish.
Then put a cup of arborio rice into the pot giving it a minute to toast.

After that, pour in a half cup of dry white wine. When the rice has absorbed the wine, add the vegetable broth and pumpkin puree.

Bring the mixture to a boil, put the lid on the pot and transfer it to the 400-degree F oven.
Bake the risotto for 25-30 minutes until the rice is tender.

Fold grated parmesan and chopped parsley into the baked pumpkin risotto.

I like topping each plate or bowl with shaved parmesan, toasted chopped walnuts, more parsley and a sprinkle of salt and pepper.
Print
Baked Pumpkin Risotto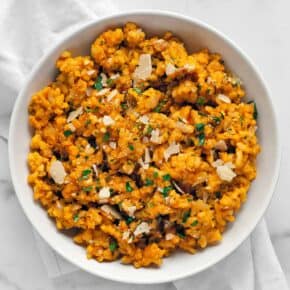 Prep Time:

5 minutes

Cook Time:

32-37 minutes

Total Time:

37-43 minutes

Yield: Serves

4

1

x
Scale
Ingredients
1 tablespoon olive oil
1 small white onion, roughly chopped
2 garlic cloves, minced
1 teaspoon kosher salt plus more for serving
1/2 teaspoon black pepper plus more for serving
1/4 teaspoon red pepper flakes
1 cup arborio rice
1/2 cup dry white wine
1-15 ounce can pumpkin puree
2 cups vegetable broth
1/4 cup grated Parmesan plus shaved Parmesan for serving
1 tablespoon chopped parsley plus more for serving
Toasted chopped walnuts for serving
Instructions
Preheat the oven to 400 degrees F.
In a large ovenproof saucepan, heat 1 tablespoon olive oil over medium high heat. Sauté the onions until soft and translucent, about 3-4 minutes. Add the garlic, salt, pepper and red pepper flakes cooking until fragrant, about 30 seconds.
Stir in the arborio rice and cook for 1 minute. Pour in the wine, letting it bubble and be absorbed by the rice.
Add the pumpkin puree and vegetable broth and bring to a boil. Cover the saucepan with a lid and transfer to the oven.
Bake for 25-30 minutes until the rice is tender. Stir in the grated Parmesan and parsley. Season to taste with salt and pepper
Top with shaved Parmesan, additional parsley and toasted walnuts before serving.
SHARE THIS