Crisp with fresh fruit, this kale apple salad is everything you want from a fall-themed bowl of greens. It has halved grapes, toasted walnuts and thinly sliced manchego cheese, all tossed in a mustardy champagne vinaigrette. There are so many reasons to love apples in salads including this recipe, my crunchy Apple Cabbage Salad and a Brussels Sprout Apple Salad.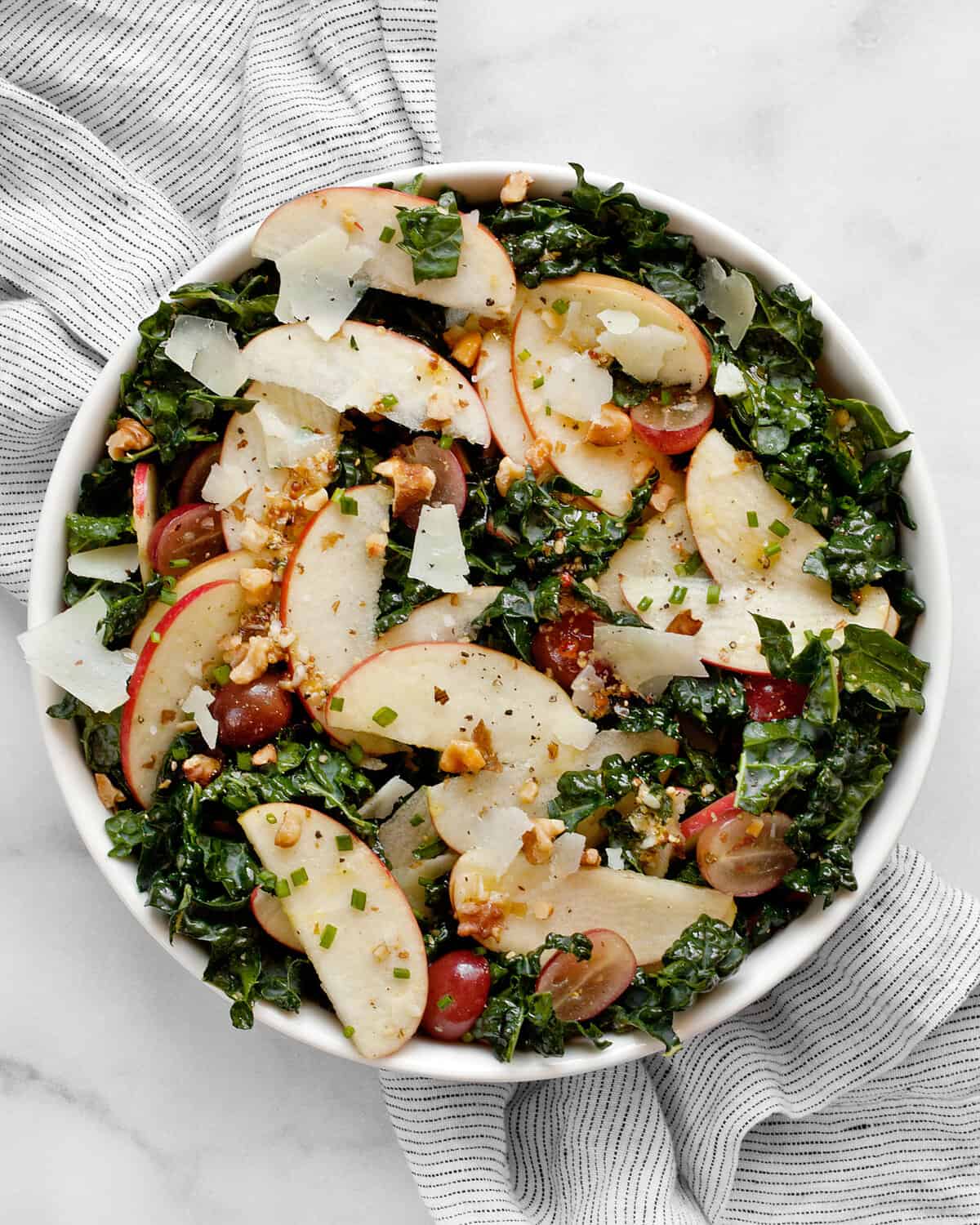 There's no season that's not salad season. The type of lettuce you use and the feature ingredient will determine when you should be making it. One of my favorite salad additions is fruit. That's because I love savory dishes that are balanced with sweet bites here and there.
Apples are absolutely perfect for fall salads. Sliced or diced they go with pretty much any greens, even something as strong and sturdy as kale. The pleasantly bitter flavor of lacinato kale pairs so well with subtly sweet slices of apples. I also include red grapes to go with them.
The Best Apples for Salads
If you've ever gone to a farmers market or made a trip to an orchard, you know that there are too many apple varieties to count. For salads, you want apples that are crisp. This makes them easier to cleanly slice. Also, pick a type that is slow to brown once you cut it. My go-tos for salads include Pink Lady, Fuji and Honeycrisp apples.
What Makes A Good Kale Salad
No offense to kale, but it really comes down to everything else that you put with it. The dressing helps to make the kale leaves more tender and add flavor. Fruit adds moments of sweetness while nuts give the salad toasty crunch.
The Ingredients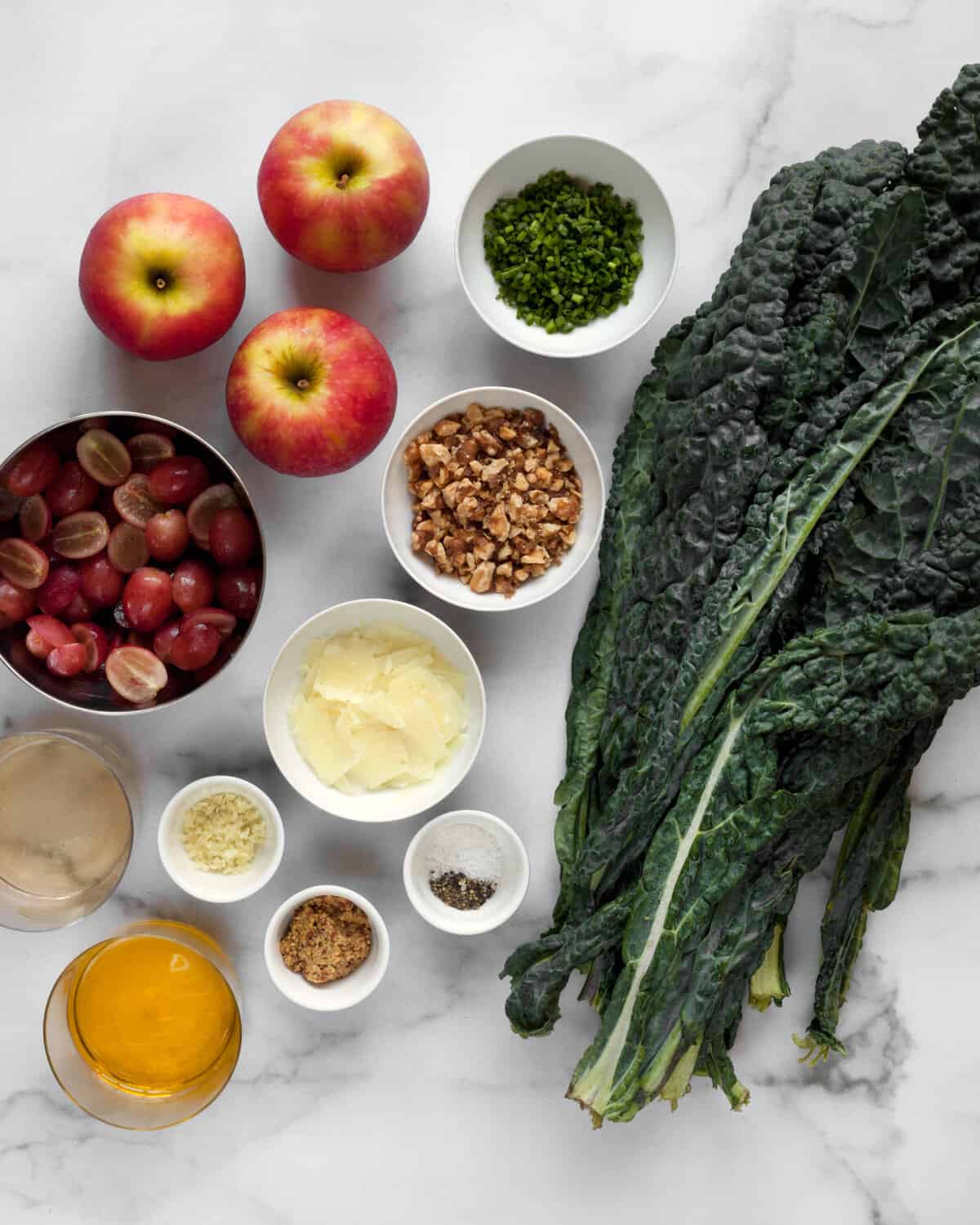 This is what you need:
Kale: You can use lacinato or dino kale or curly green kale. And I know kale can be a love-it/hate-it kind of thing, so you can use spinach or arugula instead.
Apples: As mentioned, the best types for a salad include Pink Lady, Fuji and Honeycrisp apples.
Grapes: To go with the apples, I include halved red grapes. By slicing them, they end up more distributed throughout the salad. Pomegranate seeds are a good swap. Or if you don't have grapes, you can also throw in dried cranberries.
Walnuts: Before you mix the nuts in, toast them in the oven at 350 degrees F for about 5 minutes until they are golden. Almonds or pecans are other good options for the salad as well as pumpkin seeds.
Manchego is a semi-hard Spanish sheep's milk cheese. Slice it very thinly. You can substitute with an English cheddar cheese that's hard.
Chives gives the salad something a little bit oniony.
Champagne vinegar, white wine vinegar, apple cider vinegar or sherry vinegar are all good choices for the dressing.
Whole grain mustard: The recipe calls for 1 tablespoon, so it thickens the vinaigrette a bit.
Garlic: I include a minced clove in the dressing for more savory flavor to balance out the sweetness of the fruit.
Olive oil: Use high-quality extra virgin olive oil for the best taste.
Salt & pepper season the vinaigrette and the entire salad.
How To Make This Kale Apple Salad
1. Chop the kale. Pull the leaves off the center stem and roughly chop them.
2. Make the vinaigrette. Whisk together the mustard, garlic, vinegar, olive oil, salt and pepper in a small bowl.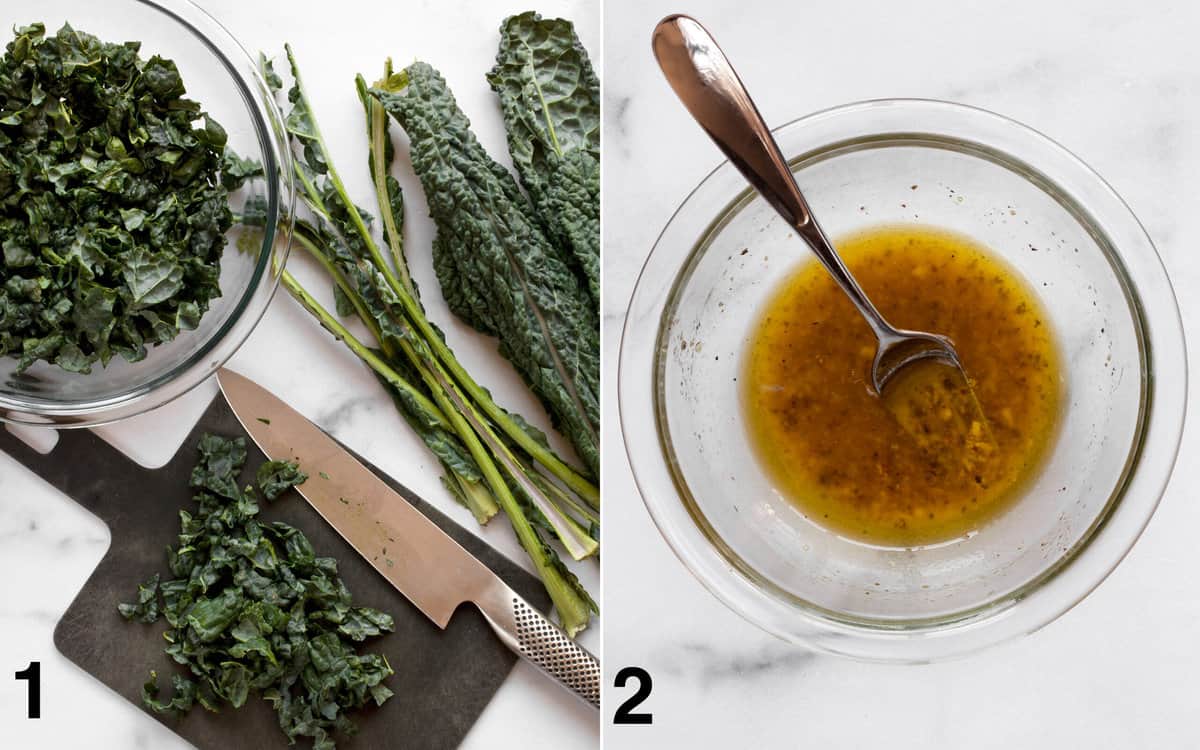 3. Combine the salad ingredients including the kale, apples, grapes, walnuts, Manchego and chives in a large bowl.
4. Drizzle the vinaigrette into the salad, tossing to combine. I don't bother massaging the vinaigrette into the kale because I think the leaves get well dressed without doing that. For this recipe, it seems unnecessary.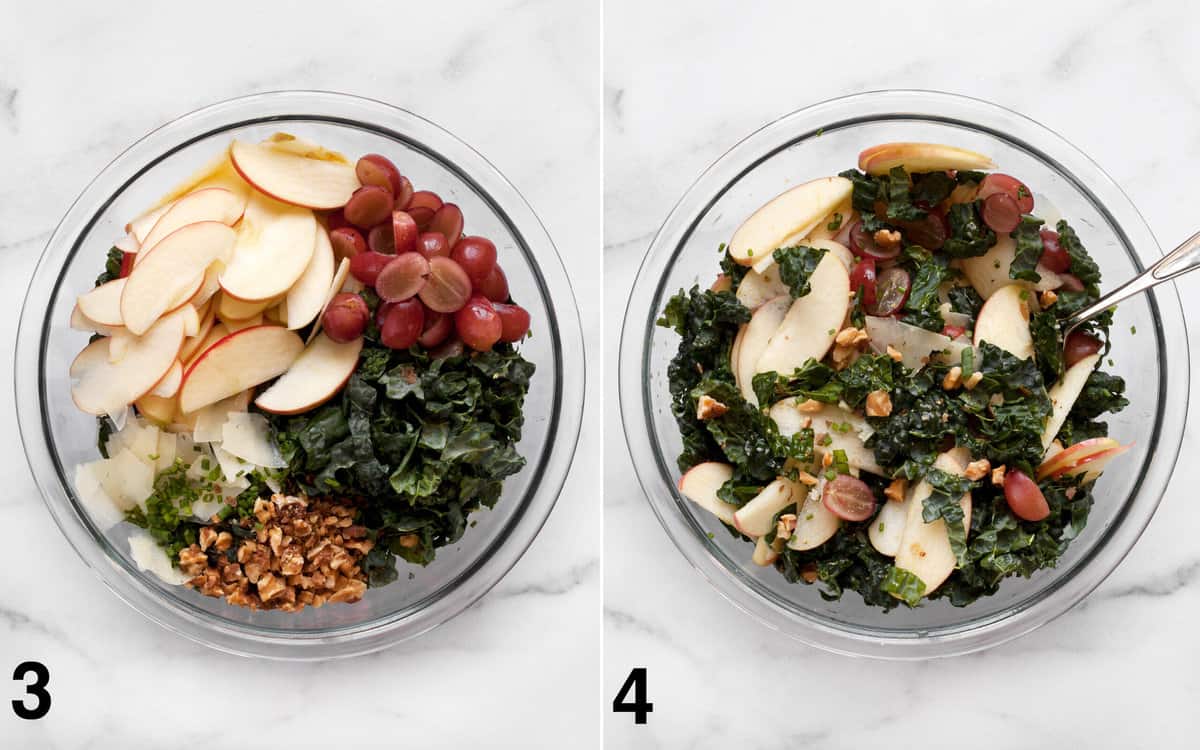 Serving
Kale is very filling, so this can be served as a main dish salad for lunch or dinner. You can add a protein like roasted chicken or tofu. Or stir in cooked quinoa or farro to make it more hearty.
Leftovers
Even though kale leaves are very substantial and can handle dressing, if you are planning to have leftovers, separate out the portion of the salad you are going to eat later. Then do not toss them in the vinaigrette yet.
The salad can be stored in an airtight container up to 2 days in the refrigerator. The apples will likely brown in that time, but it will still be good to eat. Store the vinaigrette in a mason jar separate from the salad. If the dressing solidifies in the chill of the fridge, run the jar under warm water and shake it.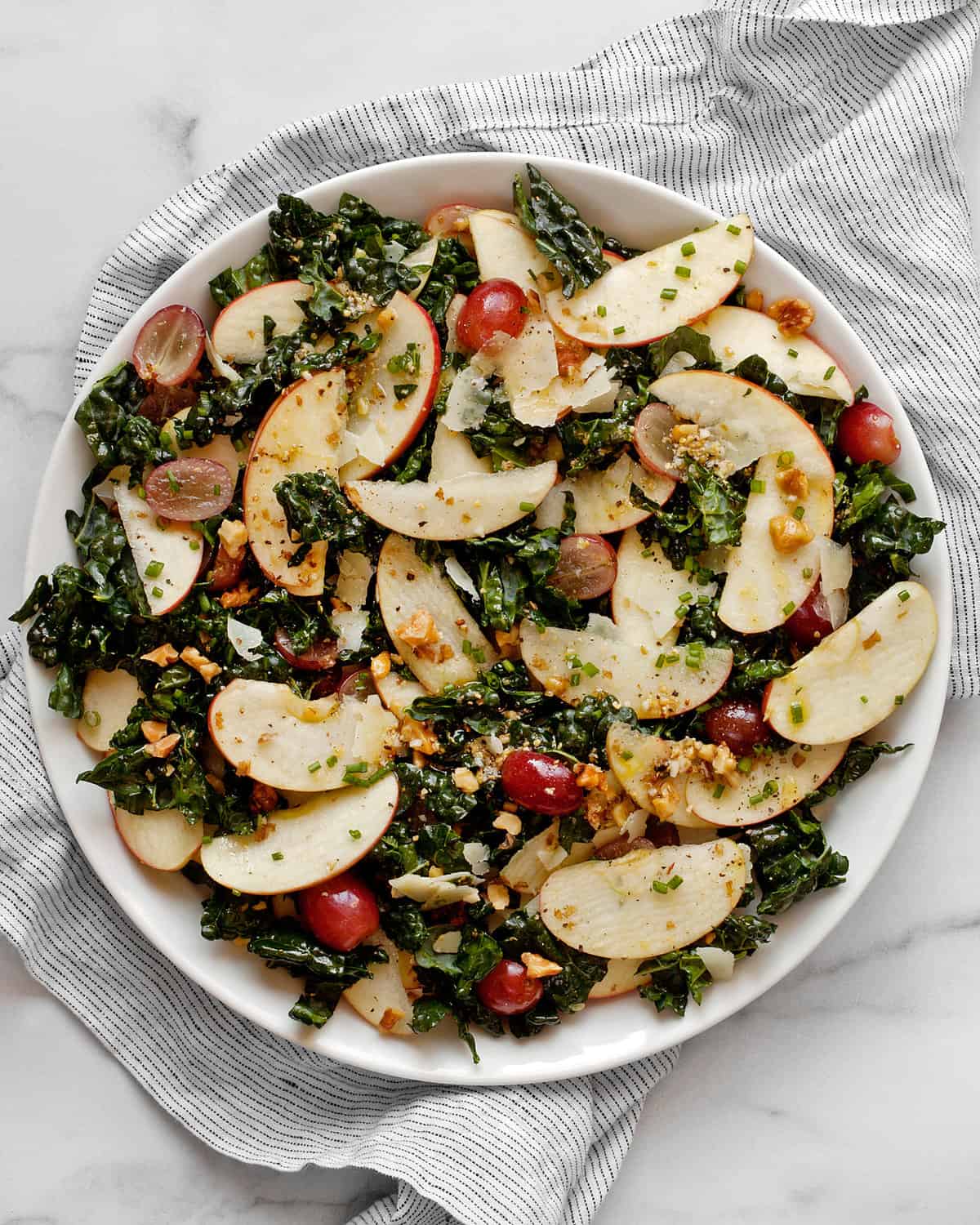 FAQs
Do you need to massage kale?
No, for this salad I don't bother massaging the kale. With the right dressing, you can coat the leaves without getting your hands in the bowl and massaging them.
How do you make kale less bitter in a salad?
Besides the flavor of the dressing, include ingredients that are sweeter. Fruit such as apples and grapes balance out the bitterness of kale leaves.
What are the best apples for salads?
Look for crisp apples that brown more slowly than other varieties such as Pink Lady, Fuji and Honeycrisp apples.
More Fall Salad Recipes
Fig Couscous Salad
Carrot Salad with Lemon Tahini Vinaigrette
Kale Brussels Sprout Pear Salad
Autumn Chopped Salad with Roasted Sweet Potatoes
Apple Cabbage Salad
Brussels Sprouts & Apple Salad
Fall Harvest Salad
Kale Apple Salad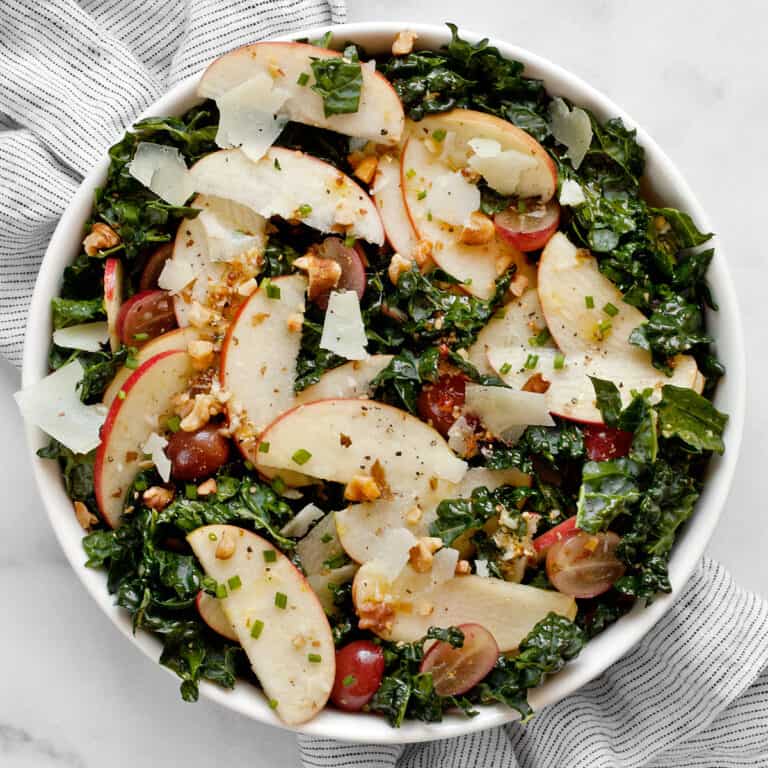 With grapes, Manchego, walnuts and champagne vinaigrette, this kale apple salad is fresh, crisp and perfect for fall and even Thanksgiving.
Ingredients
For salad

1

bunch

lacinato kale

3

crisp apples

cored and thinly sliced (Pink Lady, Fuji, Honeycrisp)

1

cup

halved red grapes

1/4

cup

toasted walnuts

1/3

cup

shaved Manchego cheese

2

tablespoons

minced chives

For vinaigrette

1

tablespoon

whole grain mustard

1

garlic clove minced

2

tablespoons

champagne vinegar

3

tablespoons

olive oil

1/2

teaspoon

kosher salt

1/4

teaspoon

black pepper
Instructions
To cut the kale, tear the leaves from the center ribs and roughly chop them.

In a large bowl, combine the kale, apples, grapes, walnuts, Manchego and chives.

For the vinaigrette, whisk together the mustard, garlic, vinegar, olive oil, salt and pepper in a small bowl.

Drizzle the vinaigrette into the salad, tossing to combine.
Notes
Instead of grapes, you can use pomegranate seeds or dried cranberries.
You can use walnuts as the recipe is written or try chopped almonds or pecans.
If you can't find manchego cheese, use a hard cheddar.
Store leftover salad and vinaigrette in separate airtight containers in the refrigerator up to 2 days. If you are planning to have leftovers, do not toss them in the vinaigrette until you are ready to eat them.
Nutrition
Calories:
307
kcal
|
Carbohydrates:
30
g
|
Protein:
6
g
|
Fat:
20
g
|
Saturated Fat:
4
g
|
Polyunsaturated Fat:
5
g
|
Monounsaturated Fat:
9
g
|
Cholesterol:
10
mg
|
Sodium:
428
mg
|
Potassium:
503
mg
|
Fiber:
7
g
|
Sugar:
21
g
|
Vitamin A:
6964
IU
|
Vitamin C:
72
mg
|
Calcium:
298
mg
|
Iron:
2
mg
Nutrition information is automatically calculated, so should only be used as an approximation.