Try a spicy mix of seasoning with Spanish paprika, cumin, garlic powder, onion powder, salt and pepper for a healthy snack, oven baked sweet potato chips.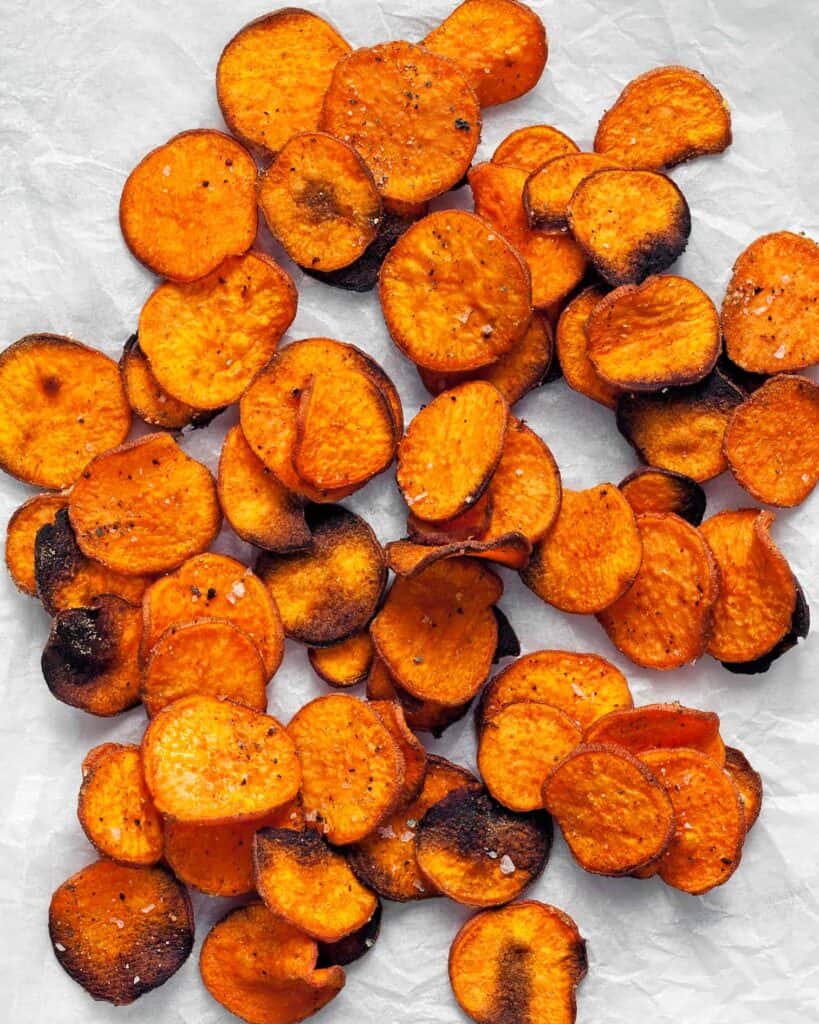 The Oscars are coming up, but I haven't seen any of the movies that are nominated. I can't remember the last time I walked into a movie theatre.
Relaxing in front of the TV isn't my thing, so I don't have the attention span to lounge on the sofa for a couple hours to watch a movie at home.
There are plenty of shows I like to have on, but I am always multitasking with cooking, editing photos and other blog work.
Despite my lack of movie knowledge, I am planning to tune in to the awards for the most important question of the night, "who are you wearing?"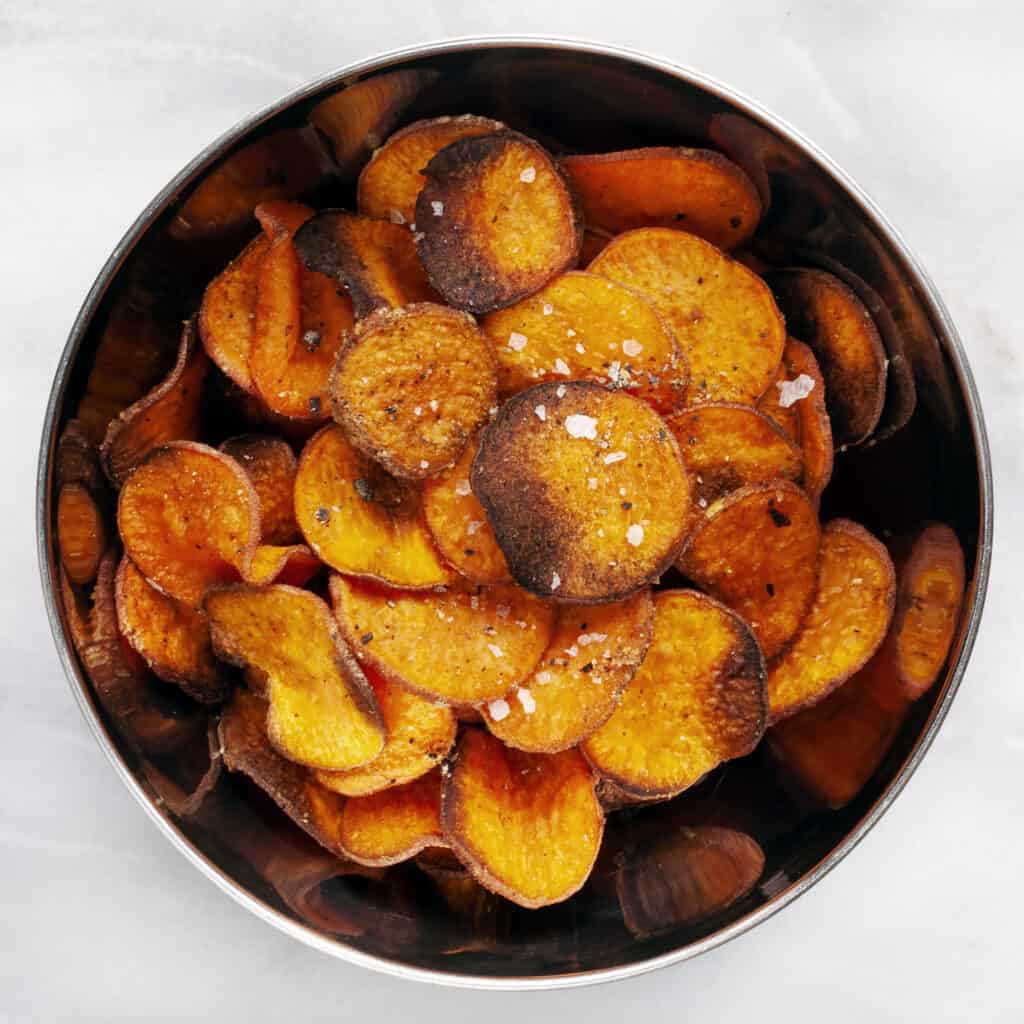 While I am oohing and aahing over all that red carpet fashion, I will be nibbling on snacks instead of feasting on a big fancy meal.
A must on the menu will be baked sweet potato chips.
I absolutely love potato chips, but eating a bag of fried chips is not something that I usually do.
Instead, making oven chips satisfies my snack craving while not leaving me with guilt.
How To Make Baked Sweet Potato Chips
The best way to thinly slice the sweet potatoes is to use a mandolin. It can be trickier to do it with a knife.
After the potatoes are cut, I soak them in cold water to remove some of the starch. This helps the chips get crispier in the oven.
You can just toss them in oil, salt and pepper, but I like to make a spice mix with hot Spanish paprika, cumin, garlic powder, onion powder, salt and pepper.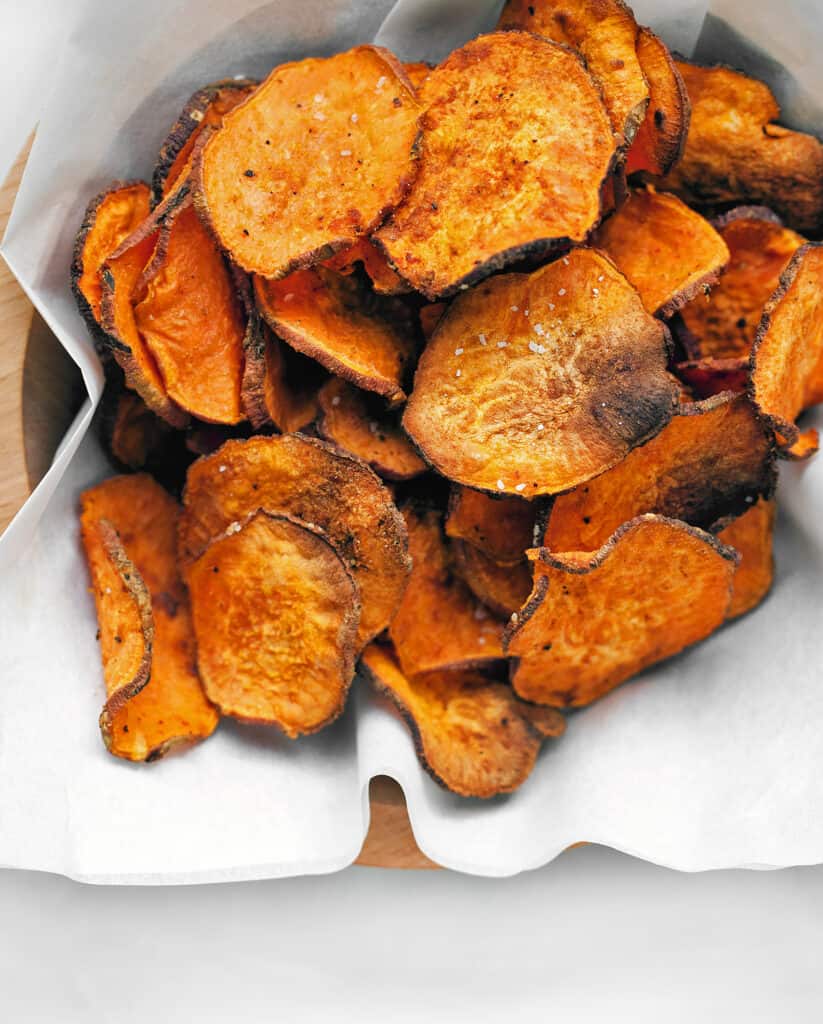 It's a good idea to keep an eye on the chips as they cook. Depending on the consistency of the heat in your oven, some brown quicker than others.
You don't want to lose some of your chips if they burn.
I love eating them warm.
The chips are spicy, and you'll find that some end up fully crispy while others are a little soft in spots.
The inconsistency makes them even more charming and homemade.
SaveSave
Print
Baked Sweet Potato Chips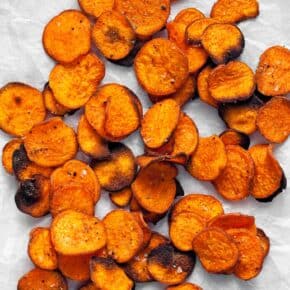 Author:
Prep Time:

30 minutes – 1 hour

Cook Time:

20-25 minutes

Total Time:

50 minutes to 1 hour 25 minutes

Yield: Serves

2

1

x
Scale
Ingredients
1–1/2 pounds sweet potatoes, scrubbed
1/4 teaspoon Spanish paprika
1/2 teaspoon ground cumin
1/2 teaspoon garlic powder
1/2 teaspoon onion powder
1 teaspoon kosher salt
1/2 teaspoon black pepper
1 tablespoon vegetable oil
Instructions
Slice the sweet potatoes into 1/16-inch-thick rounds. (Use a mandolin, if possible). Transfer the sweet potatoes to a bowl of cold water and soak for 30 minutes to 1 hour to remove the starch.
Preheat the oven to 425 degrees F. Line 2 sheet pans with parchment. Remove the sweet potatoes from the water and pat them dry with a paper towel.
Combine the paprika, cumin, garlic powder, onion powder, salt and pepper. Toss the potatoes in the oil and spice mix.
Arrange the sweet potatoes in single layers on the prepared sheet pans. Bake for 20-25 minutes, flipping halfway, until the potatoes are crisp and golden brown.
SHARE THIS