Fire-roasted tomatoes, cumin, ancho chile powder and oregano give this hearty vegan Black Bean Soup lots flavor and a spicy kick. There's no rinsing off the beans. You use everything in the can including the goop.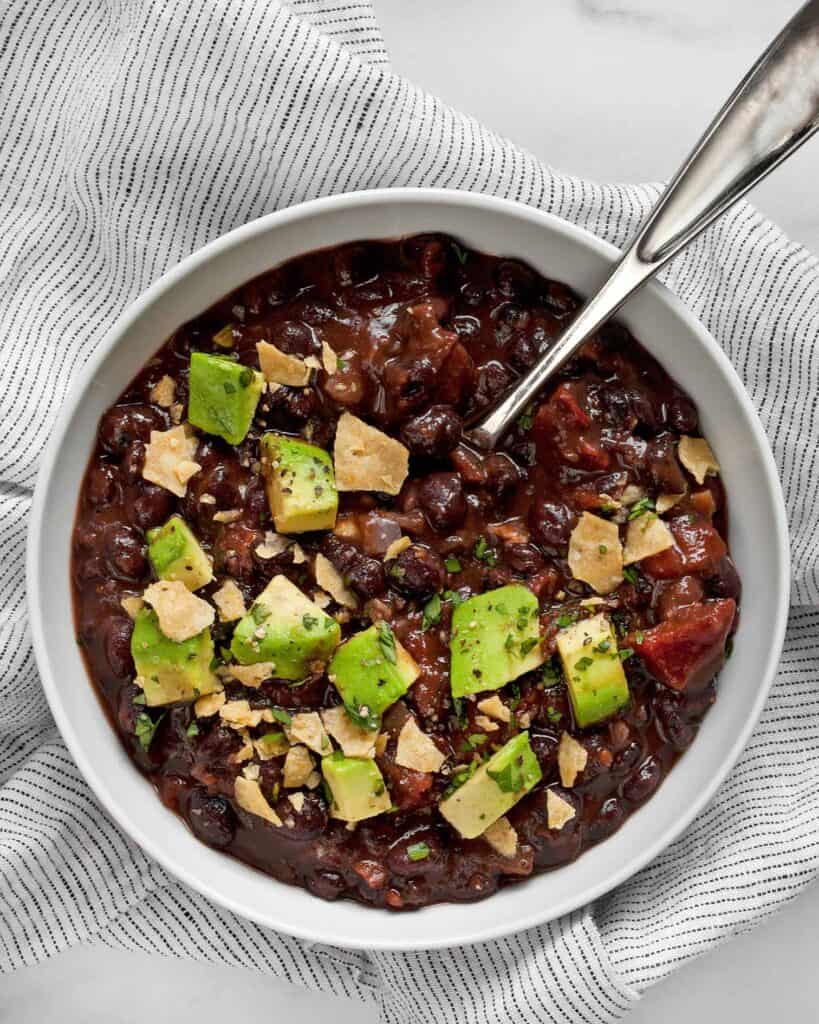 To be honest, I might be more excited about the toppings on this black bean soup than the actual soup.

Trust me, the soup is really tasty. It's very easy to make and full of flavor.

I've had this soup on repeat ever since I figured out I could eat avocado again.

Let me explain.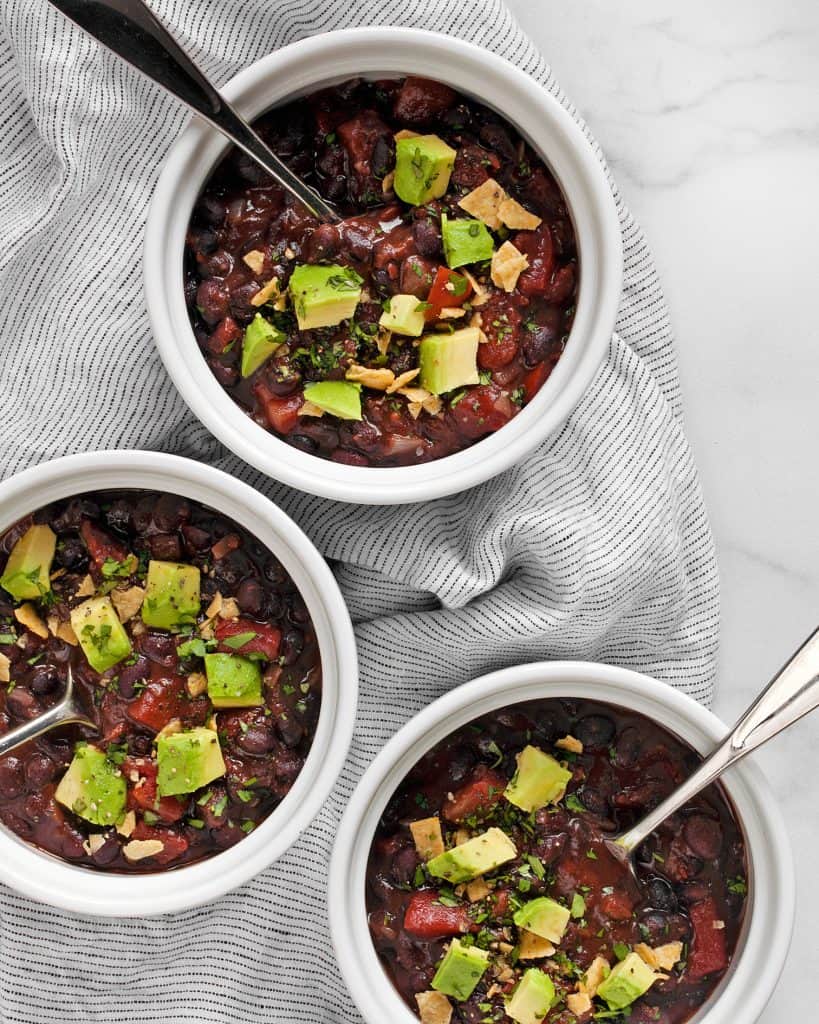 Almost 16 years ago, I made a batch of guacamole to share with my boyfriend, now husband, when we were hanging out and watching a movie.

Instead of having a quiet evening in, I was doubled over with sharp pains in my gut. After a few hours, I was fine.

Then a few weeks later I ate a couple slices of avocado on top of a southwestern omelet when I was out for brunch.

Once again, it was a total punch in the stomach—literally. No other reaction except that.

After process of elimination, I figured out it was avocado. Ever since, I've had to say I'm allergic to avocado.

It's embarrassing! Maybe labeling it as an intolerance would be better.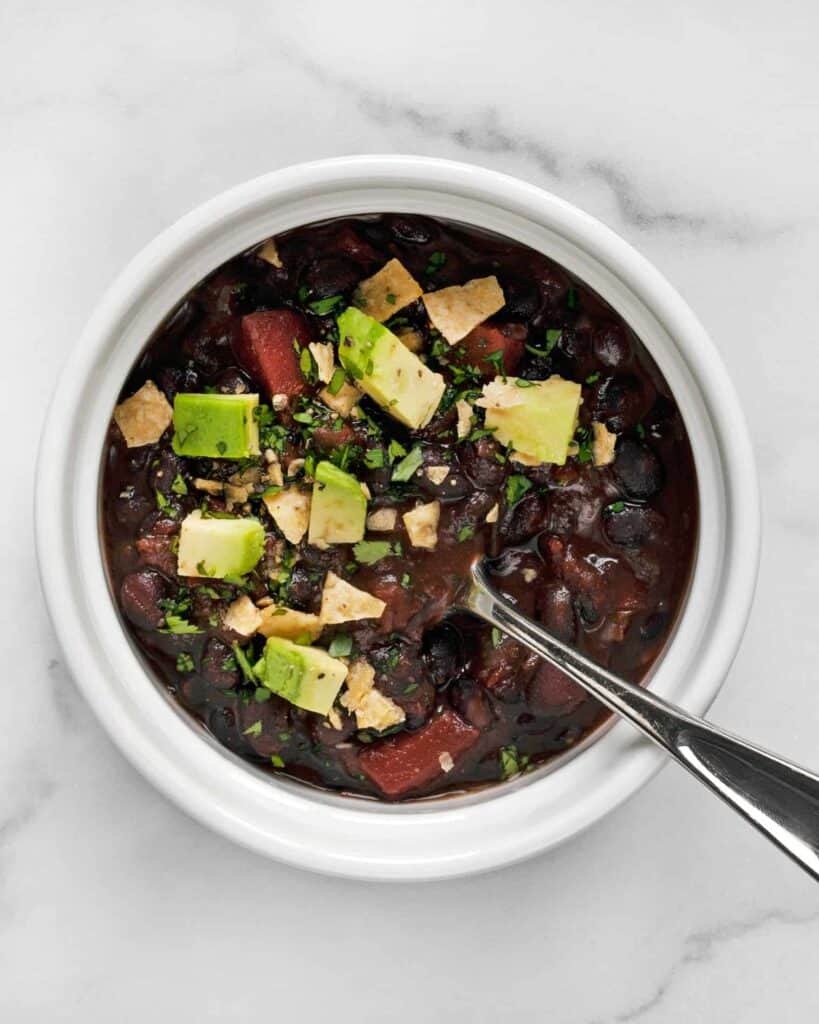 When I think of a food allergy, what comes to mind is something far more serious like nuts.

In the past year or so, I've had to take avocado off things I've ordered at restaurants. When it's a garnish and not a key ingredient, they don't always list it.

For instance, once I ended up with a couple slices dunked into a bowl of pozole.
In the past, I would react to even a trace of avocado, but I had no issues.
Hello, Avocado!
The other week I took the full plunge and dipped a chip in guac, and nothing happened. I was fine!
Since then I've been going ahead with more avocado and so far so good. A whole new world of food has opened up.
The timing made sense to revisit my recipe for black bean soup.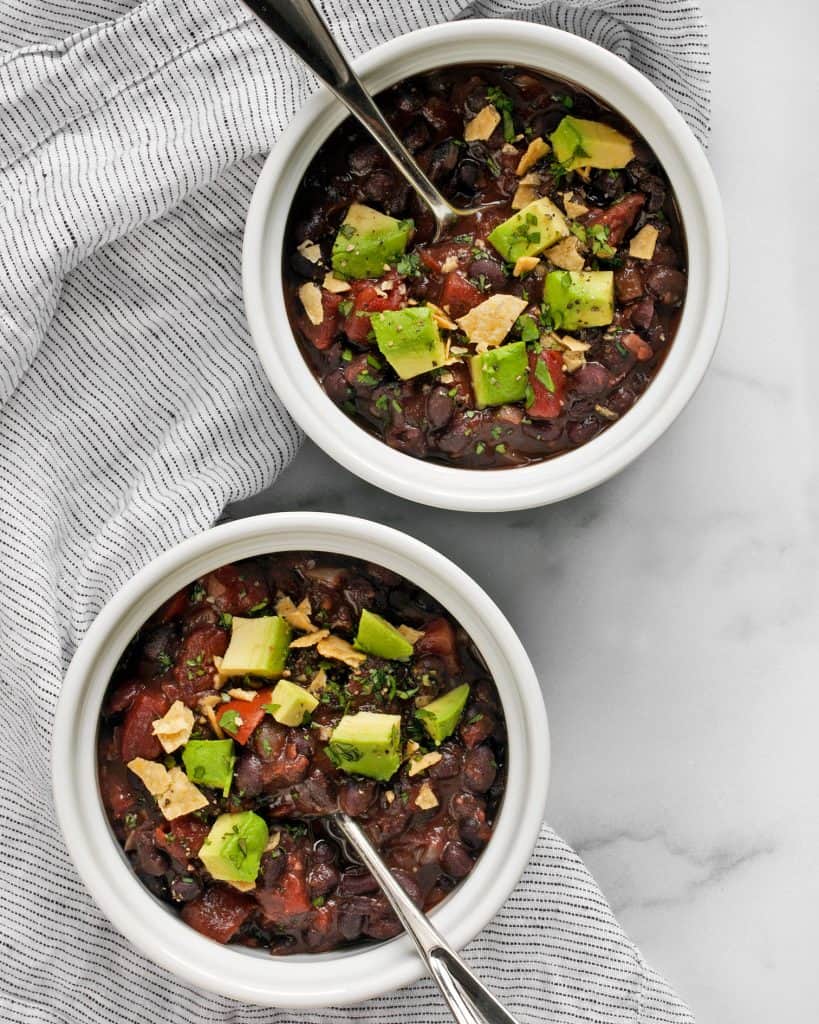 How To Make Black Bean Soup
With canned ingredients and dried spices, minus the cilantro and avocado, this is a pantry soup. You whipped it up with long shelf-life ingredients that you might already have at home.

To start, I sauté red onions with garlic and a mix of cumin, ancho chile powder, oregano, garlic and onion powder, salt and pepper.
After that, I add black beans, diced fire-roasted tomatoes and veggie stock.
There's no need to rinse the beans. It's best to take everything from the can including the goop.
After 15-20 minutes, the flavors have a chance to develop, and the soup thickens.
I top each bowl with chopped cilantro, crumbled tortilla chips, and of course, diced avocado.
The black bean soup has just the right amount of heat. It's great with a quesadilla or a chopped salad.
Don't be surprised if you see more avocado in recipes in the very near future.
Print
Black Bean Soup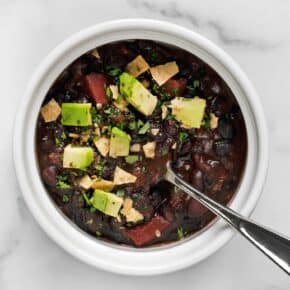 Prep Time:

5 minutes

Cook Time:

20-25 minutes

Total Time:

30-35 minutes

Yield: Serves

4

1

x
Scale
Ingredients
1 tablespoon olive oil
1 red onion, roughly chopped
2 garlic cloves minced
1-1/2 teaspoons cumin
1 teaspoon ancho chile powder
1/4 teaspoon dried oregano
1/4 teaspoon garlic powder
1/4 teaspoon onion powder
1 teaspoon kosher salt plus more for serving
1 teaspoon black pepper plus more for serving
2-15 ounce cans black beans
1-15 ounce can diced fire-roasted tomatoes
1 cup low-sodium vegetable broth
Diced avocado for serving
Chopped cilantro for serving
Crumble tortilla chips for serving
Instructions
Heat the olive oil in a large saucepan over medium high heat. Add the onions and sauté for 5 minutes until they start to soften. Stir in the garlic, cumin, ancho chile powder, oregano, garlic powder, onion powder, salt and pepper and continue cooking until fragrant, about 1-2 minutes.
Add the black beans, tomatoes and vegetable broth. Simmer for 15-20 minutes until the soup has slightly thickened.
Divide the soup into bowls and garnish with avocado, cilantro, tortilla chips, salt and pepper.
SHARE THIS