It is so easy to make a batch of oven fries that is crispy and comes pretty close to fried ones. This baked sweet potato fries recipe includes basic tips for healthier fries that you will devour as a vegan side or gluten-free snack especially because they are tossed in a special spicy mix of seasonings.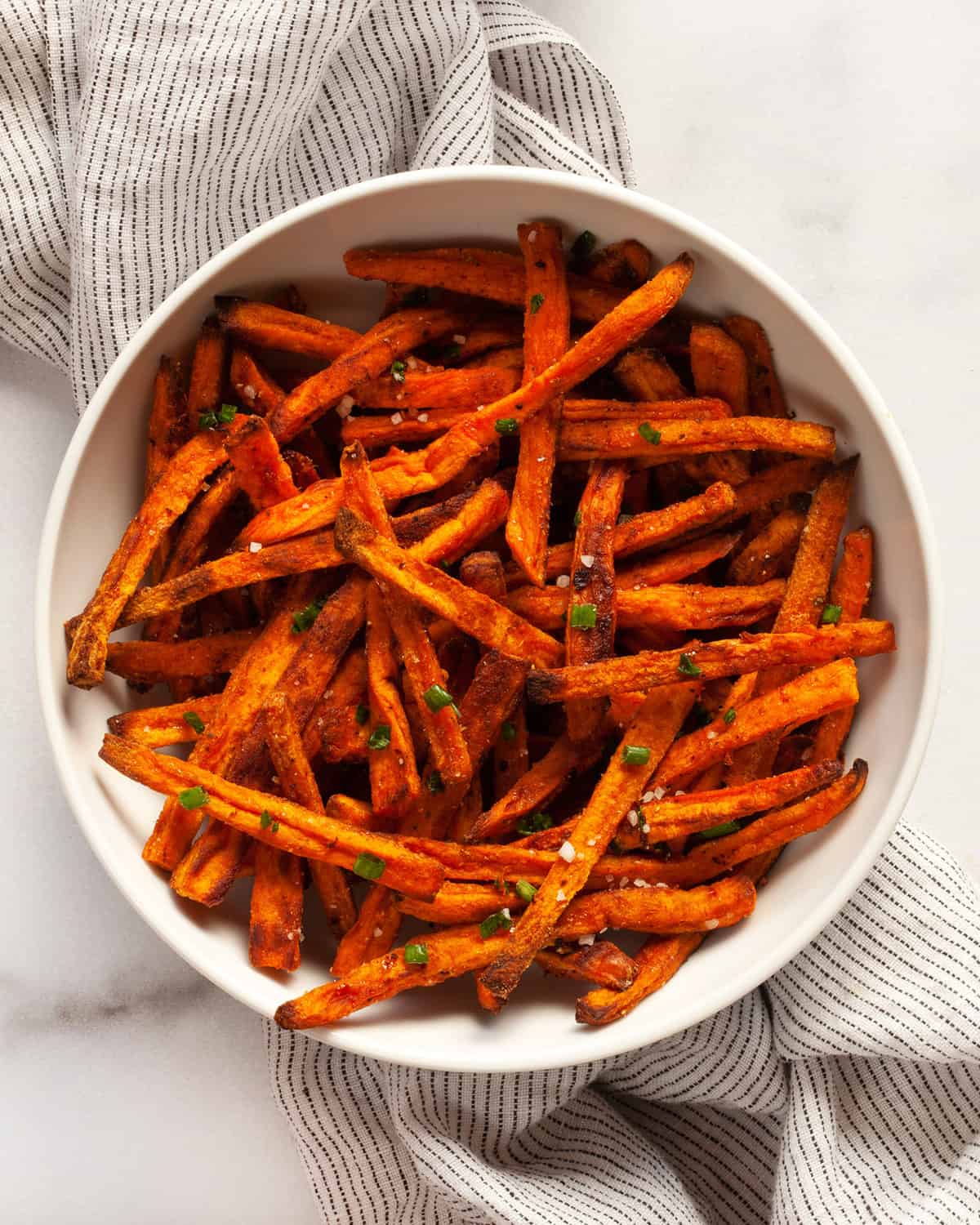 I don't know if I will ever add an air fryer to my list of small appliances. And to those of you who own one, I am sure I am missing out. But there is so much you can do with a sheet pan in the oven when you have it cranked up to a high temperature. That includes baked French fries.
You won't find me ordering fries at a restaurant, but you will see me turning out batches of oven-baked fries made with sweet potatoes. There are a few things you can do to encourage them to crisp up as a much healthier version of traditional fries that are actually fried. I toss the potatoes in a blend of dried seasonings that you probably already have in your spice drawer. Trust me, you will love these fries.
Tips and Tricks for The Best Oven Baked Sweet Potato Fries
Cut the potatoes the same size. Whenever you roast vegetables, you want them all to be ready at the same time. This can be tricky depending on the consistency of your oven temperature, but what you have control over is how consistently the potatoes are cut. What is critical is the width (1/4-inch). It is ok if they vary a bit in length.
Take the time to soak the potatoes. Putting them in a bowl of cold water for 30 minutes rinses off some of the starch, so they will turn out crispier. When you take them out of the water, dry them off using a towel.
Dried spices give the fries a kick. I admit that part of the reason I do this is because I know there is more pressure on baked fries to be like "real" fries. Being thoughtful about adding flavor instead of just doing salt and pepper, gives these healthier fries a little something extra in a different way.
Toss the potatoes in cornstarch. You combine it with the dried spices. Cornstarch is key for fries that are crispy on the outside.
Don't crowd the pan! Use 2 baking sheets so there is plenty of space for hot air to circulate around the fries as they bake. If they are too close together, they will steam and turn out soft.
Keep an eye on your fries when they are in the oven. No matter how perfectly you cut your potatoes, some fries might cook faster than others. If you have ones that brown too quickly, pull them off the pan. Also, rotate the sheet pans in the oven to make up for inconsistencies in oven temperature.
Wait to toss the fries in salt until they are out of the oven. Flaky sea salt is my salt of choice for fries. It doesn't make sense to mix this finishing salt with the rest of the spices before the fries bake. Also, adding salt before baking may make your fries soggy. Sprinkle them as a last step.
The Ingredients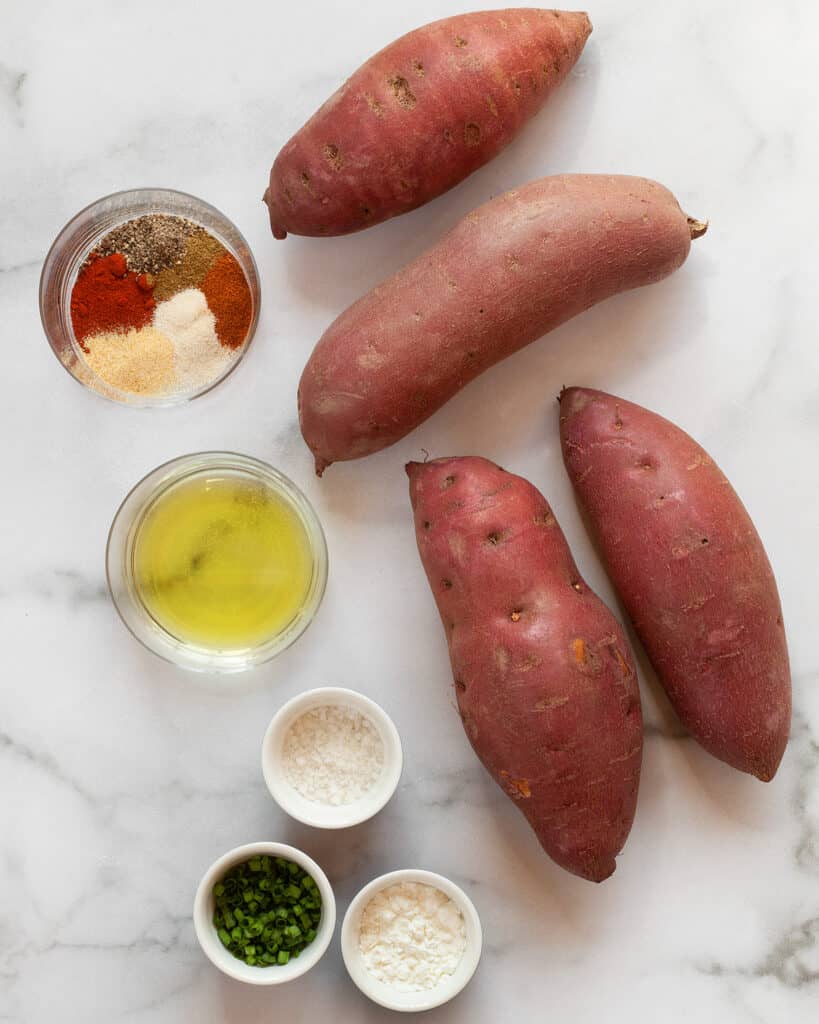 This is what you need:
Sweet potatoes: Look for potatoes with smooth skin that don't have any bruises or soft spots. Medium-sized potatoes that are similar in length are easiest to cut so the fries end up the same size.
Oil: Use extra virgin olive oil for the best taste.
Spices: The recipe calls for a mix of paprika, cumin, onion powder, garlic powder, cayenne pepper and black pepper. You can use chili powder instead of cayenne pepper. I save salt for seasoning the baked fries.
Cornstarch is one of the keys to getting crispy fries when you bake them in the oven. It's mixed in with the spices and oil.
Flaky sea salt such as Maldon adds both salt and some crunch.
Chives: Fresh herbs might not be the first thing you think to season fries with, but it's a nice finishing touch. Chives have light onion flavor.
How Make Sweet Potato Fries in the Oven
1. Prep the sweet potatoes. Peel them and cut into batons that are 1/4-inch thick. It's important to cut them the same thickness, so they bake in the same amount of time.
2. Soak the potatoes. Put them in a big bowl and fill it with cold water. Soak them for 30 minutes.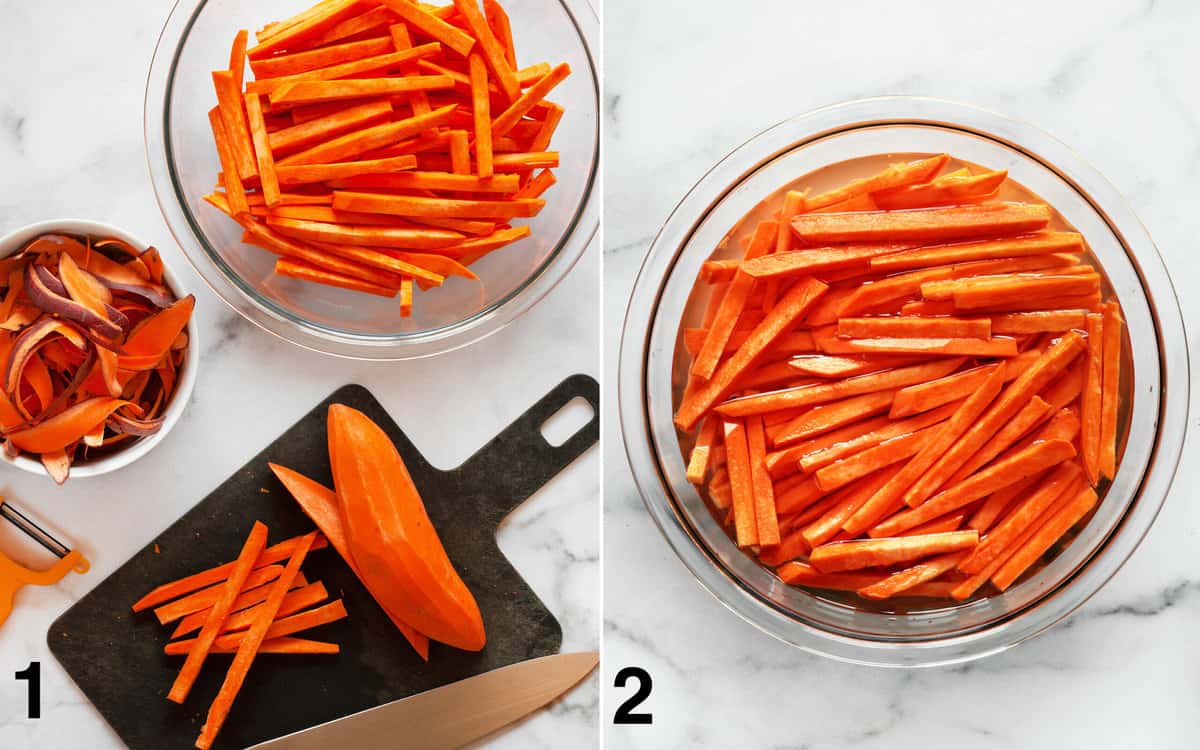 3. Pat the potatoes dry with a towel.
Preheat the oven to 425 degrees F. Grease 2 baking sheets with non-stick cooking spray. I don't use parchment paper. Cooking spray is enough to grease the pan and maximize direct contact with the metal for browning and crisping.
4. Whisk together the olive oil, spices and cornstarch in a bowl.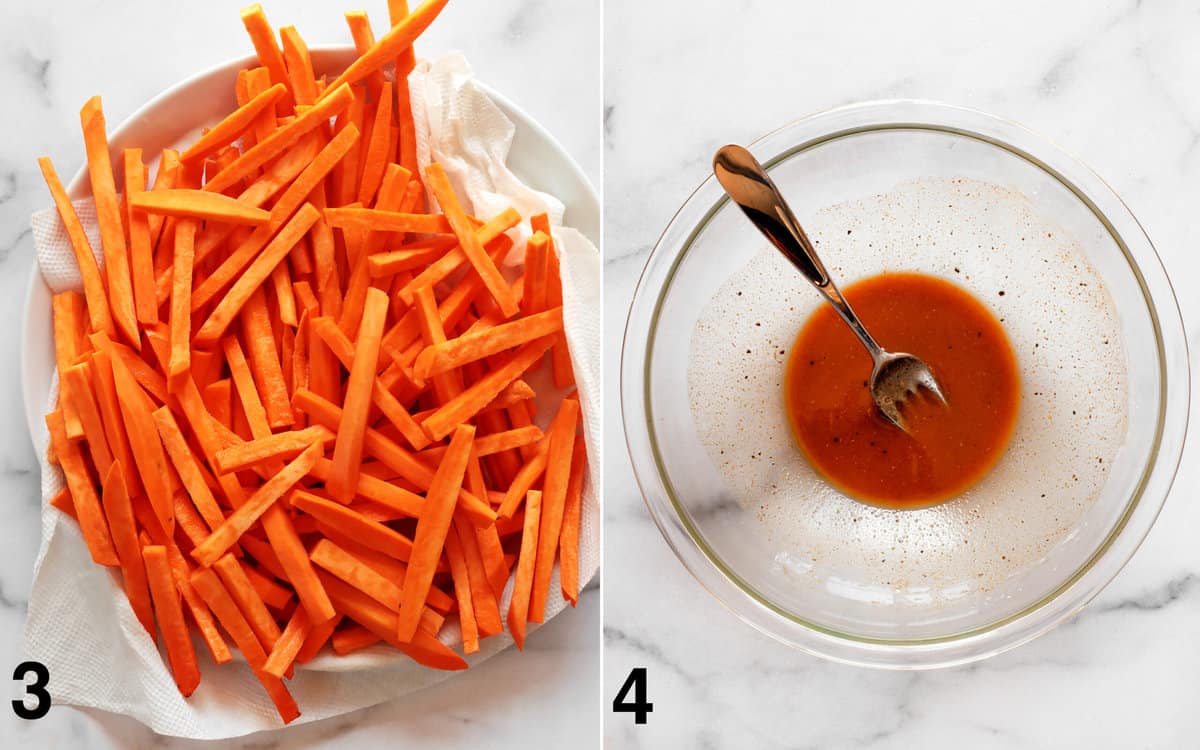 5. Toss the potatoes in oil-spice mixture.
6. Spread the potatoes across 2 sheet pans. They should be in a single layer and not overlapping.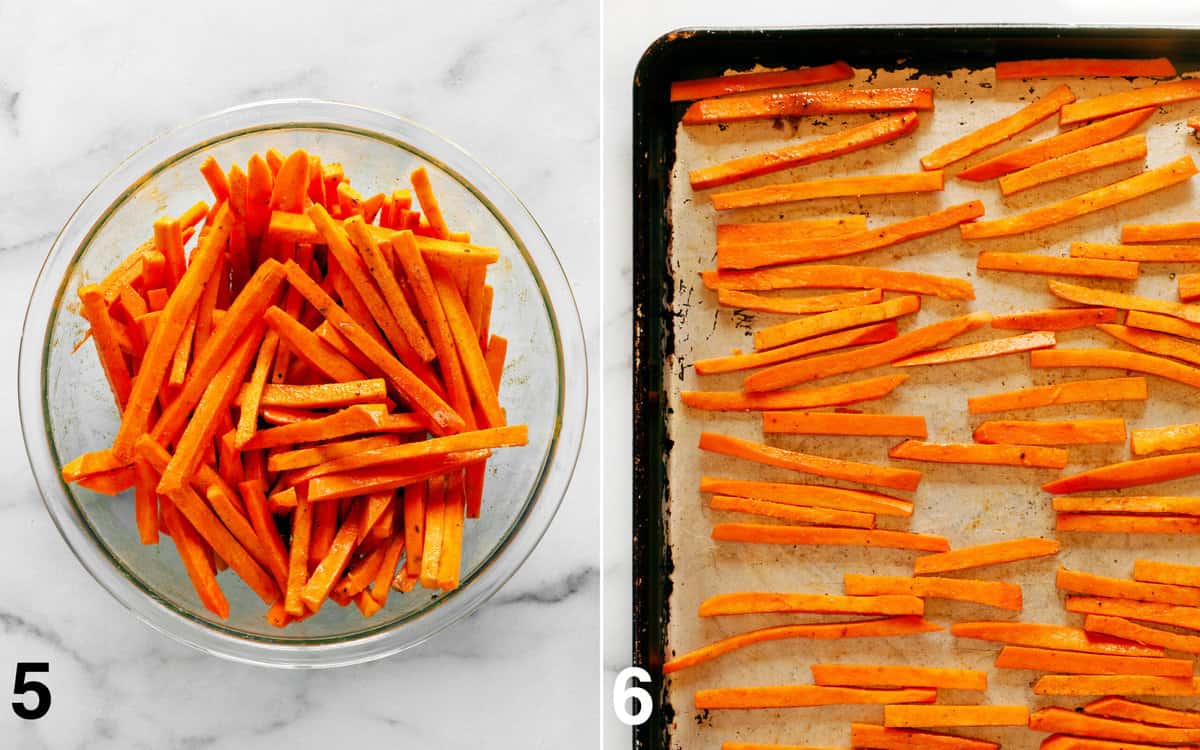 7. Bake the fries for 15 minutes and then flip them over to the other side and keep baking for 10-15 minutes and switch the pans on the oven racks halfway through baking. They should be lightly browned and crispy at the edges.
8. Toss the fries with flaky sea salt and chives.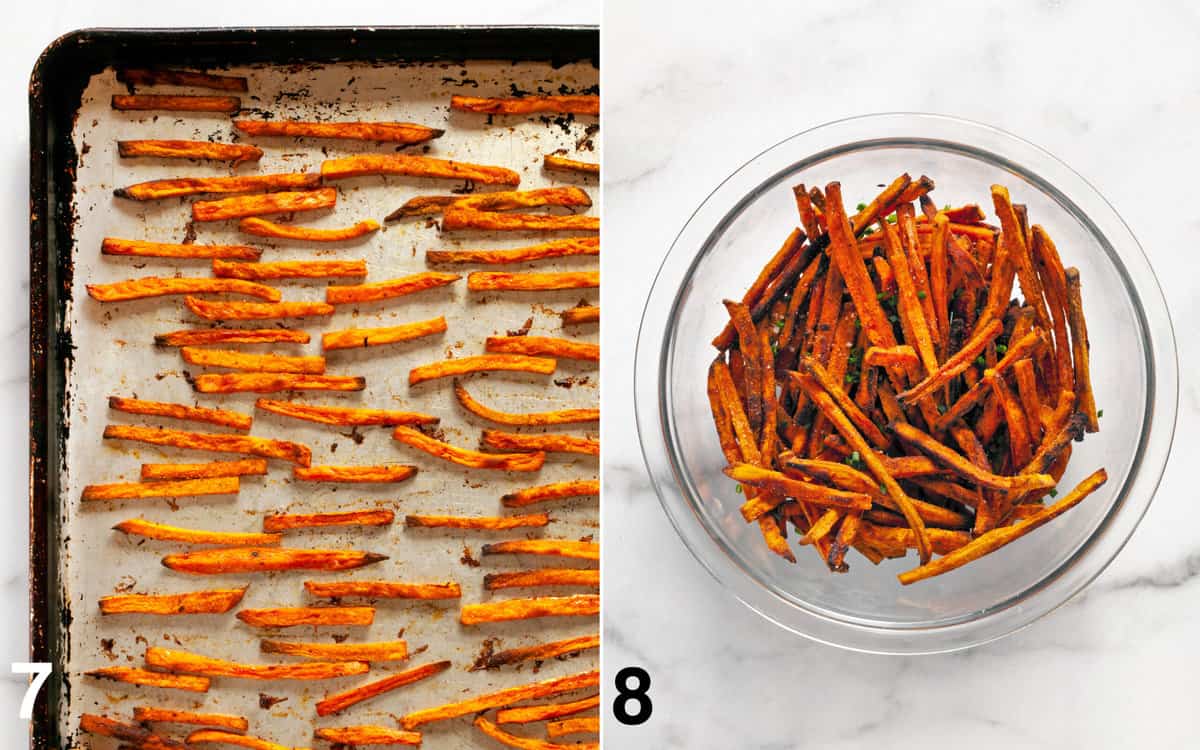 Dipping Sauces for Crispy Sweet Potato Fries
From the obvious to the less typical for fries, with sweet potatoes you have a lot of great condiment options:
Ketchup, of course.
Basil pesto is herby and so much more than just a sauce for pasta.
Hummus, especially a flavored version, might be thicker than you usually do for dipping fries, but it is wonderful with sweet potatoes.
Salsa, a very pureed version rather than chunky one, is an alternate option to tomato ketchup.
Serving
The fries are best served warm. They are a great side dish with anything from dry-rubbed turkey to black bean burgers. You can also prep them before having guests over, so then all you need to do is pop them in the oven and you can serve these spicy fries hot.
FAQs
Why don't my sweet potato fries get crispy?
When you're baking fries in the oven, it's important to soak them in water to get rid of some of the starch. Also, tossing the potatoes in cornstarch helps them get crispy. And don't put too many potatoes on a single sheet pan. Spread them across 2 pans, so they are not overlapping or touching. This allows the hot air to circulate around them.
Are sweet potato baked fries healthy?
Baked fries are always a better option than fried. Sweet potatoes are very high in vitamin A compared to white potatoes.
Should you soak sweet potatoes in water before baking?
Yes. It washes off the starch, which helps the fries get crispy on the outside when they bake.
More Potato Side Dish Recipes
Smashed Roasted Potatoes
Garlic Herb Roasted Fingerling Potatoes
Baked Garlic French Fries
Roasted Corn Red Potato Salad
Lemon Roasted Fingerling Potatoes
Hasselback Sweet Potatoes
Grilled Sweet Potatoes
Did you try these baked fries? Please leave a rating and comment below. Thanks!
Baked Sweet Potato Fries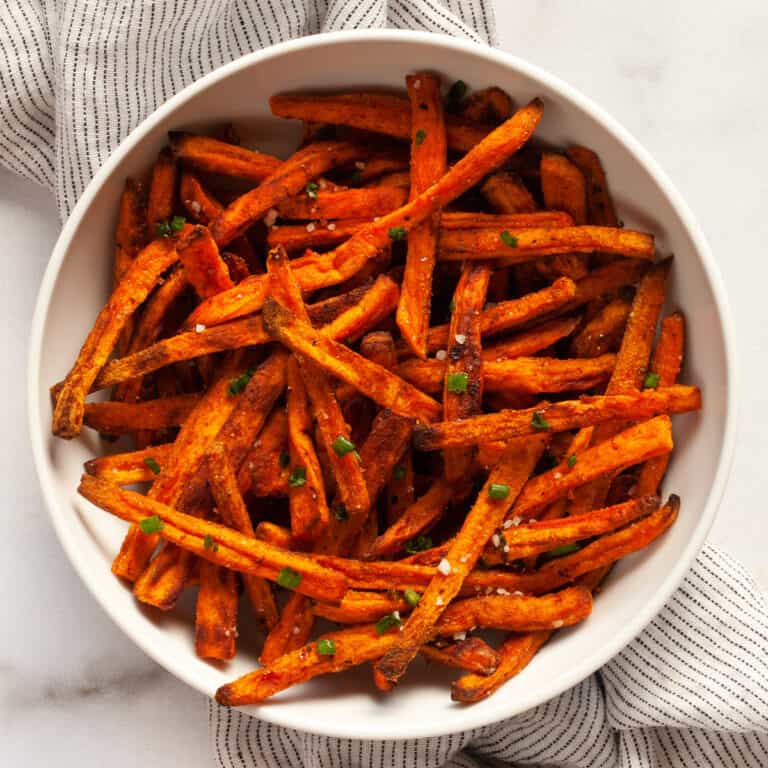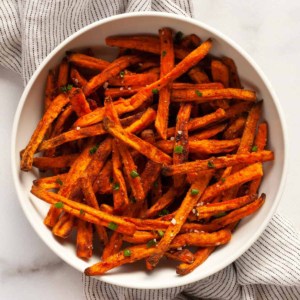 Before they go in the oven, these spicy baked sweet potato fries are tossed in a blend of paprika, cayenne pepper, garlic and onion powder.
Ingredients
2

pounds

sweet potatoes

Non-stick cooking spray

3

tablespoons

olive oil

1/2

teaspoon

paprika

1/2

teaspoon

cumin

1/4

teaspoon

onion powder

1/4

teaspoon

garlic powder

1/4

teaspoon

cayenne pepper

1/2

teaspoon

black pepper

1

tablespoon

cornstarch

Flaky sea salt for serving

Minced chives for serving
Instructions
Peel the sweet potatoes. Cut them into 1/4-inch thick batons. It's important to cut them all about the same thickness.

Soak the potatoes in a large bowl of cold water for 30 minutes. Drain the sweet potatoes and pat them dry with a towel.

Preheat the oven to 425 degrees F.

In a large bowl, whisk together the oil, paprika, cumin, onion powder, garlic powder, cayenne pepper, black pepper and cornstarch.

Toss the potatoes in the oil and spices, coating them in the mixture.

Arrange the potatoes in a single layer on 2 sheet pans. They should not be overlapping.

Bake the potatoes for 15 minutes until they start to brown. Flip them over and continue baking for 10-15 minutes until they are crispy at the edges and browned on the other side. Halfway through baking switch the pans on the oven racks.

Toss the fries with lots of flaky sea salt and chives.
Notes
Instead of cayenne pepper, you can substitute with chili powder.
The fries are best eaten warm right when you take them out of the oven.
You can serve them with ketchup, pesto, hummus or salsa for dipping.
Nutrition
Calories:
299
kcal
|
Carbohydrates:
48
g
|
Protein:
4
g
|
Fat:
11
g
|
Saturated Fat:
2
g
|
Polyunsaturated Fat:
1
g
|
Monounsaturated Fat:
8
g
|
Sodium:
126
mg
|
Potassium:
784
mg
|
Fiber:
7
g
|
Sugar:
10
g
|
Vitamin A:
32355
IU
|
Vitamin C:
6
mg
|
Calcium:
73
mg
|
Iron:
2
mg
Nutrition information is automatically calculated, so should only be used as an approximation.