These Spicy Sweet Potato Fries are tossed in a spice blend with paprika, onion powder, garlic powder and cayenne pepper for some heat before they are baked in the oven.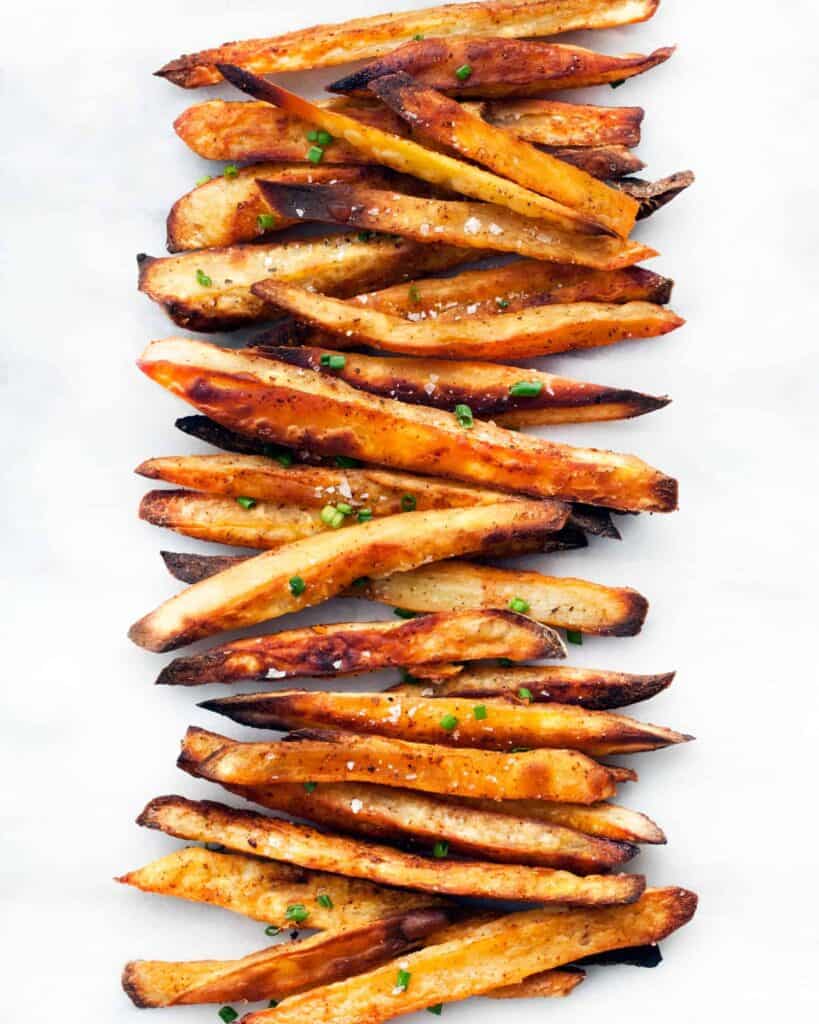 Sweet potatoes are one of my favorite veggies, but I never paid much attention to the variety until they became my go-to baby food puree. I was in full-on first time mother research mode.
Now I even know the difference between sweet potatoes and yams.
Usually I play it safe and stick to the plump, copper-skinned, orange-fleshed standard tubers, but then I discovered Japanese sweet potatoes.
With their slender shape, purple skin and white flesh, Japanese sweet potatoes are much starchier than their cousins and more dense.

I used think that sweet potatoes were always orange. I was so wrong.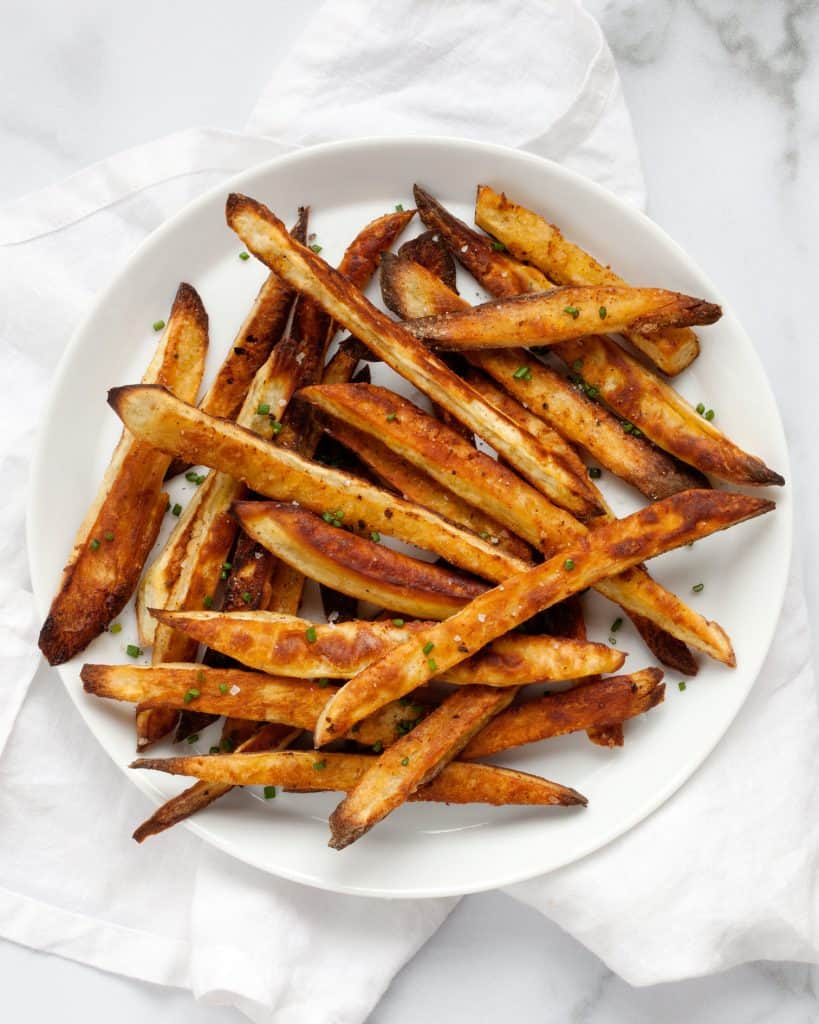 It should be pretty obvious that different varieties of sweet potatoes are better for certain cooking methods than others. Just like regular potatoes!

Hello!?
Japanese sweet potatoes have more starch, which makes the ideal for oven fries.

The challenge with baking fries instead of frying them is getting the crisp outside and fluffy inside without cooking them in a vat of oil.
I like french fries, but I don't love the guilt that comes with eating real fries. They are such a saturated fat, high calorie belly buster.

Why fry when you can bake?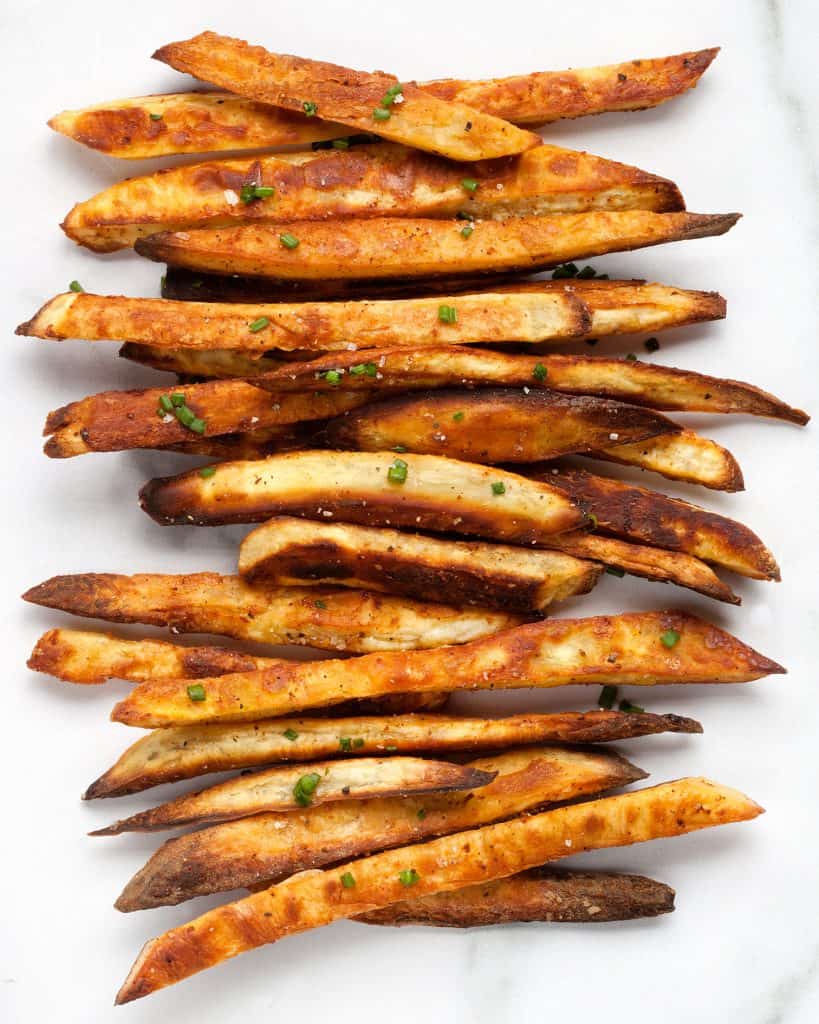 How Make To Spicy Sweet Potato Fries
The first step is soaking the sliced potatoes in cold water for an hour before toweling them off and baking them. This helps the fries turn out crispier.
To give the potatoes a kick, I toss them in a blend of seasonings including paprika, cayenne pepper onion & garlic powders, salt and pepper.

These spicy sweet potato fries are far more flavorful than the usual fried version.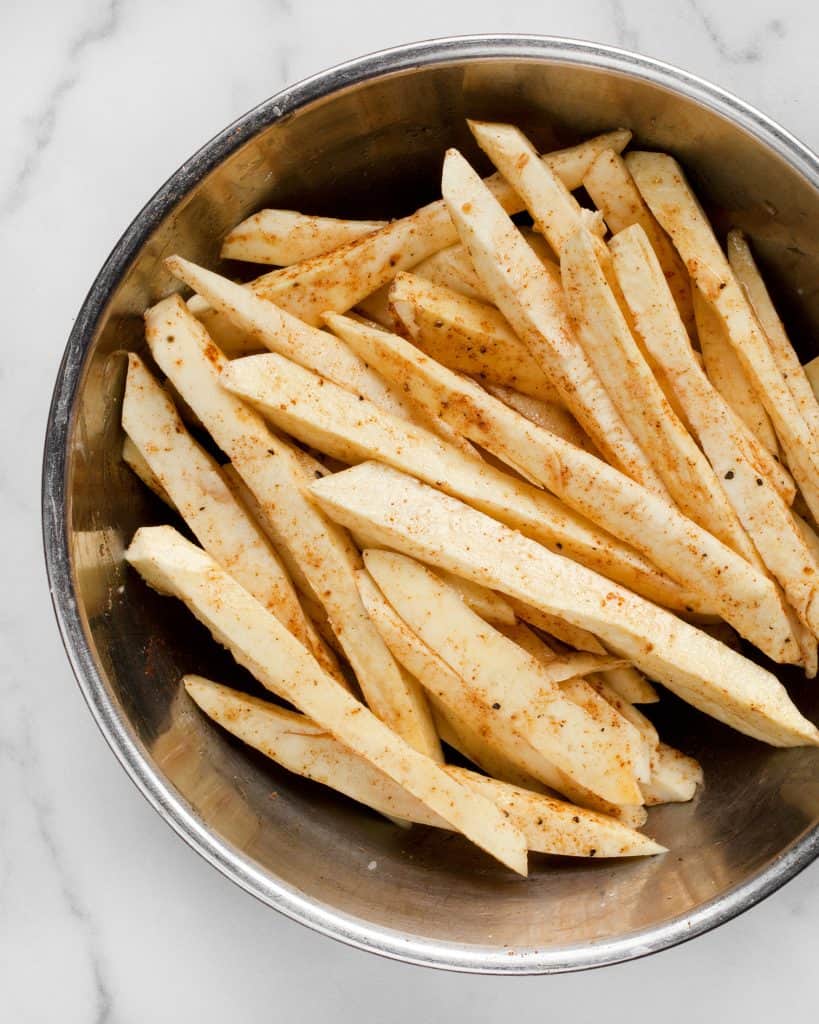 On multiple occasions, I have eaten a plate of these fries for dinner…with a salad, of course!
It's better than just baking whole potato because the surfaces of each fry are coated in that spicy seasoning mix.

They don't need to be dipped into anything, but you can do ketchup if you want or even pesto.
Print
Spicy Sweet Potato Fries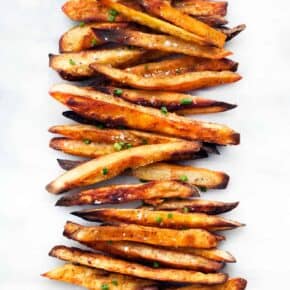 Prep Time:

1 hour

Cook Time:

25-30 minutes

Total Time:

1 hour 25-30 minutes

Yield: Serves

4

1

x
Scale
Ingredients
2 pounds Japanese sweet potatoes, peeled and cut into 1/4-inch thick batons
3 tablespoons vegetable oil
1 tablespoon paprika
1/4 teaspoon onion powder
1/4 teaspoon garlic powder
1/4 teaspoon cayenne pepper
1 tablespoon kosher salt
1/2 teaspoon black pepper
Instructions
Place the sweet potatoes in a large bowl filled with cold water. Soak for 1 hour.
Preheat the oven to 400 degrees F. Grease 2 sheet pans with 1 tablespoon vegetable oil each.
To make the spice mix, combine the paprika, onion powder, garlic powder, cayenne pepper, salt and black pepper.
Pat the sweet potatoes dry with a paper towel before tossing them in the remaining oil and the spice mix. Divide the sweet potatoes between the sheet pans arranging them in a single layer.
Bake for 25-30 minutes, switching the pans halfway through, until the sweet potatoes are deep golden brown. Serve immediately.
SHARE THIS