Can you call something a habit if it's been just 3 days?
I'm not sure habit is even the right word. It sound like it's a bad thing, when in this situation it's not.
My new mid-morning snack obsession is eating a full pint of blackberries.
This is only appropriate to do during berry season when the cost of strawberries, blueberries, and of course, blackberries are at their lowest thanks to an over abundant supply.
All I do is rinse them off in the container and just start devouring them with a fork.

Before I know it, I have polished off every single berry. I wish I had the willpower to make them last longer.
Blackberries are my favorite berry. They were one of my pregnancy cravings.
Last weekend I thought I should do something more elaborate to celebrate berry season. I ended up pulling out my donut pan to bake blackberry lime donuts.
For the longest time, I resisted buying a donut pan because I don't have much cabinet space with all my other pans and everything else.
But I'm so happy I made room for it. I don't consider myself to be a traditional fried donut person.

SaveSave
SaveSave
SaveSave
How To Make Blackberry Lime Donuts
I much prefer the baked version because they are more like cake.
First I preheated the oven and made the vanilla batter. I debated whether to add chopped blackberries, but I limited the extras to lime zest.
After the donuts had baked and cooled, I incorporated the berries into the glaze.
In my food processor, I pureed the blackberries, strained them and mixed the puree with powdered sugar and lime juice to create deep fuchsia hued icing.
I loved the intense, saturated color so much that I didn't add any other decoration to the tops of the donuts.
Seeing the tiny specks of berry streaked through was enough.
Print
Blackberry Lime Donuts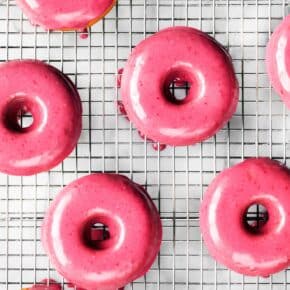 Prep Time:

20 minutes

Cook Time:

10-12 minutes

Total Time:

30-32 minutes + 1 hour setting

Yield:

12 donuts
Ingredients
For donuts
Non-stick cooking spray
1/4 cup (4 tablespoons) unsalted butter at room temperature
1/4 cup vegetable oil
1/2 cup granulated sugar
1/3 cup light brown sugar
2 large eggs
1 teaspoon vanilla extract
2-2/3 cups all-purpose flour
1-1/2 teaspoon baking powder
1/4 teaspoon baking soda
3/4 teaspoon kosher salt
Zest of 1 lime
1 cup milk
For icing
3/4 cup fresh blackberries
3 cups confectioners' sugar, sifted
1 teaspoon vanilla extract
1 teaspoon lime juice
1 tablespoon milk
Instructions
Preheat the oven to 350 degrees F. Grease a 6-cup donut pan with non-stick cooking spray. In the bowl of a stand mixer fitted with the paddle attachment, beat the butter, oil, granulated sugar and light brown sugar until smooth, about 3 minutes. Beat in the eggs followed by the vanilla extract.
In a large bowl, combine the flour, baking powder, baking soda, salt and lime zest. On low speed, mix in the flour in 3 additions alternating with the milk in 2 additions, starting and finishing with the flour
Transfer the batter to a piping bag or a Ziploc bag with a corner cut off, and pipe the batter into the pan. Bake for 10-12 minutes until a toothpick inserted into a donut comes out clean. Wait 3 minutes before carefully removing the donuts from the pan and letting them cool on a wire rack. Bake the remaining batter in the donut pan.
Once the donuts have cooled completely, make the icing. Puree the blackberries in the bowl of a food processor. Strain out the seeds and discard. In a large bowl, whisk together the blackberries, confectioners' sugar, vanilla extract, lime juice and milk. Dip the tops of the donuts into the icing letting the excess drip back into the bowl. Let set for 1 hour before serving.
SHARE THIS