With pine nuts, ricotta salata and white balsamic vinaigrette, this simple zucchini ribbon salad is proof that salads don't always require greens.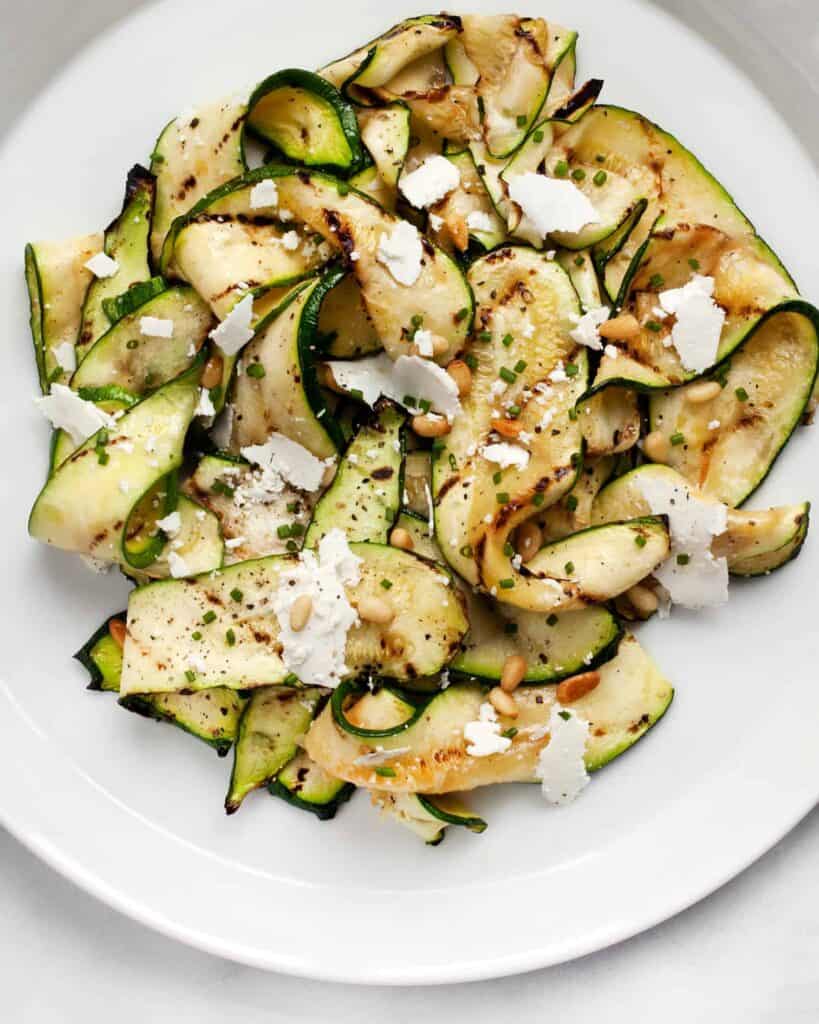 Not a day goes by where I don't eat at least one salad. It doesn't matter if it's January or July, I figure out a way to work in some greens.
Of course my consumption is at its peak during the summer months.

Salads become such an obsession of mine that there are days when breakfast is the only non-salad meal.
And I do have a breakfast salad on my to-blog list! I promise there will be a day when I devour one for every single meal. It will happen soon.
I love a crunchy chopped salad with a theme from an Italian chopped salad with olives and roasted tomatoes to a Mexican chopped salad with grilled corn and radishes.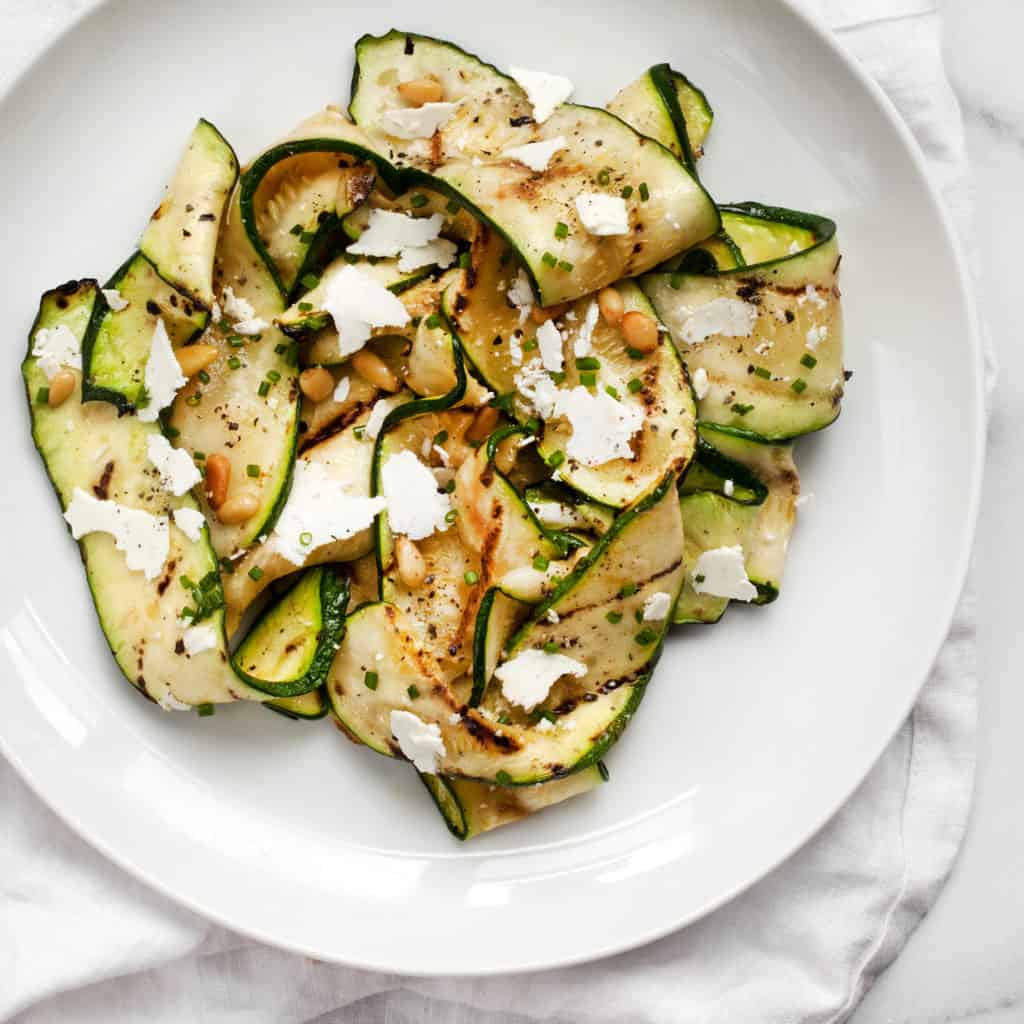 For greens I have a tough time picking a favorite. I think it's a tie between arugula and spinach.

Also, peppery arugula comes in handy to throw into pastas and even on pizzas.
But leaves aren't the base for every salad. Actually, greens are not a requirement to label a dish a salad. Sometimes I skip them all together.
Instead of kale or one of its cousins, I reached for zucchini and my mandolin. A peeler would work, too.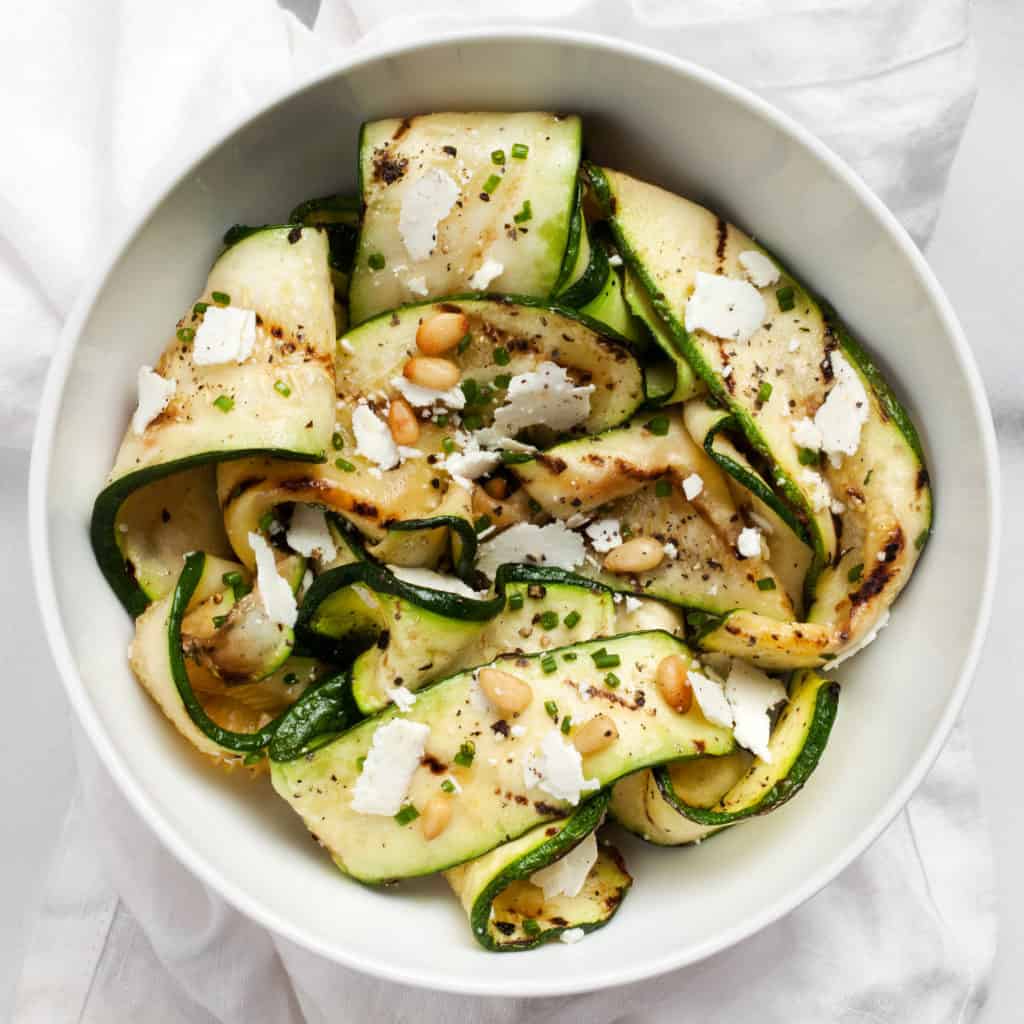 How To Make A Zucchini Ribbon Salad
To make this zucchini ribbon salad, I sliced the zucchini into long thin strips.

I've tweaked this recipe a few times. Yes, you can eat the zucchini raw, but I liked it even more when I grilled all the strips.
Grilling the zucchini gave it a slightly smoky flavor. I always love a little char on my veggies!
It only took a minute or so a side on a hot grill for the zucchini to get striped with grill marks.
If you don't have an outdoor grill, you can also make this on a grill pan on the stovetop.
I tossed the zucchini ribbon salad in white balsamic vinaigrette and added toasted pine nuts and shaved ricotta salata.
The salad wasn't finished until I sprinkled on chives, salt and pepper.
Print
Zucchini Ribbon Salad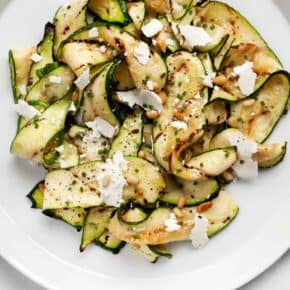 Author:
Prep Time:

10 minutes

Cook Time:

2-3 minutes

Total Time:

12-13 minutes

Yield: Serves

4

1

x
Scale
Ingredients
For vinaigrette
2 tablespoons white balsamic vinegar
1/4 teaspoon Dijon mustard
1/4 teaspoon salt
1/4 teaspoon pepper
1/4 cup olive oil
For salad
3–4 medium zucchini, trimmed
1 teaspoon olive oil
1/2 teaspoon salt
1/4 teaspoon pepper
1/2 cup pine nuts
2 teaspoons minced chives
1 ounce shaved ricotta salata
Instructions
For the vinaigrette, in a small bowl, combine the vinegar, mustard, salt and pepper. Whisk in the olive oil until fully combined.
Preheat a gas or charcoal grill on high heat. You can also use a grill pan on the stovetop.
Using a mandolin or vegetable peeler, slice the zucchini into long ribbons. Toss in olive oil, salt and pepper.
Grill the zucchini until it has grill marks, about 1 minute per side. Let the zucchini cool for 5 minutes.
In a large bowl, toss the zucchini with the chives, pine nuts and ricotta salata. Drizzle with the vinaigrette.
SHARE THIS