Zucchini Salad with Feta & Pine Nuts
Pull out your peeler and slice zucchini into long elegant ribbons to make a salad. Those strips take the place of the usual arugula and spinach in this 10-ingredient zucchini salad. What you end up with is a somewhat unexpected variation on a basic green salad with a little bit of cheese and nuts mixed in.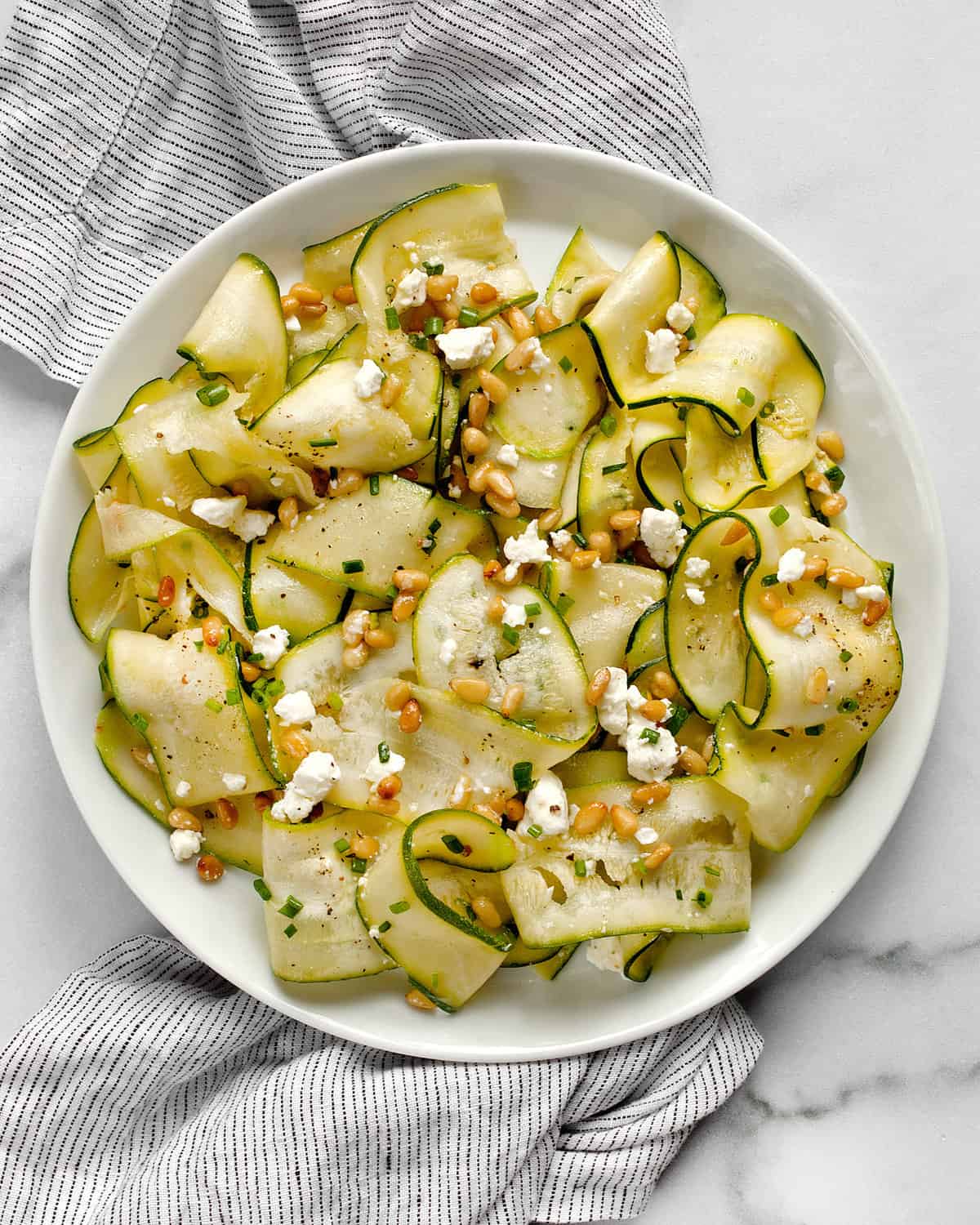 It's a good thing there are so many ways to prep, cook (or not) and eat zucchini. This ever-present vegetable grows in such big quantities and sizes in the late summer months that there's no shortage of zucchini muffins and batches of roasted zucchini that you can make and bake to put it to use. And zucchini is perfect for salads too, and there's no need to cook it.
Can You Eat Zucchini Raw?
Yes! You might immediately think grill or roast when it comes to zucchini, but you don't have to. Its flavor is very quiet and mild, so it plays well with other ingredients.
Cutting Zucchini for a Salad
A Y-shaped vegetable peeler is the simplest way to slice zucchini into long and thin ribbons. You can also use a mandolin, but a veggie peeler is my go-to because I think it is easier to use, and it involves less cleanup.
The Ingredients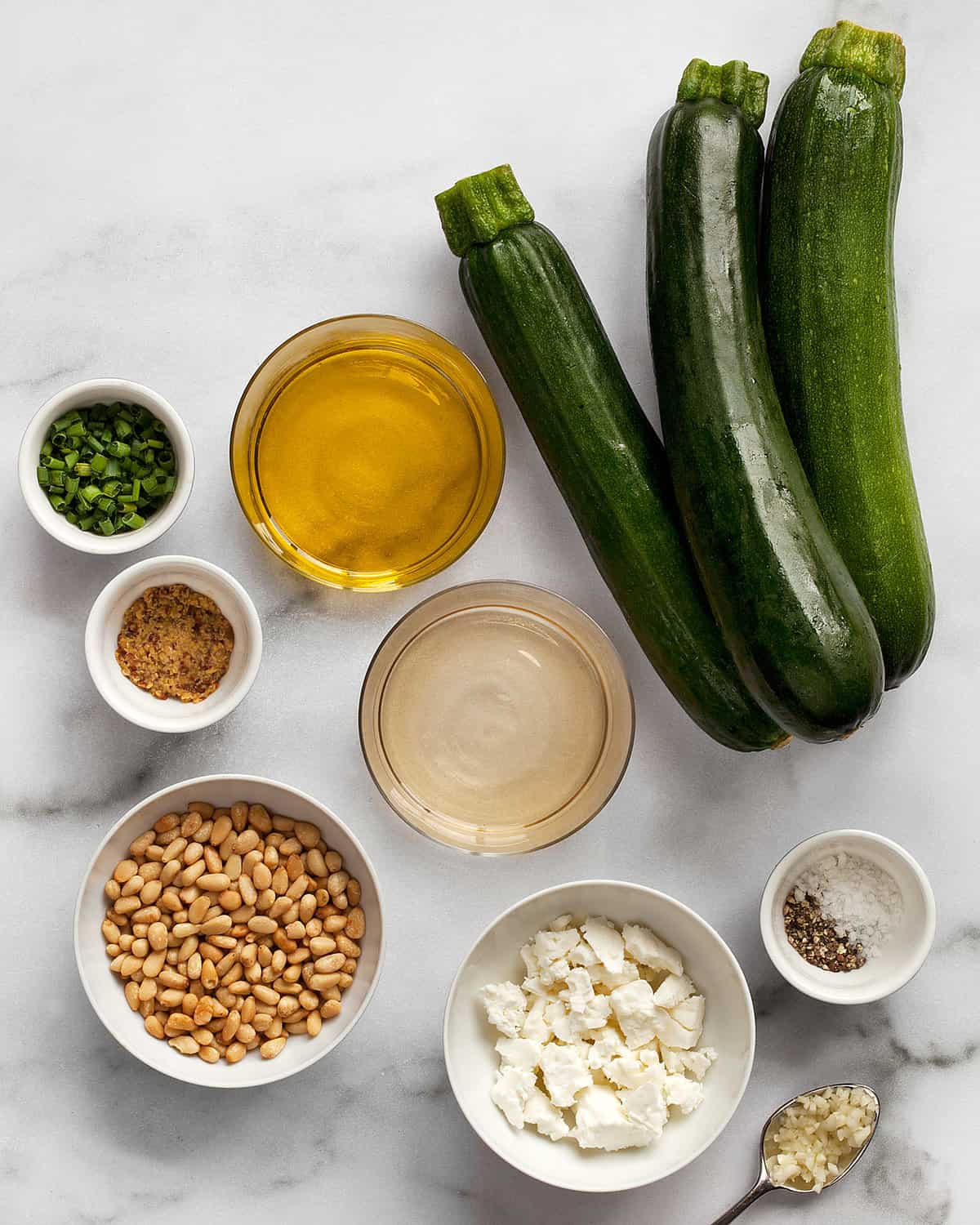 This is what you need:
Zucchini: It's important that you use the most fresh zucchini you can find. It should be firm with no soft spots and have medium to dark green skin. You can substitute with yellow summer squash or use a combination of both to include more color. If you can, shop the farmers market. Cucumber is another veggie that you can cut into ribbons, so you can also include it with zucchini.
Pine Nuts: Before you add the nuts to the salad, toast them on a foil-lined sheet pan in a 350-degree F oven for 4-5 minutes until they are golden brown. Chopped walnuts or almonds would also work.
Feta: Salty crumbled feta cheese goes so well with the mellow flavor of the zucchini ribbons. Goat cheese is another good option or shaved Parmesan cheese.
Olive oil: Since this is a salad with very few ingredients you want the best taste, so extra virgin olive oil is what you should use.
White wine vinegar is the base for the light vinaigrette.
Whole grain mustard adds flavor and helps the dressing emulsify and not separate.
Garlic: I include a minced garlic clove in the vinaigrette.
Chives add a sprinkle of something subtle and oniony. Don't be shy about including other fresh herbs too like parsley or fresh basil.
Salt & pepper season the dressing.
Optional Additions
Something to love about a raw zucchini salad is its simplicity. But with these Mediterranean flavors, you can also add:
Halved or quartered cherry tomatoes (raw or roasted)
Pitted olives
Thinly sliced peaches
How To Make This Zucchini Salad
1. Make the vinaigrette. In a small bowl, whisk together the vinegar, mustard, garlic, olive oil, salt and pepper. I do this first to get it out of the way. Then I can focus on prepping the zucchini and the salad.
2. Peel the zucchini. Use a vegetable peeler or a mandolin to slice it into very thin ribbons. Besides flavor, having fresh and firm zucchini makes it much easier to get consistent slices that are paper-thin.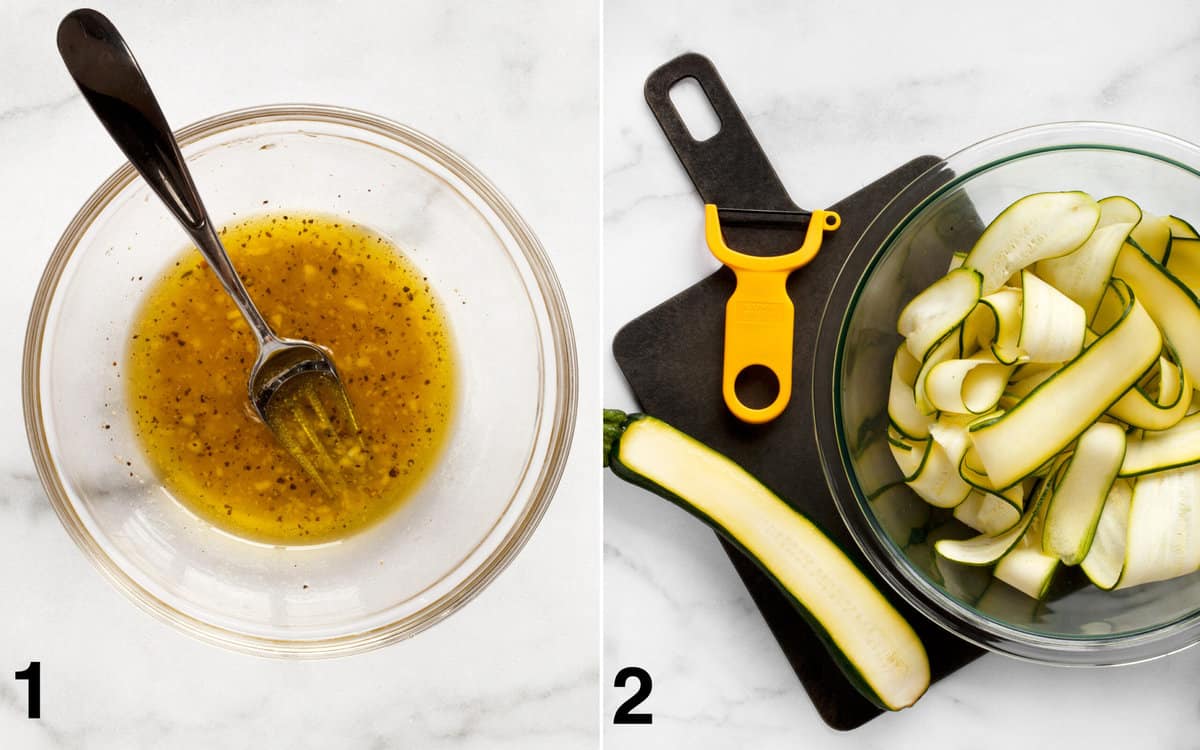 3. Toss half the vinaigrette with the zucchini. I think of this as the initial dressing or marinating of the veggies.
4. Stir in the pine nuts, feta and chives. At this point you can add more vinaigrette if you want.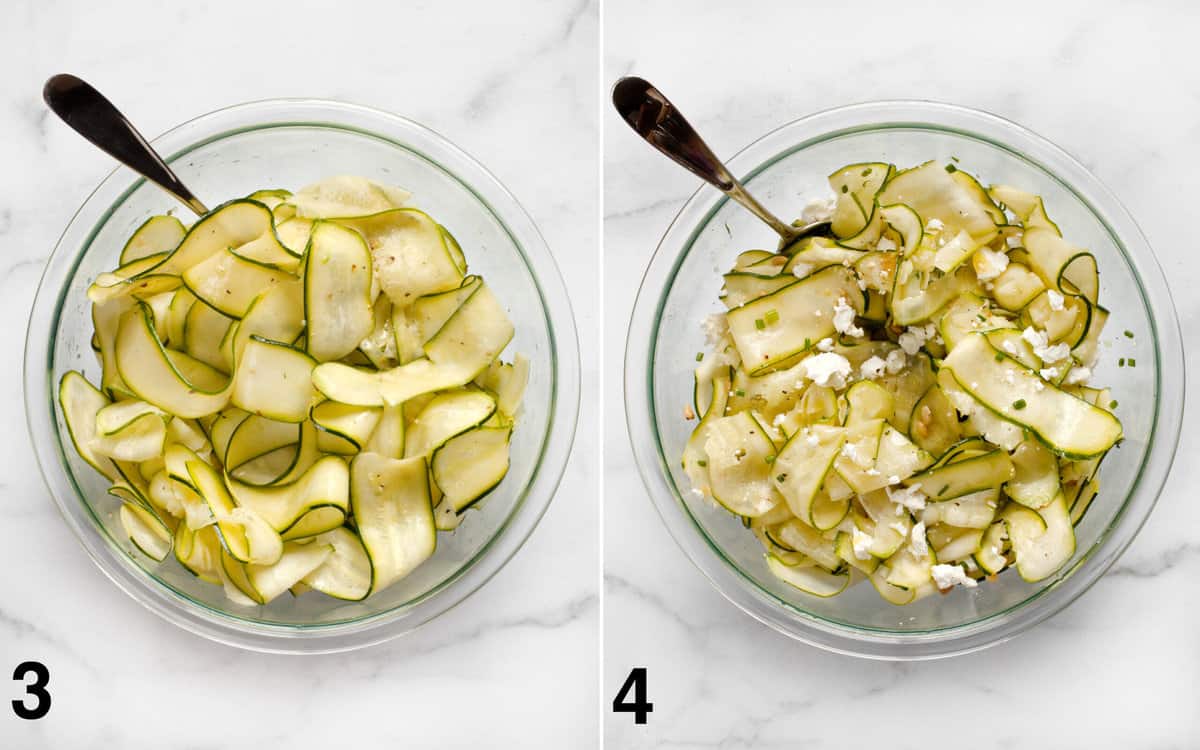 Serving
This is a lovely salad that's a great alternative to lettuce, and it counts as a side dish too. I always love the look of the looping zucchini ribbons on the plate. This salad goes with lots of grilled or roasted main dishes including BBQ tofu veggie skewers, roasted eggplant & tomatoes with halloumi and baked tomato farro risotto.
Pair it with pasta dishes such as cherry tomato eggplant pasta, burst tomato pasta or spaghetti with fresh tomato sauce. It would also be good with a protein like chicken, fish or steak.
Leftovers
The salad is best the day that you make it. The zucchini ribbons are delicate, so try to eat them when they are freshly cut. If you do have leftover salad, you can store it in an airtight container in the refrigerator up to 2 days.
More Zucchini Recipes
Cacio e Pepe with Zucchini Noodles
Roasted Zucchini and Squash
Baked Zucchini Corn Fritters
Baked Zucchini Fries
Roasted Broccolini Zucchini Pasta Salad
30-Minute Tomato Zucchini Orzo
Zucchini Squash Casserole
Did you try this zucchini salad recipe? Please leave a comment and review below. Thanks!
Zucchini Ribbon Salad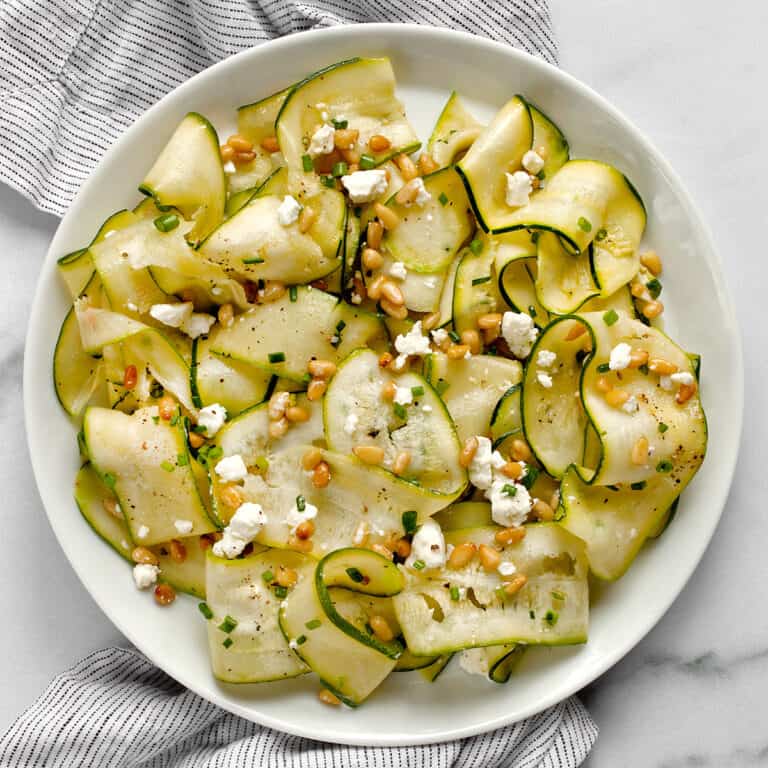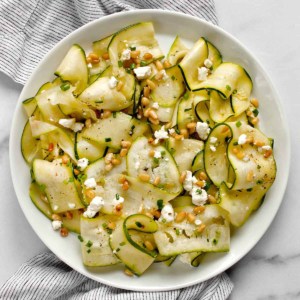 With toasted pine nuts, feta cheese and white wine vinaigrette, this easy zucchini salad is a reminder that not all salads need leafy greens.
Ingredients
For vinaigrette

2

tablespoons

white wine vinegar

1

teaspoon

whole grain mustard

1

garlic clove

minced

3

tablespoons

olive oil

1/2

teaspoon

kosher salt

1/4

teaspoon

black pepper

For salad

3-4

medium zucchini

1/4

cup

toasted pine nuts

1/4

cup

crumbled feta

2

tablespoons

minced chives
Instructions
To make the vinaigrette, whisk together the vinegar, mustard, garlic, olive oil, salt and pepper in a small bowl.

Use a vegetable peeler or mandolin to thinly slice the zucchini into ribbons.

In a large bowl, toss the sliced zucchini with about half the vinaigrette.

Then stir in the pine nuts, feta and chives. Drizzle in more vinaigrette as desired.
Notes
In addition to zucchini, you can also use thinly peeled yellow squash or cucumbers.
Goat cheese or shaved parmesan can be substituted for feta.
Optional additions to the salad: halved or quartered cherry tomatoes, pitted olives or thinly sliced peaches
The salad is best eaten the day it is made. Leftovers can be stored in an airtight container in the refrigerator up to 2 days.
Nutrition
Calories:
212
kcal
|
Carbohydrates:
8
g
|
Protein:
5
g
|
Fat:
19
g
|
Saturated Fat:
3
g
|
Polyunsaturated Fat:
4
g
|
Monounsaturated Fat:
10
g
|
Cholesterol:
8
mg
|
Sodium:
428
mg
|
Potassium:
582
mg
|
Fiber:
2
g
|
Sugar:
5
g
|
Vitamin A:
501
IU
|
Vitamin C:
36
mg
|
Calcium:
84
mg
|
Iron:
1
mg
Nutrition information is automatically calculated, so should only be used as an approximation.