Certain fruits and vegetables should only be eaten in their respective season.
Not only do they taste better (and are less expensive), there is something that makes them more special when you have to wait.
With the plentiful selection at the grocery 365 days a year, it can be confusing to know when things are at their peak.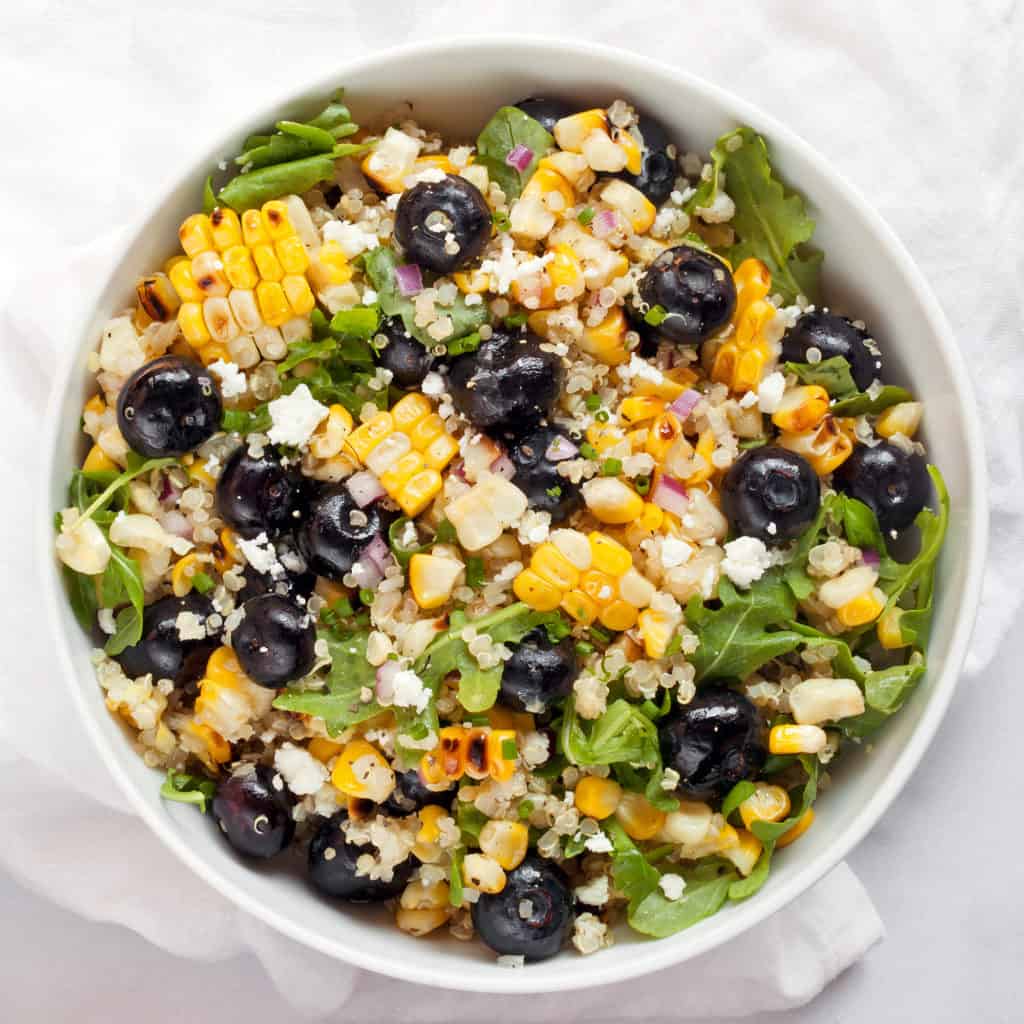 Corn is one of those things that you absolutely have to eat in season. It must be consumed within the boundaries of summer.
Yes, you can manage to find a few cobs in the produce section in January, but they just don't taste as good.

Since we are in peak corn season, I've been eating my weight in corn.

You have to make the most of it, right!?

Those yellow kernels bring me so much summer joy.
Most of the time I haven't been eating corn on the actual cob.
My routine is to use a knife to slice off all the kernels and mix them with something else.

Tomatoes and black beans are two of my favorite pairings along with lots of fresh herbs.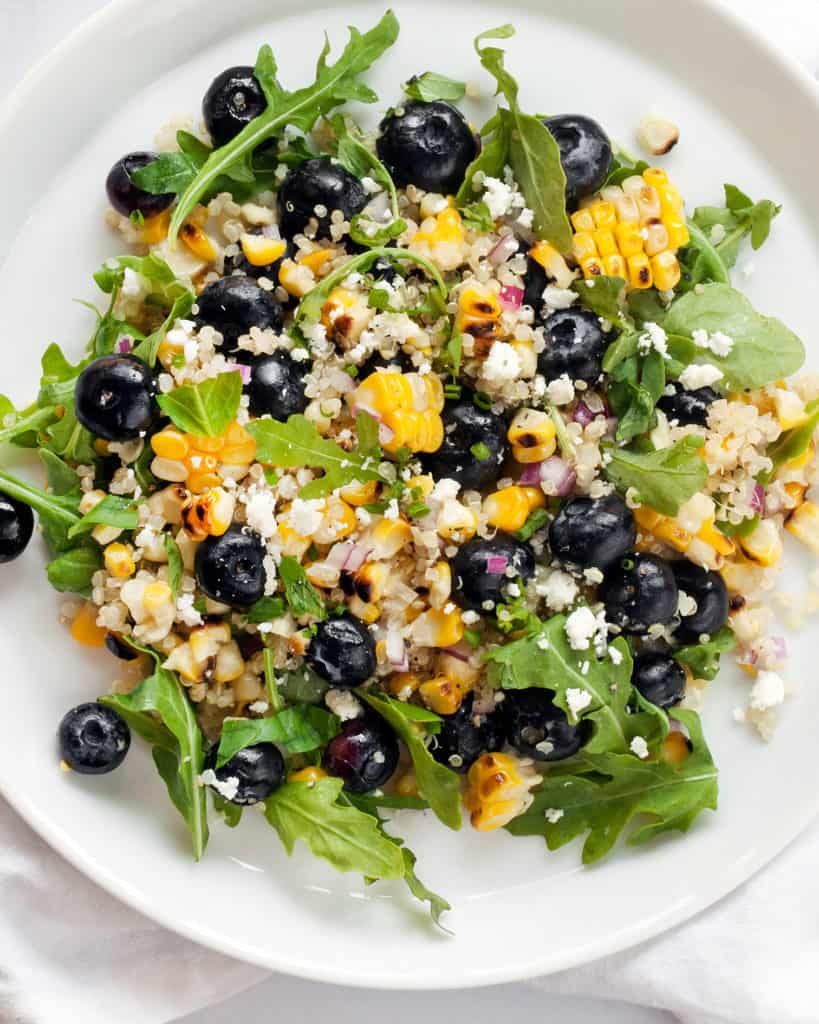 How To Make A Blueberry Corn Salad
It was time to find another match for my grilled corn. After lots of debating, I thought why not eat that corn with fruit, specifically berries.

But which berry? What wouldn't be too sweet or tart to be used in a savory dish.
I settled on blueberries and made a blueberry corn salad.
To give the salad some heft, I started cooking a pot of quinoa. Grains are a great way to turn a salad into a meal.
After that, I fired up the grill for the corn. Once the cobs cooled, I sliced the kernels off with a knife.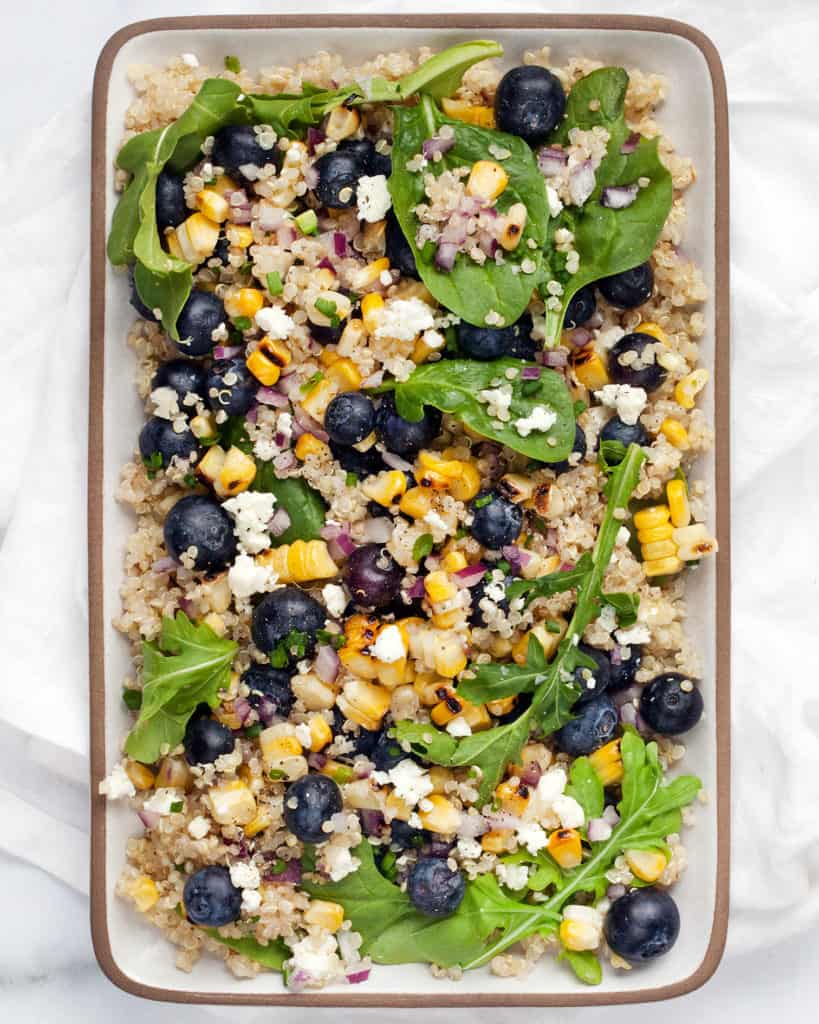 I put the corn and quinoa in a big bowl and folded in basil, red onions and baby greens.
Then I whisked together lime vinaigrette for the dressing and finished the salad with ricotta salata and chives.
The salad was refreshing and had me thinking about how else to consume blueberries other than for breakfast or dessert.
Print
Blueberry Corn Salad
Prep Time:

15 minutes

Cook Time:

12 minutes

Total Time:

27 minutes

Yield: Serves

4

1

x
Scale
Ingredients
1 cup water
1/2 cup quinoa, rinsed
3 ears corn, shucked
1 tablespoon + 1/4 cup olive oil
Juice of 1 lime
1 garlic clove, minced
1/4 teaspoon kosher salt plus more for serving
1/4 teaspoon black pepper plus more for serving
1-1/2 cup blueberries
1/3 cup finely chopped red onions
1 handful baby greens
1/4 cup chopped basil
1/4 cup crumbled ricotta salata
2 tablespoons minced chives
Instructions
In a small saucepan, bring the water to a boil, add the quinoa, cover and simmer until tender and the water has been absorbed, about 12 minutes. Fluff with a fork.
Preheat a gas or charcoal grill on high heat.
Rub corn with 1 tablespoon olive oil and grill, turning occasionally, until lightly charred, about 5-7 minutes. Let the corn cool slightly before slicing the kernels off the cob.
In a small bowl, whisk together the lime juice, garlic, salt, pepper and remaining olive oil.
Combine the quinoa, corn, blueberries, red onions, baby greens, basil, ricotta salata and chives. Toss in the lime vinaigrette. Taste the salad and add more salt & pepper as desired before serving.
SHARE THIS