Blueberry Salad with Grilled Corn
on Jun 27, 2022, Updated Jul 08, 2023
This blueberry salad has a little bit of everything in the best way including grilled corn, quinoa, feta, red onions and arugula all dressed in lemon vinaigrette.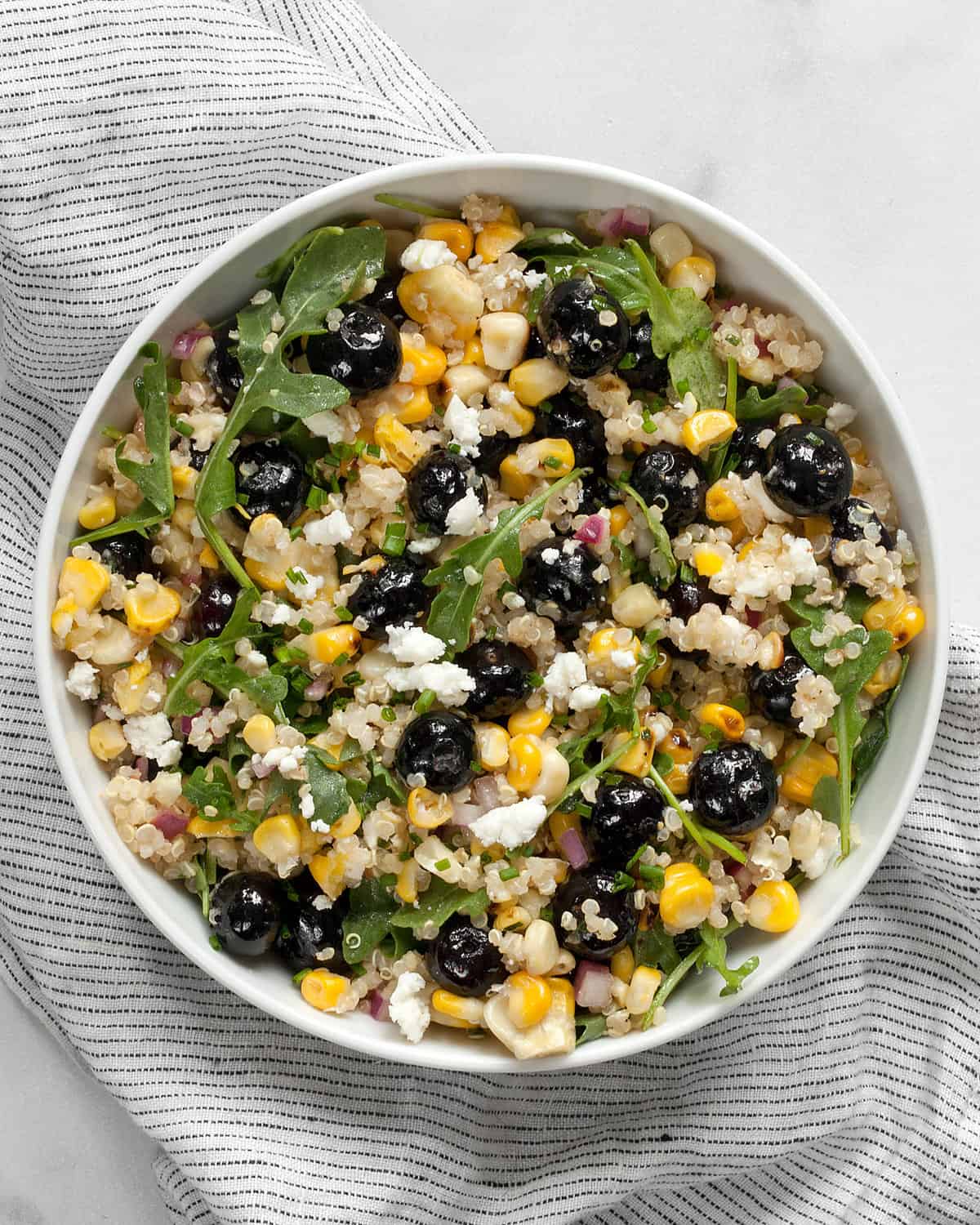 Summer is peak season for salads that tick all the boxes: sweet, savory, salty and oh so good. If I were to keep a salad journal (not a thing, I know), in the last week or so there would be an obvious pattern. Fruit makes an appearance in every single one.
And to be clear, this is not fruit salad. It's fruit IN salad. I pair berries and grilled corn in this blueberry salad recipe with quinoa, red onions, arugula and feta. To dress the salad, I make a simple lemon vinaigrette with a touch of grainy mustard.
With the abundance of fruits and veggies this time of year, I take advantage of any chance I get to combine them in a single dish.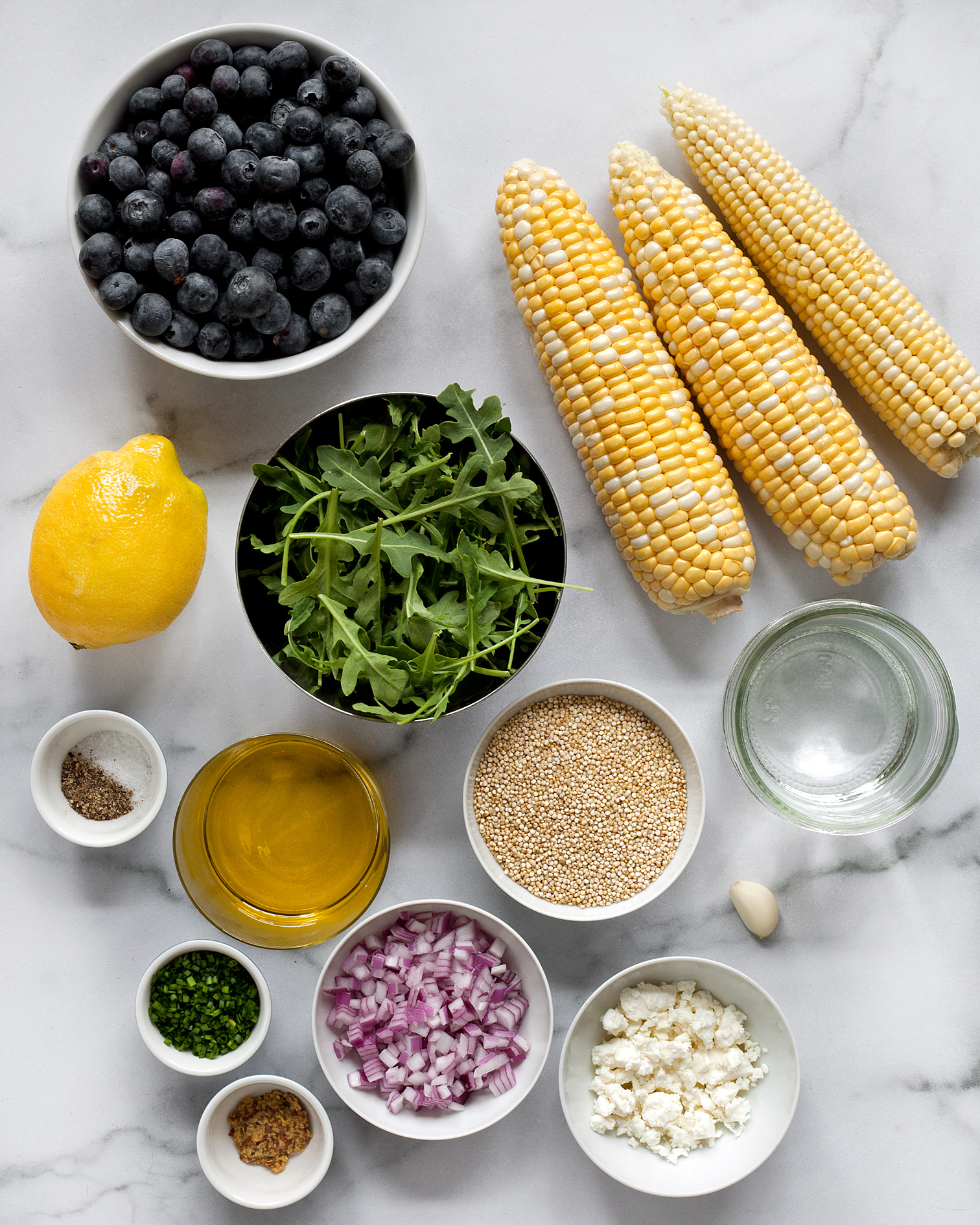 Ingredients & Substitutions
This is what you need for the salad:
Blueberries are a deep, dusty blue color. Look for ones where the berries are plump and their skin is taut. Even the slightest wrinkles indicate they are past their prime. Fresh berries kind of have a crisp bite to them, like a snap or even a juicy pop. To prep them, just rinse them in cold water in a colander and pat them dry.
Corn on the cob should be wrapped very tightly in its green husk. This helps the kernels retain some of their moisture and stay fresh. Avoid any ears where other shoppers have peeled back the top of the husk because this will make the corn dry out faster. The silk at the end should be a little damp. Grill the ears of corn and then slice off the kernels once they are cool enough to hold.
Quinoa: You can use white, red or black quinoa or a blend of all three. For this salad, I like the tiny granules of quinoa, which is gluten-free, but you can also use couscous, barley or rice (brown or wild).
Red onions are great for salads because they are crisp and mild in their onion flavor. I also love the color they add. You can use sliced scallions too.
Feta cheese crumbled in the salad is a nice salty counterpoint to the berries. You can substitute with goat cheese instead. Or for something more strong and pungent, go for blue cheese.
Arugula is a peppery leaf that I think acts like salad greens and fresh herbs especially in this recipe where it's in a supporting role rather than being the star. You can swap it with baby spinach for a blueberry spinach salad. And it's up to you if you want to add more greens than the recipe calls for.
And for the Dressing:
Chives: Finely chopped chives give the salad a light green onion kind of finish. Torn basil would also be lovely especially if you want to go for full summer flavor.
Lemon is the base of the vinaigrette. For any dressing, squeeze a fresh lemon. Never use bottled lemon juice.
Olive oil: Definitely reach for extra virgin olive oil for this salad.
Garlic is subtle in the dressing, but it reinforces the overall savory tastes.
Mustard gives the vinaigrette a little punch and also helps to keep it emulsified.
Salt and pepper season the overall salad via the vinaigrette.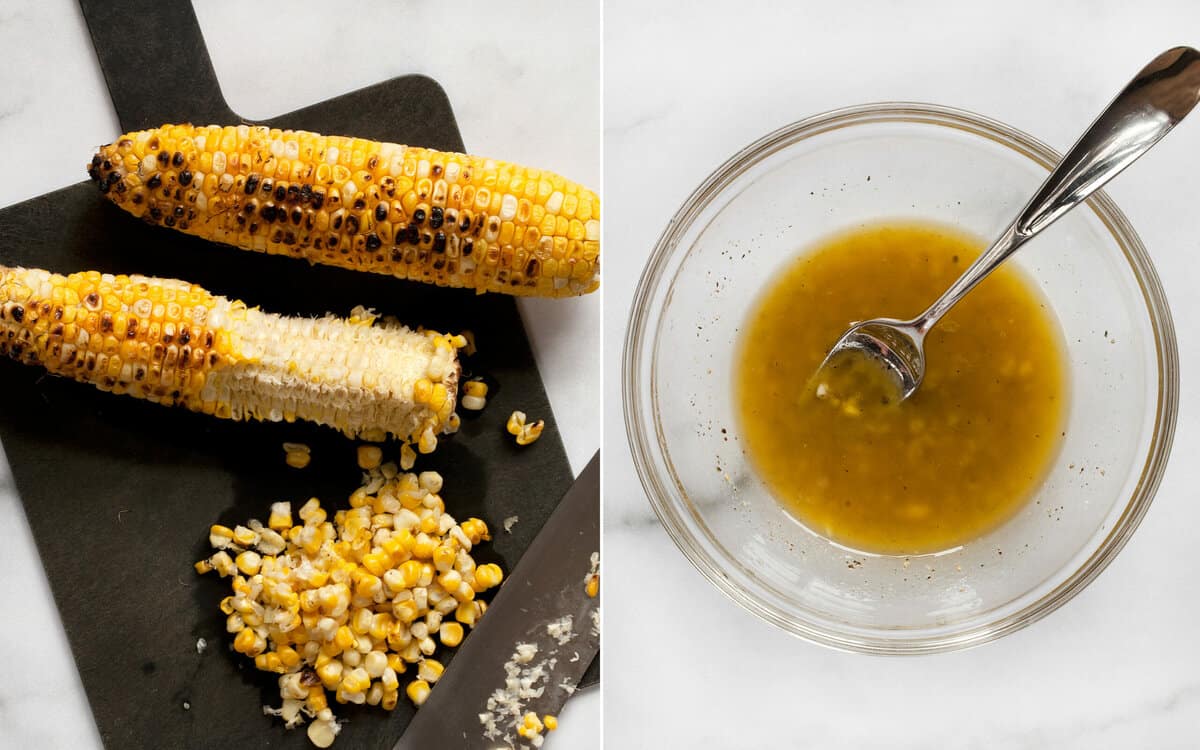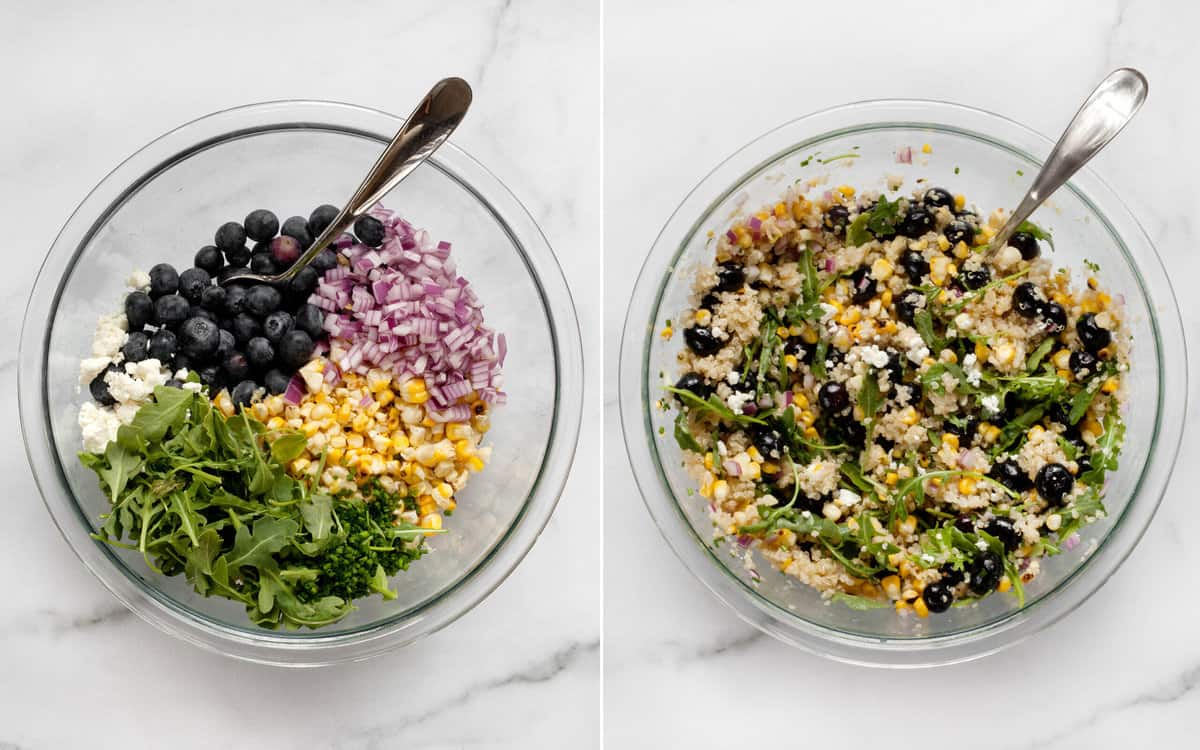 How To Make This Blueberry Salad
Cook the quinoa. On the stovetop combine the rinsed quinoa and water over high heat. Bring it to a boil, reduce the heat and cover the pot. Simmer the quinoa until the grains are tender, about 12 minutes or so. Let the quinoa sit covered for 5 minutes, and then fluff it with a fork.
Grill the corn. Fire up a gas or charcoal grill for high heat. Rub the corn with olive oil and grill it until the kernels are charred in spots. This will take 5-7 minutes. Make sure to turn the corn as it cooks.
Combine the fresh blueberries, onions, arugula, feta and chives in a bog bowl. Stir in the quinoa.
Make the vinaigrette by whisking together the garlic, Dijon mustard, lemon juice, olive oil, salt and pepper.
Stir the salad ingredients together while drizzling in the salad dressing.
Optional Additions
Nuts: For some crunch, try chopped walnuts, pecans or almonds.
Avocado: Stir in diced avocados for some healthy fat that will make the salad more filling.
Hard-boiled egg: Chop it to add a protein to the salad.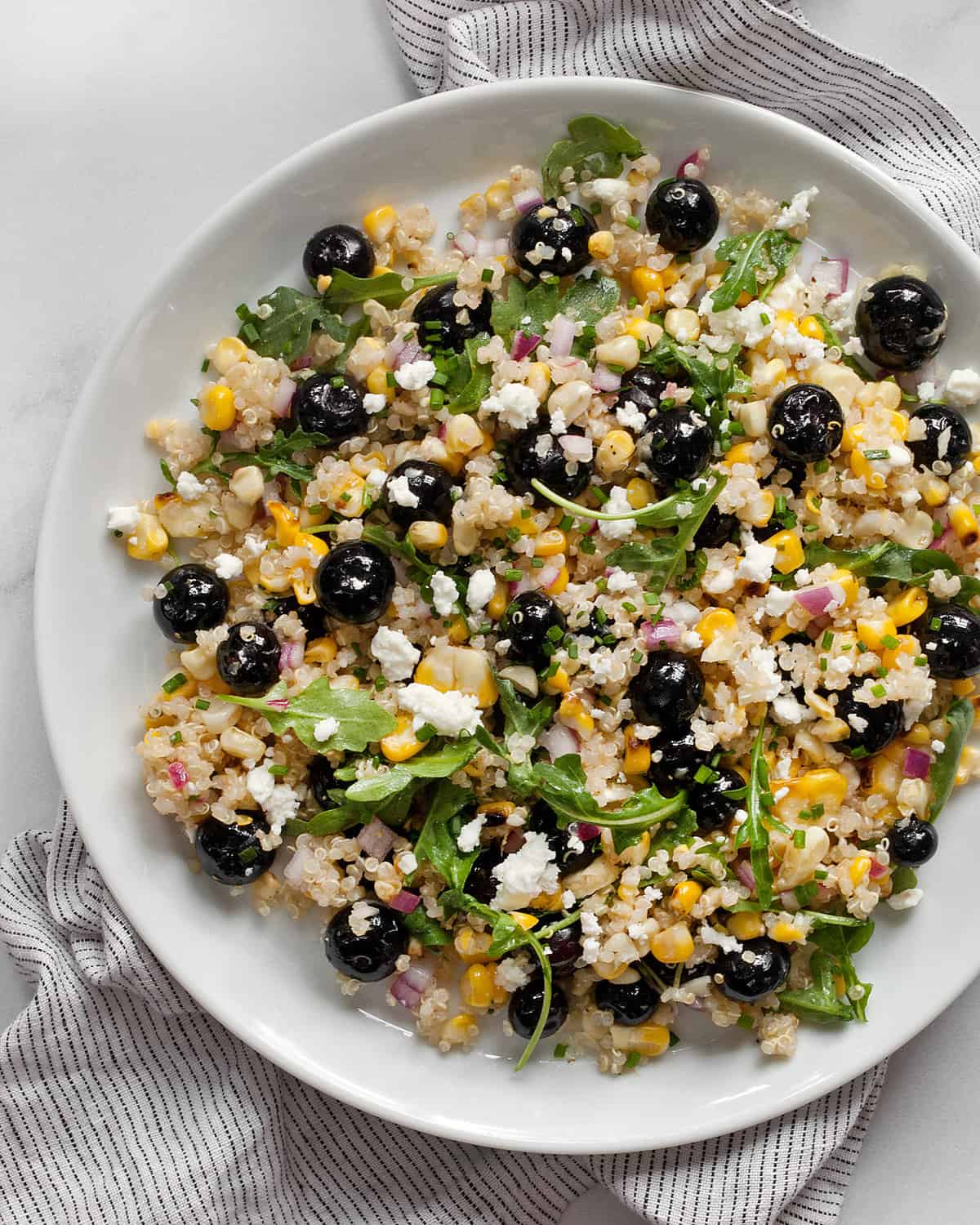 Serving
Because this is a salad that goes heavy on the quinoa and corn and not as much on the greens, I like to think of it as part side dish. Of course you can serve it like an entrée salad too and add a protein such as grilled chicken or shrimp.
Leftovers
You can store leftovers in an airtight container in the fridge up to 3 days. The arugula will probably wilt the longer it sits, so feel free to add a little more arugula when you do end up eating it.
If you are planning to save some of the salad, toss only what you're going to eat in the homemade dressing. Then save the rest in a jar separate from the salad.
More Berry Recipes
Mixed Berry Kale Salad
Strawberry Cucumber Pasta Salad
Pistachio Goat Cheese Strawberry Salad with Balsamic Vinaigrette
Blackberry Salad with Basil Pesto Vinaigrette
Lemon Blueberry Scones
Vanilla Buttermilk Cake with Raspberries
Blackberry Lemon Yogurt Cake
Blueberry Salad with Grilled Corn and Quinoa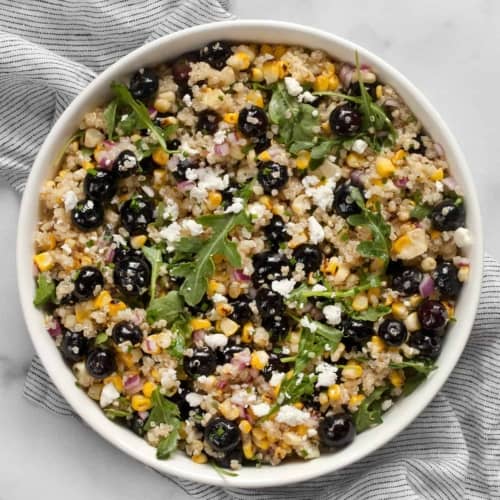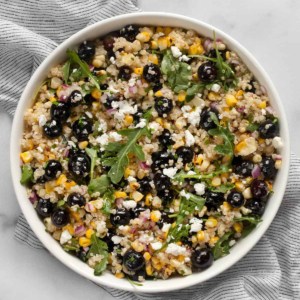 This blueberry salad has a little bit of everything in the best way including grilled corn, quinoa, feta, red onions and arugula all dressed in lemon vinaigrette.
Ingredients
For quinoa

1/2

cup

quinoa

rinsed

1

cup

water

For corn

3

ears

corn

1

teaspoon

olive oil

For salad

1-1/2

cups

blueberries

1/4

cup

chopped red onions

1

cup

arugula

1/4

cup

crumbled feta

1

tablespoon

minced chives

For vinaigrette

1

garlic clove

minced

1

teaspoon

whole grain mustard

Juice of 1 lemon

2

tablespoons

olive oil

1/2

teaspoon

kosher salt

1/2

teaspoon

black pepper
Instructions
Combine the quinoa and water in a small saucepan over high heat and bring to a boil. Cover and reduce heat. Simmer on low until the quinoa is cooked and has absorbed the water, about 12-15 minutes.

Remove the quinoa from the heat. Let stand covered for 5 minutes. Then fluff it with a fork.

Preheat a gas or charcoal grill on high heat.

Rub the corn with 1 teaspoon olive oil. Grill, turning occasionally, until lightly charred, about 5-7 minutes. Let the corn cool slightly before slicing off the kernels.

In a large bowl, combine the corn, blueberries, onions, arugula, feta and chives. Stir in the quinoa.

For the dressing, whisk together the garlic, mustard, lemon juice, olive oil, salt and pepper in a small bowl.

Drizzle the dressing into the salad, tossing to coat.
Notes
Store leftovers in an airtight container in the refrigerator up to 3 days.
Nutrition
Calories:
218
kcal
|
Carbohydrates:
25
g
|
Protein:
5
g
|
Fat:
12
g
|
Saturated Fat:
3
g
|
Polyunsaturated Fat:
2
g
|
Monounsaturated Fat:
7
g
|
Cholesterol:
8
mg
|
Sodium:
418
mg
|
Potassium:
232
mg
|
Fiber:
4
g
|
Sugar:
6
g
|
Vitamin A:
231
IU
|
Vitamin C:
15
mg
|
Calcium:
79
mg
|
Iron:
1
mg
Nutrition information is automatically calculated, so should only be used as an approximation.