Brownie Ice Cream Sandwiches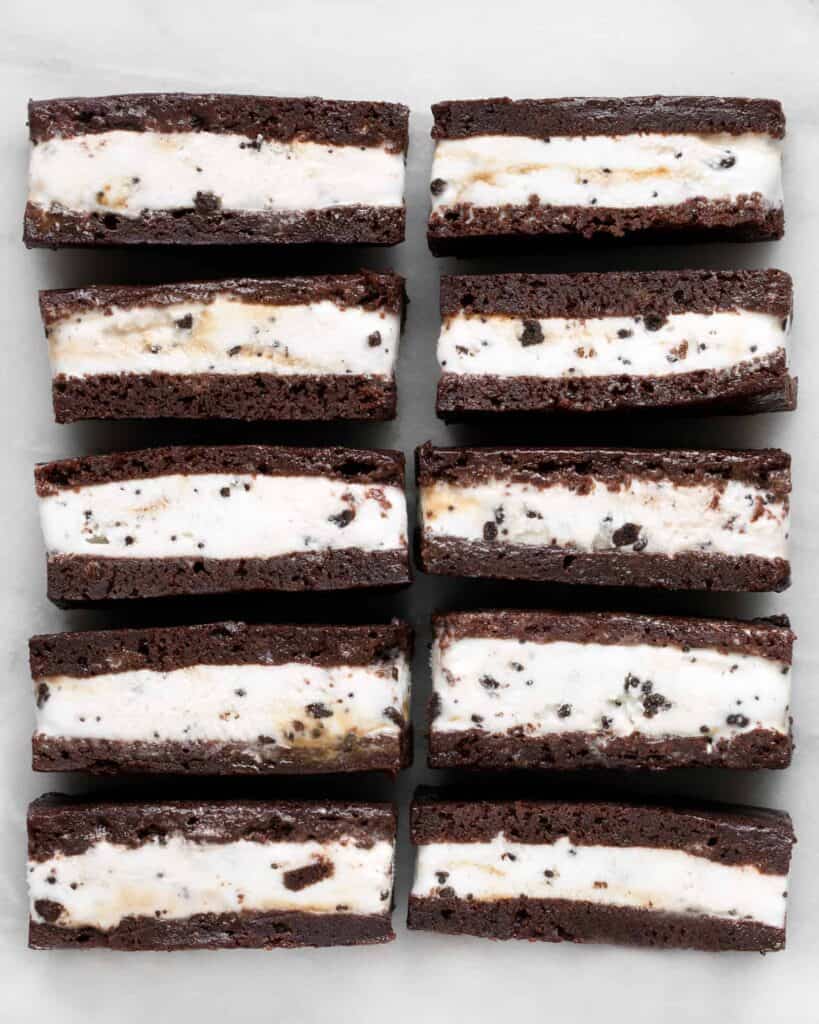 Memorial Day gives everyone permission to do a few things:
1) Wear white
2) Fast-forward to summer
3) Eat ice cream
Does that mean I don't consume ice cream other than between Memorial Day and Labor Day?
Of course not! Ice cream is one of my favorite treats. It's an all the time thing.
I've passed my passion for frozen desserts to my five-year-old, who will say no thank you to cupcakes and request ice cream for dessert every night.

My ice cream recipes usually fall into two camps: ice cream from scratch or store-bought ice cream used in multi-component dessert.
Ice cream sandwiches are a great way to dress-up a pint or two of ice cream. They key thing is to make your own "bread" from scratch.

When I say "bread" I mean the cookie or whatever that ice cream is sandwiched in between.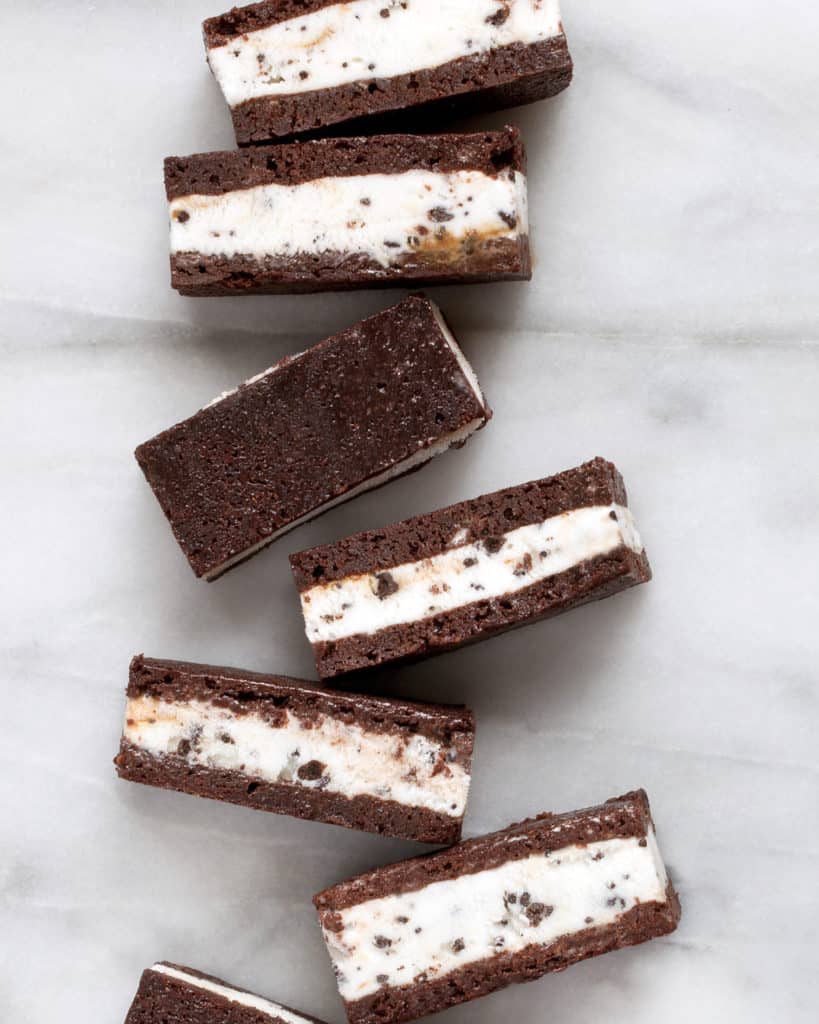 How To Make Brownie Ice Cream Sandwiches
I love bar cookies because they are a one, maybe two-bowl, dessert that require no fussy shaping or cutting.

Going with the theme of enhancing store-bought ingredients, I made brownie ice cream sandwiches.

Instead of baking this batch of brownies in the usual square pan, I pulled out a jelly roll pan, so my brownies turned out thin.

For ice cream, I used chocolate chip caramel gelato. Why did I pick that flavor?

Honestly, it was because it was on sale! Those pints were one of the fancier brands I would only buy if they had some sort of discount.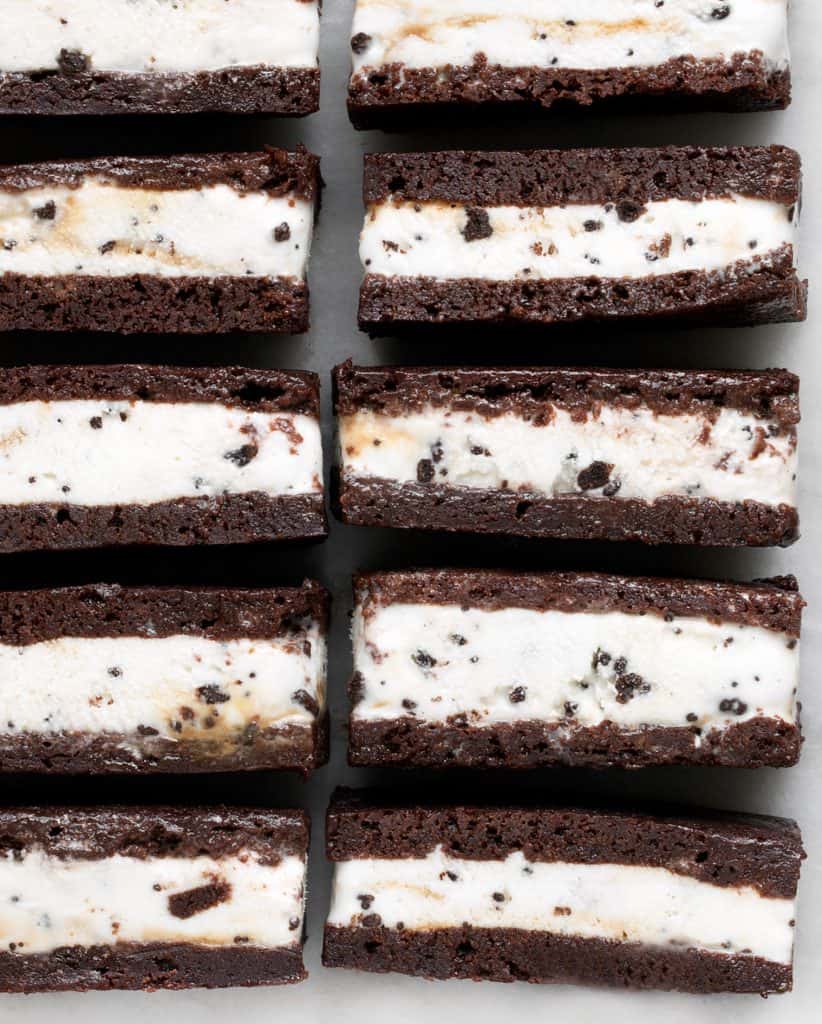 So many things go with chocolate from vanilla to nuts to berries to citrus to more chocolate.

This is where you can customize the brownie ice cream sandwiches to whatever you want.

I let the ice cream soften a bit before I spread it on one half of the brownie.
Then I carefully placed the other brownie on top. It's important to freeze the overall ice cream sandwich before cutting it.
Depending how many people you're trying to serve, you can cut the sandwiches in different sizes.

I started with 12 rectangles and photographed them for the blog that way.
Since I like to have a little bite of dessert after dinner and I wanted the brownie ice cream sandwiches to last longer, I cut them into even smaller bite sizes and stashed them in a storage bag in the freezer.
Print
Brownie Ice Cream Sandwiches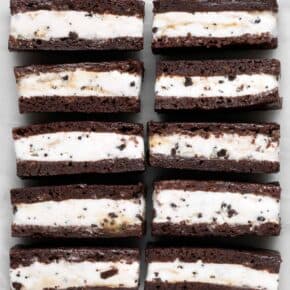 Prep Time:

15 minutes

Cook Time:

10-12 minutes

Total Time:

25-27 minutes + 2 hours freezing

Yield: Makes

12

1

x
Scale
Ingredients
1 stick unsalted butter, melted, plus more for pan
1 cup granulated sugar
2 large eggs
1/2 teaspoon sea salt
1/2 cup all-purpose flour
1/2 cup unsweetened cocoa powder
2 pints ice cream, softened
Instructions
Preheat the oven to 350 degrees F. Grease a 10-inch by 15-inch jelly roll pan with butter. Line with parchment leaving a 2-inch overhang on the short sides of the pan. Butter the paper.
In a large bowl, combine the butter and sugar. Beat in the eggs. Stir in the salt, flour and cocoa powder until combined. Pour the batter into the prepared pan and use a spatula to spread into an even layer. Bake for 10-12 minutes until the edges of the brownie release from the pan and it feels dry to the touch. Remove the brownie from the pan using the parchment overhang and transfer to a wire rack to cool completely.
Cut the brownie in half crosswise. Line a sheet pan with plastic wrap and place one brownie half on it. Spread on the ice cream using an offset spatula. Place the other brownie half on top. Wrap in tightly plastic wrap and freeze until firm, at least 2 hours.
Cut into 12 equal rectangles.
SHARE THIS