Vegan Roasted Banana Tahini Ice Cream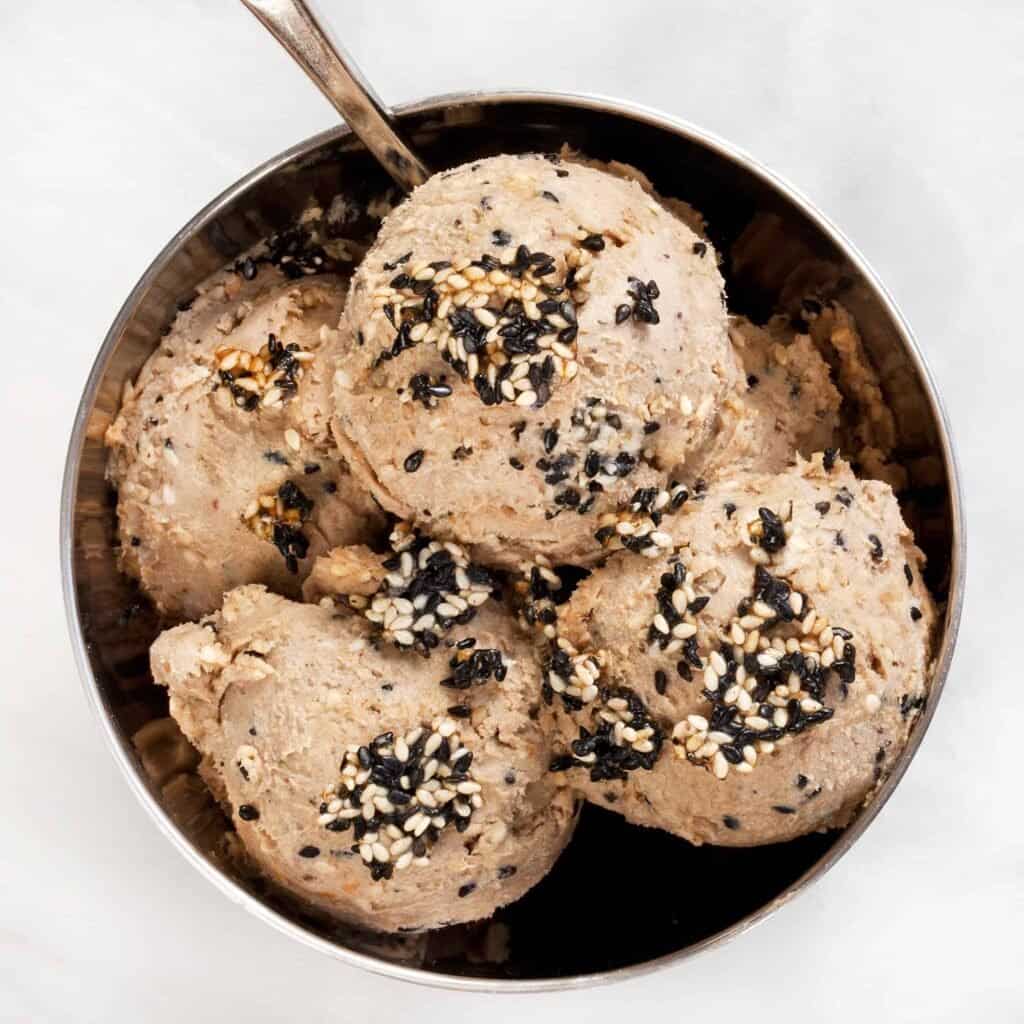 There's snow on the ground, and I want ice cream. I know that makes no sense. Plus it's January when ice cream and other treats are supposedly off limits.
At spinning class the other morning, just 4 people showed up. Our instructor said the average person only lasts 3 weeks with resolutions. We're only days away from that, and resolution fatigue has debuted early.
January is also an awkward food blogging month. The first couple weeks are healthy, and then the last part of the month is Super Bowl snacks. I am doing my best to combine the two.

I decided not to ignore my ill-timed ice cream craving. Vegan nice cream versions are super easy to whip up in the food processor using bananas as a base.
This time I added a couple extra steps to make vegan roasted banana tahini ice cream.
First, I sliced the bananas, tossed them in a little maple syrup and roasted them in the oven to bring out the sweetness. I let the banana chunks cool and then froze them.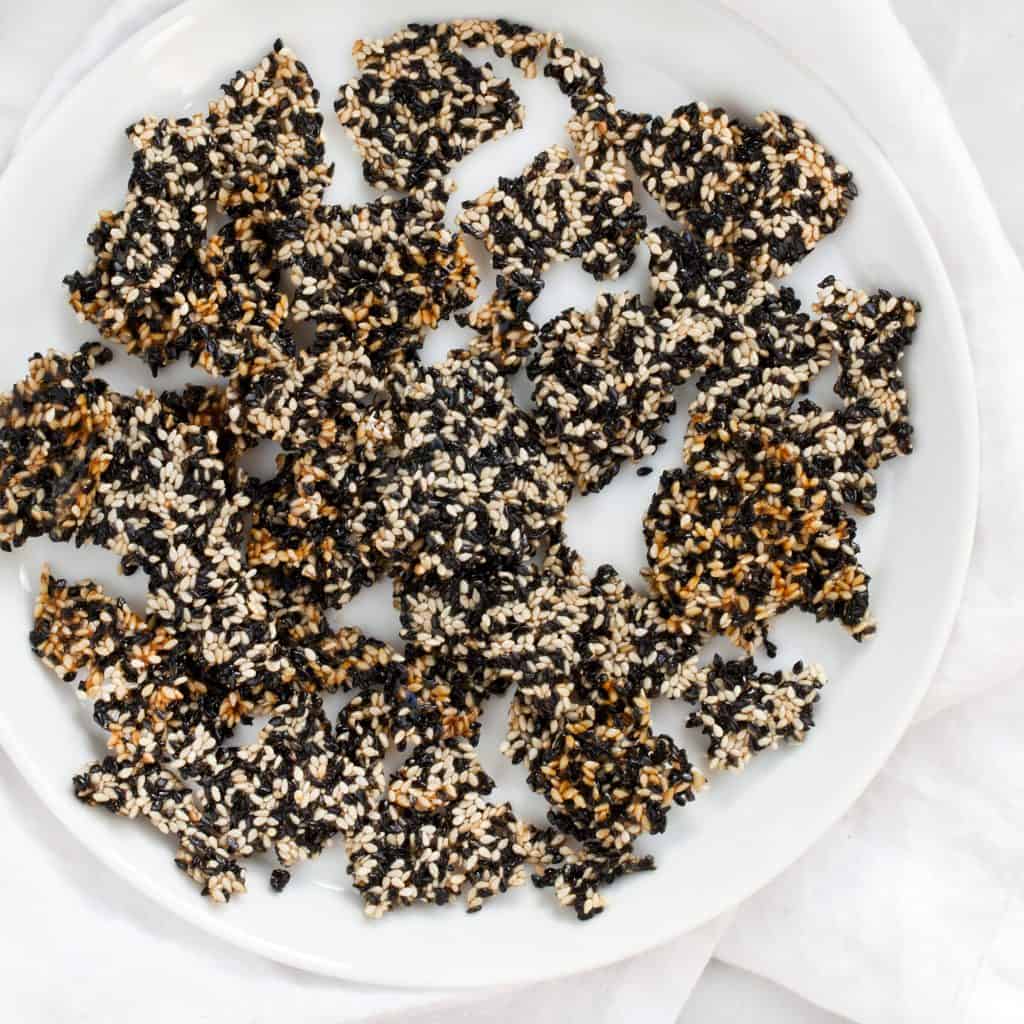 Swirled into this ice cream was a sesame crunch. I combined black and white sesame seeds, melted coconut oil, coconut sugar and maple syrup. Then I spread it in a thin layer on a parchment paper-lined sheet pan and toasted it in the oven. After the crunch cooled. I broke it into small pieces.
When all the components were ready, I pureed the bananas, tahini, almond milk and cinnamon in the food processor until it was smooth. Then I transferred the ice cream to a bowl to fold in the sesame crunch, saving some to use for a topping.

Straight from the food processor, the ice cream was similar to soft serve. Don't worry, I resisted finishing it in one sitting! The rest went into the freezer to harden up into a regular ice cream consistency.
I absolutely loved the subtle sweet, toasty and nutty flavor of this vegan roasted banana tahini ice cream.
Print
Vegan Roasted Banana Tahini Ice Cream
Total Time:

1 hour 40-45 minutes + freezing

Yield:

About 1 pint
Ingredients
For bananas
5 bananas, peeled and sliced into 1/2" thick rounds
1 tablespoon maple syrup
For sesame crunch
3/4 cup black and white sesame seeds.
3 tablespoons maple syrup
1 tablespoon coconut sugar
1 tablespoon coconut oil
For ice cream
1/2 cup tahini
1/2 cup almond milk
1 teaspoon cinnamon
Instructions
Preheat the oven to 400 degrees F. Line a sheet pan with parchment paper. Toss the bananas with the maple syrup. Arrange them in a single layer on the sheet pan. Roast for 15-20 minutes until lightly browned.
Cool the bananas to room temperature. Transfer to the freezer to chill until solid, about 1 hour.
While the bananas are freezing, make the sesame crunch. Place the sesame seeds in a medium bowl. In a small saucepan over medium heat, combine the maple syrup, coconut sugar and coconut oil. Warm until the oil has melted and most of the sugar has dissolved. Stir into the sesame seeds.
Spread the sesame seed mixture into a think layer on a sheet pan lined with parchment paper. Bake in the oven for 10-12 minutes until the sesame seeds are toasted. Transfer to a wire rack to cool completely. Crumble the sesame crunch into pieces.
For the ice cream, puree the bananas, tahini, almond milk and cinnamon in a food processor until smooth. Transfer to a bowl and fold in about half the crumbled sesame crunch and reserve the rest for toppings.
Freeze the ice cream in an airtight container until firm.
Let the ice cream sit at room temperature for 10-15 minutes before serving.
SHARE THIS