Brioche Ice Cream Sandwiches
on Jun 10, 2021, Updated Jul 08, 2023
Instead of the usual cookies, these brioche ice cream sandwiches pair a store-bought brioche bun with a scoop of homemade toasted almond ice cream.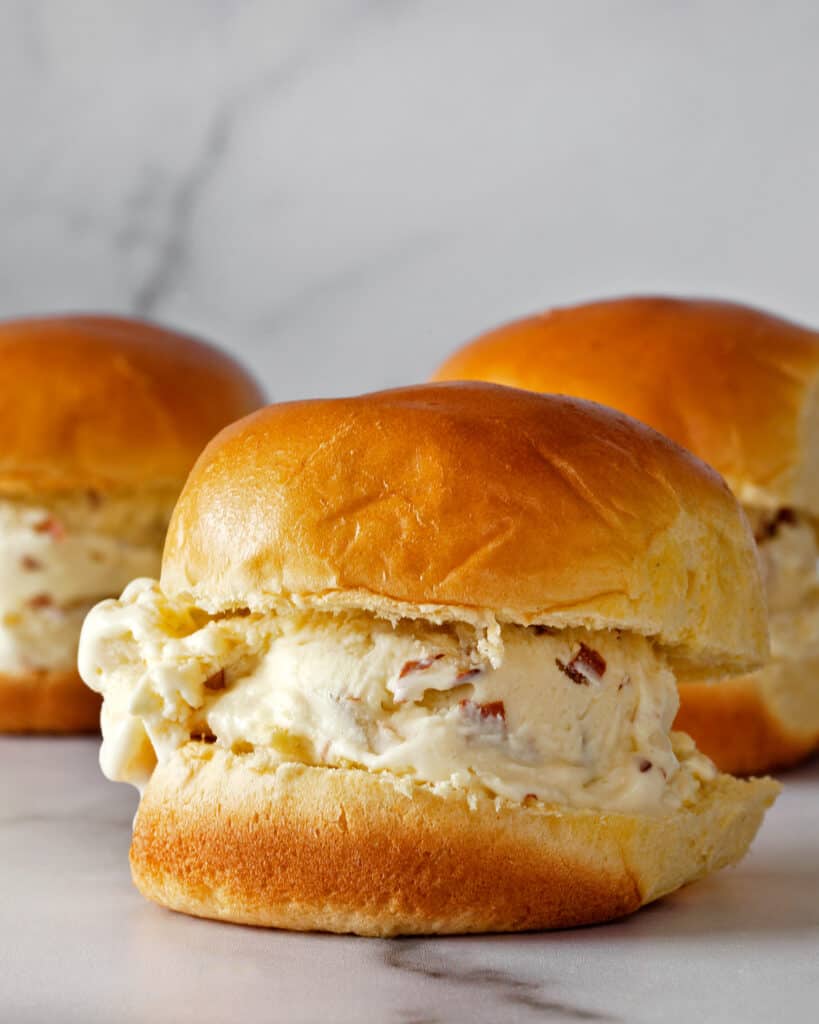 There's no mistaking that summer has already made its presence known even though the official first day isn't here yet.
It's hot! The change from long sleeves to no sleeves has been pretty abrupt.
One of my tactics to stay cool is to try to walk on the shady side of the street. The other is to consume more things that are very cold.
I can't complain about fizzy drinks, iced chai lattes and of course, frozen treats for dessert.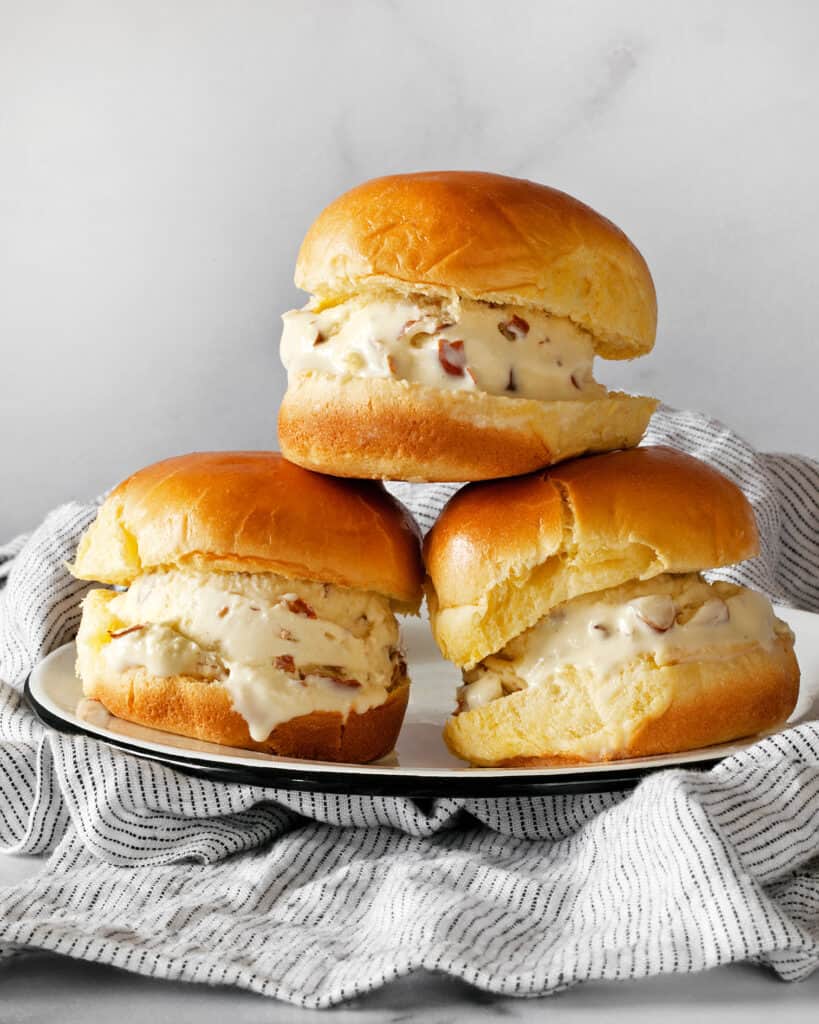 My 7-year-old is a big fan of popsicles, but I love an ice cream sandwich.
Usually, I make a batch with cookies and stash them in the freezer cut into quarters, so they last longer. That's if I have enough self-control not to devour more than 1 or 2 at once.
This craving me had me reminiscing about brioche ice cream sandwiches, an old blog recipe originally inspired by an afternoon during the years that my husband and I lived in London.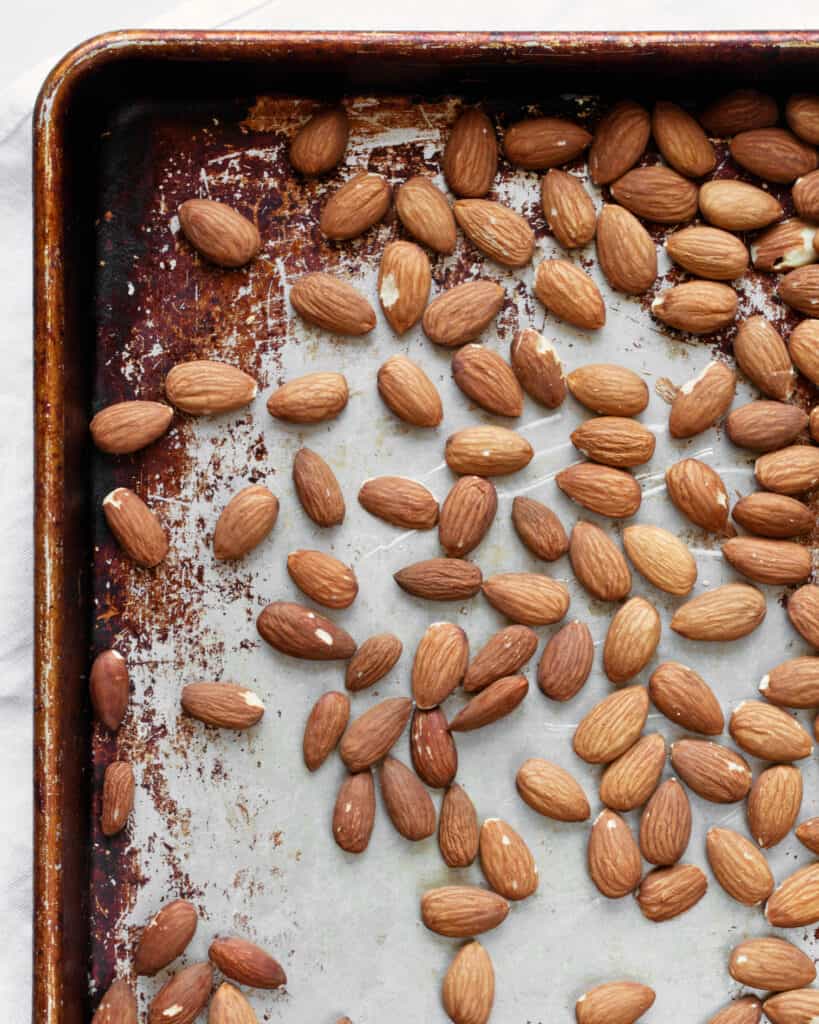 One of the things I miss most about living abroad is weekend exploring. That can be as spontaneous as taking the train or bus somewhere and getting off at a new stop.
That's what led to the discovery of these ice cream sandwiches.
As my husband and strolled through the stylish streets of Marylebone, we came across a tiny, now-defunct Italian food shop with a fancy deli and imported goodies lining its curated shelves.
What caught our attention was a small case of homemade ice creams. When the owner behind the counter said he served them on brioche buns, we couldn't refuse.
I'll never forget how the buttery brioche absorbed the vanilla ice cream as it slowly melted. It was an absolute dream.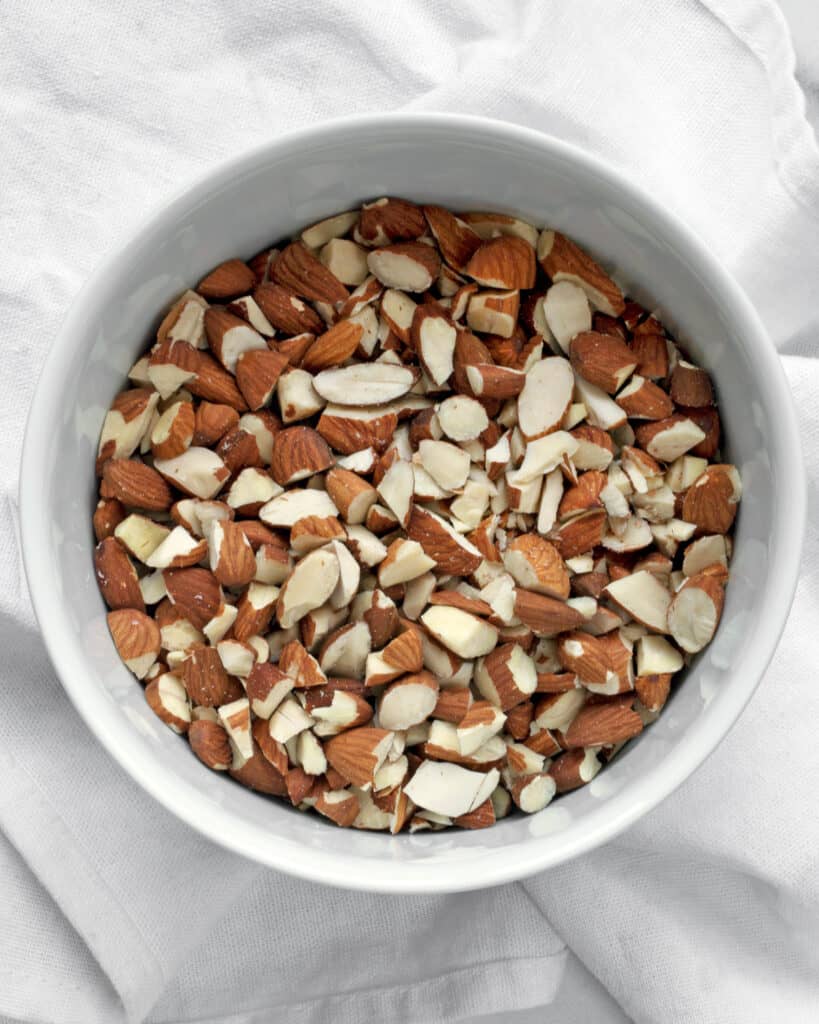 Swapping Out The Cookie Ice Cream Sandwich
Going back to 2013 and the first year of Last Ingredient, I posted a recipe for brioche ice cream sandwiches completely from scratch, including the buns and the ice cream.
So now felt like the right time to update this recipe using store-bought brioche and homemade toasted almond ice cream.
By doing it this way, you can make the ice cream in advance, and then you can buy the brioche rolls at their peak freshness.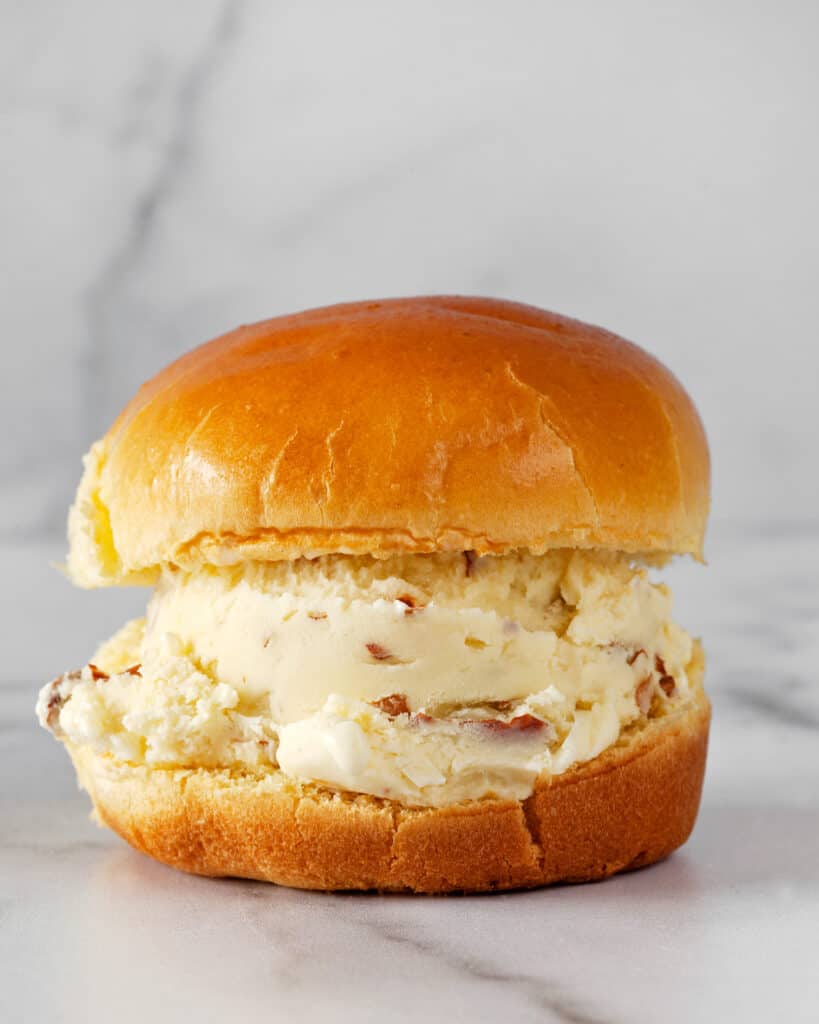 What is Brioche?
If you aren't familiar with brioche, it falls in the category of enriched breads. The dough includes sugar, eggs, butter and milk.
Some examples of these fluffy, rich breads include challah, which is great for French toast, as well as babka and cinnamon rolls.
You can usually find brioche buns at the grocery.
The Ingredients
This is what you need for the ice cream sandwiches:
Brioche: My preference is dinner roll-sized brioche bun. If you can only find full-sized burger buns, I recommend cutting them in half or finding someone to share with!
Almonds: It's important to toast the almonds to bring out their nutty flavor.
Heavy Cream & Whole Milk: This combination of full-fat dairy gives the ice cream its silky creaminess.
Egg yolks: Any custard-style ice cream is made with egg yolks and dairy, so it is wonderfully rich.
Sugar: The ice cream is sweetened with granulated sugar, but it's not overly sweet. It has a lovely balance with nuts and buttery brioche.
Almond extract: I use a touch of almond extract to amp up the almond. A little goes a long way with this extract.
Salt: Even in desserts, just a pinch of salt brings out the overall flavor.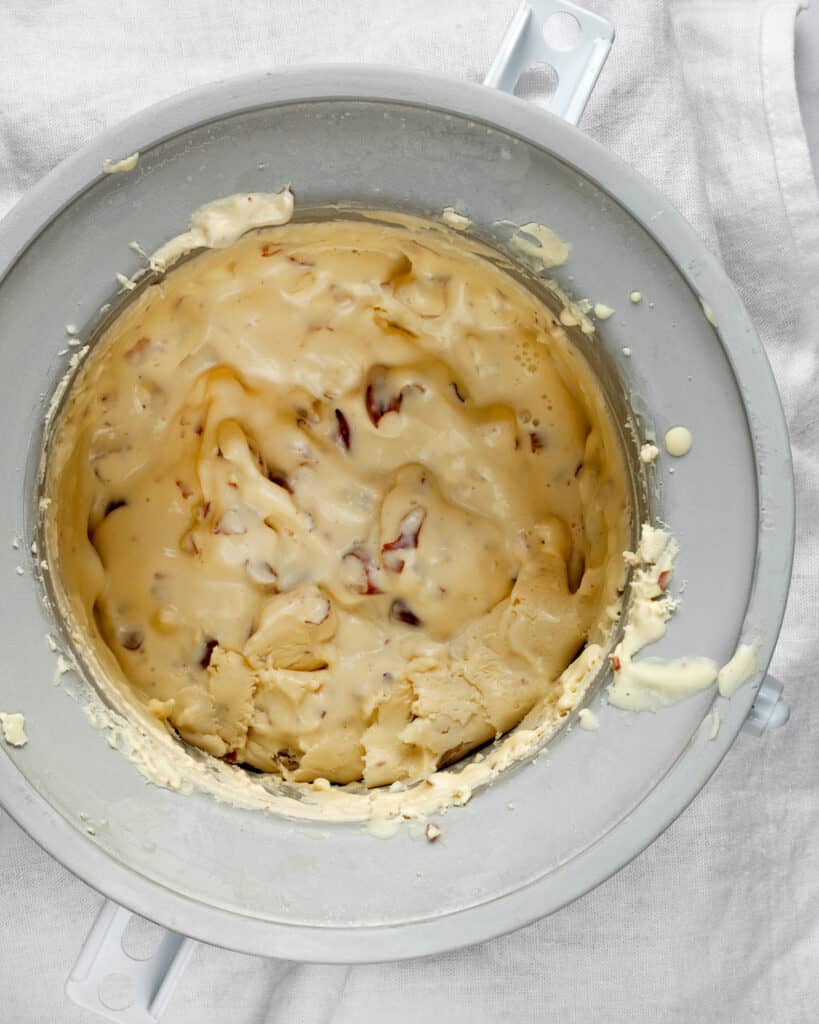 How To Make An Ice Cream Sandwich On A Brioche Bun
The ice cream has a traditional custard base with heavy cream, milk, sugar and egg yolks. It comes together pretty quickly, so it's important to have everything in the right bowl or saucepan before you start.
First, I whisk the egg yolks in a medium bowl. Then I pour a cup of the heavy cream into a separate large bowl.
Next, I warm the remaining heavy cream, whole milk and granulated sugar in a saucepan on the stove, stirring until its warm and the sugar has dissolved.
After that, I pour about half the warmed cream-milk-sugar mixture into the egg yolks, whisking constantly. Then I pour it back into the saucepan.
Ice cream can get tricky when you are tempering the egg yolks like this, but after you do it once, it won't seem like such a big deal.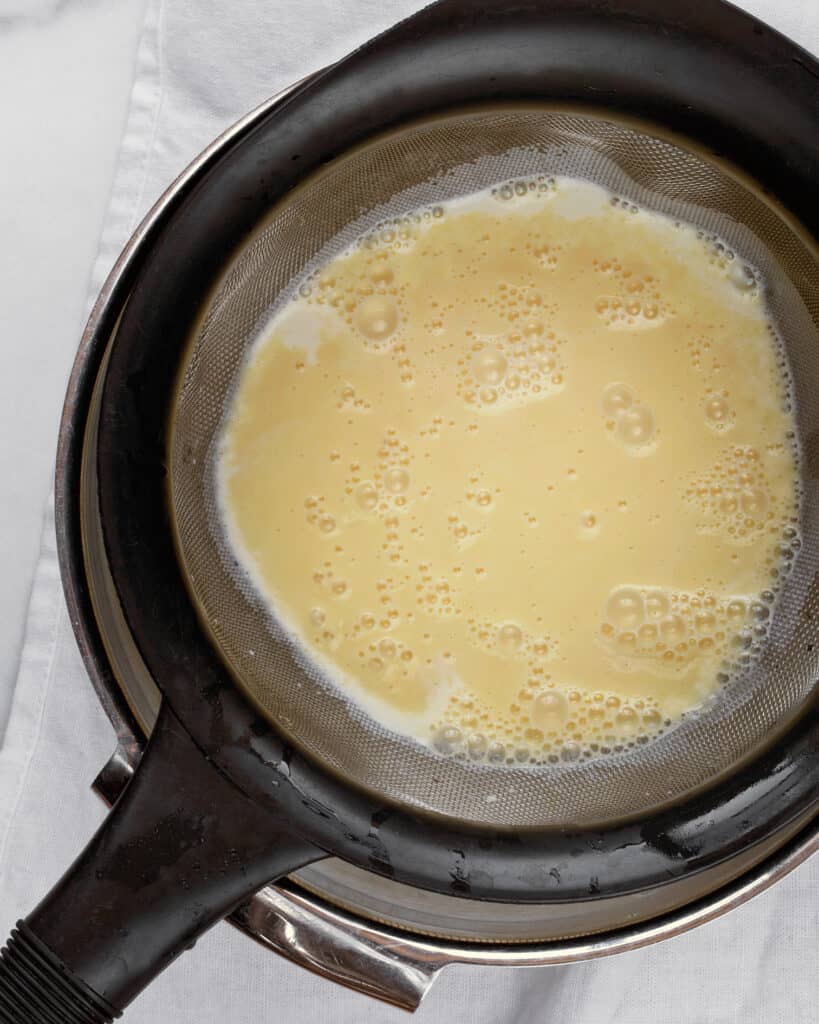 With the custard over the heat, I am constantly stirring until it thickens enough to coat the back of the spoon.
Then I pour the custard through a fine mesh strainer into the bowl of heavy cream. This will catch any cooked egg bits that might have appeared.
To chill the custard, I put the bowl into an ice bath. You can do this in the sink or put the bowl in a bigger bowl of ice and water.
I still refrigerate the custard to make sure it's cold enough for my ice cream maker.
During this chilling time, I toast the almonds in the oven and finely chop them.
After churning the ice cream, I stir in the almonds, transfer the ice cream to a container and give it time to fully freeze.
Assembling The Ice Cream Sandwiches
Unlike cookie ice cream sandwiches, these brioche ice cream sandwiches should be assembled to order.
You want the brioche to be soft and fluffy, so you can't put them together and freeze them.
But of course, I do recommend making the ice cream in advance. Then you can buy brioche rolls at their freshest for this special dessert.
How To Make Easy Ice Cream Sandwiches On A Brioche Bun
Even though I adore this homemade almond ice cream, I know making ice cream from scratch isn't for everyone. Also, an ice cream maker is a more niche small appliance for your kitchen.
You absolutely can use store-bought ice cream to go with those store-bought brioche buns. If you go that route, I encourage you to try out different flavors. Chocolate, salted caramel and butter pecan are three of my favorites.
Brioche Ice Cream Sandwiches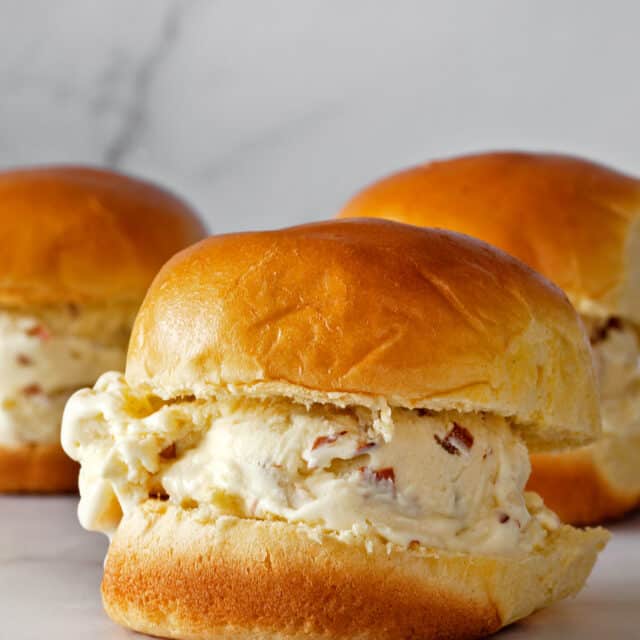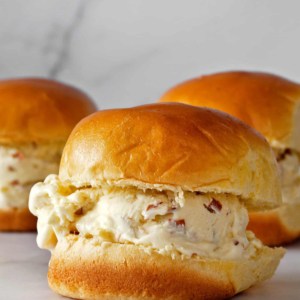 Instead of the usual cookies, these brioche ice cream sandwiches pair a store-bought brioche bun with a scoop of homemade toasted almond ice cream.
Ingredients
6

egg yolks

2

cups

heavy cream

1

cup

whole milk

1/2

cup

granulated sugar

Pinch

of salt

1/4

teaspoon

almond extract

1

cup

whole almonds

12

brioche dinner rolls

halved
Instructions
Whisk the egg yolks in a medium bowl.

Pour 1 cup heavy cream in a large bowl.

Heat the remaining heavy cream, milk, sugar and salt in a large saucepan over medium heat stirring until the sugar dissolves. Slowly whisk half the cream mixture into the egg yolks and then pour it all back into the saucepan. Stir continuously until the mixture thickens enough to coat the back of a spoon.

Pour the cream mixture through a fine mesh strainer into the large bowl with the heavy cream. Stir in the almond extract.

Cool the mixture over an ice bath and refrigerate until it has cooled completely.

Preheat the oven to 350 degrees F.  On a sheet pan, toast the almonds for 5-7 minutes until they are fragrant. Finely chop the almonds and let them cool.

Once the ice cream mixture is fully chilled, churn it in an ice cream maker following the manufacturer's instructions.

Fold the almonds into the ice cream and transfer to a container to freeze.

To assemble the ice cream sandwiches, place a scoop of ice cream between the halves of a brioche roll.
Notes
You can make the ice cream in advance, but assemble the ice cream sandwiches to order rather than making them and freezing them because the brioche won't be soft.
Nutrition
Calories:
638
kcal
|
Carbohydrates:
52
g
|
Protein:
15
g
|
Fat:
43
g
|
Saturated Fat:
22
g
|
Polyunsaturated Fat:
2
g
|
Monounsaturated Fat:
9
g
|
Trans Fat:
0.002
g
|
Cholesterol:
288
mg
|
Sodium:
407
mg
|
Potassium:
166
mg
|
Fiber:
1
g
|
Sugar:
11
g
|
Vitamin A:
1466
IU
|
Vitamin C:
0.2
mg
|
Calcium:
143
mg
|
Iron:
2
mg
Nutrition information is automatically calculated, so should only be used as an approximation.