Salted Peanut Chocolate Nice Cream
on Jun 02, 2022, Updated Jun 24, 2023
No ice cream maker is needed for this vegan chocolate nice cream with peanut butter, bananas and salted roasted peanuts. It is an easy and healthy homemade dessert.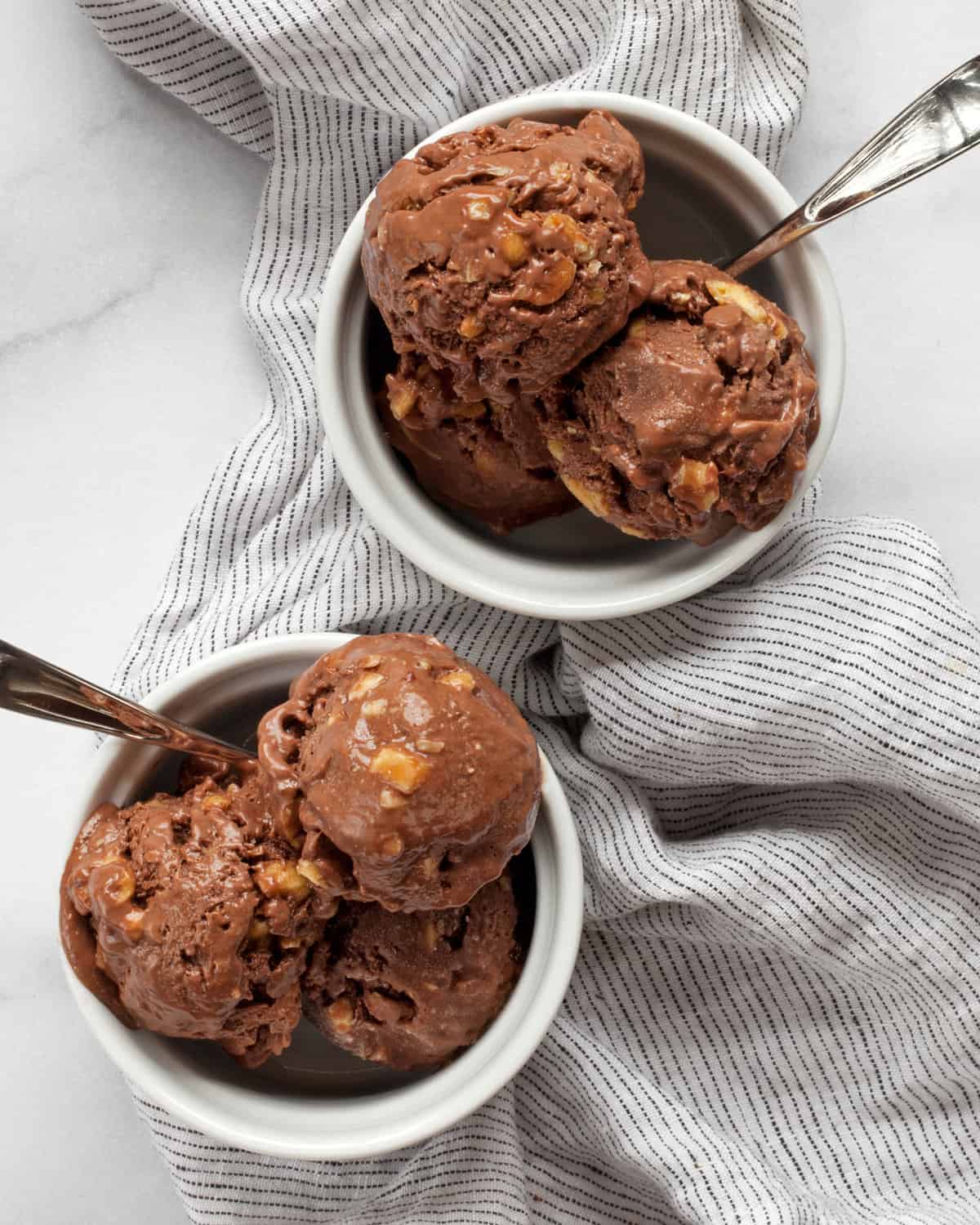 I am always tempted by ice cream. My ever-present sweet tooth is to blame. And it doesn't help that I walk by the ice cream shop in our neighborhood on a daily basis. My son and I even have a game where we guess how many people are inside ordering some sort of sweet treat.
Now that the weather is warming up business is booming for that shop. Yes, we have been part of the wave. This has only ignited my cravings for all things creamy and frozen, so I have taken control into my own kitchen.
In the effort to find balance, I have been making this 5-ingredient vegan chocolate ice cream. It ticks the box when it comes to lighter desserts especially because I love pretty much anything with a chocolate peanut butter combination.
What Is Nice Cream?
You may roll your eyes when you see nice cream recipes. It is a cute and fun way to do a little rebranding rather than just using the word healthy.
Nice cream is vegan, dairy-free ice cream that is sweetened with something other than sugar. In this recipe it is ripe bananas for sweetness. So yes, you should save them for something other than banana bread! Give your oven a break.
Salted peanuts and peanut butter add something a little savory. Again, nuts and chocolate are the perfect pair.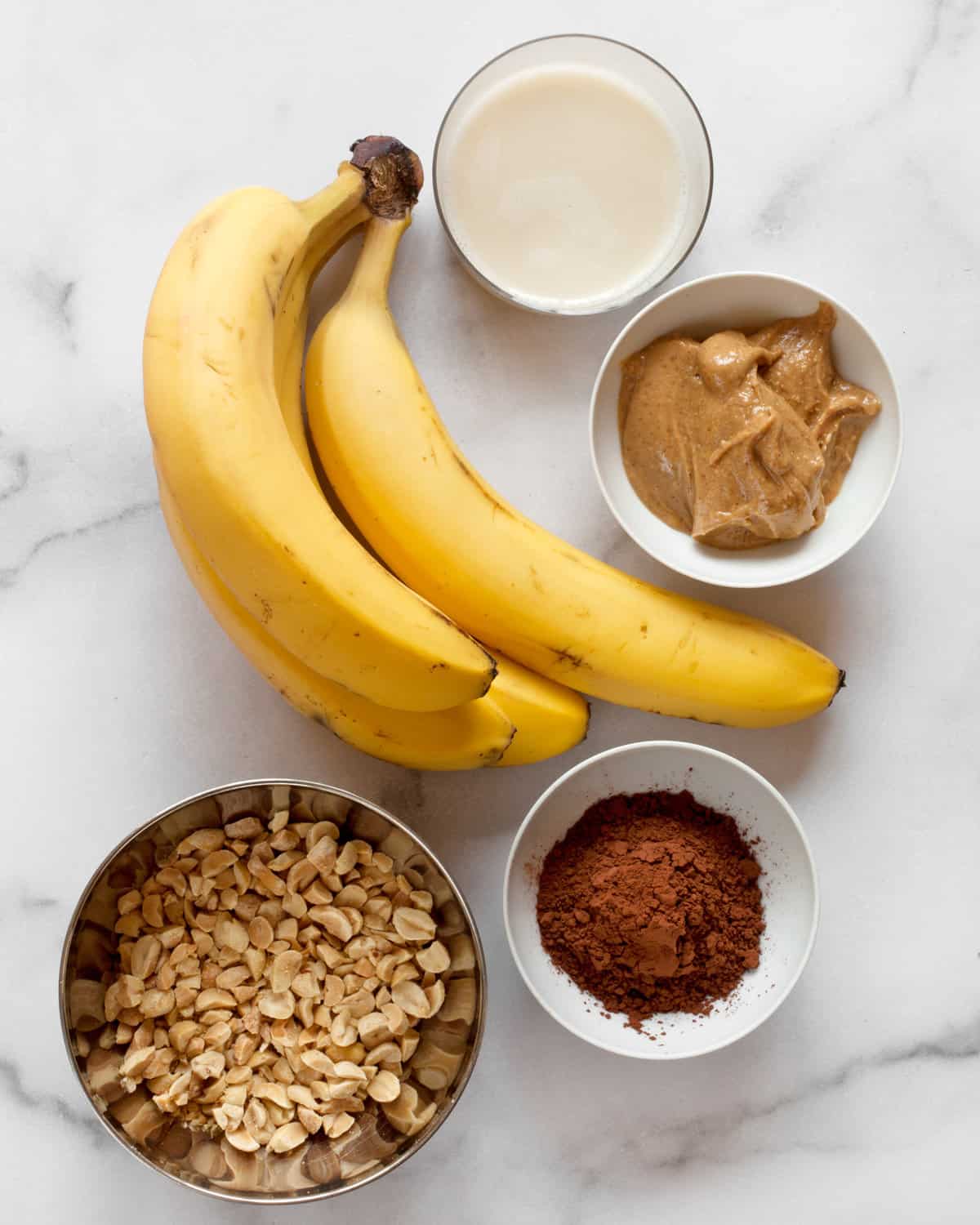 Ingredients & Substitutions
This is what you need:
Bananas: Ripeness is key. When they are more ripe, bananas taste sweeter. This is important because there is no added sugar in the recipe. You are counting on the fruit to do that job. The peel should have brown spots, and the bananas should smell banana-y.
Cocoa powder makes the ice cream rich and full of chocolate.
Milk: To keep the ice cream vegan make sure to use a plant based milk. My go-to choices are almond milk and oat milk.
Peanut butter: My kitchen is never without a jar of natural peanut butter. I like brands where the only ingredients are peanuts and salt. If you prefer the flavor of almonds, you can use almond butter instead.
Peanuts: The salt in the recipe comes from chopped salted roasted peanuts that are stirred into the ice cream before it's frozen. If you do decide to switch to almond butter, then I recommend changing the nuts to salted roasted almonds too.
The Equipment
The recipe is very simple, but it helps to have a reliable food processor with a sharp blade or a high-speed blender like a Vitamix. You need to puree the ice cream mixture, so it is very smooth before you freeze it.
Of course, the best part of this banana-based ice cream recipe is that it doesn't require an ice cream maker. Bananas and peanut butter add creaminess. There is no churning necessary.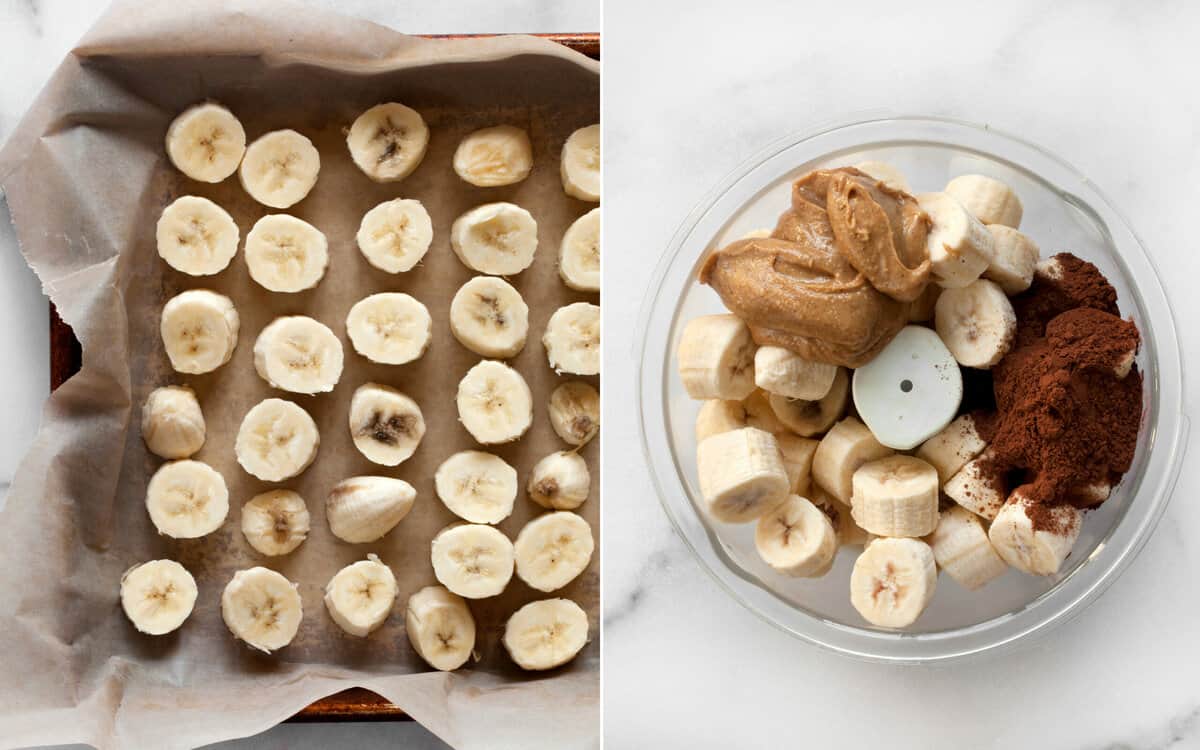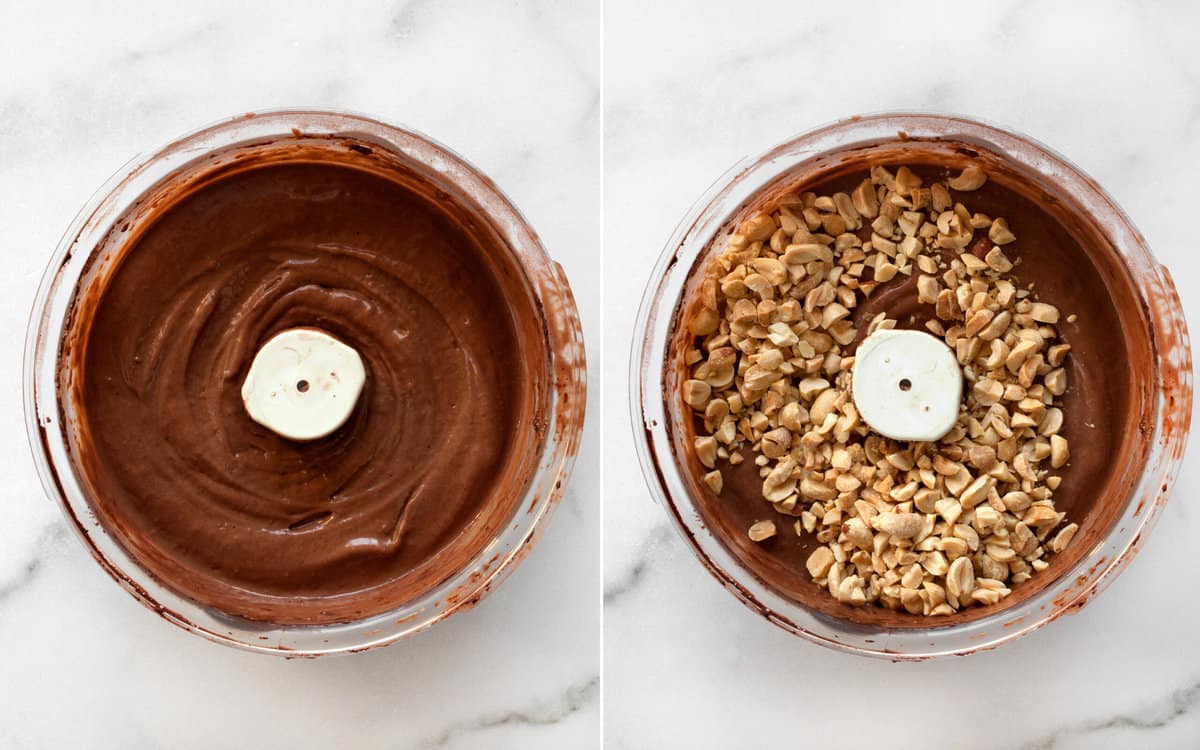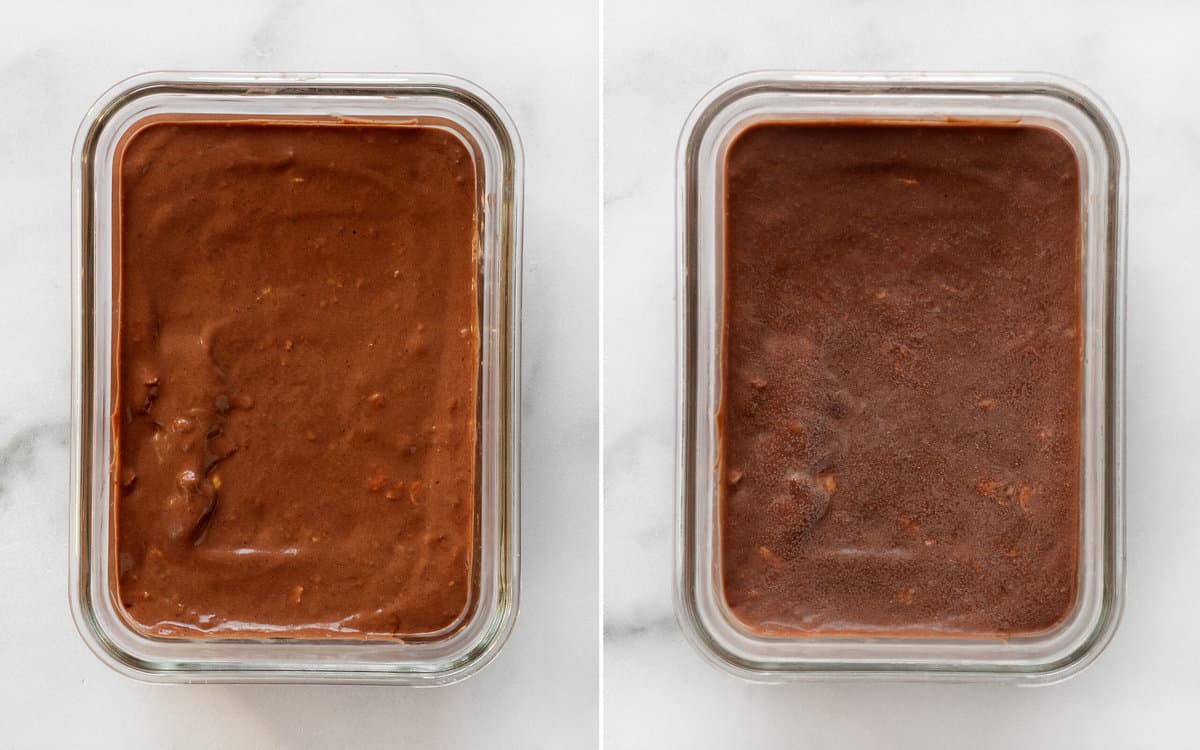 How To Make Salted Peanut Chocolate Nice Cream
Prep the bananas. Cut the bananas into chunks, and then freeze them. I like to put them on a parchment paper or waxed paper-lined baking sheet, so they don't stick. You can do this in advance, and then transfer them to a container for more compact freezer storage.
Make the ice cream. Once they are frozen, put the banana chunks in a food processor or blender with the cocoa powder, milk and peanut butter. Puree the ingredients until they are smooth. Be patient and give it a few minutes. You will likely need to stop the machine to scrape down the sides of the bowl or pitcher with a spatula. It should have the consistency of soft serve at this point.
Stir in the peanuts. The easiest way to do this is with a quick pulse on the food processor or blender. You don't want to blend the nuts.
Freeze the ice cream. Spoon the ice cream into a container with a lid. Then freeze it for for 1-2 hours, so it is firm enough to use your ice cream scoop to serve.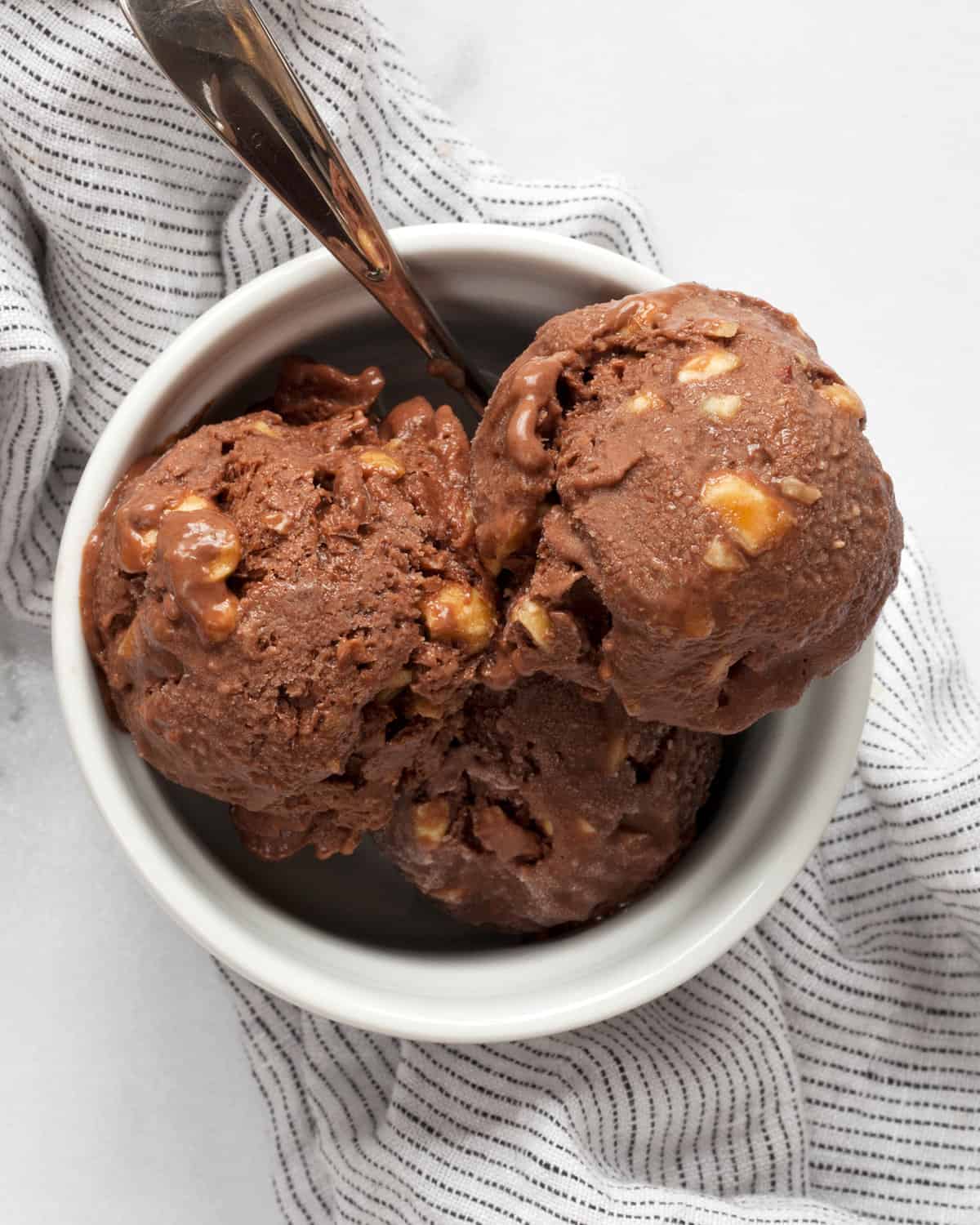 Optional Additions & Serving Suggestions
It wouldn't be ice cream without extras, right? Here are some ideas:
Chocolate chips: If you want to turn this into salted peanut chocolate chip ice cream, then add chopped bittersweet chocolate. The ice cream will have a very chunky texture if you add more than a couple tablespoons because of the peanuts. It is an option to swap out the peanuts and replace them with a quarter cup of chopped chocolate, but then add a 1/4 teaspoon of sea salt too.
Chocolate sprinkles are a festive addition. They don't deliver much in the way of adding richness. If you want a topping with more chocolate flavor then go with shaved or finely chopped chocolate.
Salted peanuts: You won't be overdoing it to finish the scoops in your bowl with salted peanuts. Skip chopping them and keep them whole or in halves. Then they have a different size than the nuts mixed into the ice cream.
Chocolate sauce or magic shell are both always a great idea.
Cookies: There are so many good vegan cookie recipes including these cinnamon-spiced chocolate chip cookies.
Fresh fruit, such as raspberries, cherries or strawberries, works well with anything with chocolate and nuts.
More Nutty Dessert Recipes
Vegan Roasted Banana Tahini Ice Cream
Milk Chocolate Almond Brownies
Flourless Peanut Butter Chocolate Cookies (gluten free)
Peanut Butter M&M Cookies
Chocolate Chip Walnut Skillet Cookie
Peanut Butter Cups


Salted Peanut Chocolate Nice Cream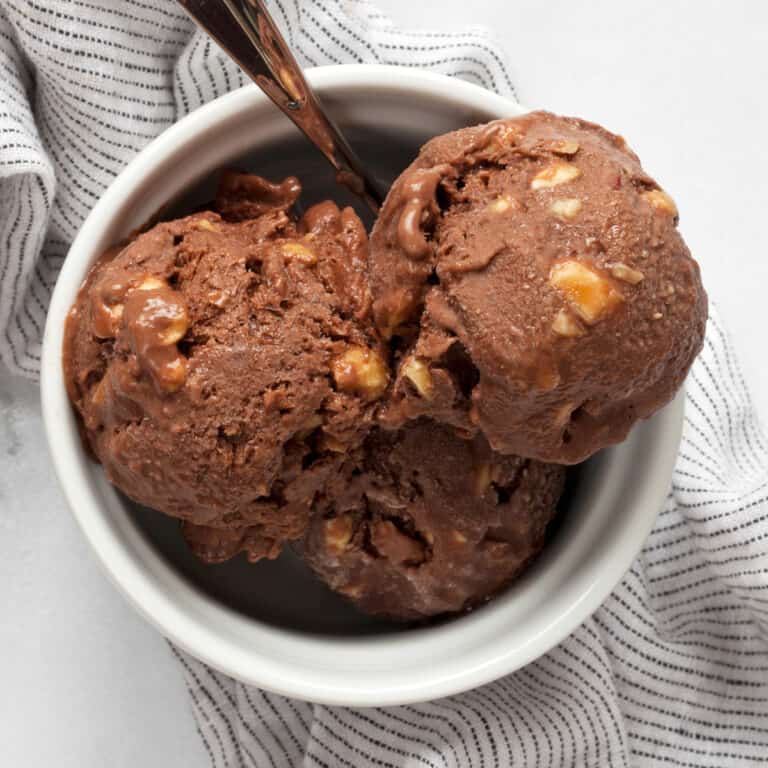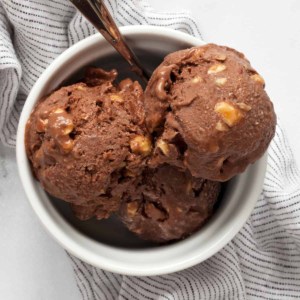 No ice cream maker is needed for this vegan chocolate nice cream with peanut butter, bananas and salted roasted peanuts. It is an easy and healthy homemade dessert.
Ingredients
4

large ripe bananas

2-1/2

tablespoons

cocoa powder

1/4

cup

almond milk or oat milk

1/4

cup

creamy natural peanut butter

1/2

cup

chopped salted roasted peanuts
Instructions
Cut the bananas into chunks and freeze them until they are firm.

Combine the frozen bananas, cocoa powder, milk and peanut butter in a food processor or blender and puree until smooth. This will take a few minutes. Pause as needed to scrape down the sides of the bowl or pitcher with a spatula.

Add the peanuts and pulse 1-2 times to stir them in.

Transfer the ice cream into an airtight container that is freezer safe. Freeze the ice cream for 1-2 hours until it is firm.
Notes
Recipe makes about 2-1/2 cups ice cream.
When you take the ice cream out of the freezer, let it soften as needed at room temperature, so you can scoop it into bowls.
Nutrition
Calories:
312
kcal
|
Carbohydrates:
34
g
|
Protein:
10
g
|
Fat:
18
g
|
Saturated Fat:
3
g
|
Polyunsaturated Fat:
5
g
|
Monounsaturated Fat:
8
g
|
Sodium:
104
mg
|
Potassium:
673
mg
|
Fiber:
6
g
|
Sugar:
16
g
|
Vitamin A:
76
IU
|
Vitamin C:
10
mg
|
Calcium:
52
mg
|
Iron:
1
mg
Nutrition information is automatically calculated, so should only be used as an approximation.