Brussels Sprout Apple Salad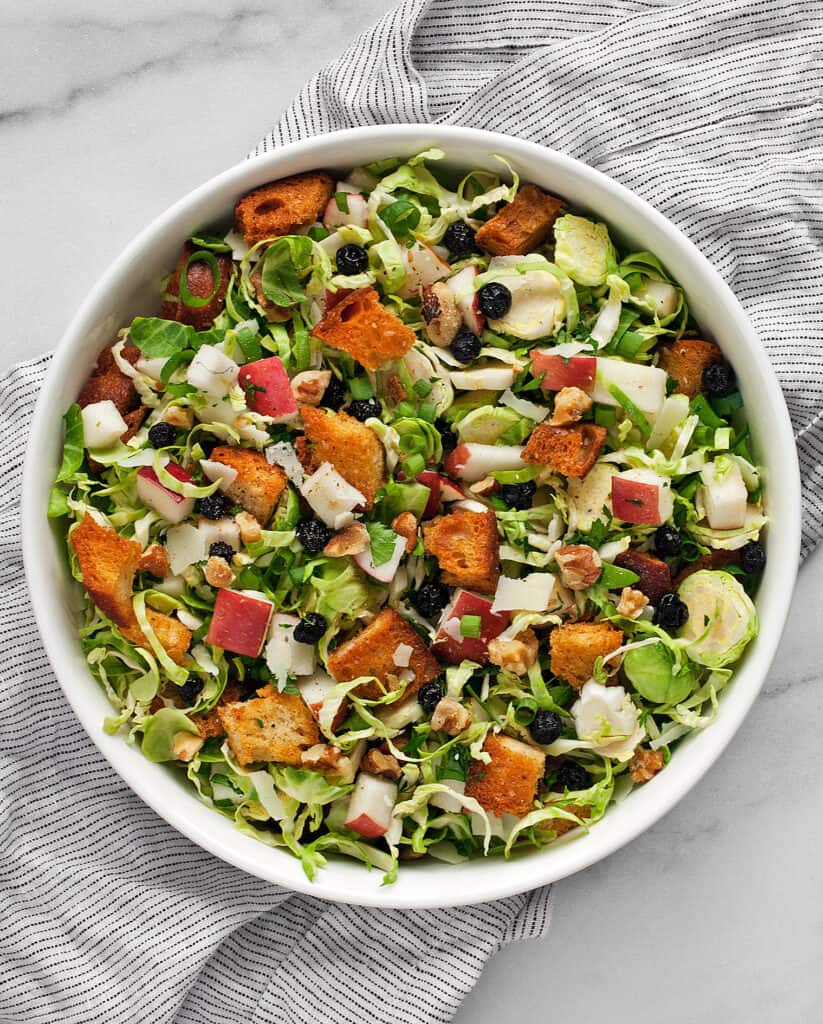 With corn and tomatoes one day and butternut squash the next, lately my cooking has been two-timing the seasons.

Summer and fall both hold special places in my heart. It's hard for me to say goodbye and hello at the same time.

But I am such a big fan of shoulder season when you can have a little of both.

For a short stretch of September-October, the options are the best of the entire year.

Even though I did see corn at the grocery a couple days ago, the display was much smaller giving me yet another not so subtle hint that it's time to officially move on.

OK. I get it!

I've been cracking open cans of tomatoes to whip up batches of soup. My first few bowls were a reminder of how perfect soup is for lunch or a weeknight dinner.
Don't worry, I haven't turned my back on salads.

I never do because you can just make a few adjustments to autumn-ize or winterize a salad.

Probably the easiest thing to do is change the greens.
Brussels sprouts are a great option for fall salads. Left raw, the leaves are crunchy and fresh and ease the transition into the season.

This isn't the first time I've made a brussels sprout apple salad. I love this combination.

You might have seen a version here, but I figured it was time to give the recipe an update since I'm taking a different approach to it.
How To Make Brussels Sprout Apple Salad
In the past I would trim each sprout and pull off the individual leaves. Yes, it is a pretty way to prep your greens, but it takes more time.

Now for this salad I thinly slice the brussels sprouts.

This is much faster and goes all in on crunch, which is a good partner for the diced crisp apples.
Once I have the brussels sprouts and the rest of the ingredients prepped, I preheat the oven for the croutons.

I toast torn pieces of sourdough bread with just a little olive oil, salt and pepper.

Yes, I am continuing with that theme of crunch!

While the croutons are in the oven, I whisk together the dressing, a vinaigrette with Dijon mustard and white wine vinegar.

In a big bowl, I combine the brussels sprouts with the apples, scallions, toasted chopped walnuts, dried blueberries, Manchego cheese and chopped parsley and stir in some of the vinaigrette.

This brussels sprout apple salad is definitely one I keep coming back to because of the greens.

Here are a few other salads that use brussels sprouts as a base:

Kale Brussels Sprout Pear Salad

Brussels Sprout Caesar Salad

Brussels Sprout Breakfast Salad

Crunchy Brussels Sprout Peanut Salad
Print
Brussels Sprout Apple Salad
Prep Time:

10 minutes

Cook Time:

15-17 minutes

Total Time:

25-27 minutes

Yield:

Serves 4
Ingredients
For croutons
1-1/2 cups sourdough bread, torn into cubes
1 tablespoon olive oil
1/2 teaspoon kosher salt
1/4 teaspoon black pepper
For vinaigrette
1 teaspoon Dijon mustard
2 teaspoons white wine vinegar
1/4 cup olive oil
1/2 teaspoon kosher salt
1/4 teaspoon black pepper
For salad
1 pound brussels sprouts
2 crisp apples, cored and diced
2 scallions thinly sliced
1/4 cup toasted chopped walnuts
1/4 cup dried blueberries (or cranberries)
1 ounce shaved Manchego cheese
1 tablespoon chopped parsley
Instructions
Preheat the oven to 400 degrees F.
On a sheet pan, toss the bread with 1 tablespoon olive oil, 1/2 teaspoon salt and 1/4 teaspoon black pepper spreading into a single layer. Toast the bread for 15-17 minutes until golden brown, stirring halfway through cooking.
For the vinaigrette, whisk together the Dijon mustard, white wine vinegar, olive oil, kosher salt and black pepper in a small bowl.
Combine the brussels sprouts, apples, scallions, walnuts, blueberries, Manchego and parsley in a large bowl and drizzle in the vinaigrette.
SHARE THIS