Shaved Brussels Sprout Salad
With Parmesan, almonds and cranberries, this shaved brussels sprout salad is what you need for meals from fall to winter including everyday and holidays. After you make it once, you will be adding sprouts to your list of go-to options for salads.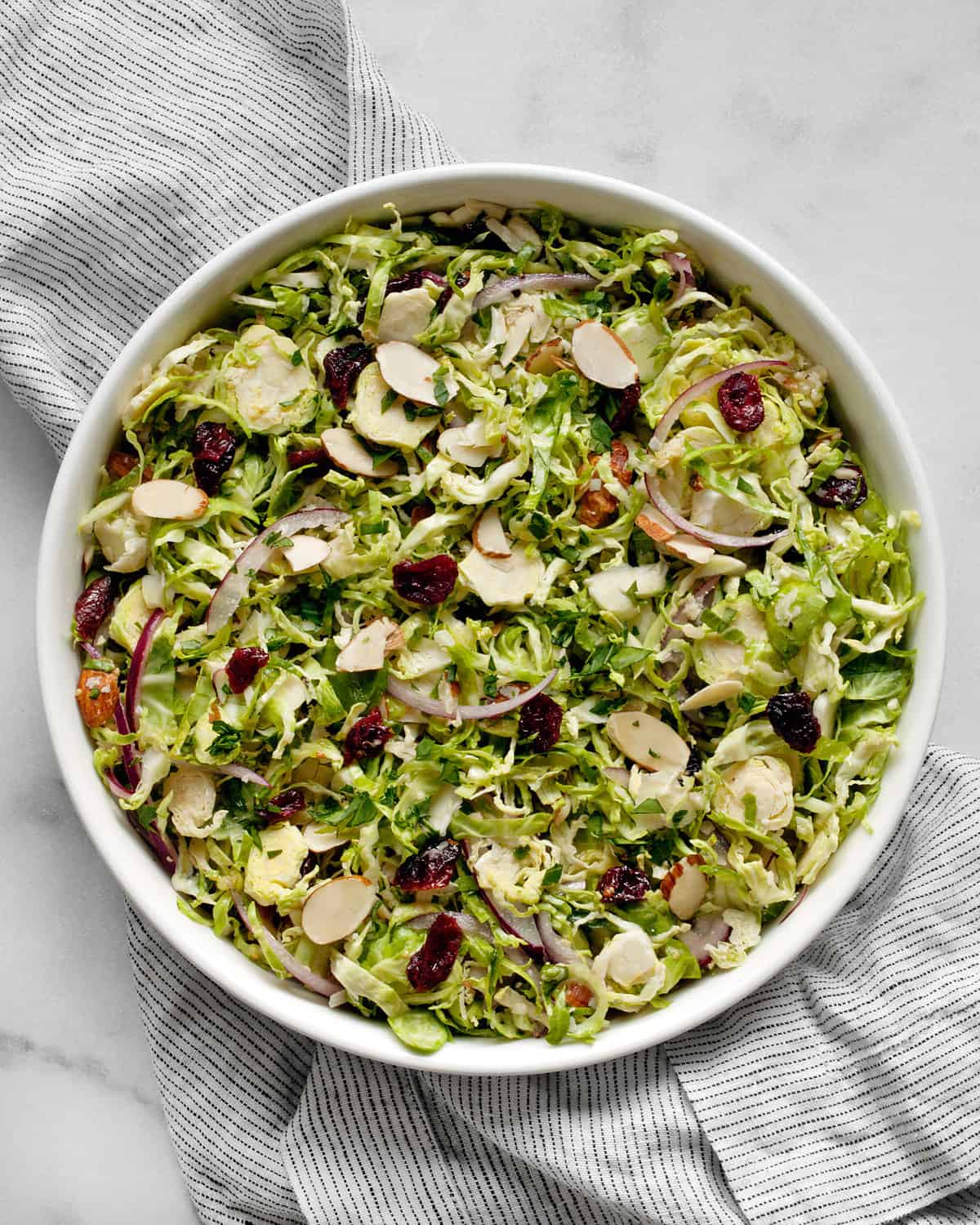 Who needs lettuce when you can have brussels sprouts instead? Part of the cabbage family, I like to think of them as a nutritious, supercharged version of the typical greens that end up in most salad recipes. They are crunchy and fresh and can take on lots of other ingredients to create something pretty fantastic.
You can find brussels sprouts year round, but peak season is from September through February/March. For this salad, I include dried cranberries and almonds, so it has the flavors of fall, which makes the timing just right.
Why You Need This Salad
If you've only eaten brussels sprouts roasted, you have to try them raw. They taste like a more mild version of cabbage. Uncooked sprouts are nutty, a little bit sweet, and most importantly, they are crisp with a definite crunch for a satisfying texture.
It's a salad and a side dish in one. Because this salad has a base other than leafy greens, it blurs the line between salad and the perfect side dish. You can serve it either way and call it both.
Can You Really Eat Brussels Sprouts Raw?
Yes. This cruciferous vegetable is a cousin of cauliflower, cabbage and broccoli. And like its relatives, you can eat brussels sprouts raw. Roasting them is always tasty, but try not rushing to cook them.
How to Shred Brussels Sprouts
There are 3 ways to shave brussels sprouts:
You can keep it equipment free, and just use a sharp knife to thinly slice brussels sprouts. Rather than trimming them first, hold on to the small stem and start thinly slicing them from the other end.
Slice the sprouts with a mandolin. Hold them on the stem, and be careful. Brussels sprouts are small and the blade of a mandolin is sharp.
The quickest way to slice brussels sprouts is with a food processor. Trim the sprouts and then process them with the slicing disc.
The Ingredients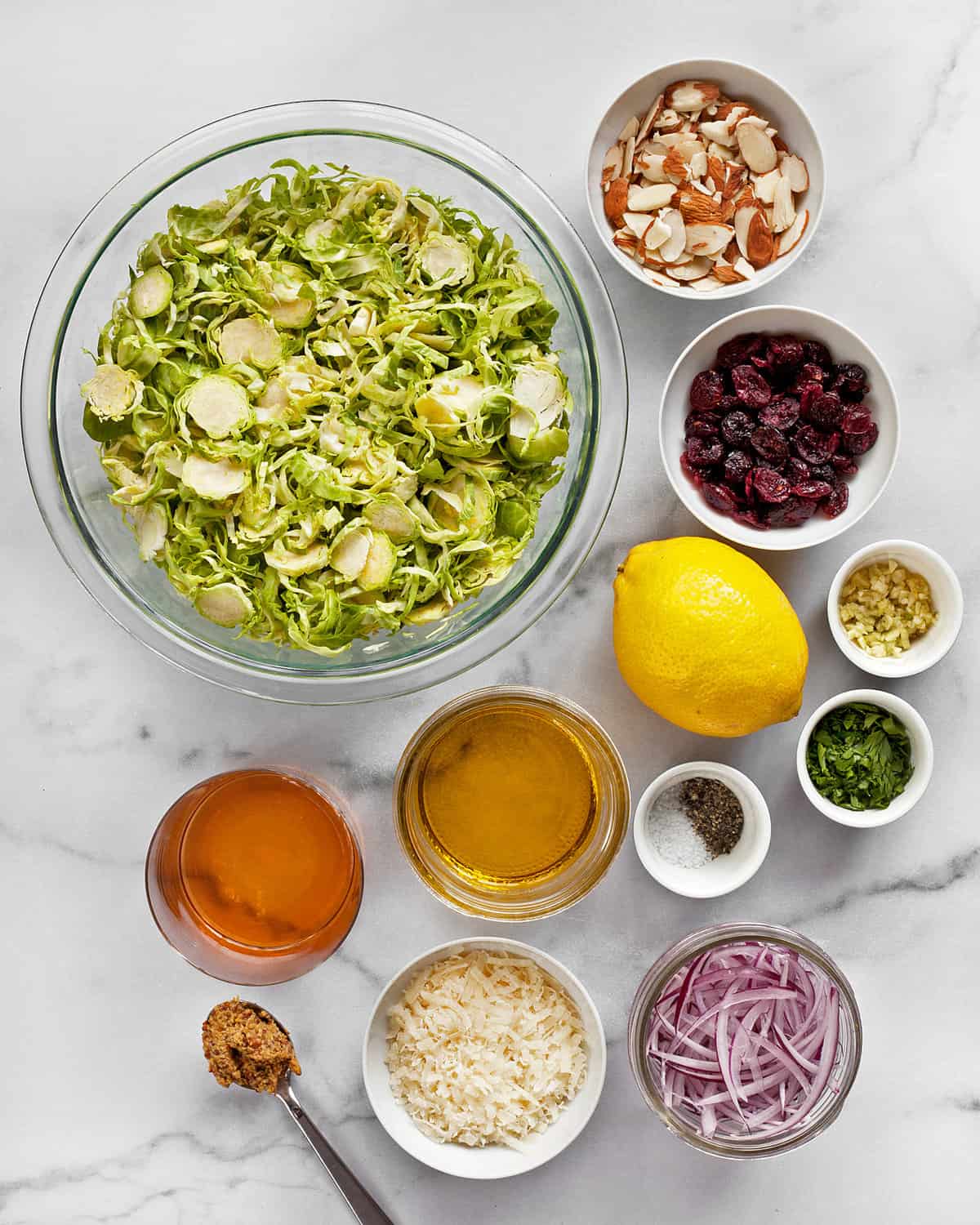 For the salad you will need:
Brussels sprouts: Look for sprouts that are tightly closed. Fresh ones should have no loose or wilting leaves. You can substitute with shredded cabbage, which will give you a similar crisp bite.
Onions: The salad calls for thinly sliced red onions, which are milder compared to other varieties. You also could include a couple sliced shallots instead.
Parmesan: Finely grated, this cheese blends right into the mix with the sprouts adding its nutty, savory flavor.
Almonds: Thin sliced almonds are my first choice because their shape goes so well with the shaved raw brussels sprouts. Substitutes for nuts include chopped pecans or walnuts.
Dried cranberries add sweet accents to the salad. Fresh pomegranate seeds are a good swap.
Parsley: This shaved brussels sprout salad recipe also includes chopped fresh herbs to round things out.
For the vinaigrette:
Lemon juice: gives the dressing a bright, citrus kick.
Red wine vinegar, sherry vinegar or apple cider vinegar are all good options.
Garlic: The vinaigrette includes 1 minced clove.
Whole grain mustard thickens the dressing a bit and helps it emulsify.
Olive oil: Use extra-virgin olive oil for the best taste.
Salt & pepper season the vinaigrette and the overall salad.
Optional Additions
Apples: Include thinly sliced apples that are firm such as Pink Lady, Fuji or Honeycrisp apples.
Avocados: Dice an avocado and stir it right in. Their creamy, soft consistency is an interesting contrast to the shredded sprouts.
Hard-boiled egg: I am always a big fan of dicing a hard-boiled egg and throwing it into pretty much any kind of salad.
How To Make a Shaved Brussels Sprout Salad
1. Assemble the salad. In a large bowl, combine the shredded brussels sprouts, red onions, Parmesan cheese, almonds, cranberries and parsley.
2. Make the vinaigrette. Whisk the lemon juice, vinegar, mustard, garlic, salt, pepper and olive oil in a bowl until fully combined.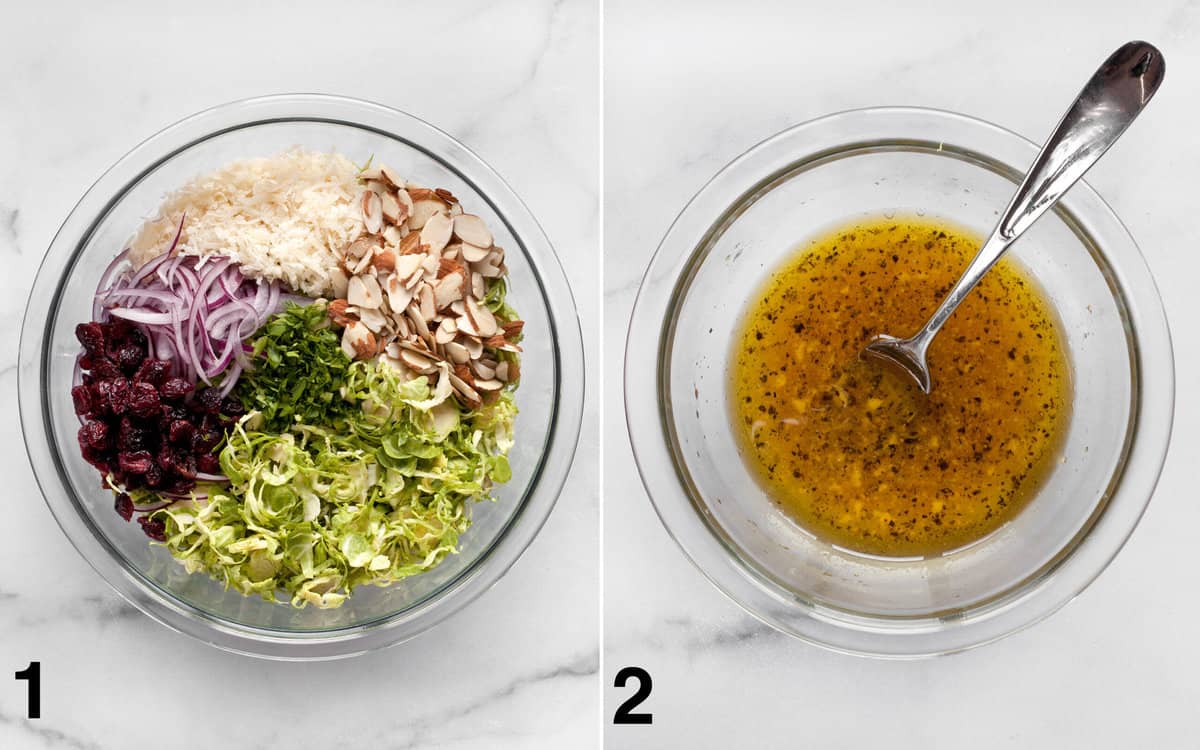 3. Drizzle the dressing into the salad. Toss to combine.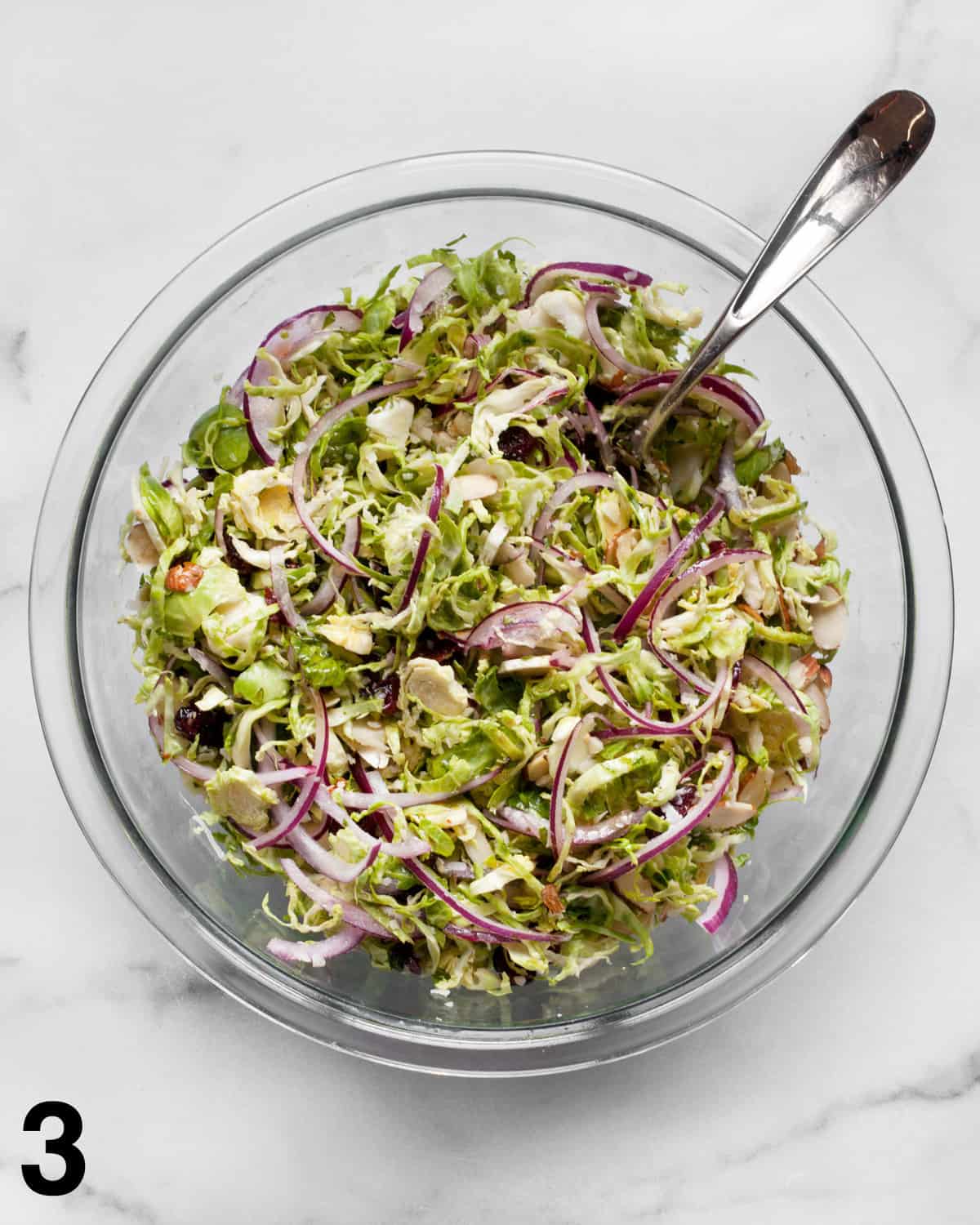 Serving
Bookmark this recipe for a Thanksgiving salad, especially if you want sprouts to make an appearance in the meal, but you don't have oven space to roast them. Again, this is where it is a salad and a side dish.
It is also a great lunch or weeknight dinner salad. Even though it is filling on its own, but you can add roasted chicken, salmon or tofu to add protein.
Leftovers
The salad is best served right after you assemble it. You can save leftovers in an airtight container in the fridge up to 3 days. As the salad sits longer, it will lose its crunch, and the smell of the sprouts will become more pungent.
Keep the salad and vinaigrette in separate containers. If you are planning to save some of the salad, only dress the amount that you are eating rather than the entire salad, so the leaves don't get soggy.
Recipe Tips
Do not shred the brussels sprouts ahead of time. They will lose their crunch, and they also tend to develop that sulfur-like smell.
You can make the dressing 1-2 days in advance. If the olive oil becomes solid in the chill of the fridge, let it sit at room temperature to warm up and stir it.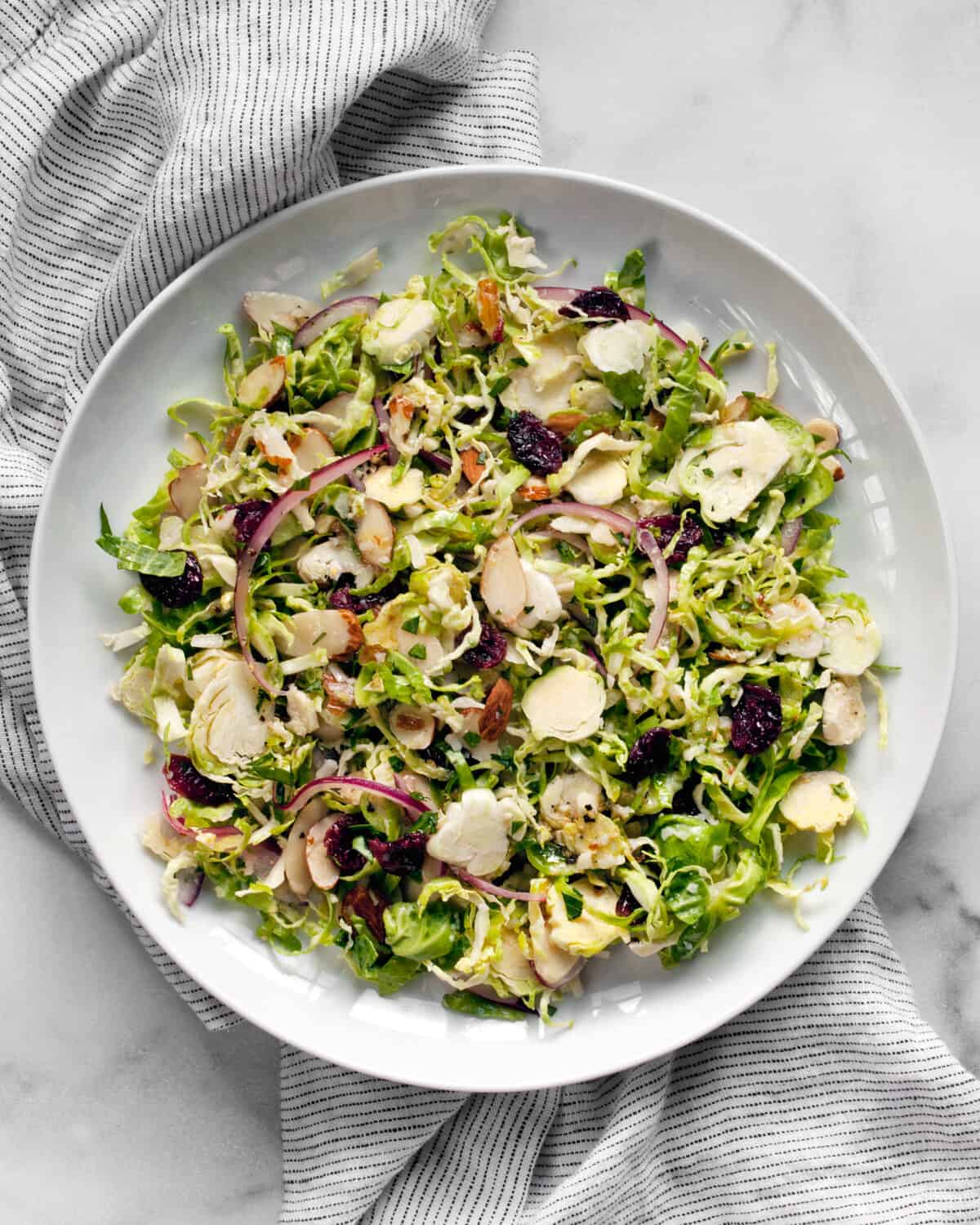 More Brussels Sprout Recipes
Brussels Sprout Kale Salad with Pears
Honey Sriracha Roasted Brussels Sprouts
Crispy Roasted Brussels Sprouts
Brussels Sprout Caesar Salad
Roasted Brussels Sprout Pasta
Brussels Sprout Apple Salad
Sautéed Brussels Sprouts
Shaved Brussels Sprout Salad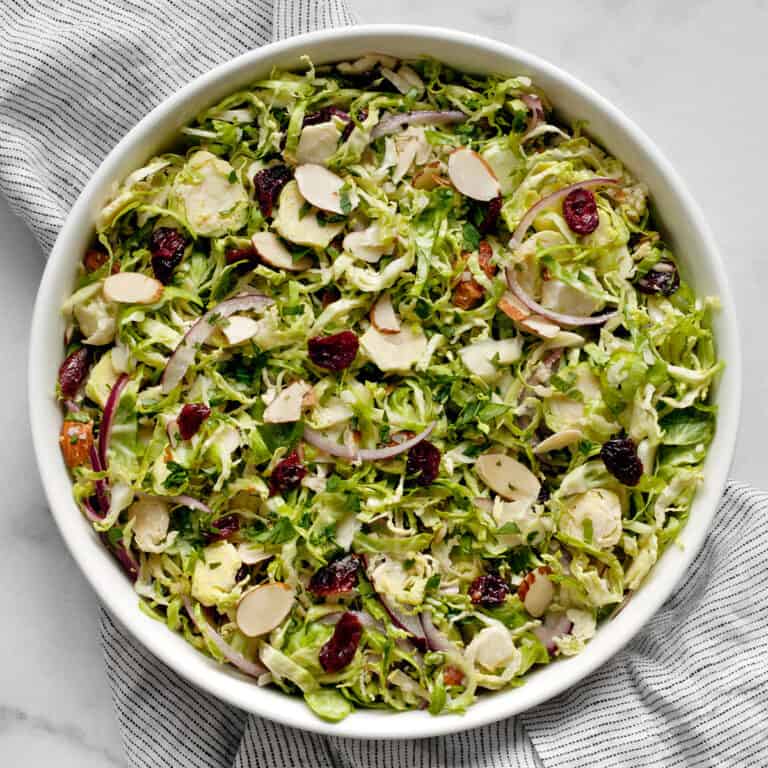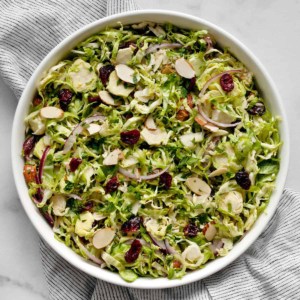 Try combining raw brussels sprouts with cranberries, almonds, Parmesan and red onions in this crisp shredded brussels sprout salad with lemon mustard vinaigrette.
Ingredients
For salad

1

pound

brussels sprouts

very thinly sliced

1/2

small red onion

thinly sliced

1/3

cup

grated Parmesan

1/3

cup

sliced almonds

1/4

cup

dried cranberries

2

tablespoons

chopped parsley

For vinaigrette

Juice of 1 lemon

2

tablespoons

red wine vinegar

1

garlic clove

minced

1

tablespoon

whole grain mustard

1/2

teaspoon

kosher salt

1/4

teaspoon

black pepper

1/4

cup

olive oil
Instructions
Combine the shaved brussels sprouts, red onions, Parmesan, almonds, dried cranberries and parsley in a large bowl

For the vinaigrette, whisk together the lemon juice, vinegar, mustard, garlic, salt pepper and olive oil in a small bowl.

Drizzle the vinaigrette into the salad, tossing to combine.
Notes
To shred the brussels sprouts, you can use a sharp knife to thinly slice them. Or use a mandolin or a food processor fitted with the slicing disc.
For the cranberries, you can substitute with pomegranate seeds.
You can swap the almonds with chopped walnuts or pecans.
The salad is best the day you make it, but you can store it in an airtight container in the refrigerator up to 3 days. Keep the vinaigrette in a separate jar.
Nutrition
Calories:
286
kcal
|
Carbohydrates:
22
g
|
Protein:
9
g
|
Fat:
20
g
|
Saturated Fat:
4
g
|
Polyunsaturated Fat:
3
g
|
Monounsaturated Fat:
13
g
|
Trans Fat:
0.003
g
|
Cholesterol:
7
mg
|
Sodium:
510
mg
|
Potassium:
579
mg
|
Fiber:
7
g
|
Sugar:
9
g
|
Vitamin A:
1102
IU
|
Vitamin C:
107
mg
|
Calcium:
157
mg
|
Iron:
2
mg
Nutrition information is automatically calculated, so should only be used as an approximation.
Originally published November 17, 2014. Updated: October 31, 2022.