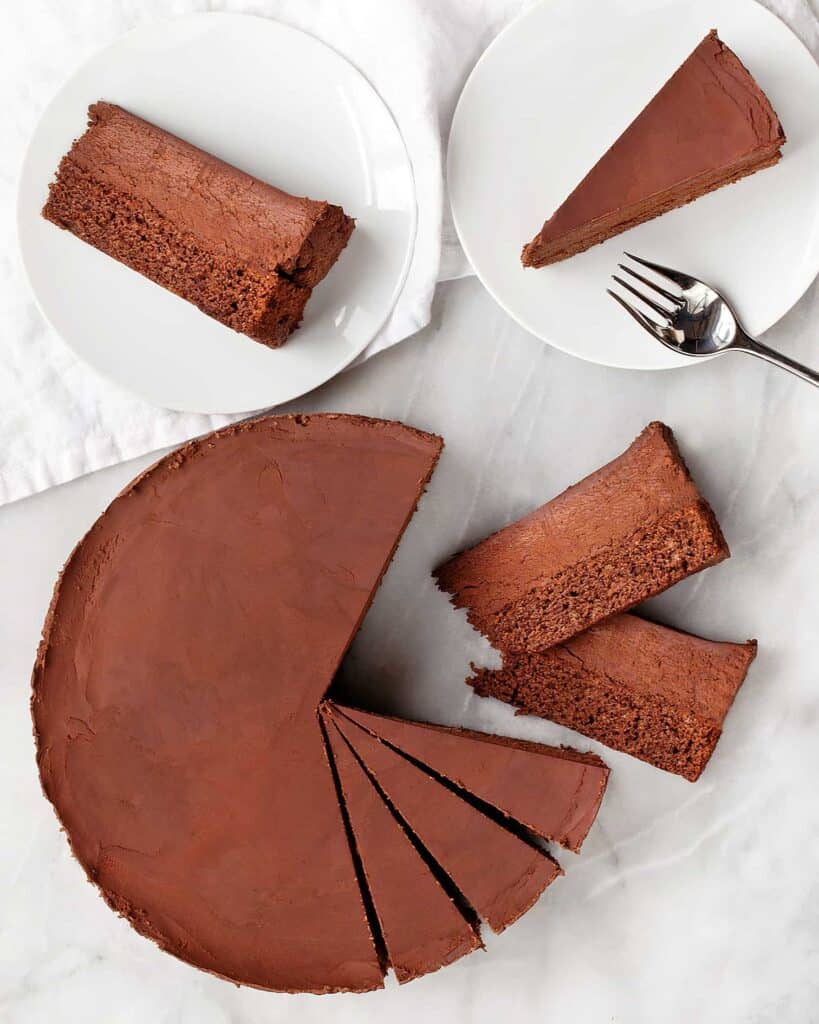 People generally fall into two camps when it comes to dessert. You either like cake or frosting.
I realize it's not as simple as only eating one or the other, but there's a certain balance between how much you want of each.

My decision-making is all over the place. It absolutely depends on how each one tastes.

I love a rich, luxurious buttercream, so I would rather have smaller bites of cake. On the flip side, I don't that excited about fondant, so I'll take the cake.

Chocolate is a daily treat at our house. I've been known to nibble on a spoonful of chocolate chips when I don't have anything baked from scratch within my reach.

That means I like to do a little more to make things special for Valentine's Day. My husband is also a big chocolate fan. We're great dinner partners because we like to share dessert.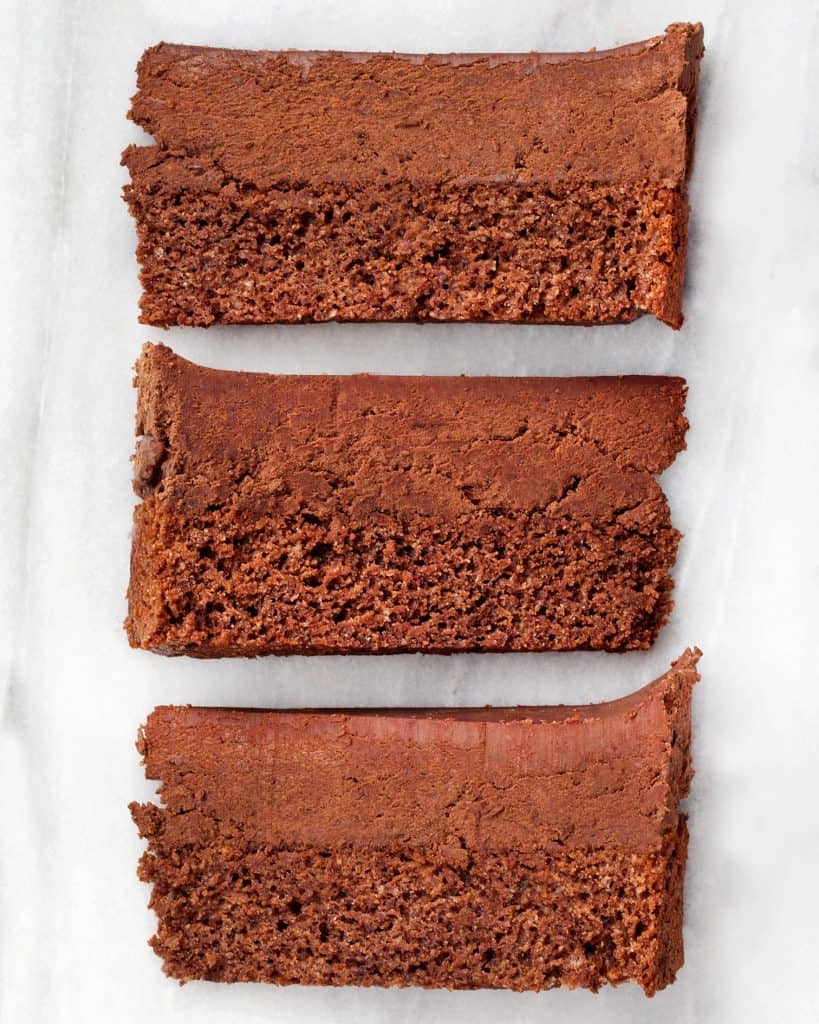 This chocolate mousse cake has an equal split of frosting to cake. It manages to be decadent without being too over-the-top.

The first step is to bake chocolate cake base. The dry ingredients are a combination of almond meal, all-purpose flour, confectioners' sugar and cocoa powder.

Egg whites and butter make up the wet ingredients. Folded together, this frangipane-style cake is light and nutty. It definitely tastes like chocolate, but it's kind of subtle.

After the cake is finished baking and has cooled, it's time for the mousse layer. This isn't a traditional mousse with eggs.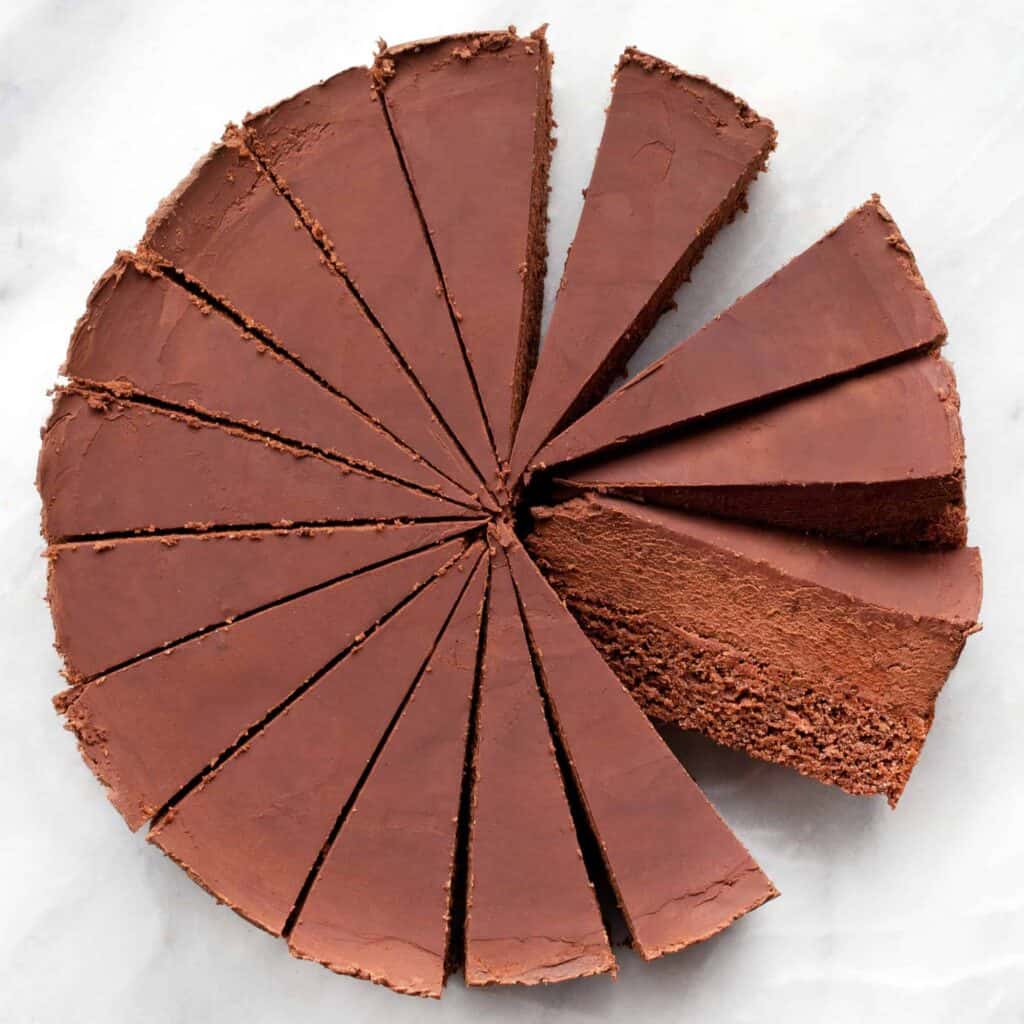 I think of it as a quick mousse with just bittersweet chocolate, vanilla extract and whipped heavy cream. After spreading the mousse across the cake, it doesn't take long for it to firm up in the fridge.

It's best to let the cake sit at room temperature for 15-20 minutes before serving, so the mousse is creamy and the cake has lost some of that chill.

Print
Chocolate Mousse Cake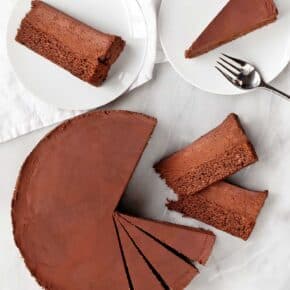 Total Time:

2 hours 50-55 minutes

Yield:

One 9-inch cake
Ingredients
For cake
Non-stick cooking spray
1 cup almond meal
1-2/3 cup confectioners' sugar, sifted
1/2 cup all-purpose flour
1/4 cup cocoa powder, sifted
1/2 teaspoon baking powder, sifted
5 egg whites
3/4 cup (14 tablespoons) unsalted butter, melted and cooled
For chocolate mousse
1 pound 1-1/2 ounces bittersweet chocolate, roughly chopped
1 teaspoon vanilla extract
2 cups heavy cream
Instructions
Preheat the oven to 325 degrees F. Grease a 9-inch springform pan with non-stick cooking spray and line the bottom with parchment paper.
In a large bowl, combine the almond meal, confectioners' sugar, flour, cocoa powder and baking powder. In a small bowl, whisk together the egg whites and melted butter. Fold the wet ingredients into the dry ingredients until just combined. Transfer the batter to the prepared springform pan.
Bake for 30-35 minutes, until the cake springs back when gently pressed and the edges have pulled away from the pan. Cool the cake completely in the pan on a wire rack.
Remove the cake from the pan. Use a serrated knife to trim the top of the cake, so it is even. Line the springform pan with plastic wrap and return the cake to the pan.
For the mousse, place the chocolate in a heatproof bowl over a saucepan with 1 inch of simmering water. Stir occasionally until chocolate has melted. Stir in the vanilla extract. Cool to room temperature.
Use an electric mixer to beat the heavy cream until it has stiff peaks. Fold the chocolate into the heavy cream until it is fully combined. Spread the mousse over the cake. Cover with plastic wrap without touching the mousse and chill in the refrigerator until set, about 2 hours.
Let the cake sit at room temperature for 15-20 minutes before serving. Store in the refrigerator.
SHARE THIS