Cinnamon Shortbread Owl Cookies
When I asked my 4-year-old what kind of animal he thought these cookies were, I kind of held my breath.

They've been on my to-bake list for years ever since I first spotted a version at a farmers market in London and was completely charmed by them.
I always love a shortbread cookie, and these took a little more effort than the typical one.

My son's response meant a lot to me. He must have known because he said owl and gave me a big smile. I'm not sure what I would have done if he didn't recognize them.

What a relief! His opinion means a lot to me, and he's not shy about sharing what he thinks. A typical preschooler with no filter! What else should I expect?


With just a few decorations and scoring with a cookie cutter and fork, I had my cinnamon shortbread owl cookies.
I started by making the shortbread dough and adding plenty of ground cinnamon to the dry ingredients.

Shortbreads are buttery and somewhat basic cookies, but I say that with such affection for them. Adding different spices or even citrus zest gives them different personalities.

Since shortbread dough is so crumbly, it helps to chill it especially after you finish cutting out and decorating and before they go in the oven.

I carefully pressed a round cookie cutter to score the wings. For the eyes, I made small circles of dough topped each one with a chocolate chip. I pushed in almond noses and used a fork to press in the feet.

My little guy was absolutely delighted by the owl cookies. Now the pressure is on to come up with another animal cookie, cake or something else.

I don't consider myself to be a decorative baker. I'm more of a drop cookie person, so I need to practice!

Print
Cinnamon Shortbread Owl Cookies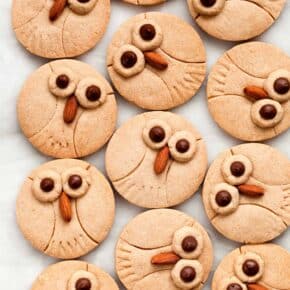 Prep Time:

45 minutes + 1 hour chilling

Cook Time:

25-30 minutes

Total Time:

2 hours 10-15 minutes

Yield:

16

cookies

1

x
Scale
Ingredients
1 cup (2 sticks) unsalted butter at room temperature
3/4 cup confectioner's sugar
1 teaspoon vanilla extract
2 cups all-purpose flour plus more for work surface
1/2 cup cornstarch
1 teaspoon ground cinnamon
1/2 teaspoon kosher salt
32 dark chocolate chips
16 whole roasted unsalted almonds
Instructions
In a large bowl, use an electric mixer to beat the butter, confectioner's sugar and vanilla extract until just smooth, about 1 minute. In a medium bowl, combine the flour, cornstarch, cinnamon and salt. Fold the dry ingredients into the wet ingredients. Pat the dough together into a disk, cover with plastic wrap and chill in the refrigerator for 30 minutes.
On a lightly floured work surface, roll out the dough, so it is about 1/4-inch thick. Use a 3-inch diameter round cookie cutter to cut out 16 cookies. Transfer to a parchment lined sheet pan spacing 2 inches apart. Use the same cookie cutter to press a third of the circle on each side for wings. Make sure not to cut all the way through the cookie.
For the eyes, take a generous pea-sized piece of dough and flatten it into a circle. Place a chocolate chip in the center. Dab a drop of water on the underside of each eye and place centered toward the tops of the cookies. For the nose, push an almond directly underneath the eyes. Use a fork to gently press feet into the center of the bottoms of the cookies. Chill in the refrigerator for 30 minutes.
Preheat the oven to 325 degrees F. Bake for 25-30 minutes until the cookies are firm, but not browned. Cool on the sheet pans for 2 minutes before transferring to a wire rack to cool completely.
Store in an airtight container.
SHARE THIS