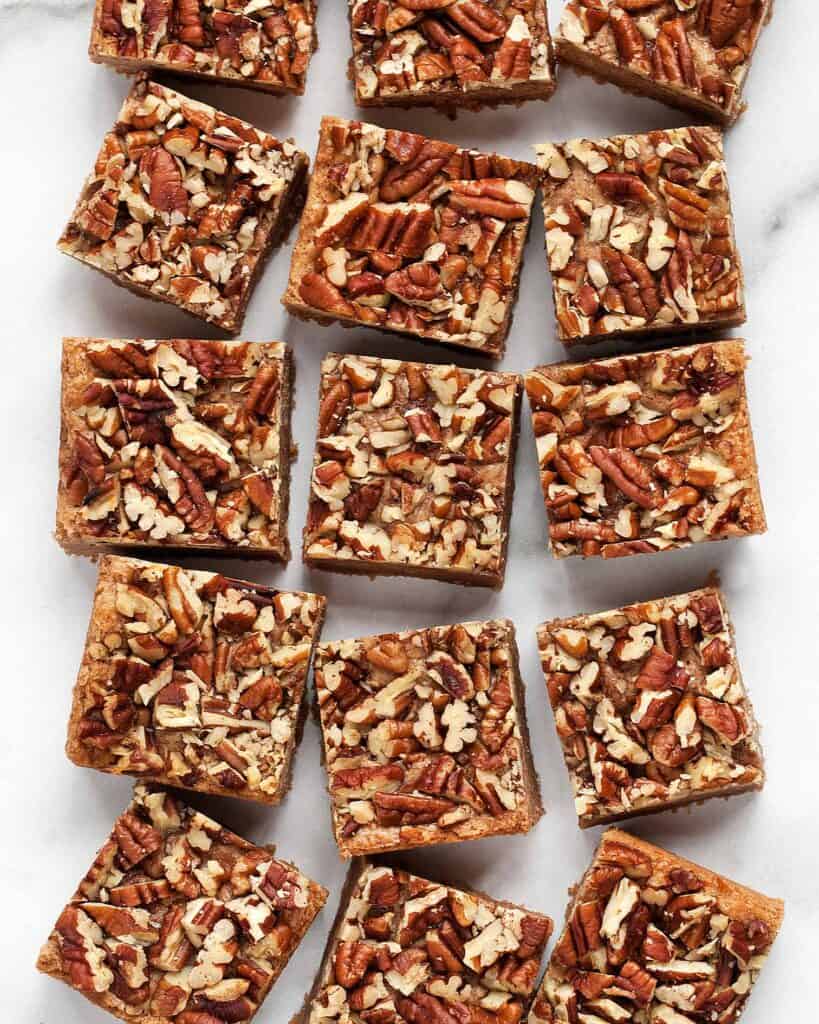 My computer is my recipe box.

Ingredients and instructions are typed out in Word documents. Some eventually make their way onto the blog, but a lot of them just live as saved files.
Electronic storage is convenient and efficient, but it doesn't have the charm of a recipe box.
I remember the exact cabinet from my childhood where my mom kept her recipe box.
It was stuffed with dog-eared 3-inch by 5-inch index cards that I would love to thumb through looking for something sweet to bake.
Periodically my mom will go through the recipe cards and give me a few that she thinks will inspire my cooking and baking.
Some are in her handwriting and others are written by relatives.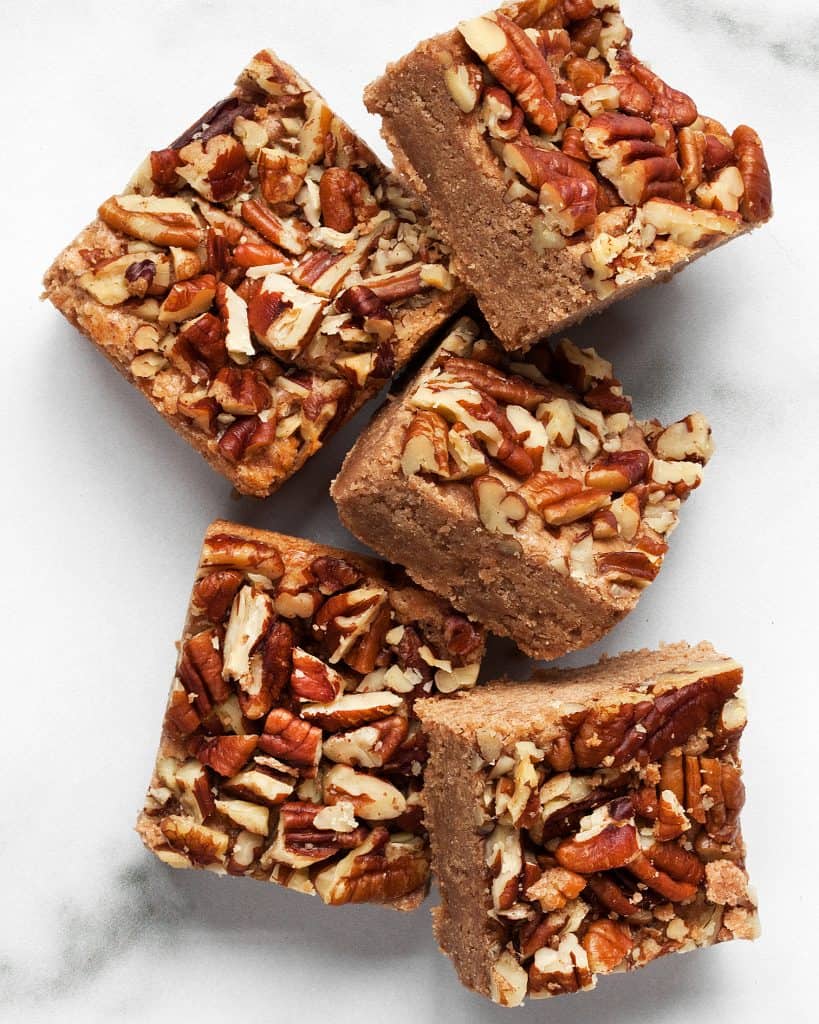 It had been a while since I looked at the recipe cards that I have collected over the years.

Many of those recipes are oldies but true goodies.

I came across my paternal grandmother's recipe for cinnamon squares.

My memories of these bars are a bit foggy, I admit, but I love anything with lots of cinnamon.

Also, I adore any bar cookie from brownies to blondies because they are so easy to make.
These cinnamon squares have the distinct crumbly and addictive texture of very thick shortbread all while being nice and buttery.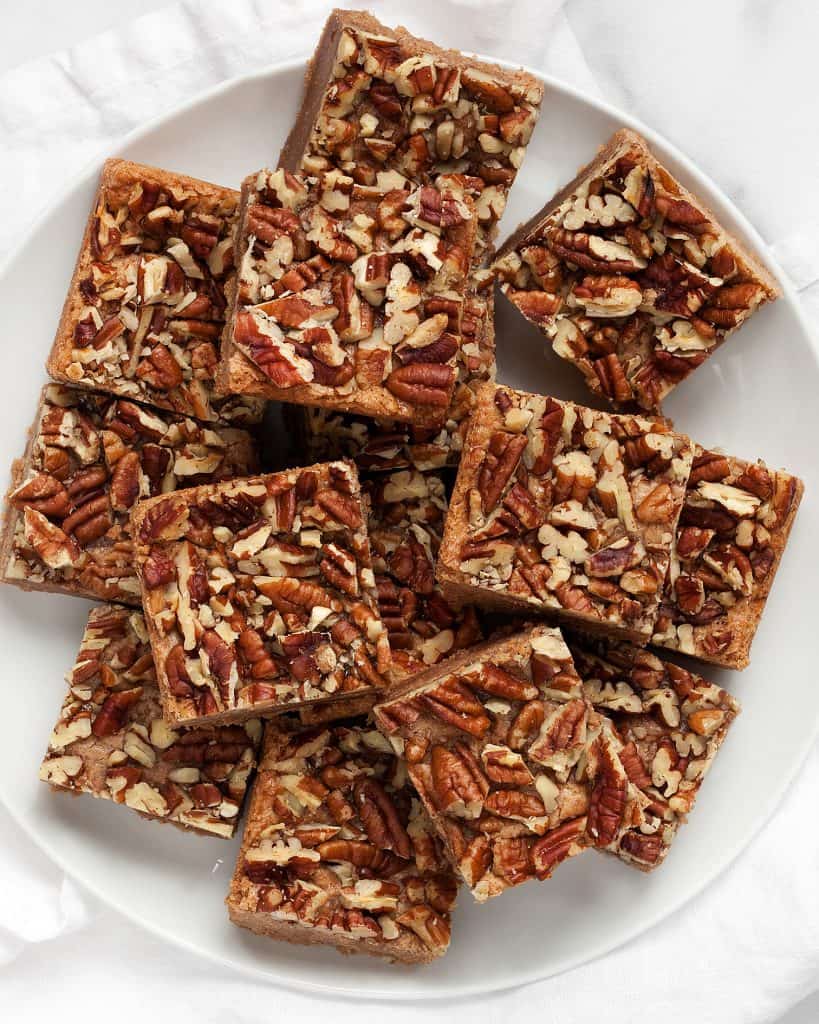 How To Make Cinnamon Squares
When I make them, I always get mixing the dry ingredients out of the way first. They are a mix of flour, cinnamon and cocoa powder.

When the bars are finished, they don't taste chocolatey. I think the cocoa powder balances out all the cinnamon.

With a cup of granulated sugar and a cup of butter, I use an electric mixer to cream them together until they are light and fluffy.

At that point I mix in vanilla extract and an egg yolk—the white will come later in the recipe.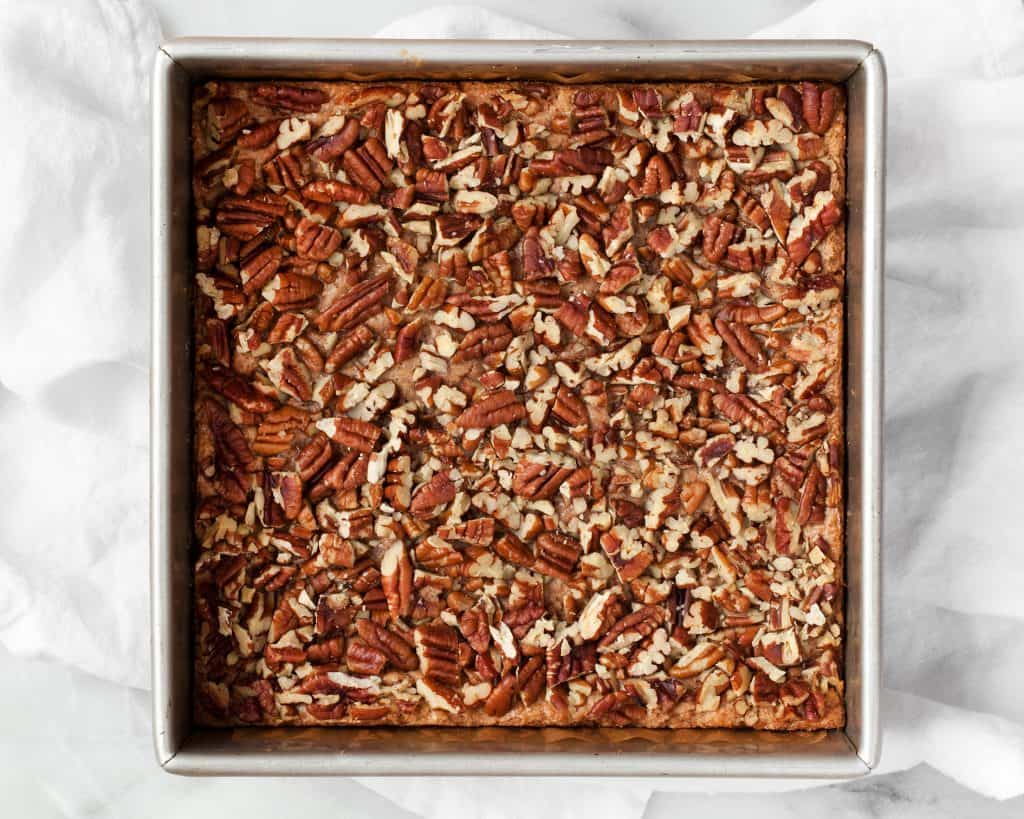 Then I add in my dry ingredients to complete the dough. I have a hard time not sampling it!
In a greased baking pan, I spread the dough into the base of the pan.

This is where the egg white comes into act like glue. I lightly beat the egg white and brush the top of the dough and then cover it with chopped pecans.

The bars finish baking in about 20-25 minutes. It's important to let them cool in the pan before cutting them into squares.
Print
Cinnamon Squares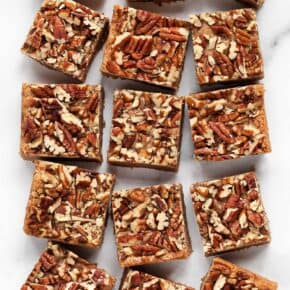 Prep Time:

15 minutes

Cook Time:

20-25 minutes

Total Time:

35-40 minutes
Ingredients
Non-stick cooking spray
2 cups all-purpose flour
2 teaspoons ground cinnamon
1 tablespoon unsweetened cocoa powder
8 ounces (2 sticks) unsalted butter at room temperature
1 cup granulated sugar
1 large egg, separated
1 teaspoon vanilla extract
1 cup pecans, roughly chopped
Instructions
Preheat the oven to 350 degrees F.
Grease an 8-inch square baking pan with non-stick cooking spray and line with parchment paper.
In a medium bowl, combine the flour, cinnamon and cocoa powder.
Using an electric mixer, cream the butter and sugar until light and fluffy. Beat in the egg yolk and vanilla extract. Mix the dry ingredients and mix until just combined.
Press the dough into the prepared baking pan. Whisk the egg white until frothy, brush it on top of the dough and sprinkle with pecans.
Bake for 20-25 minutes. Let the cinnamon squares cool to room temperature before cutting.
Store in an airtight container.
SHARE THIS