With 2 cups of shredded zucchini, you can make these rich, fudgy and moist zucchini brownies. They are an easy one-bowl brownie recipe where you melt the butter and chocolate in the microwave and then just stir other ingredients after that. They bake in 30 to 35 minutes, and extras are great for freezing.
Looking for more zucchini baking recipes? Try these Chocolate Chip Zucchini Muffins. They're sweetened with maple syrup and made with Greek yogurt.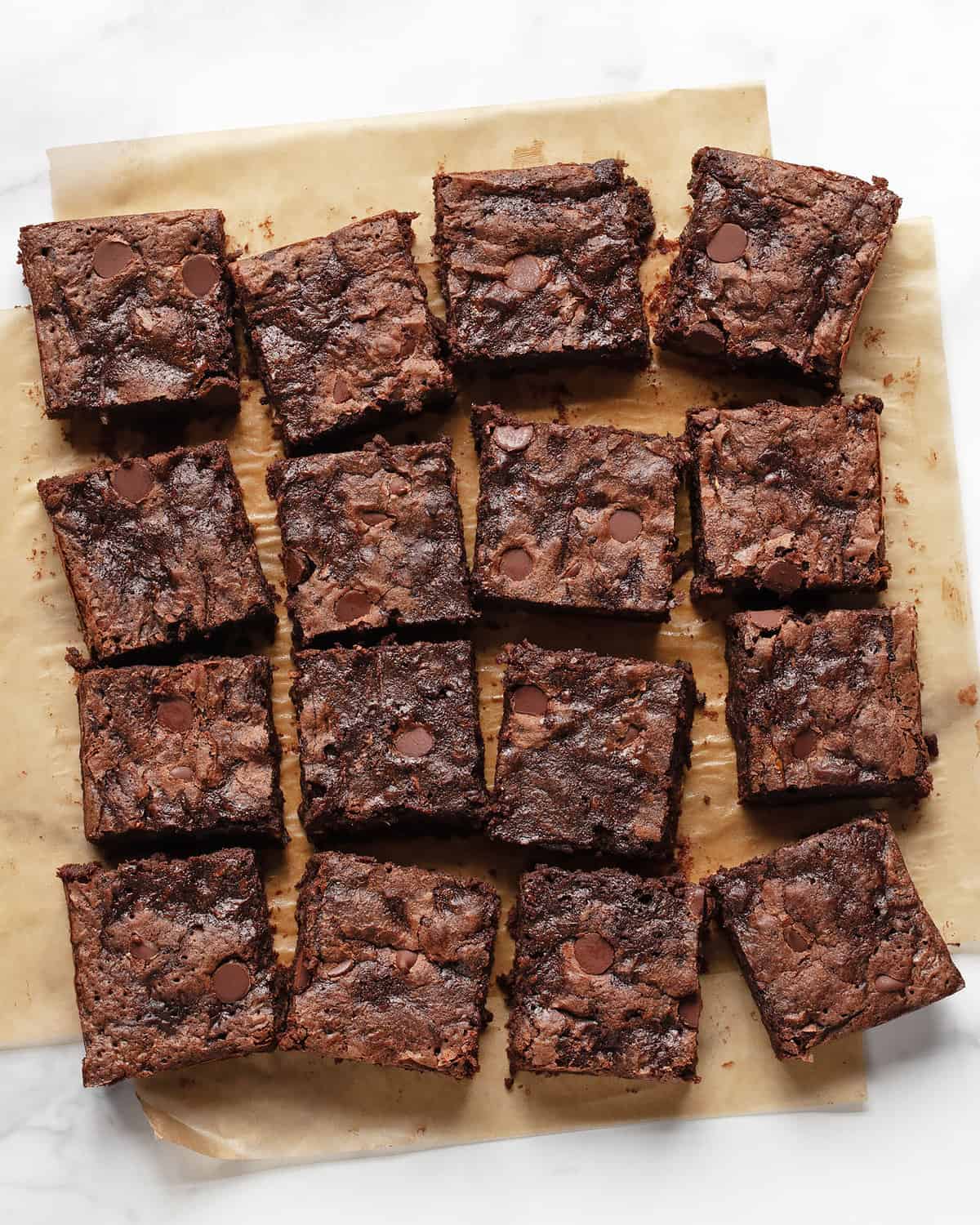 Why You'll Love These Brownies
This is an easy one-bowl brownie recipe where you melt the chocolate and butter in the microwave. After that you stir in the rest of the ingredients step-by-step before the batter goes into the pan.
They are a wonderful way to use your zucchini surplus. This zucchini recipe is for all the gardeners and farmers market shoppers who end up with more zucchini than they know what to do with. I love roasting and grilling this versatile vegetable, but it's great for baking too.
The brownies turn out moist with lots of chocolate flavor, and they're not heavy or dense. Everyone has their preference on brownies. Some love cakey, others prefer chewy and then there are people who love fudgy brownies, which is how this recipe turns out.
If you're looking for a freezable dessert, brownies are one of the best. It's better to cut and freeze brownies instead of letting them sit out at room temperature too long and dry out. When you thaw frozen brownies, they get their same soft, slightly gooey bite back.
Why Bake With Zucchini?
Sneaking in vegetables when baking from scratch is not the only reason to add zucchini to desserts. Overall, zucchini has high water content, so it makes cakes, muffins, quick breads, and in this case brownies, nice and moist.
How To Shred Zucchini
You can shred zucchini by hand on the large holes of a box grater. Or you can use a food processor fitted with the shredding disc. It's up to you and whatever you are equipped with in your kitchen.
Once you shred zucchini, you typically squeeze it in a towel to get out as much water as you can when you're baking with it. Otherwise, for muffins or cake the crumb will come out dense. For this brownie recipe, I press the zucchini with a towel to remove some of the water, but I don't squeeze all of it out because it makes the brownies moist.
The Ingredients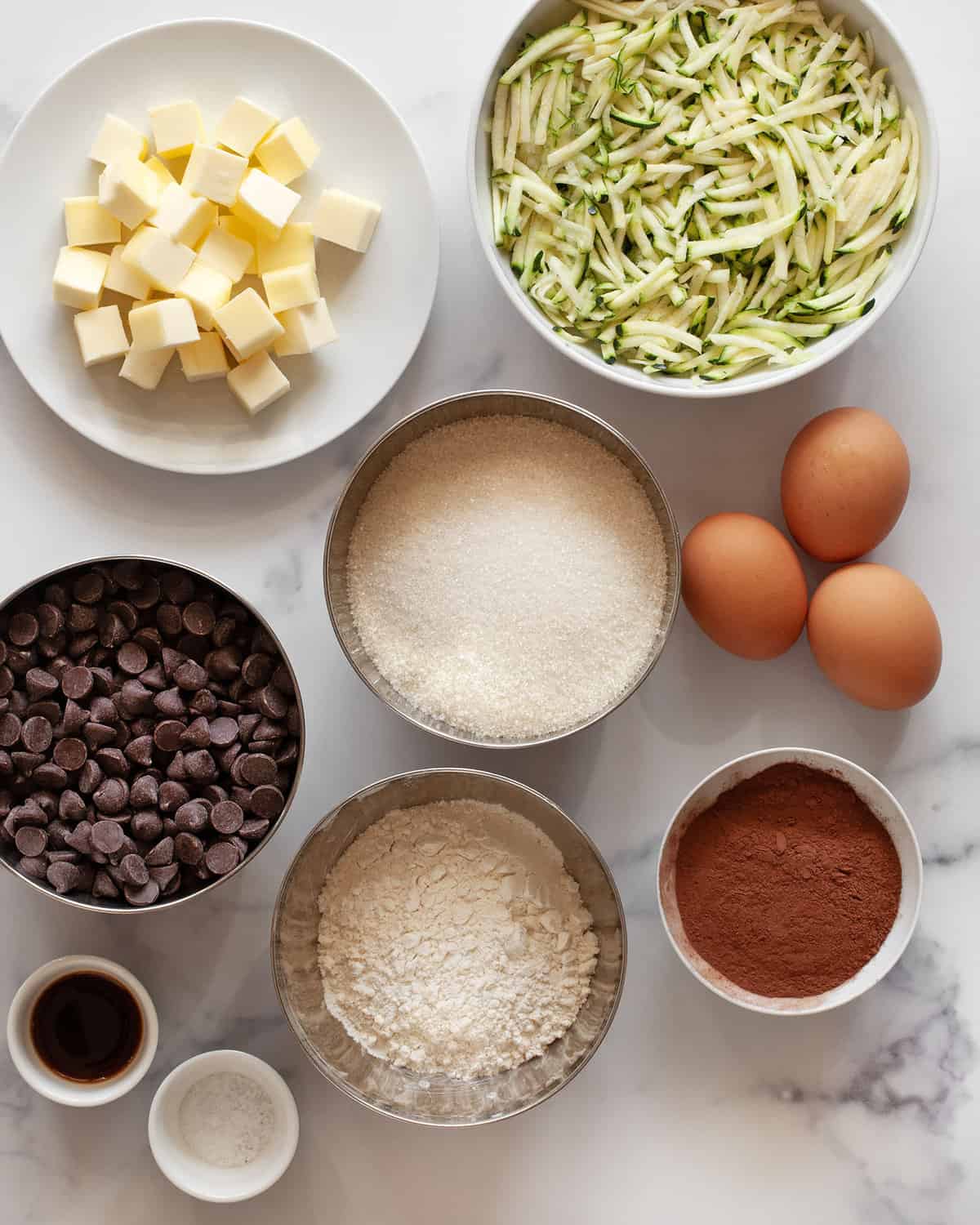 For this zucchini brownie recipe, you will need:
Semisweet chocolate chips: You melt 1 cup of chocolate chips with the butter. Then you stir another half cup of chips into the brownie batter, so these are chocolate chip brownies.
Zucchini: To end up with 2 cups of shredded zucchini, you need 2 medium zucchini.
Butter: To make it melt more evenly with the chocolate, you should cut the butter into cubes. I prefer butter over vegetable oil for taste.
Sugar: The recipe calls for 1 cup of granulated sugar. The brownies do not turn out overly sweet. They have the right balance with the chocolate.
Eggs: You will need 3 large eggs.
Vanilla extract gives the brownies a subtle amount of vanilla flavor.
Cocoa powder: I like using a combination of unsweetened cocoa powder and melted chocolate to get that good fudgy consistency.
Flour: Use all-purpose flour for the brownies.
Optional Additions
As the recipe is written, you fold semisweet chocolate chips into the batter with the shredded zucchini. Instead of chips you can substitute with one of the following:
Chopped walnuts or almonds for something nutty
Dark chocolate chips or milk chocolate for a mix of chocolate flavors
How To Make Zucchini Brownies
Preheat the oven to 350 degrees F. Line a 9-inch square baking pan with parchment paper and grease with non-stick-cooking spray.
1. Melt the butter and chocolate. Put them in a large bowl and microwave them for 30 seconds. Give them a few good stirs to distribute the heat and encourage melting. Then microwave them again for 30 seconds and stir the mixture until it's smooth and glossy.
2. Stir in the sugar and salt.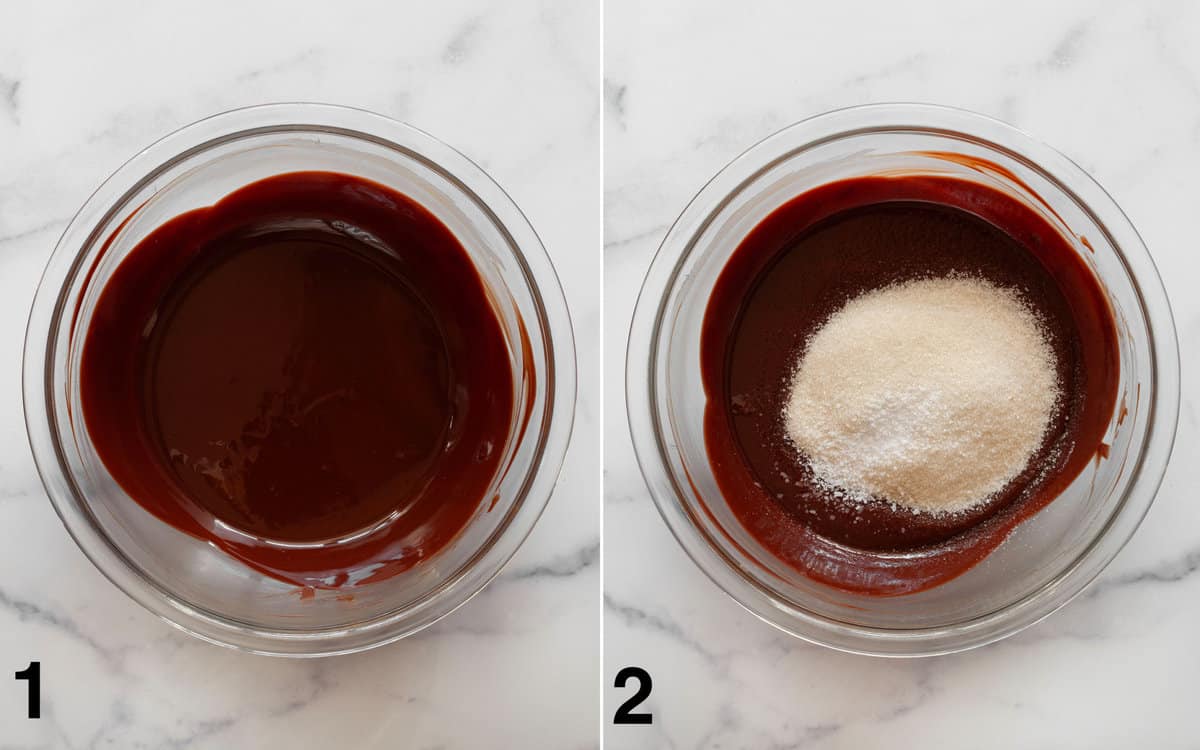 3. Beat in the eggs and vanilla extract. Make sure they are fully combined.
4. Stir in the cocoa powder.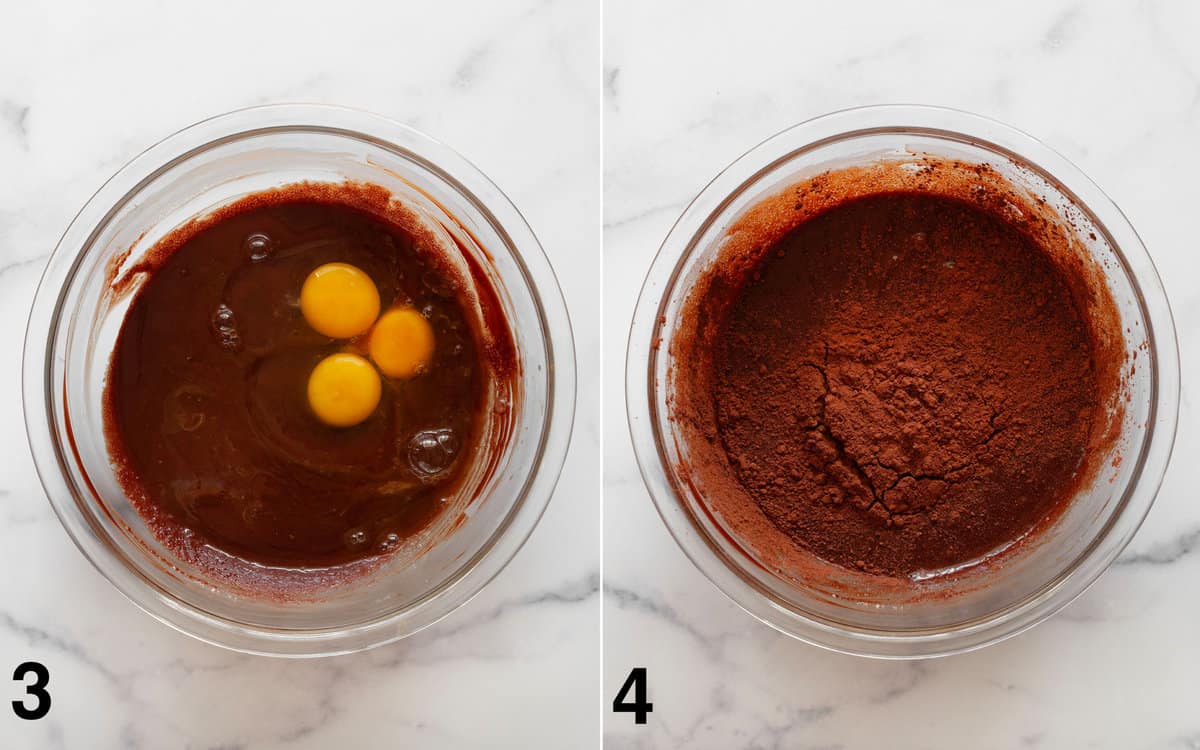 5. Fold in the flour. Don't completely mix it in. You want to still be able to see some streaks of flour.
6. Stir in the zucchini and the remaining chocolate chips.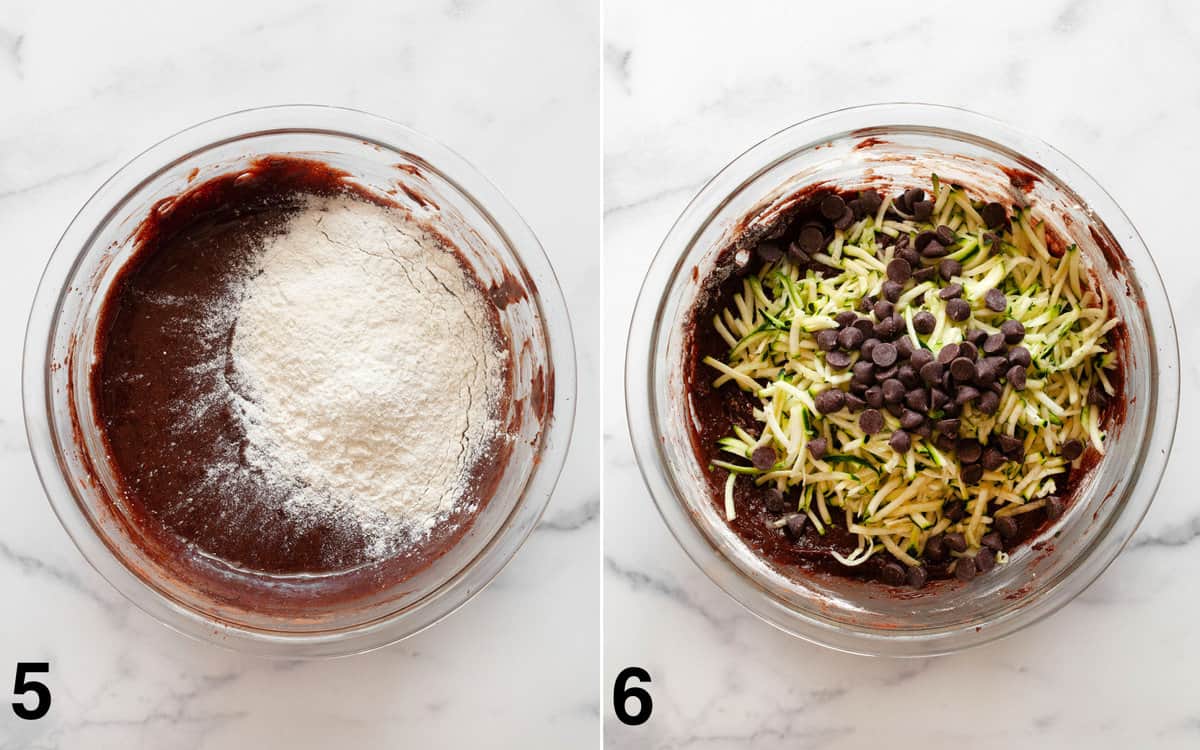 7. Spread the batter into prepared baking pan.
8. Bake the brownies until they are just set. When you insert a toothpick into the center, it should come out with some crumbs on it, but not be coated in batter.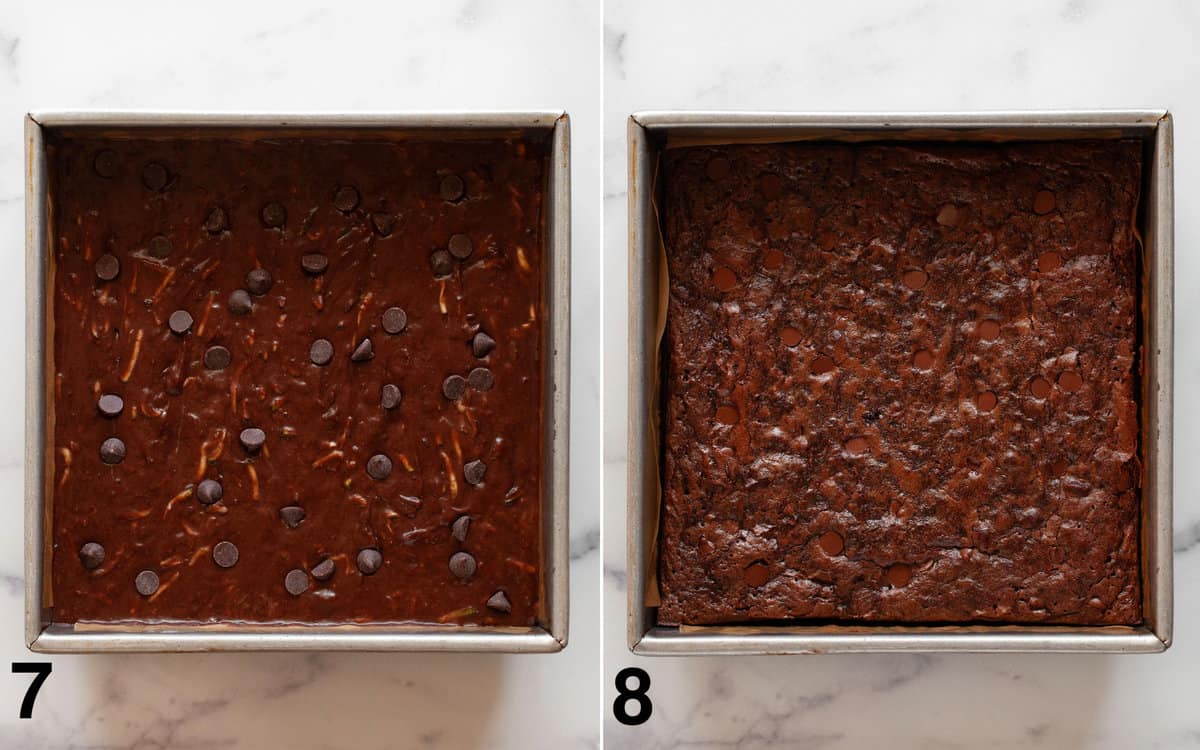 Serving
There are so many reasons to love bar cookies like brownies. It doesn't get any easier than making the batter in a bowl and dumping it all right into the pan. I recommend waiting to slice the brownies until you are about to eat them. Then you won't risk the edges drying out and becoming crusty. These brownies are a good choice for sharing at a potluck or another gathering.
Leftovers, Storage and Freezing
Brownies will stay good for 3 days in the pan at room temperature covered. It helps keep them fresh by putting plastic wrap on the cut edges. If the brownies are all sliced into squares, put them in an airtight container.
You can freeze brownies to keep them longer. Wrap them individually, and they will stay good in the freezer up to 1 month. Thaw them at room temperature, still wrapped.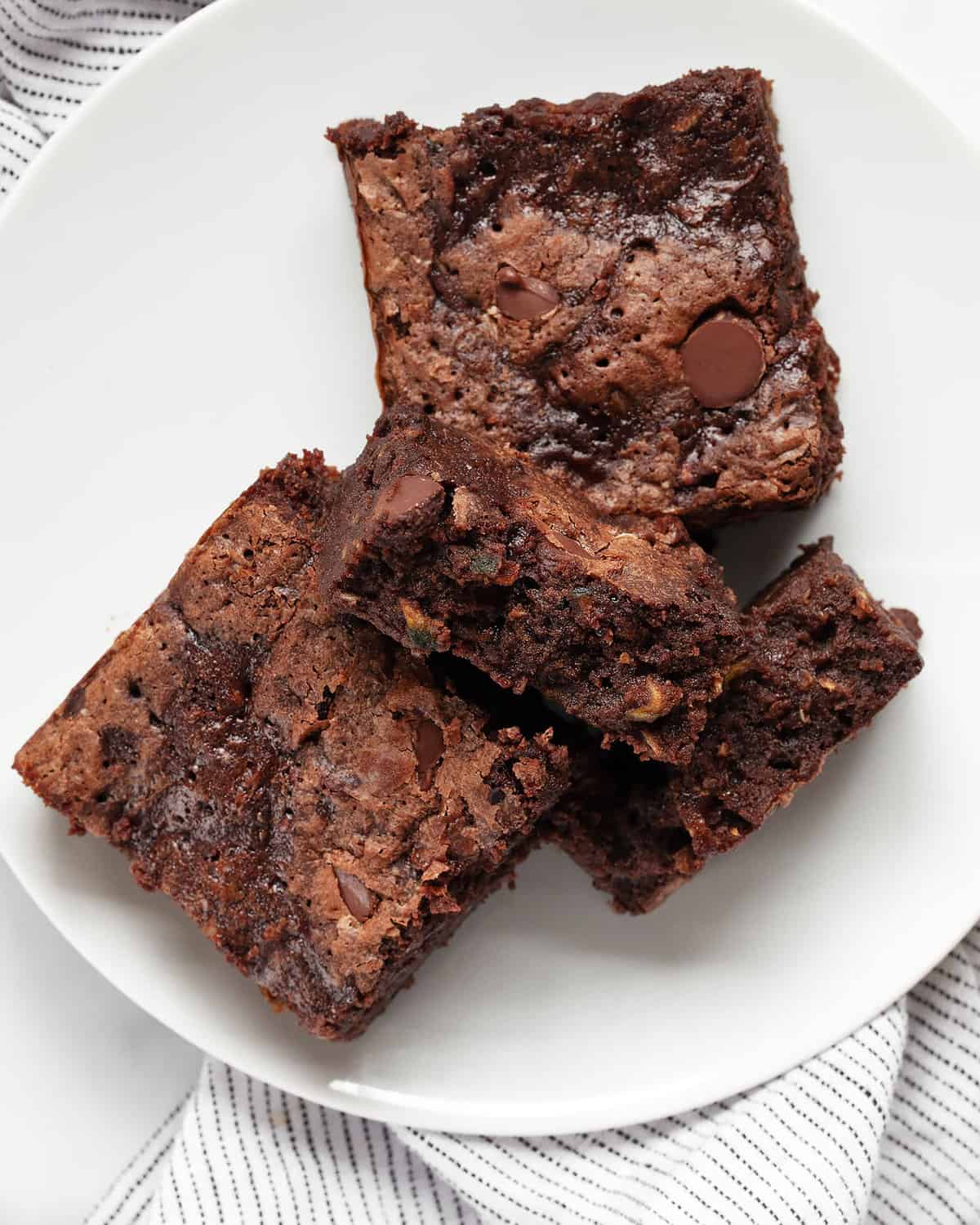 Recipe Tips
Don't over mix the batter. In general, brownies are pretty forgiving when it comes to baking, but be thoughtful when you're stirring. Be gentle with your strokes and once an ingredient is mixed in, stop stirring and move on to the next step.
Don't over bake the brownies, but don't underbake them either. I know this can be tricky. They should be just set with some cracks on top.
Bake brownies in a metal baking pan and not a glass baking dish. Metal conducts heat better than glass, so it bakes more evenly.
Let the brownies cool completely before cutting them. As tempting as it is to cut the brownies when they are still warm, they will be very messy. Letting them cool to room temperature gives them time to get to the right consistency.
Recipe FAQs
Are these brownies healthy?
Even though these muffins have zucchini in them, this is not the primary way you should be getting your vegetables. They do have butter, white sugar and chocolate in them, so I think of these brownies as a treat like I would with more traditional brownies.
What's the best way to cut brownies?
First, let them cool to room temperature. Then use a chef's knife. You can run it under hot water to warm it up. Just dry it before you start cutting. Wipe off the knife between slices. Using a metal ruler helps you cut straighter and more evenly.
Do you need to squeeze out the moisture in the zucchini for this recipe?
As mentioned, just press some of the water out. The shredded zucchini does not need to be squeezed out completely like you would for cakes, quick breads or muffins.
Zucchini Brownies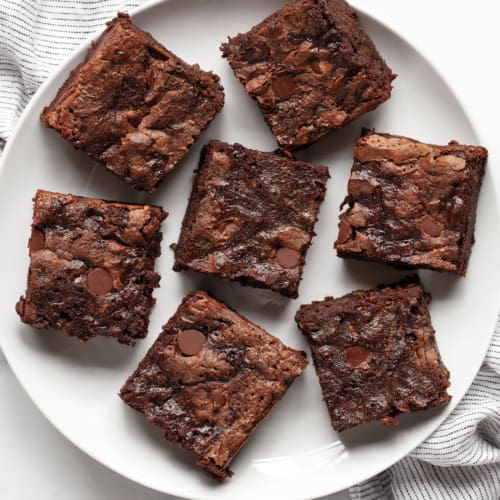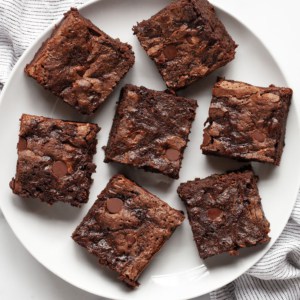 Made with semisweet chocolate chips, these zucchini brownies are perfectly fudgy with 2 cups of shredded zucchini stirred into the batter.
Ingredients
Non-stick cooking spray

1/2

cup

unsalted butter

1-1/2

cup

semisweet chocolate chips

plus more for topping brownies

1

cup

granulated sugar

1/2

teaspoon

kosher salt

3

large eggs

2

teaspoons

vanilla extract

1/4

cup

unsweetened cocoa powder

1/2

cup

all-purpose flour

2

cups

shredded zucchini

(use a towel to press out some of the water)
Instructions
Preheat the oven to 350 degrees F. Line a 9-inch square baking pan with parchment paper and grease with non-stick cooking spray.

Put the the butter and 1 cup chocolate chips in a large microwave-safe mixing bowl. To melt them, microwave for 30 seconds and then stir to distribute the heat. Microwave again for 30 seconds and stir until smooth and melted.

Stir the sugar and salt into the melted butter and chocolate.

Use a whisk to beat in the eggs and vanilla extract.

Gently stir in the flour until it is almost combined, but you can still see streaks of it in the batter.

Add the zucchini and 1/2 cup chocolate chips. Slowly fold them into the batter.

Spread the brownie batter into the prepared pan. Top with additional chocolate chips as desired.

Bake the brownies for 30-35 minutes until they are just set and the edges pull away from the sides of the pan.

Let the brownies cool completely before cutting into 16 squares.
Notes
You do not need to squeeze out all the water from the shredded zucchini. Take a towel and press out some of the excess moisture.
For the 1/2 cup semisweet chocolate chips in the batter, you can substitute with chopped walnuts or almonds or milk chocolate or dark chocolate chips.
Store the brownies in an airtight container at room temperature up to 3 days. If you haven't cut all the brownies, it helps keep them fresh to put plastic wrap on the cut edges.
You can freeze brownies up to 1 month. Cut them and wrap them individually, so they don't stick together. Thaw at room temperature, still wrapped.
Nutrition
Calories:
232
kcal
|
Carbohydrates:
26
g
|
Protein:
3
g
|
Fat:
13
g
|
Saturated Fat:
8
g
|
Polyunsaturated Fat:
1
g
|
Monounsaturated Fat:
4
g
|
Trans Fat:
0.2
g
|
Cholesterol:
47
mg
|
Sodium:
90
mg
|
Potassium:
212
mg
|
Fiber:
2
g
|
Sugar:
20
g
|
Vitamin A:
289
IU
|
Vitamin C:
5
mg
|
Calcium:
24
mg
|
Iron:
2
mg
Nutrition information is automatically calculated, so should only be used as an approximation.