Blood Orange Almond Icebox Cookies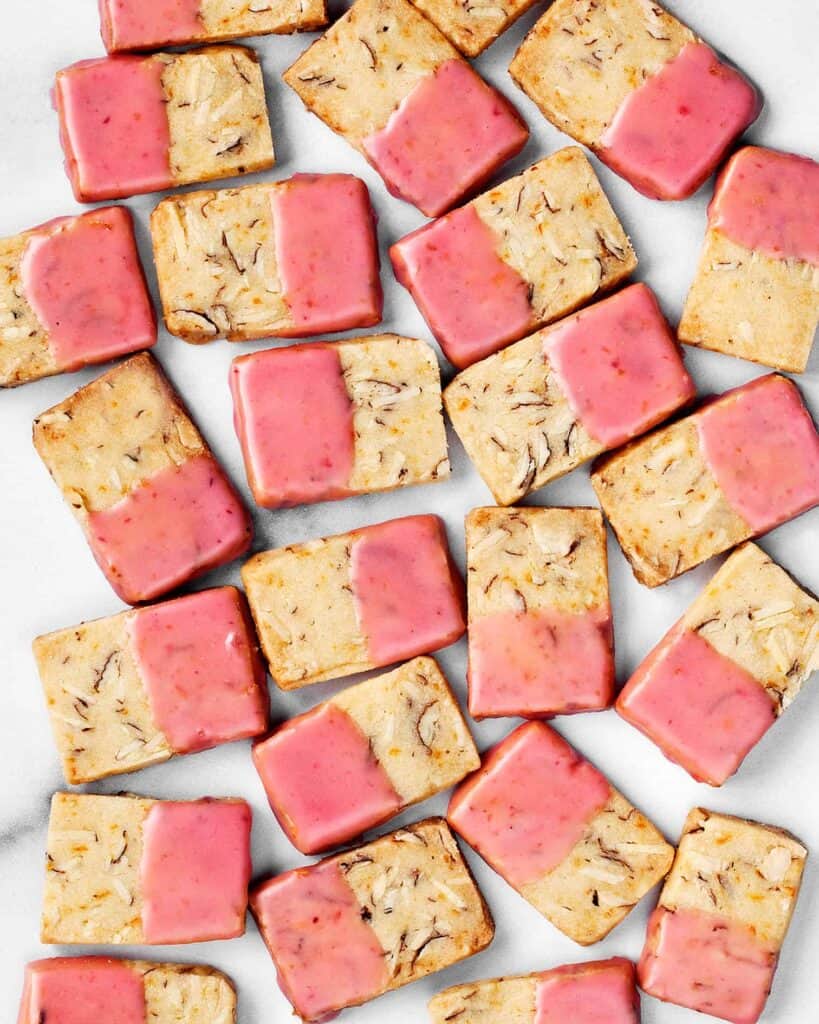 I love when citrus fruit is meticulously arranged in pyramids at the grocery. It makes you feel guilty when you put a few in your cart and you mess up the whole thing.
Of course the point of the beautiful display is to tempt shoppers, so I assume the produce people don't mind filling in the gaps. Just be sure not to take one from the middle and cause a crash of fruit on the floor.
Lately, I've been snacking on oranges. I like buying a few different varieties and sampling them. They are good on their own or even in a salad with arugula, endives goat cheese and smoked almonds.
It had been a while since I baked anything with oranges. When it comes to citrus and sweets, I usually reach for lemons or limes first.
The oranges that always get my attention are blood oranges. At first glance, they seem like any other orange except when you look more closely you can see hints of their gorgeous ruby color peeking through the peel.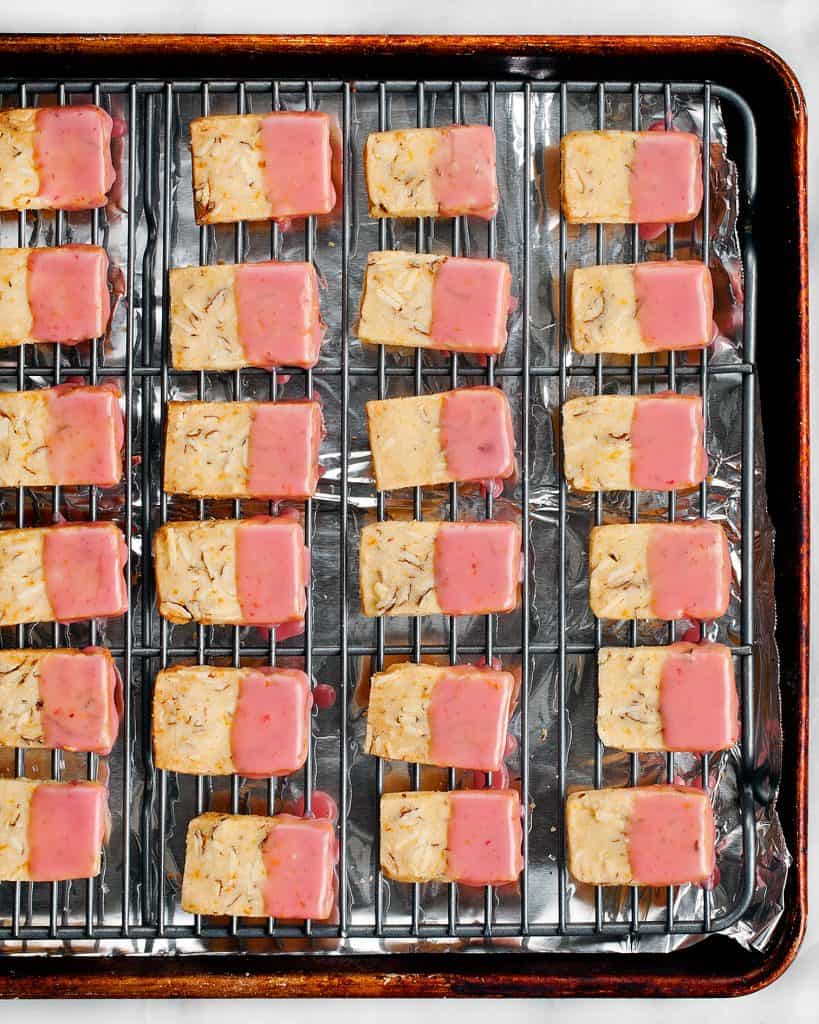 Earlier this winter I made a citrus compote with blood oranges to go with gingerbread waffles, but this time I wanted to really incorporate them, zest and juice, into a dessert.
I ended up baking blood orange almond icebox cookies. Icebox cookies are basically from-scratch slice and bakes. It's great because you can make the dough ahead of time and bake them later. You even can freeze it.
I started by creaming the butter and sugar along with almond extract for the dough. Then I lowered the mixer speed to add the flour and orange zest. I folded in sliced almonds. The dough was crumby and very fragrant with nuts and orange.
I shaped the dough into a rectangular log and let it chill in the freezer. Once it was firm, I sliced off 1/4-inch thick cookies and placed them on a sheet pan.
I baked the cookies until they were just starting to turn golden. That could have been it, but I wanted to use the juice from the blood orange. When the cookies cooled, I whisked together blood orange icing and smeared it on half of each cookie.
You could definitely do a full dunk into the icing, but I like seeing the pattern of the almonds in the cookie.
Print
Blood Orange Almond Icebox Cookies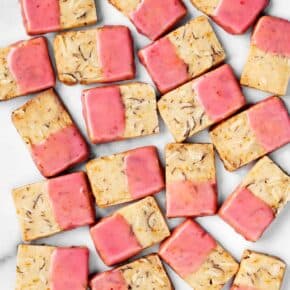 Prep Time:

1 hour 15 minutes

Cook Time:

20-25 minutes

Total Time:

1 hour 35-50 minutes + cooling & icing

Yield: Makes

3

–

4

dozen

1

x
Scale
Ingredients
1 cup (2 sticks) unsalted butter, softened at room temperature
2 cups confectioners' sugar
3/4 teaspoon almond extract
1 blood orange, zest and juice
2 cups all-purpose flour plus more for work surface
1/2 teaspoon kosher salt
3/4 cup sliced almonds
Instructions
In a large bowl, use an electric mixer to beat the butter and 1 cup confectioners' sugar until smooth and fluffy, about 2-3 minutes. Add the almond extract. On low speed, mix in the orange zest, flour and salt. When it is almost combined, but you can still see a little flour, fold in the sliced almonds.
On a lightly floured work surface, shape the dough into a 12" long, 2″ x 1-1/2″ rectangle. Wrap in wax paper and freeze for 1 hour until firm. (If you are planning to freeze it longer, wrap the dough in plastic wrap.)
Preheat the oven to 325 degrees F. Line a sheet pan with parchment paper.
Use a sharp knife to cut the dough into 1/4-inch-thick slices. If the dough is too crumbly, let it sit at room temperature until it is easier to cut.
Bake the cookies for 20-25 minutes until they start to turn light golden brown. Let the cookies stay on the sheet pan for 5 minutes before transferring them to a wire rack to cool completely.
For the icing, whisk together the remaining confectioners' sugar and 2 tablespoons blood orange juice. If the mixture seems to thick, add more juice. If it is too runny, add more sugar.
Either dip the cookies in the icing or spread it on top using an offset spatula. Transfer the cookies to a wire rack to let the icing set.
Store in an airtight container.
SHARE THIS