Grilled Chipotle Shrimp & Corn Salad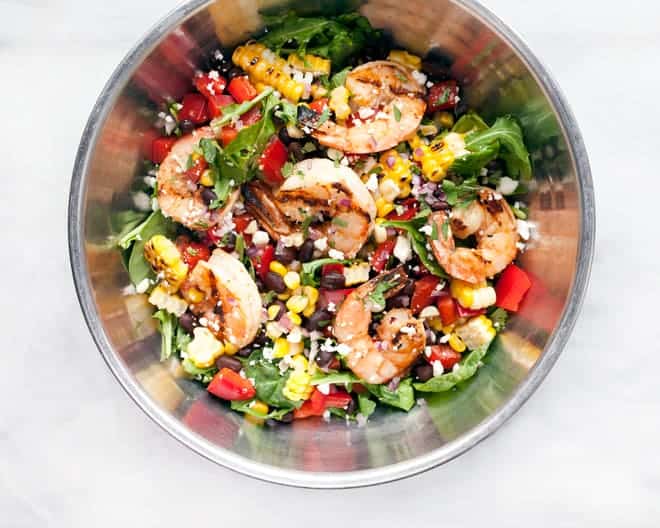 I don't understand people who salt their food before even taking the first bite. Give food a chance! It might be seasoned just right and not need anything else. I'm starting to have the same feeling about buttering corn. Why is it automatic that corn gets a pat of butter to melt over the warm kernels? Sweet corn is so tasty right now that it's buttery on its own without any actual butter.
I bought a few ears of corn at the market yesterday morning. Instead of eating it on the cob, I sliced it right off into this grilled chipotle shrimp & corn salad. Into the bowl went baby greens, black beans, red onions and a diced bell pepper from our garden. Lime vinaigrette, cilantro and cojita cheese finished off the salad. The shrimp was a little spicy, and I loved that kick with all the cool, crisp ingredients.


Grilled Chipotle Shrimp & Corn Salad
Serves 4
For corn
3 ears corn, shucked
1 teaspoon olive oil
For shrimp
1 chipotle pepper in adobo sauce, roughly chopped
1 tablespoon adobo sauce
1 garlic clove, minced
Juice of 1 lime
1 tablespoon olive oil
1/2 pound shrimp, peeled and deveined
For vinaigrette
Juice of 1 lime
1 tablespoon chopped cilantro
1 garlic clove minced
1/4 teaspoon kosher salt
Pinch black pepper
1/4 cup olive oil
For salad
1 15-ounce can black beans, drained and rinsed
1 red bell pepper, diced
1/4 cup finely diced red onions
3 ounces baby greens
1 handful cilantro, roughly chopped
1/4 cup cojita cheese, crumbled
Preheat a gas or charcoal grill on high heat.
Rub the corn with 1 teaspoon olive oil and grill until lightly charred, about 5-7 minutes. Let the corn cool slightly before slicing the kernels off the cob.
For the shrimp, whisk together the chipotle peppers, adobo sauce, garlic, lime juice and olive oil. Toss the shrimp in the marinade. Thread the shrimp on skewers. (If using wooden skewers, make sure to soak them in water for 30 minutes before using.) Grill until pink, opaque and cooked through, about 1-2 minutes per side.
For the vinaigrette, whisk together the lime juice, cilantro, garlic, salt, pepper and olive oil in a small bowl.
For the salad, in a large bowl, combine the corn, black beans, red peppers, onions, baby greens, cilantro and cheese. Toss in the dressing. Top with shrimp before serving.
SaveSave
SaveSaveSaveSave
SHARE THIS