Sweet Corn Pesto Pasta
on Aug 26, 2021, Updated May 23, 2022
With roasted corn and tomatoes, this sweet corn pesto pasta is a vegetarian pasta that will have you dreaming about more twists on the usual pesto.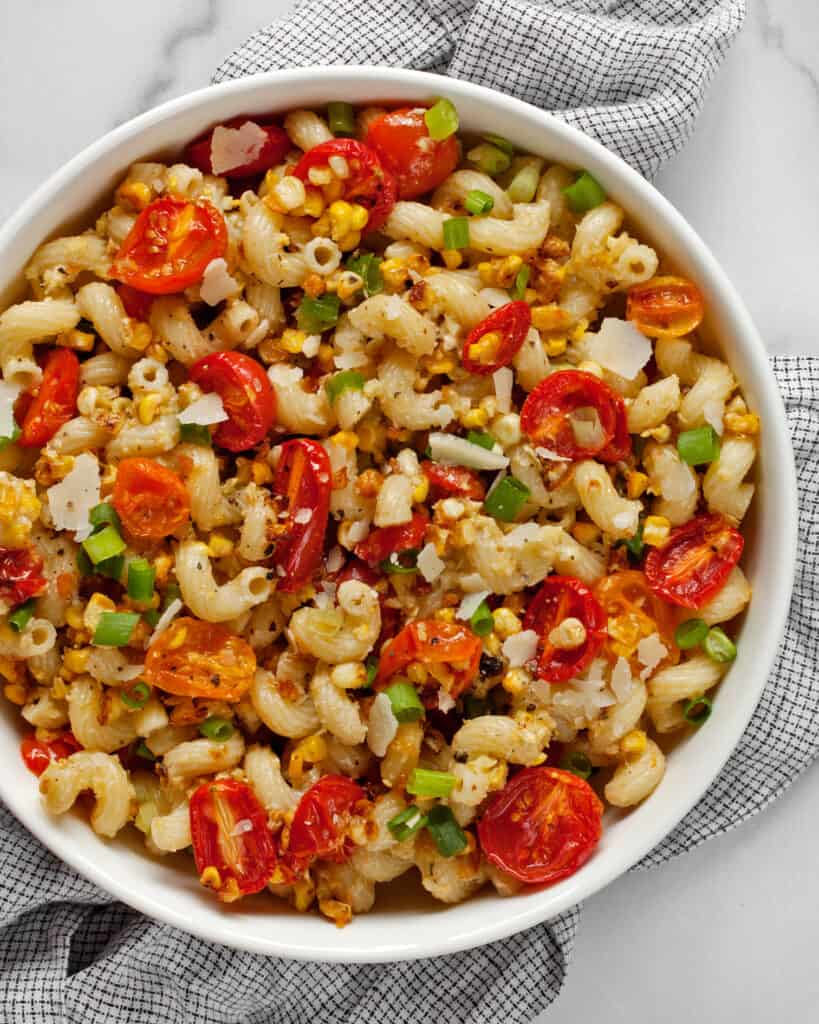 I think it's safe to say that this summer has looked different for all of us. From the little things to the big ones, I am trying to find the bright spots in the simple stuff and keeping my fingers crossed for more normal to come.
This has involved me embracing the great outdoors when it comes to cooking with countless grilled meals. But I haven't completely turned my back on the oven.
In fact, as much as I love grilled corn, I have gotten into roasting it too. And wow, I get just as excited about oven roasted corn as I do when I grill it.
The best part about roasted corn is that it so easily becomes a sheet pan meal if you include other vegetables. That explains why I've had baked feta with veggies and more recipes like it on repeat.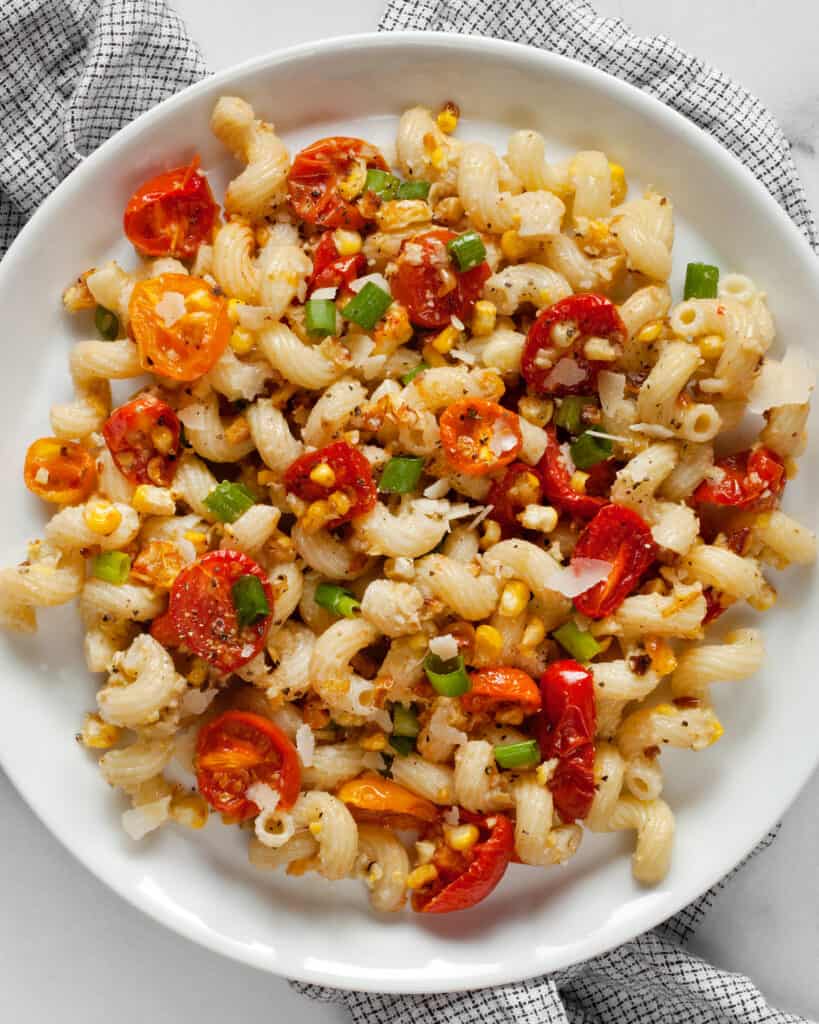 How To Roast Corn In The Oven
I like to keep corn on the cob on the grill, but I have a different approach in the oven.
Instead, I use my chef's knife to slice the kernels off the cobs. You can also do this with a tool called a corn stripper. It looks kind of like a vegetable peeler except the shape of the blade is meant to easily cut the kernels from ears of corn.
Then I toss the corn in olive oil, salt and pepper and roast it on a sheet pan in a 400-degree oven.
What's great about cooking corn this way is that you get some kernels that turn out crispy on the edges. And roasting brings out the flavor of the corn so much that it's almost buttery without any butter at all.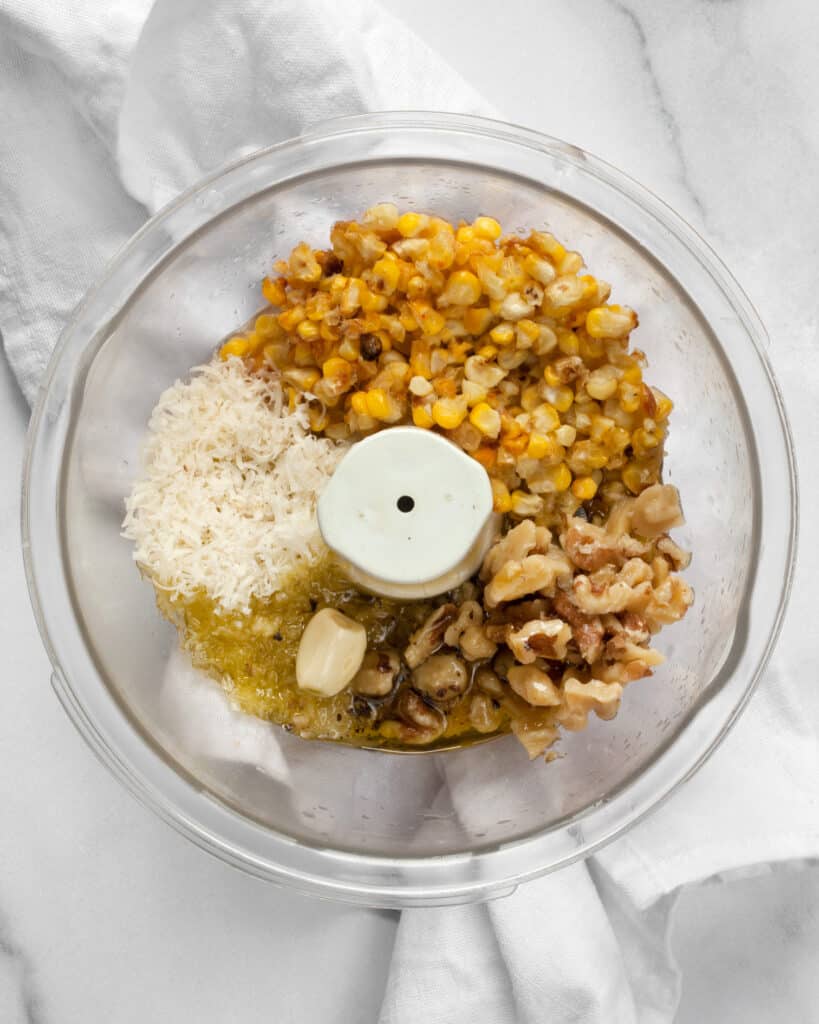 Corn Pesto? Really? Yes!
I know you might be thinking that you can't turn corn turn into pesto.
At its most basic, pesto is a feature ingredient pureed with garlic, nuts, cheese and oil.
As I huge fan of pesto, I don't have a problem straying from the traditional combination of basil, pine nuts, Parmesan and olive oil.
For this corn pesto recipe, I skip the basil all together and make roasted corn the base ingredient. Also, I go for much less expensive and easier to find walnuts rather than pine nuts.
A food processor is important to puree the corn and everything else into a sauce.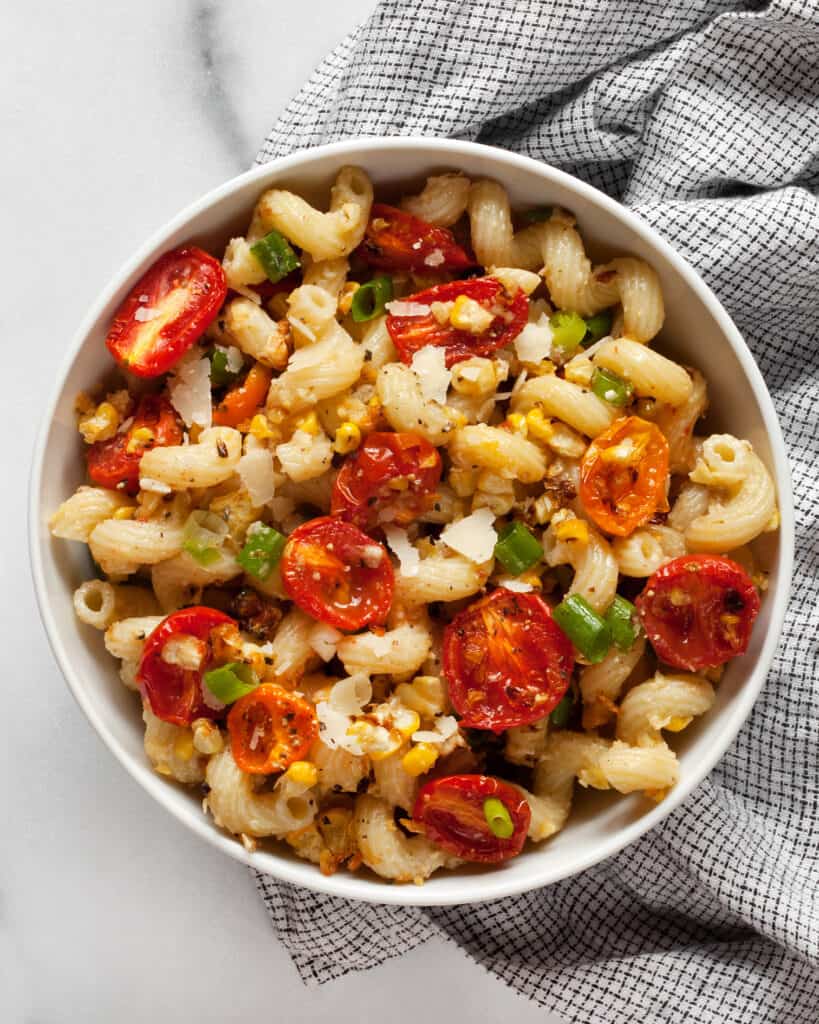 The Ingredients
This is what you need for this roasted corn pesto pasta:
Corn: For the freshest corn, look for ears that are tightly wrapped in their husks. This keeps in the moisture, so the kernels are plump and crisp.
Tomatoes: Small cherry tomatoes are best. You can use a variety of shapes and colors.
Pasta: Corkscrew-shaped noodles like cavatappi and fusilli hold on to the pesto. You can also try penne rigate because of its ridges.
Olive oil: The tomatoes and corn roast coated in olive oil. There is also olive oil in the pesto. I prefer the flavor of extra virgin olive oil.
Parmesan: The pesto has finely grated Parmesan. Then I finish the pasta with more cheese sprinkled on top.
Garlic: No pesto is complete without at least one garlic clove.
Walnuts: Instead of pine nuts, walnuts are my nut of choice for pesto. I love how they taste. And they are easier to find and cost a fraction of pricy pine nuts.
Scallions: For crisp fresh onion flavor, I always like sliced scallions.
Salt & pepper: I season the corn and tomatoes with salt and pepper before they roast. The pesto is seasoned too.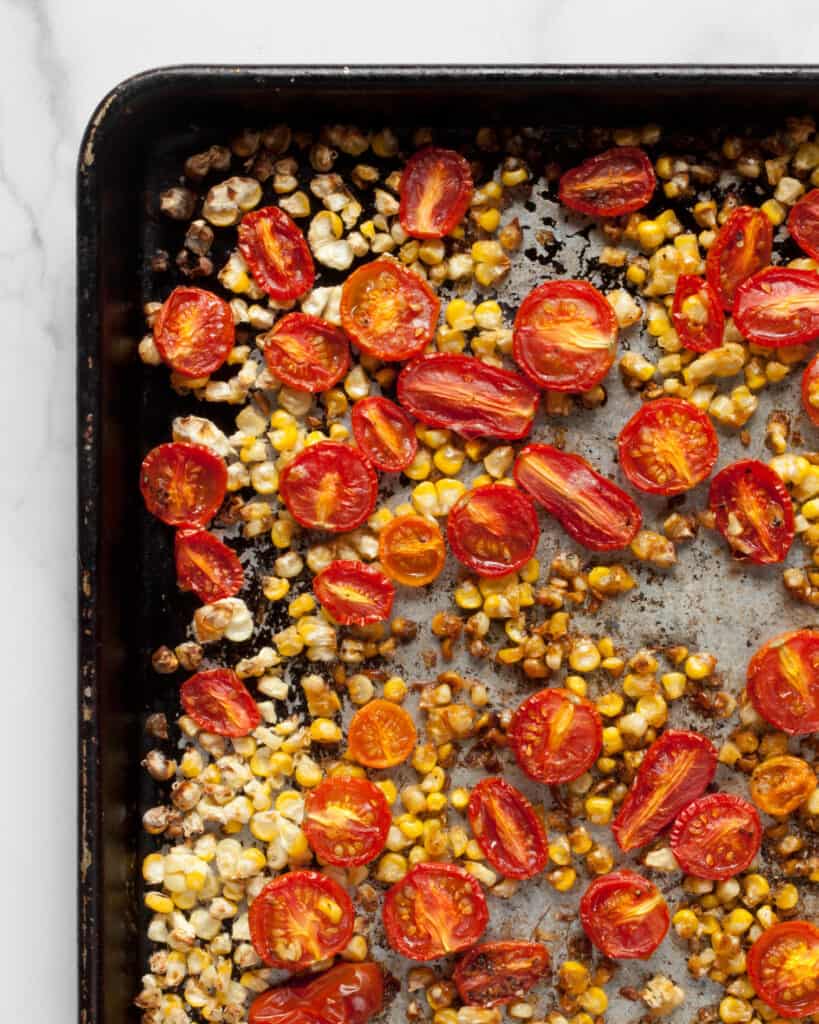 How To Make Sweet Corn Pesto Pasta
The first step is to preheat the oven to 400 degrees F. Next, I toss the corn and roasted tomatoes with olive oil, salt and pepper right on the sheet pan.
It's important to spread the corn across the pan into a single layer and arrange the tomatoes, so they are cut side up.
The corn and tomatoes roast for about a half hour. The corn will turn bright golden yellow, and the tomatoes will wrinkle at the edges when they are ready.SaveSave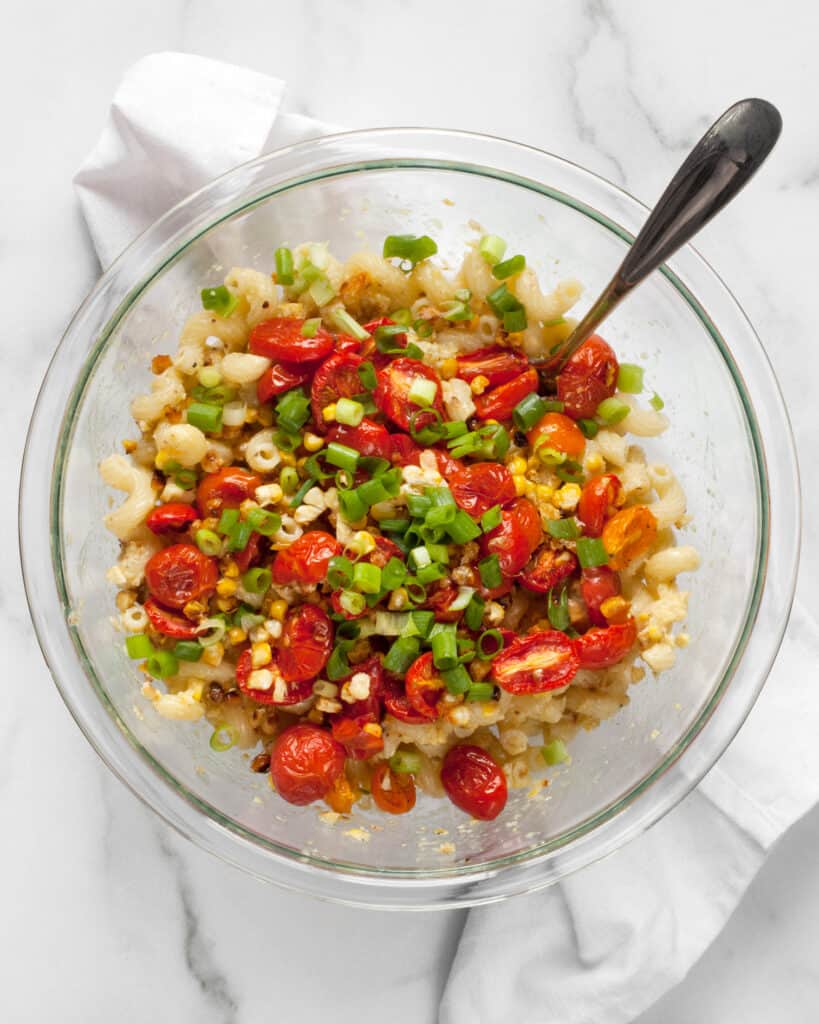 For the pesto, put a cup of roasted corn kernels along with a garlic clove, Parmesan, olive oil, walnuts, salt and pepper in a food processor. Then process that mixture. Give it time so nearly everything is chopped up.
The pesto will turn out like thick sauce. You should still be able to see some corn.
After that I cook the pasta till it is al dente. Then I move the hot pasta to a bowl and stir in the pesto. I do it in this order, so the roasted tomatoes don't fall apart and get lost in the pesto and pasta.
Once the pasta is sauced, I fold in the roasted tomatoes and sliced scallions.
As I divide up the pasta onto plates or into bowls, I sprinkle on some additional Parmesan.
Try These Other Corn Recipes
10 Best Corn Recipes
Sheet Pan Baked Feta with Vegetables
Roasted Red Potato Salad with Corn
Tomato Corn Orecchiette
Watermelon Corn Cucumber Salad
Grilled Corn Couscous
Zucchini Corn Fritters
Grilled Corn and Avocado with Cilantro Pesto
Sweet Corn Pesto Pasta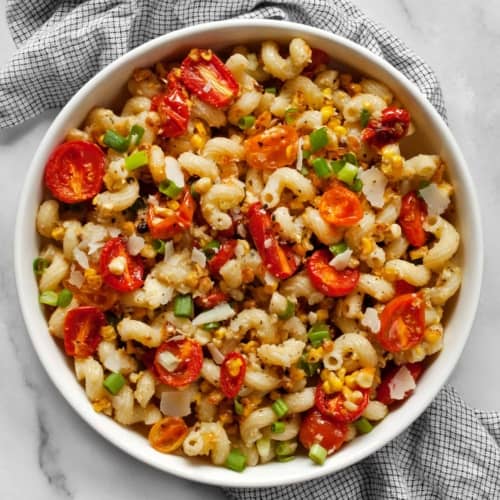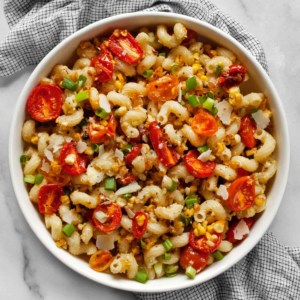 With roasted corn and tomatoes, this sweet corn pesto pasta is a vegetarian pasta that will have you dreaming about more twists on the usual pesto.
Ingredients
3

ears

corn

1

cup

halved cherry tomatoes

1

tablespoon

plus 1/3 cup olive oil

1

teaspoon

kosher salt

1

teaspoon

black pepper

1

garlic clove

1/4

cup

finely shredded Parmesan plus more for serving

1/4

cup

chopped walnuts

8

ounces

cavatappi pasta

2

scallions

thinly sliced
Instructions
Preheat the oven to 400 degrees F.

Slice off the kernels from the ears of corn.

On a sheet pan, toss the corn and tomatoes with 1 tablespoon olive oil, 1/2 teaspoon kosher salt and 1/2 teaspoon black pepper. Spread the corn and tomatoes in a single layer with the tomatoes cut side up. Roast for 25-30 minutes until the corn is golden yellow and the tomatoes are wrinkled but still juicy.

For the pesto, put 1 cup roasted corn in a food processor with 1/3 cup olive oil, garlic, Parmesan, walnuts, 1/2 teaspoon kosher salt and 1/2 teaspoon black pepper. Puree the mixture until the pesto is fully combined into a sauce. (You will still see some corn kernels.)

Cook the pasta until al dente according to package instructions. Drain the pasta and transfer it to a large bowl. Stir in the pesto.

Fold the remaining corn, tomatoes and scallions into the pasta.
Notes
If you can't find cavatappi pasta, you can also use fusilli or penne rigate.
Nutrition
Calories:
455
kcal
|
Carbohydrates:
47
g
|
Protein:
11
g
|
Fat:
25
g
|
Saturated Fat:
4
g
|
Polyunsaturated Fat:
6
g
|
Monounsaturated Fat:
14
g
|
Cholesterol:
5
mg
|
Sodium:
700
mg
|
Potassium:
280
mg
|
Fiber:
3
g
|
Sugar:
3
g
|
Vitamin A:
302
IU
|
Vitamin C:
10
mg
|
Calcium:
87
mg
|
Iron:
1
mg
Nutrition information is automatically calculated, so should only be used as an approximation.