Grilled Corn Couscous
on Jun 03, 2021, Updated Nov 30, 2021
With grilled lemon, scallions, feta and walnuts, this grilled corn couscous is a fantastic summer side dish. It's made with pearl couscous.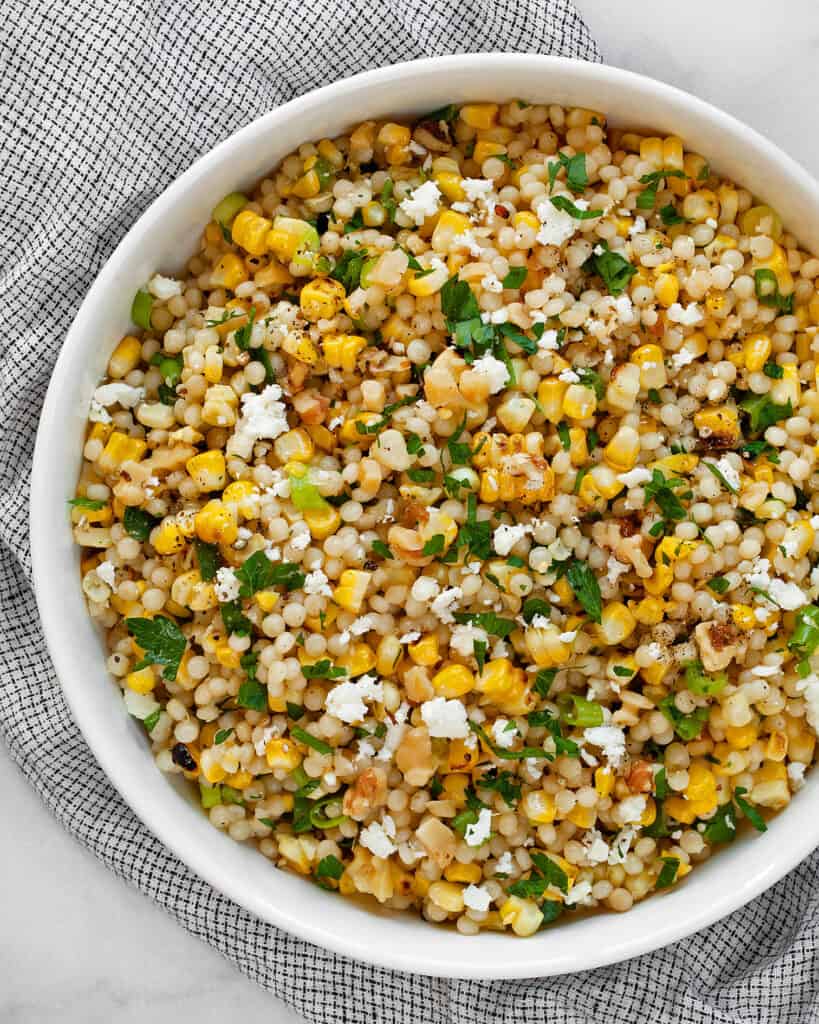 When summer hits, I always make sure to have a constant supply of roasted tomatoes in my fridge.
My 30-minute roasted tomatoes are how I preserve the season. Then I have a starring ingredient at a moment's notice for everything including eggs, pastas, salads, grains and more.
And the same can be said about corn. Last weekend I grilled my first ears of the season, and wow, they were good.
Corn is one of those veggies that just doesn't taste right when you eat it during other months besides summer.
So when it's that time, I go completely overboard.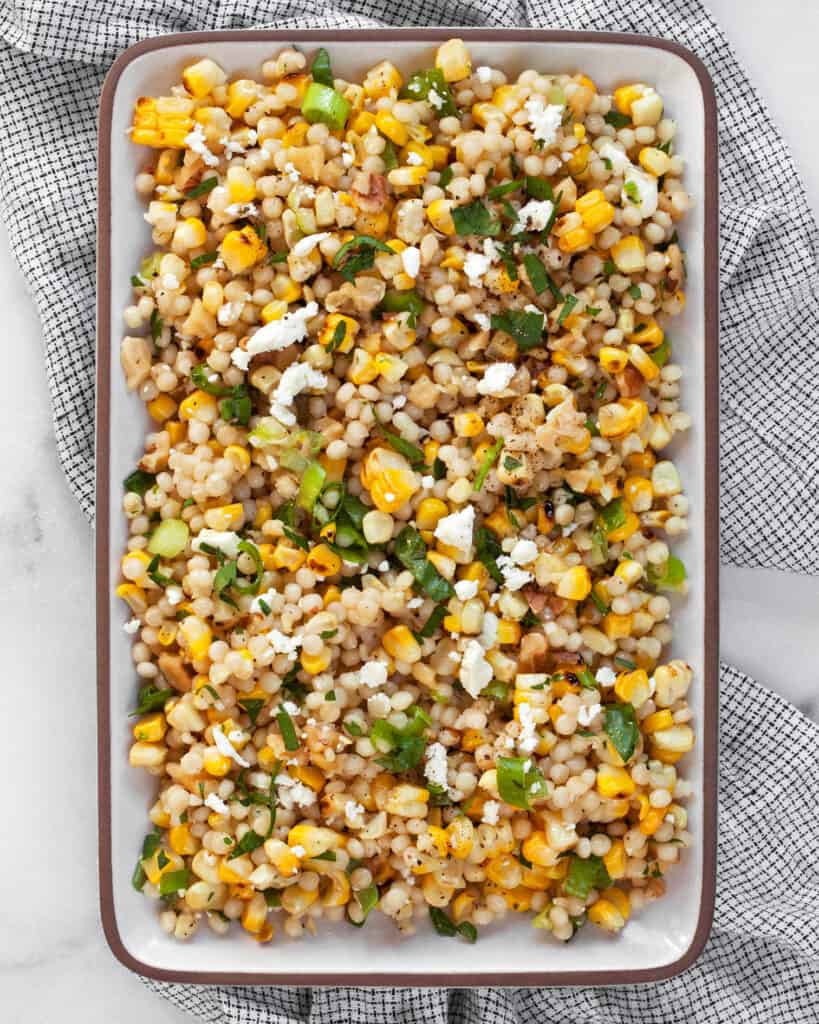 I am more likely to consume corn off the cob rather than on the cob. Instead I will put rows of corn on the grill, get them charred all around and slice off the kernels.
Corn has the same versatility that I adore about tomatoes. That's why they are both on my list of go-to veggies when the weather warms up.
For this grilled corn couscous, I decided to take a temporary but short break from tomatoes. This dish is all about the corn.
The size of the kernels is only slightly larger than the pearl couscous, so they mix together really well for this side dish.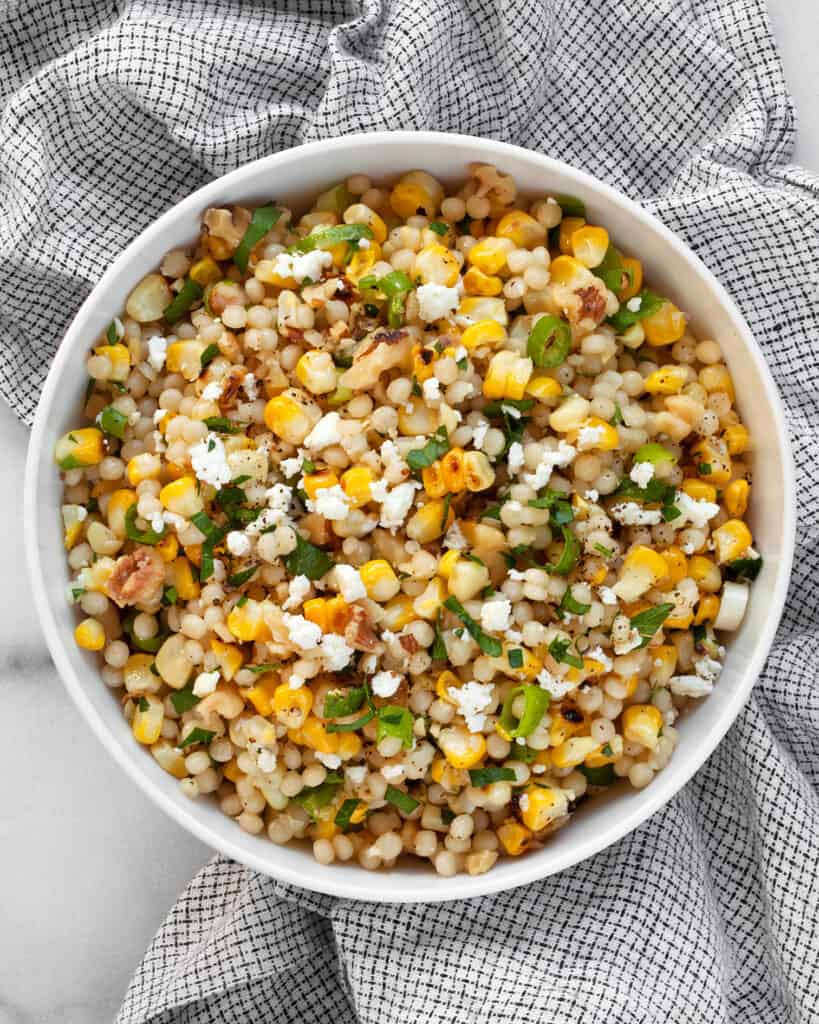 How To Pick The Best Corn
You won't see me peeling back the husk to peek on what an ear of corn looks like because after that, the kernels tend to dry out.
I pick corn with tightly wrapped husks that are light green. If the outer leaves are dry this can signal that the corn is losing moisture.
Look for any brown holes close to the top because that means there might be worms.
I always buy an extra cob or 2 just to be safe. And I know we will eat it!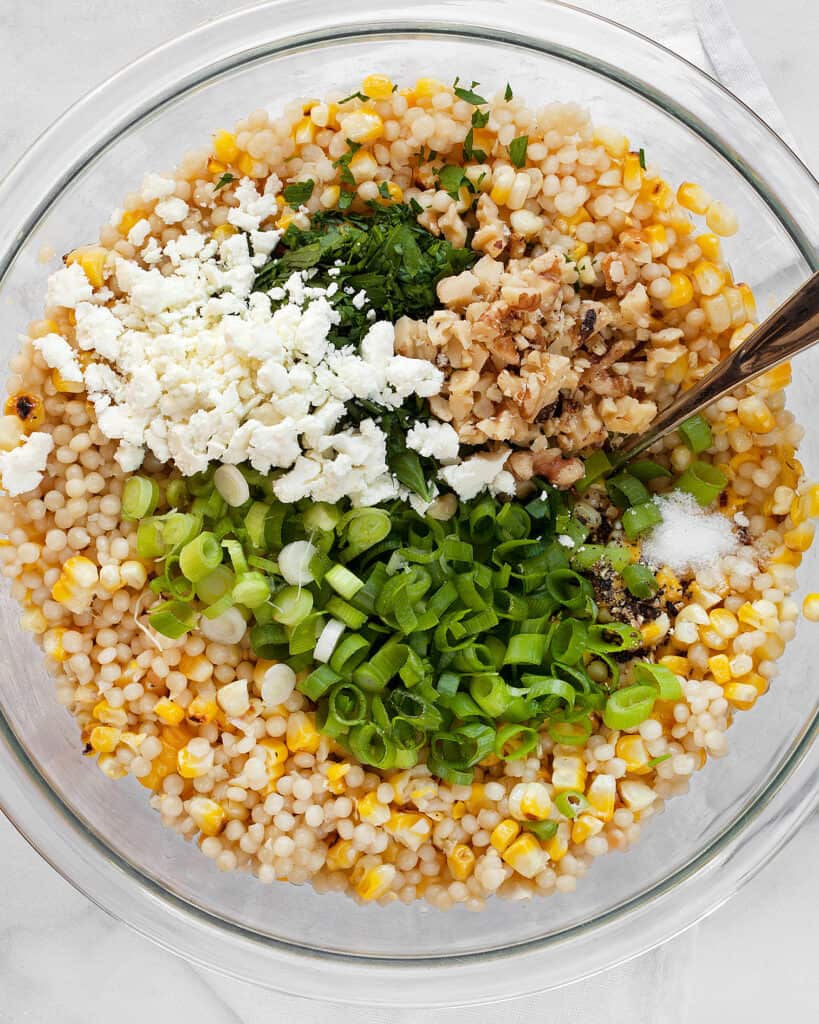 The Ingredients
This is what you will need for the couscous:
Pearl Couscous: Also known as Israeli couscous, the plump grains are most similar to a tiny round pasta shape. You can use plain or whole wheat couscous.
Corn: Five ears of corn may sound like a lot, but it mixes right in with the couscous. This is a generous side that can serve 6.
Lemon: Grilling a lemon gives the juice a slightly smoky finish. You also can easily squeeze out every last drop from the warm lemon halves.
Scallions: For a fresh, crisp oniony flavor, I rely on scallions. They are so easy to slice and add to lots of different dishes.
Walnuts: They add nutty crunch and further bulk up the corn and couscous.
Feta: I can't resist the opportunity to add crumbled feta cheese with its distinct saltiness that I absolutely love paired with corn.
Parsley: Taking some inspiration from tabbouleh, I fold in plenty of chopped fresh parsley.
Olive oil: I rub the corn with olive oil to prep it for grilling, and I toast the couscous in oil before adding water to the pan to simmer.
Salt and pepper: To season the couscous, I stir in a measured amount of kosher salt and pepper, but I taste it to make adjustments with flaky sea salt and more black pepper.
How To Make Grilled Corn Couscous
First, I heat up the grill and rub the corn with olive oil. When the grill is ready, I put the shucked ears straight on the grates, turning them every so often.
The final result is corn that is lightly charred on all sides. I give the corn a few minutes to cool before slicing off the kernels.
While the corn is grilling, I grill a halved lemon for a couple minutes warming it and giving it grill marks.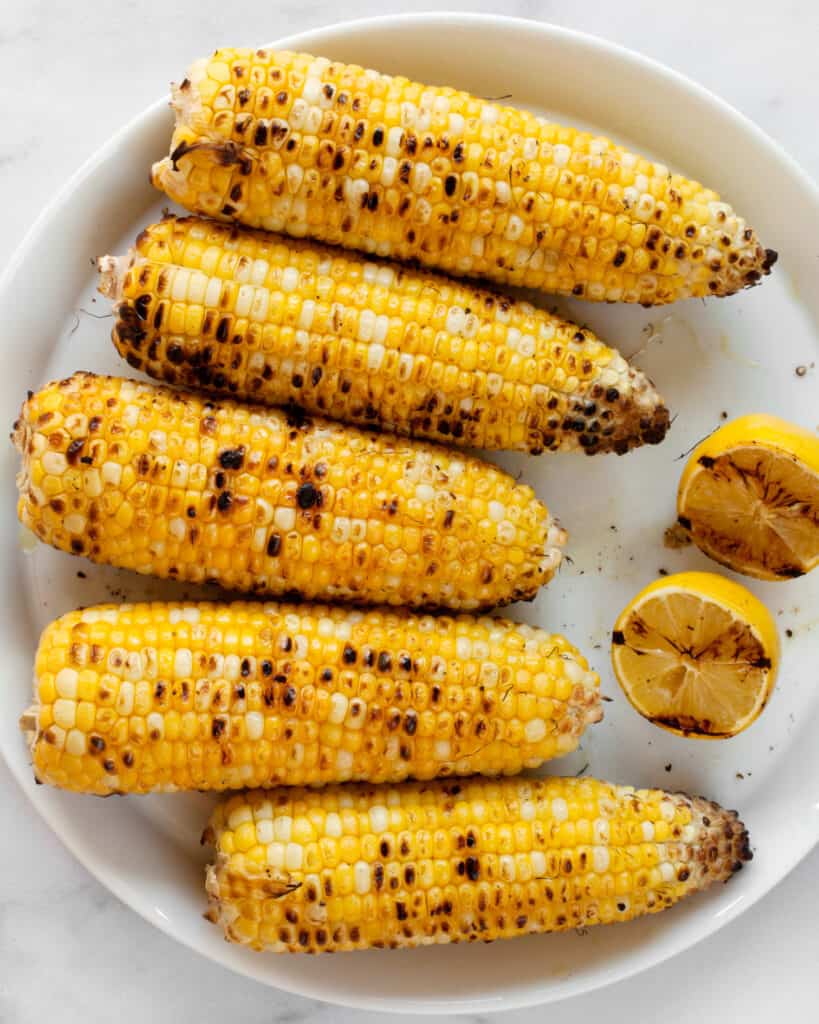 Then on the stove I toast the couscous in olive oil in a saucepan, add the water, bring it to a boil and simmer the grains.
When the couscous is ready, I combine it in a large bowl with the corn.
Next, I stir in the mix of ingredients for flavor and texture. They include sliced scallions, chopped walnuts, feta, parsley, salt and pepper.
You can serve this couscous warm, at room temperature or cold. It is great as leftovers. I will even add greens to turn it into a mess of a salad.
Grilled Corn Couscous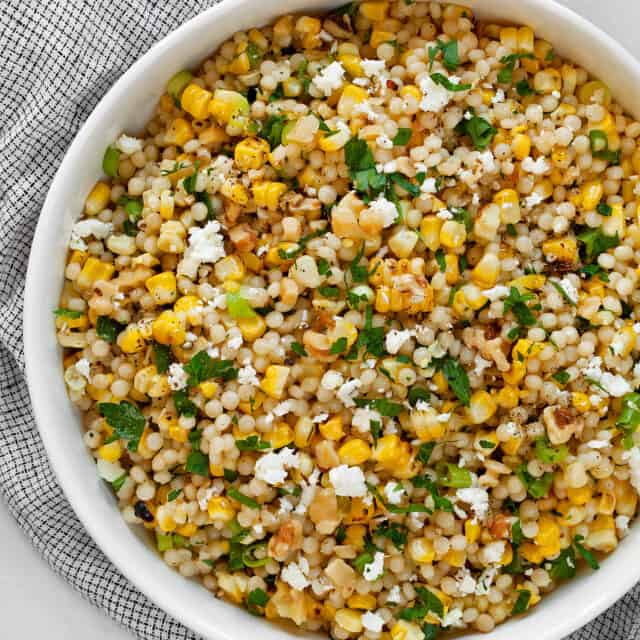 With grilled lemon, scallions, feta and walnuts, this grilled corn couscous is a fantastic summer side dish. It's made with pearl couscous.
Ingredients
For grilled corn & lemon

5

ears corn,

shucked

2

teaspoons

olive oil

1

lemon halved

For couscous

1

tablespoon

olive oil

2

cups

pearl couscous

2-1/4

cups

water

3

scallions,

thinly sliced

1/4

cup

chopped walnuts

1/4

cup

crumbled feta

1/4

cup

chopped parsley

1

teaspoon

kosher salt

1/2

teaspoon

black pepper

Flaky sea salt and black pepper to taste
Instructions
Preheat a gas or charcoal grill on high heat.

Rub the corn with 2 teaspoons olive oil. Grill, turning occasionally, until lightly charred, about 5-7 minutes. Let the corn cool slightly before slicing the kernels off the cobs.

Grill the lemon halves for 1-2 minutes, cut side down, until they are grill marked.

For the couscous, heat 1 tablespoon olive oil in a large saucepan over medium heat. Toast the couscous stirring until it golden, about 5 minutes. Add the water and bring to a boil. Reduce heat to low, cover and simmer, stirring periodically, until the couscous is tender and most of the water has been absorbed, about 10 minutes. Drain any remaining water.

In a large bowl, combine the couscous and corn. Squeeze in the grilled lemon juice and fold in the scallions, walnuts, feta, parsley, salt and pepper.

Season to taste with flaky sea salt and additional black pepper.
Nutrition
Calories:
368
kcal
|
Carbohydrates:
61
g
|
Protein:
12
g
|
Fat:
10
g
|
Saturated Fat:
2
g
|
Polyunsaturated Fat:
3
g
|
Monounsaturated Fat:
4
g
|
Trans Fat:
0.01
g
|
Cholesterol:
6
mg
|
Sodium:
480
mg
|
Potassium:
380
mg
|
Fiber:
5
g
|
Sugar:
5
g
|
Vitamin A:
443
IU
|
Vitamin C:
19
mg
|
Calcium:
65
mg
|
Iron:
2
mg
Nutrition information is automatically calculated, so should only be used as an approximation.