Harissa Roasted Cauliflower Couscous

Harissa roasted cauliflower couscous is a spicy mix of grains that's a great vegan main. Slicing the cauliflower maximizes its surface area for browning.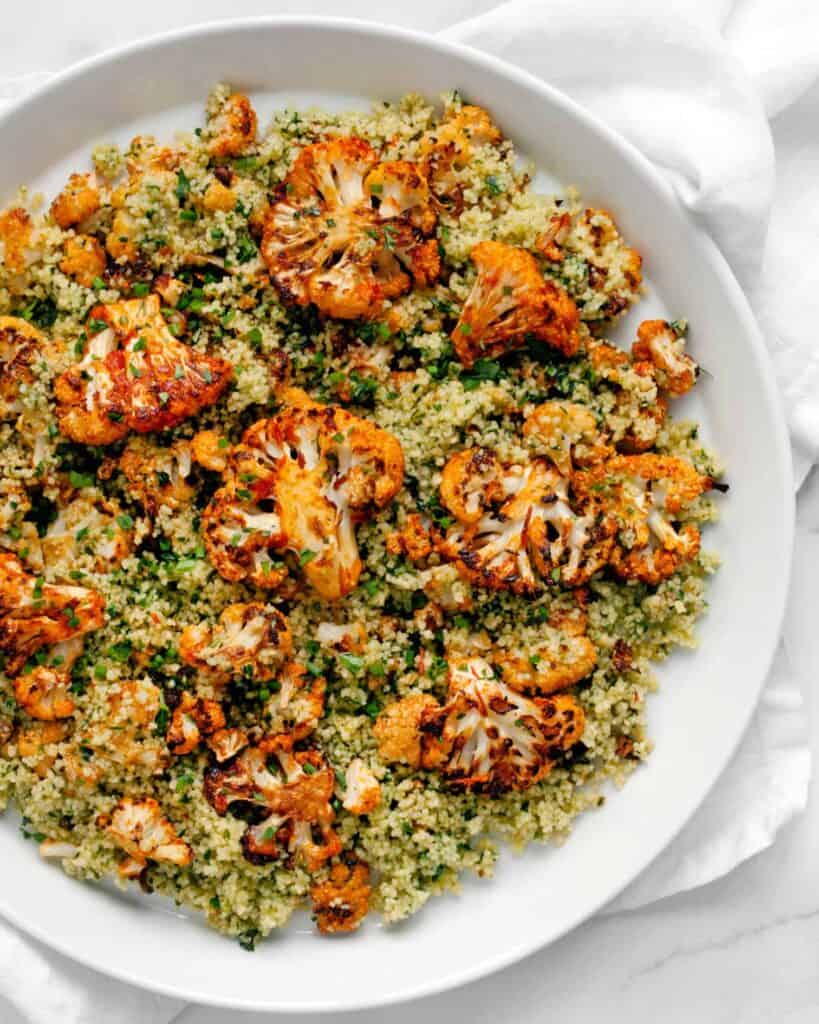 It's no secret that I am completely obsessed with pesto.
That perfect mix of herbs, cheese and nuts is so much more than a sauce for pasta. I use this magical green paste as an easy flavor booster for eggs and grains and even a garnish for tomato soup.
I always make my pesto from scratch because I find that the jarred version has an almost cooked flavor. It's just not the same without fresh herbs.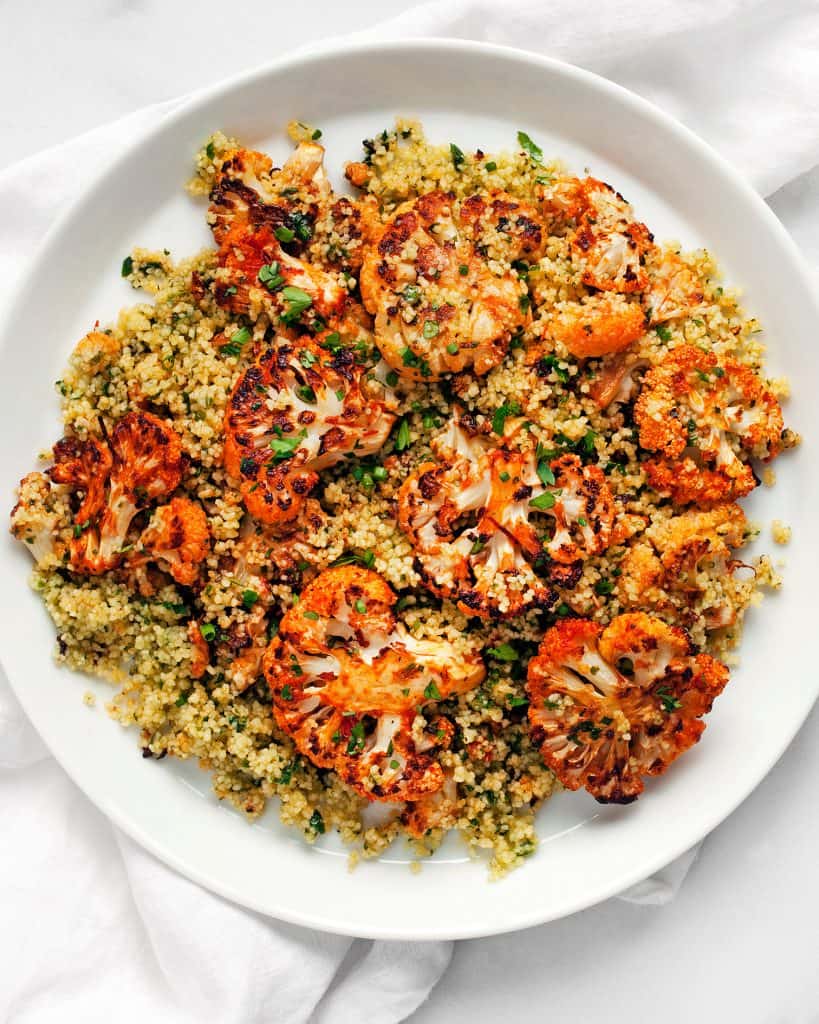 Looking for another option for a sauce/marinade that can be ready-to-use but purchased from grocery, harissa has become my thing lately.

That distinctly spicy red pepper paste often found in Moroccan food is the ultimate shortcut to add a kick of flavor with just a spoonful.
Much like my strategy with pesto, I add harissa to baked egg cups with sweet potatoes, peppers and zucchini.
And now I've started using harissa as a marinade for roasted vegetables.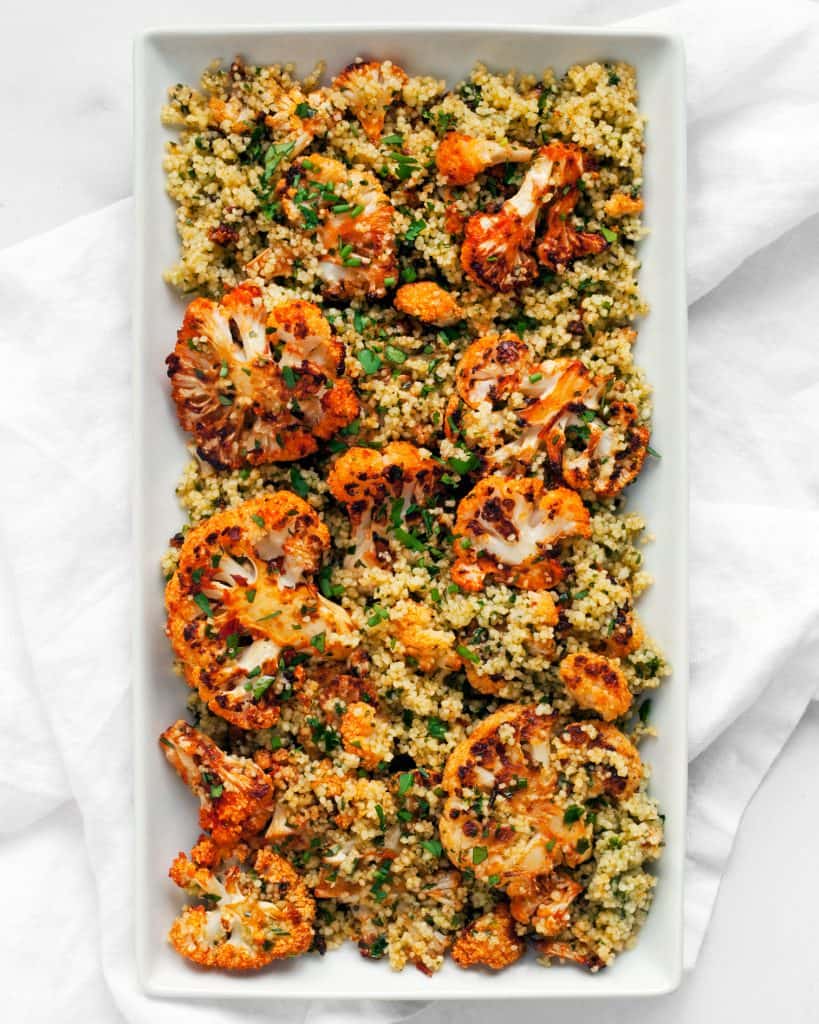 When I first made this harissa roasted cauliflower couscous, I actually had the Super Bowl on the brain.
That probably makes no sense. Let me explain.

I was experimenting with making a vegan option for spicy wings, but once the cauliflower came out of the oven I realized it was better suited to a bowl of grains rather than dipping.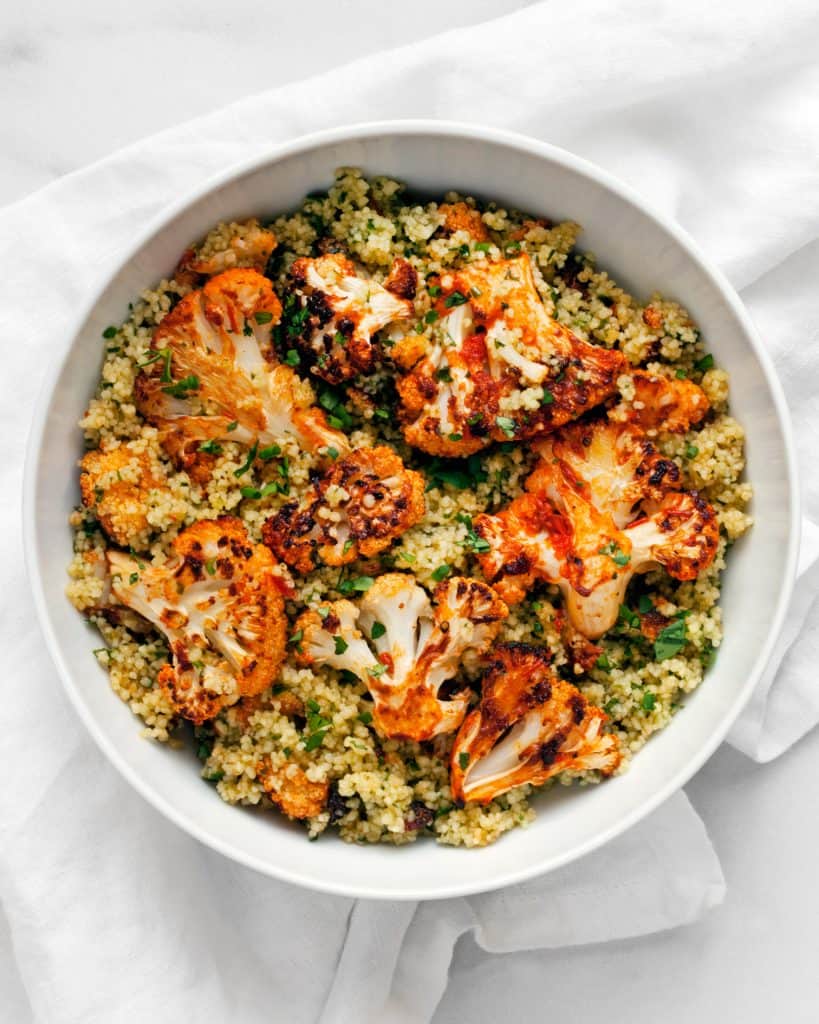 How To Make Harissa Roasted Cauliflower Couscous
To start, I trim the core of a head of cauliflower and then cut it into 1/2-inch thick slices.
The reason for flat pieces instead of florets is that more of the cauliflower has contact with the pan, so it maximizes the surface area for browning.

I add cumin, salt and pepper to the harissa and rub it all over the cauliflower before arranging it on a sheet pan.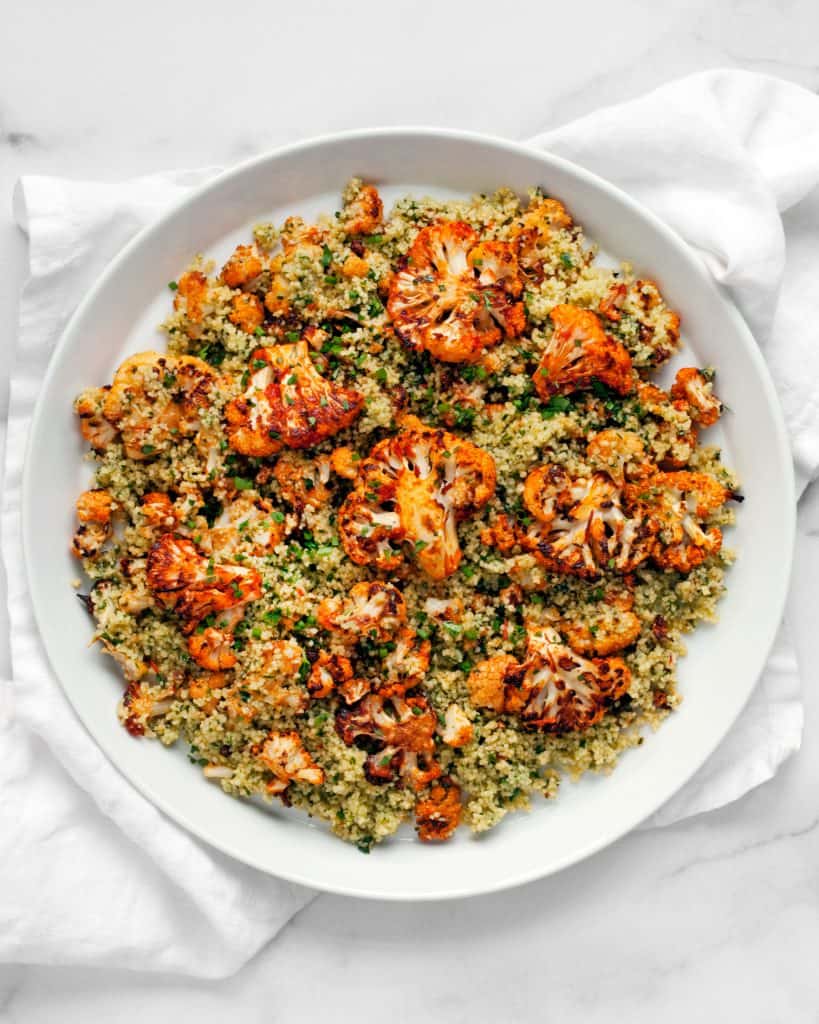 While the cauliflower roasts, I make the couscous.

Those grains are simple and plain on their own and need something to jazz them up.

I puree a mixture of cilantro, parsley, chives, lemon juice and olive oil in the food processor and stir that into the couscous.
Once the cauliflower is ready, I fold it into the herby couscous and add chopped parsley and cilantro and minced chives.

Harissa roasted cauliflower couscous is a great vegan main. With the leftovers, I do my usual strategy to make the most of what I have by adding a few handfuls of arugula to create a grain salad.
Print
Harissa Roasted Cauliflower Couscous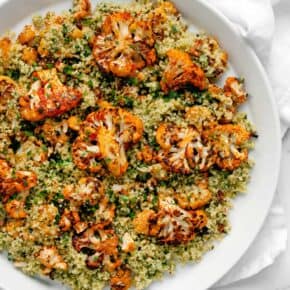 Author:
Prep Time:

10 minutes

Cook Time:

25-30 minutes

Total Time:

35-40 minutes

Yield: Serves

4

1

x
Scale
Ingredients
1 head cauliflower, leaves removed, bottom stem trimmed
1/4 cup harissa
1 tablespoon + 1/3 cup olive oil and more for greasing pan
1/4 teaspoon cumin
1 teaspoon kosher salt
1/2 teaspoon black pepper
1 cup couscous
1 cup boiling water
1 cup parsley leaves plus more chopped for serving
1 cup cilantro leaves plus more chopped for serving
2 tablespoons minced chives plus more for serving
Juice of 1 lemon
Instructions
Preheat the oven to 400 degrees F.
Cut the cauliflower lengthwise into 1/2-inch slices. Break up any larger pieces of cauliflower.
In a large bowl, whisk together the harissa, 1 tablespoon olive oil, cumin, 1/2 teaspoon salt and 1/4 teaspoon pepper. Add the cauliflower and rub it with the harissa mixture.
On a sheet pan lightly greased with olive oil, arrange the cauliflower in a single layer. Roast for 25-30 minutes, flipping halfway through cooking, until browned.
While the cauliflower is roasting, place the couscous in a large bowl. Pour in the boiling water, cover and wait 8-10 minutes for the water to absorb. Then fluff with a fork.
Place the parsley and cilantro leaves, chives, lemon juice, 1/3 cup olive oil and the remaining salt and pepper in the bowl of a food processor. Puree the mixture until the herbs are finely chopped.
Stir the herb oil into the couscous and fold in the cauliflower. Top with chopped parsley and cilantro before serving.
SHARE THIS