Snap Pea Couscous
on Apr 25, 2022, Updated Jul 08, 2022
Ready in 15 minutes, this couscous with sugar snap peas, lemon, cumin and sumac is a crisp and fresh side dish perfect for spring and summer meals. If you're looking for just veggies, you can also try my sauteed snap peas recipe with everything seasonsing.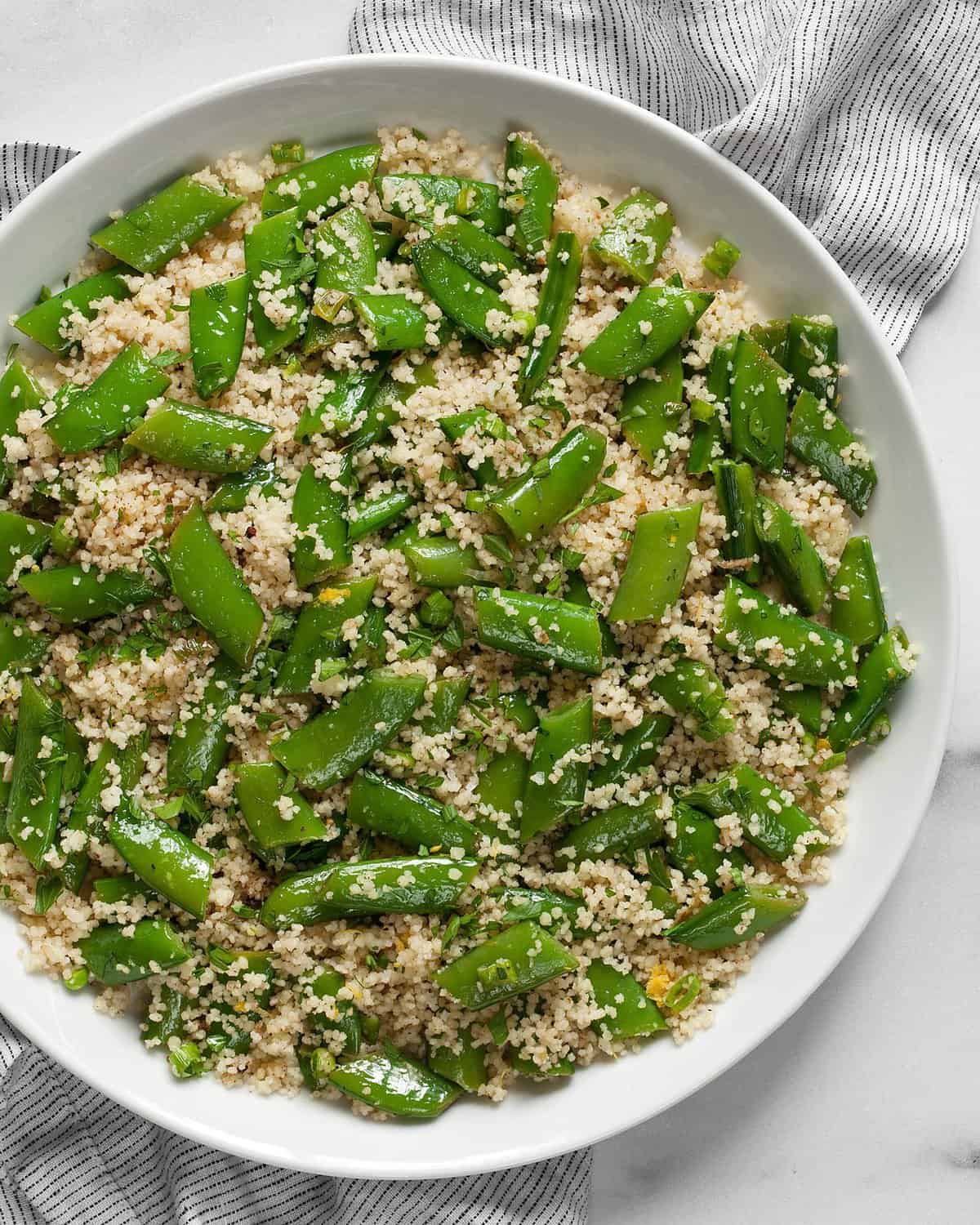 My closet might be mostly black, gray and neutrals, but when it comes to my cooking, things are very different. As we head into spring, I am embracing all things green. And it feels so good coming out of winter and into the start of an abundance of quick-quick cooking, fresh vegetables.
Don't get me wrong, I will still switch on my oven to roast tomatoes and other ingredients, but I am very excited about leaving fruits and veggies raw and keeping my cooking to some limited stovetop work. That feels like the best way to celebrate everything that's so special about spring. And I'm planning to carry this attitude with me into summer too.
Right now I am devouring recipes like this snap pea couscous. It's a simple side dish that can be turned into a main depending how you serve it. It has a combination of cumin and sumac to go with the bite of the snap peas and the citrus kick from lemon. Crisp and fresh is the best way to describe it.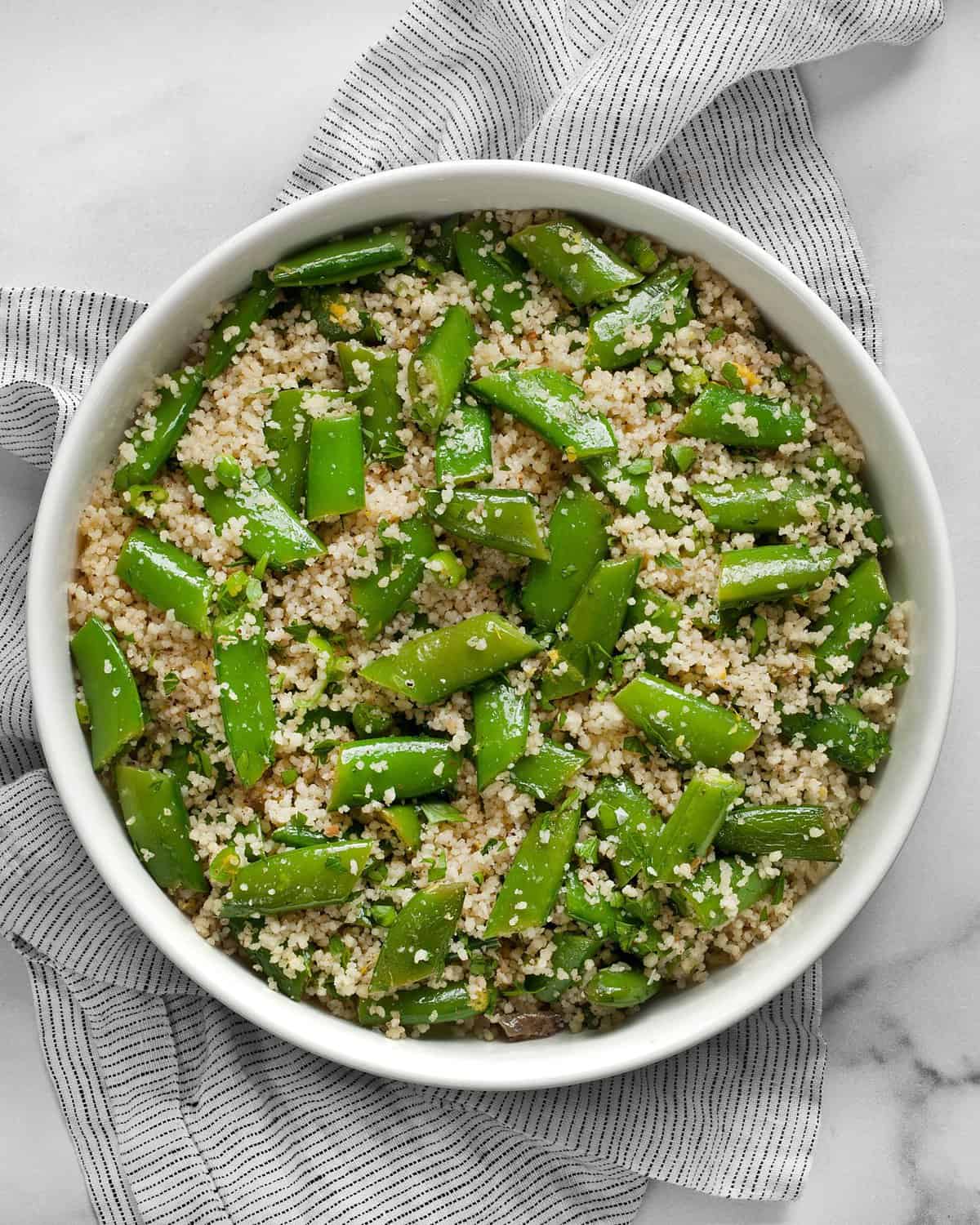 What Are Snap Peas?
Also known as sugar snap peas, these climbing veggies are legumes. They are a cross between snow peas and garden peas. All you have to do is trim the stem end and remove the string on the seam if they have one. Often times you can buy them with the string already removed.
You can eat them raw or cooked. And there's no need to take these peas out of their pods because you can eat them. Actually, I think the pea pods might be the best part since they deliver so much on texture and specifically crunch.
Also, these peas are a good source of fiber and Vitamin C.
How To Cook Snap Peas
Sautéing is my go-to way to cook them since they don't need much time in the skillet. It takes only a couple minutes or so for the pods to turn bright green and warm. I always lean on the side of undercooked rather than overcooked because I want them to maintain their signature snap even after I sauté them. They are perfect for stir-fries.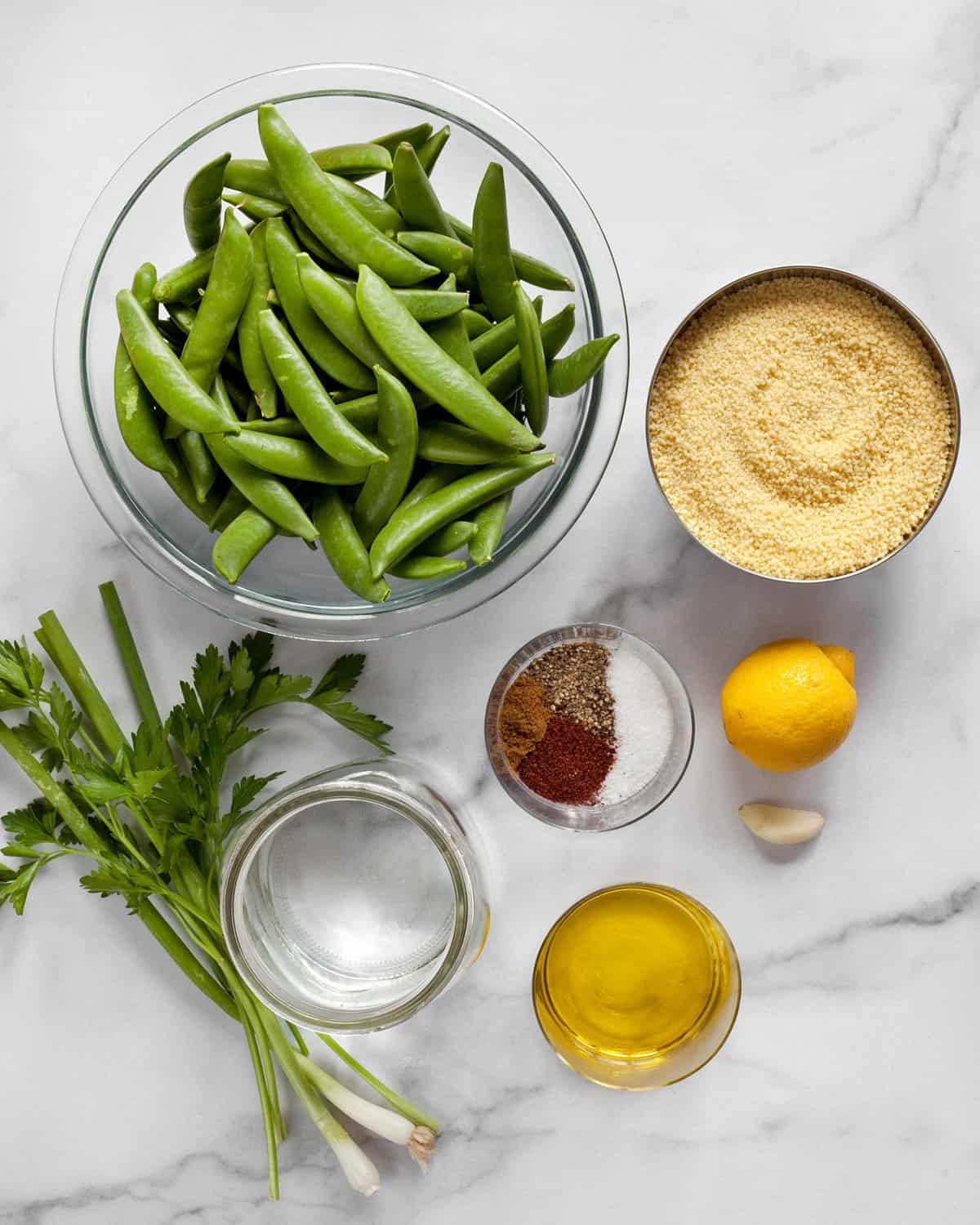 Ingredients & Substitutions
This is what you need:
Snap peas are in season from early spring to about mid summer depending how hot it gets. You can substitute them with snow peas if you want.
Couscous is such a delicate grain. I like that it's quiet and plays a supporting role to the peas. If you have quinoa, that will also work, but it will take a little longer to cook. With quinoa, simmer 1 cup in 1-3/4 cups water. Then wait to stir in the lemon juice with the snap peas and other rest of the ingredients.
Lemon: No part goes to waste. The couscous simmers in lemon juice, and the zest is stirred into the cooked grains.
Scallions: Thinly sliced, this light green onion flavor starts with sautéing the white parts with the garlic and spices. Then the scallion greens are stirred in at the end.
Garlic: The recipe calls for 1 minced clove.
Cumin, sumac, salt and pepper make up the seasoning mix. Cumin is earthy, and sumac gives the dish something lively and lemony.
Parsley: These chopped fresh herbs are folded into the couscous for a finishing touch.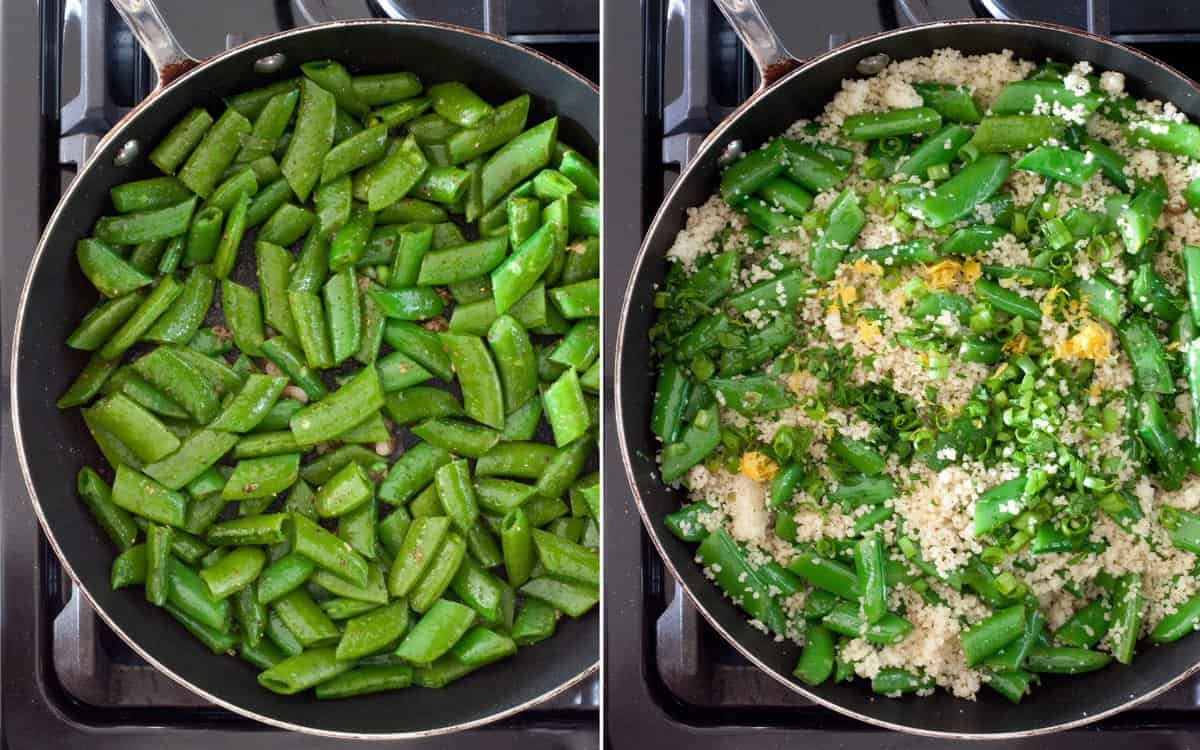 How To Make Sugar Snap Pea Couscous
Cook the couscous. In a medium pot, bring the water and lemon juice to a boil. Add the couscous, cover and remove from the heat. Let stand for 5 minutes. Then fluff with a fork.
Sauté the snap peas. Heat the olive oil in a large skillet over medium heat. Add the garlic, white scallions, sumac, cumin, salt and pepper. Sauté for about 30 seconds, so it becomes fragrant. Add the snap peas and sauté for a couple minutes being careful not to cook them too long. They should be crisp tender and have snap.
Stir in the couscous along with the lemon zest, scallion greens and parsley.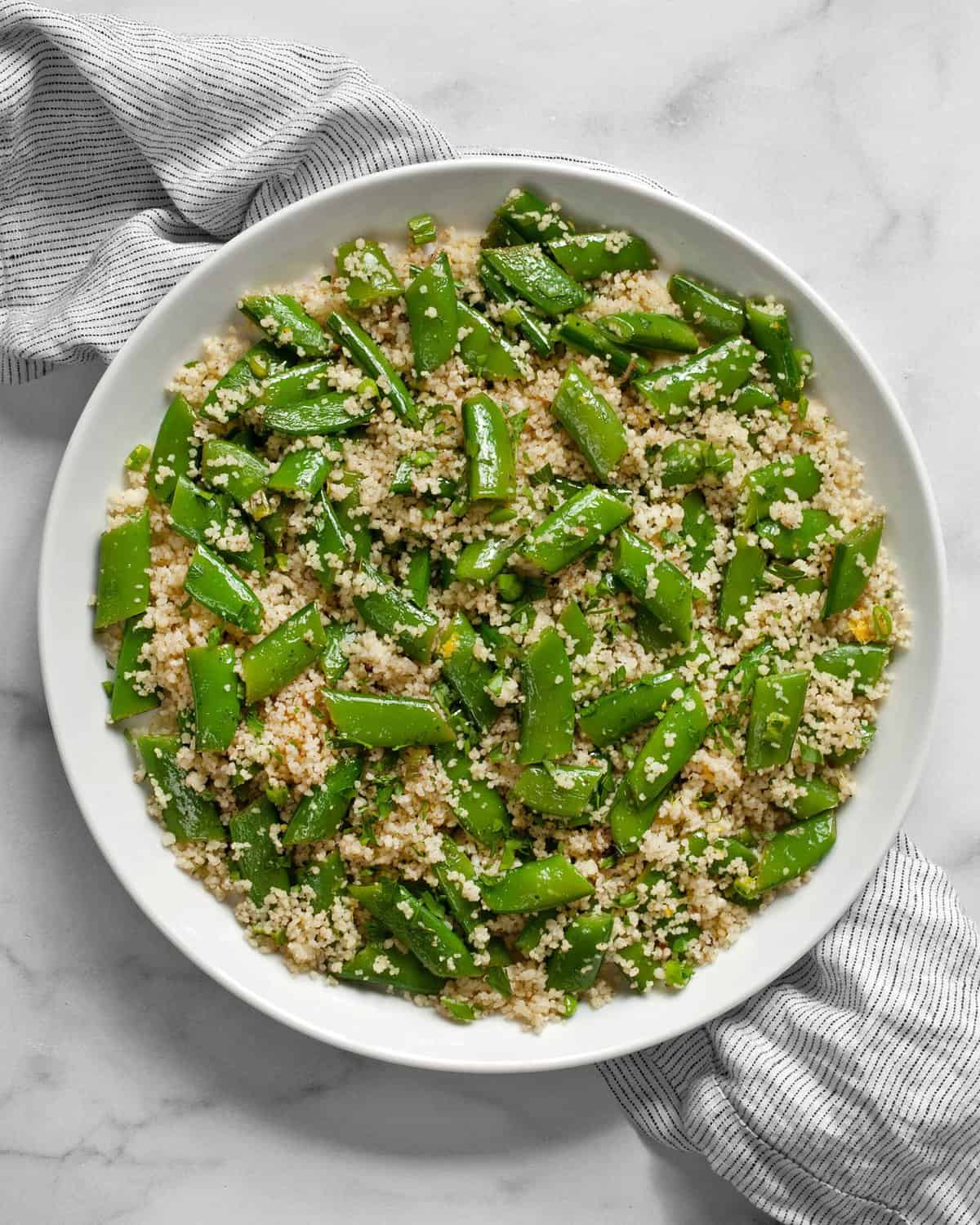 Serving
If you're looking for simple side dishes, always go for couscous, rice or another grain mixed with veggies. They are great options no matter the season.
If you want to turn this sugar snap peas recipe into a main dish, you can add roasted chicken or shrimp for a protein.
Leftovers
You can store leftovers in an airtight container in the fridge up to 2 days. After that, the snap peas lose some of their crispness. I like stirring in arugula and eating them cold like a salad. You can warm the couscous in the microwave or on the stove with a little olive oil.
More Side Dish Recipes
Parmesan Roasted Zucchini
Herby Lemon Quinoa
Roasted Green Beans with Almond Breadcrumbs and Feta
Arugula Cannellini Bean Barley
Grilled Dukkah Broccoli
Sugar Snap Pea Lemon Couscous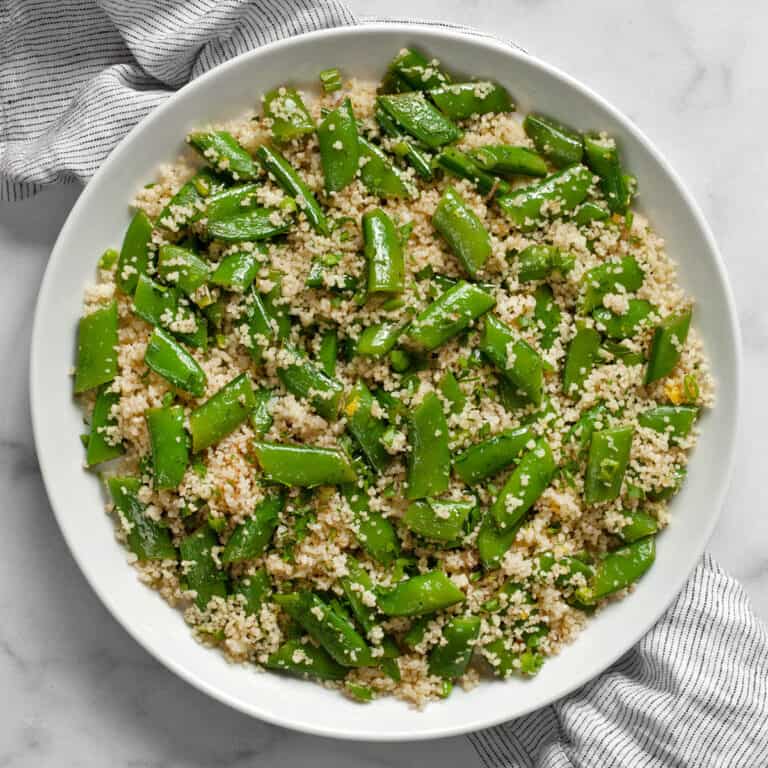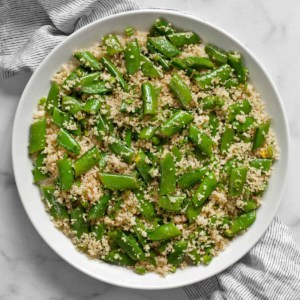 Ready in 15 minutes, this snap pea couscous with lemon, cumin and sumac is a crisp and fresh side dish perfect for spring and summer meals.
Ingredients
1

cup

water

Juice and zest of 1 lemon

1

cup

couscous

1

tablespoon

olive oil

2

scallions

thinly sliced, green and white parts separated

1

garlic clove

minced

1/2

teaspoon

cumin

1/2

teaspoon

sumac

1

teaspoon

kosher salt

1/2

teaspoon

black pepper

1

pound

sugar snap peas

trimmed and halved

2

tablespoons

chopped parsley
Instructions
In a medium saucepan over medium-high heat, bring the water and lemon juice to a boil. Pour in the couscous and cover the pan with a lid. Remove from the heat. Let stand for 5 minutes before fluffing with a fork.

In a large skillet, heat the olive oil over medium high heat. Add the white parts of the scallions, garlic, cumin, sumac, salt and pepper. Cook until fragrant, about 30 seconds.

Add the snap peas, sautéing until they turn bright green but are still crisp, about 2-3 minutes.

Stir the couscous, lemon zest, scallion greens, and parsley into the snap peas.
Notes
Store leftovers in an airtight container in the refrigerator up to 2 days.
Nutrition
Calories:
250
kcal
|
Carbohydrates:
44
g
|
Protein:
9
g
|
Fat:
4
g
|
Saturated Fat:
1
g
|
Polyunsaturated Fat:
1
g
|
Monounsaturated Fat:
3
g
|
Sodium:
597
mg
|
Potassium:
353
mg
|
Fiber:
5
g
|
Sugar:
5
g
|
Vitamin A:
1466
IU
|
Vitamin C:
78
mg
|
Calcium:
75
mg
|
Iron:
3
mg
Nutrition information is automatically calculated, so should only be used as an approximation.