Sugar Snap Pea Lemon Couscous

Ready in only 15 minutes, Sugar Snap Pea Lemon Couscous is a crunchy, fresh and citrusy dish. Try it as a side or add greens to transform it into a salad.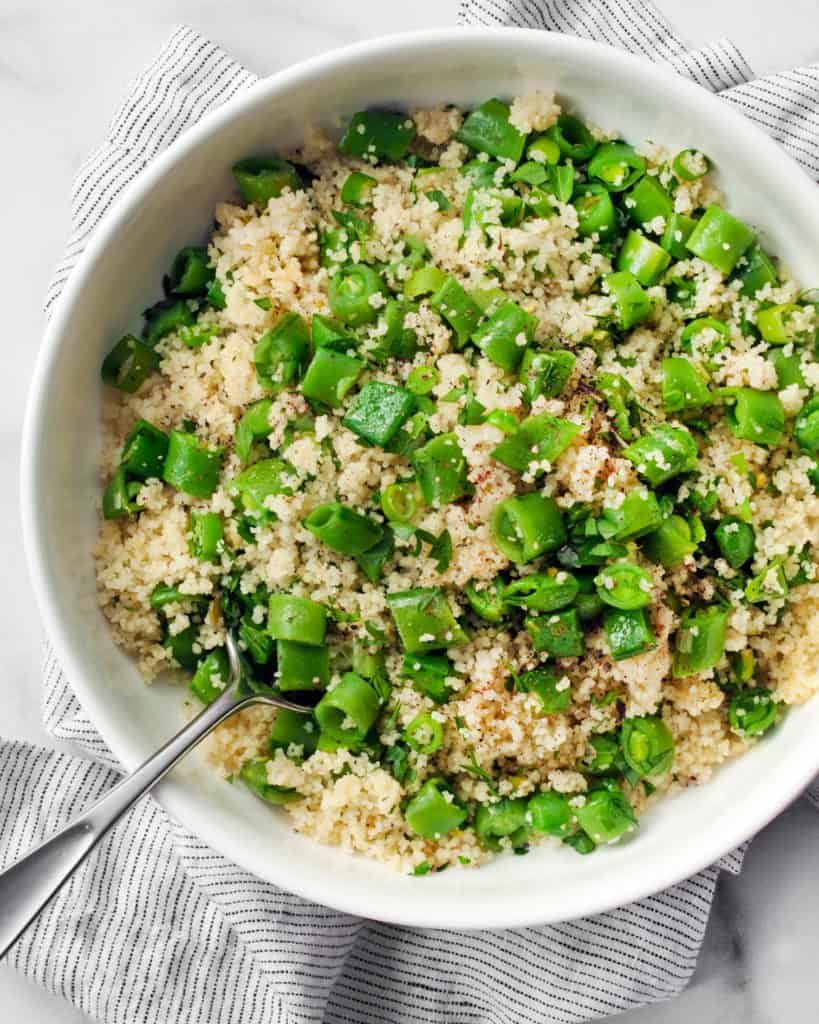 At least once a week my five-year-old asks me what is my favorite color.

I think it's less about his interest in what I have to say and more about me knowing his color of the moment.

His answer changes all the time. Right now it's red, but last week it was blue. What is consistent is that it's inconsistent.

I'm the complete opposite. Gray is my go-to color. Nothing is better than charcoal gray. No surprise, black is a close second.

You should see my closet. It doesn't matter the season, I'm still in black and gray even on the hottest August day.
With spring kind of sprung, I find myself gravitating toward green. I want to eat all things green. Now I'm even considering wearing green, which would be a big change.

Maybe I can spare a hanger for something other than a black, gray or white top?

When it comes to edible green veggies, I've been very into sugar snap peas. I am hooked on their crunch.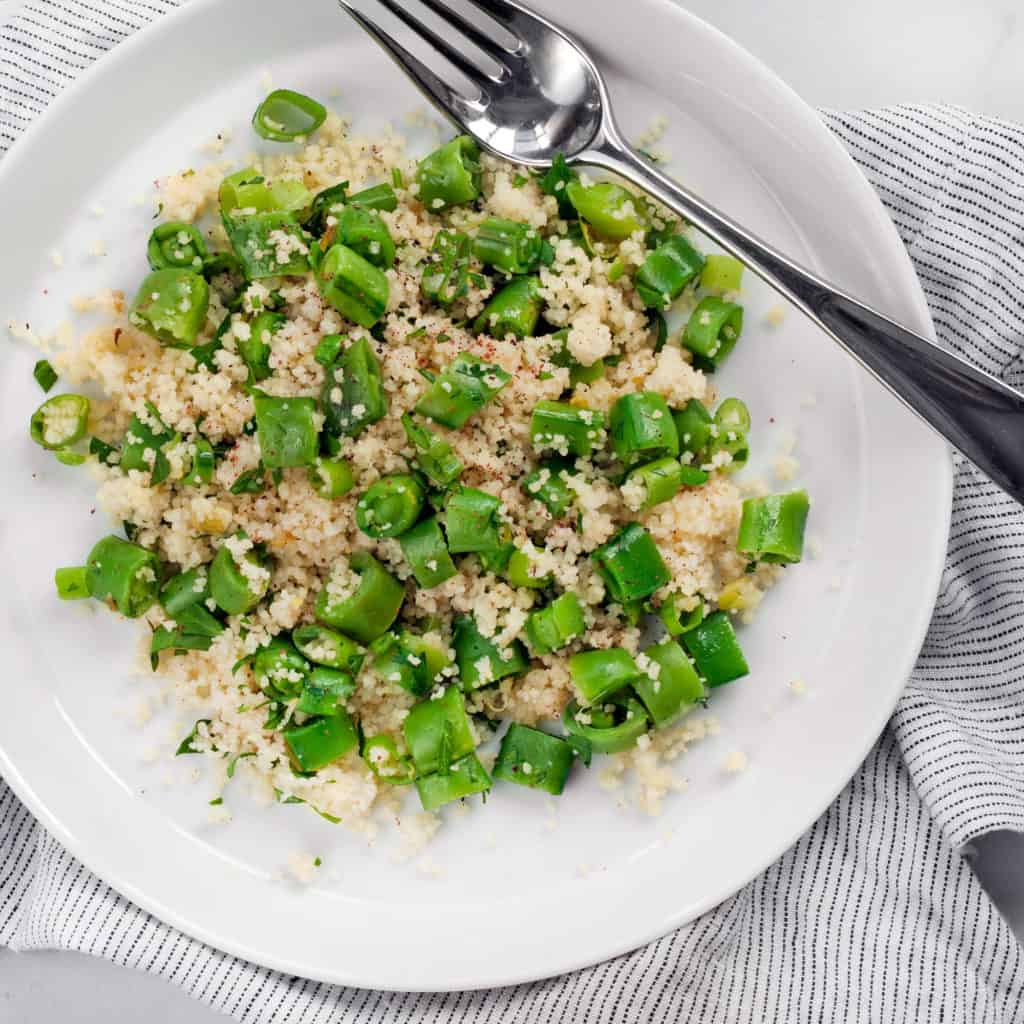 Sautéing snap peas only takes a couple minutes. So often I find that I devour them basically right out of the pan. They never make it onto a plate.
I knew if I was going to turn them into a real dish, it had to be ready fast. That's how I ended up making sugar snap pea lemon couscous.
Instead of just trimming the snap peas, I chopped them revealing some of the tiny peas inside. After I sautéed them, I took them out of the pan. I didn't want to risk the peas absorbing any of the water for the couscous and losing their signature snap.
I sautéed scallions and then added the couscous, water, lemon juice & zest, cumin, salt and pepper to the pan. Once the mixture was boiling, I turned off the heat, covered it and let it stand for just 5 minutes.
When the grains had absorbed the liquid, I combed through them with a fork and stirred in the snap peas, green scallions, and parsley.
To enhance the lemon flavor, I folded in ground sumac.
I will likely chicken out on that a green shirt, but I will definitely keep consuming more greenh.
Print
Sugar Snap Pea Lemon Couscous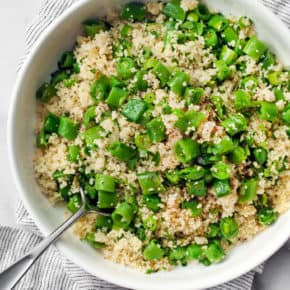 Author:
Prep Time:

10 minutes

Cook Time:

5 minutes

Total Time:

15 minutes

Yield: Serves

4

1

x
Scale
Ingredients
1 tablespoon + 1 teaspoon olive oil
1/2 pound sugar snap peas, trimmed and chopped
2 scallions, white parts minced, green parts sliced thinly
1 cup couscous
1–1/2 cups water
Juice and zest of 1 lemon
1/2 teaspoon cumin
1 teaspoon kosher salt
1/2 teaspoon black pepper
1/4 cup chopped fresh parsley
1 teaspoon sumac
Instructions
Heat 1 tablespoon olive oil in a skillet over medium high heat. Sauté the snap peas until they are crisp and bright green, about 2 minutes. Remove the snap peas and set aside.
Add the remaining olive oil to the pan. Sauté the white parts of the scallions until they are fragrant and translucent, about 1-2 minutes.
Stir in the couscous, water, lemon juice & zest, cumin, salt and pepper. Bring to a boil. Cover, turn off the heat, and let stand for 5 minutes.
Once the water is absorbed, use a fork to comb through the couscous breaking up any clumps. Stir in the snap peas, green scallions, parsley and sumac.
SHARE THIS