Heirloom Tomato Bruschetta Pasta Salad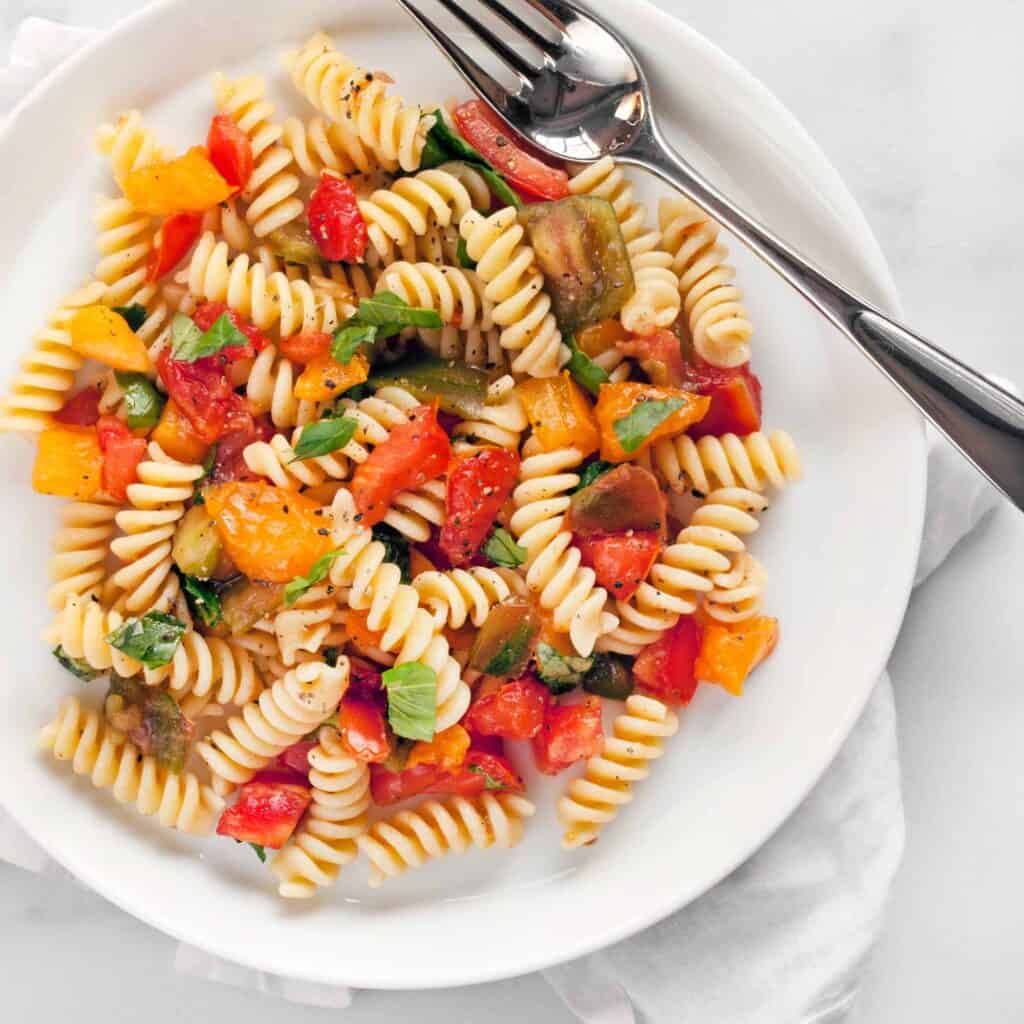 It's July 1st, and we still haven't planted our container garden.
At this point, we aren't going to have any plants on our deck this year.
Things have gotten so busy lately that the thought of adding watering to our daily to-do list sends my husband and me into a full panic.
There's always next year, right?
Or I will head over to my brother's house to sample his homegrown veggies. He has lots of different things in his garden including corn. Hopefully I can try at least one cob.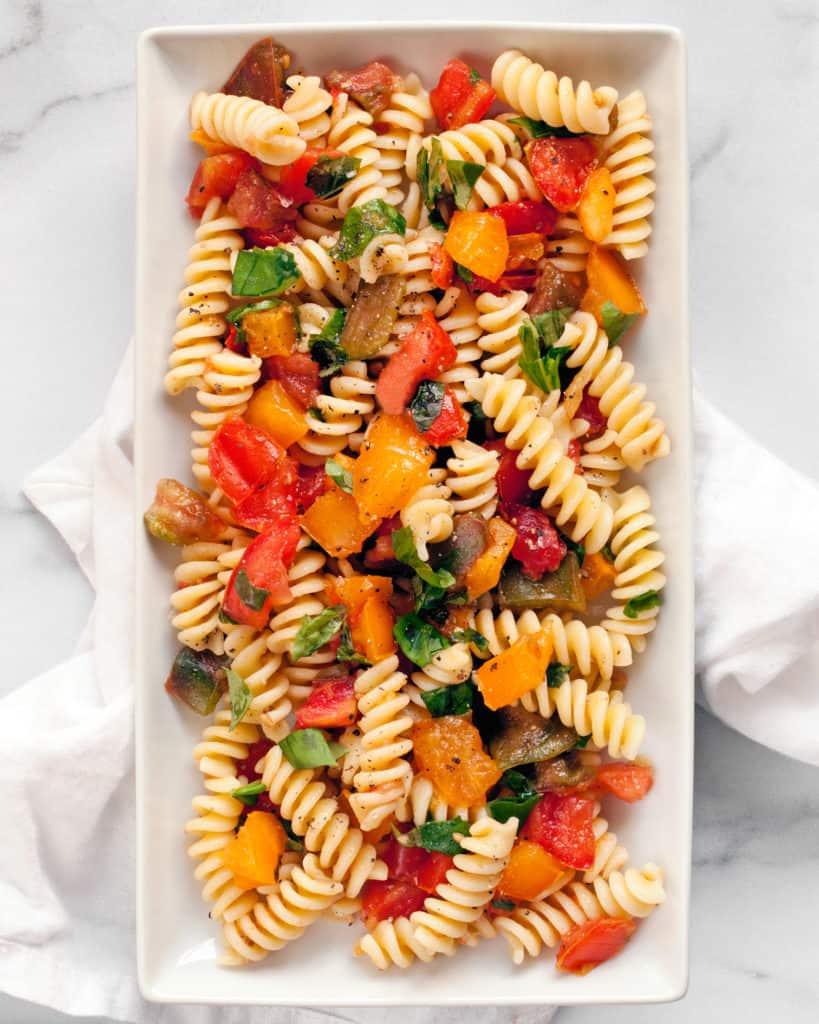 Not having our own garden isn't the worst thing. It just means that I have to go to the farmers market more often, as if I needed an excuse. I can't complain about that!
What I will miss most this summer is not having tomato plants. There is such a satisfaction caring for them, watching them grow and being able to eat them right off the vine.

I love the pungent smell of tomato leaves, which I'm sure some people can't stand.

Heirloom tomatoes, with all their irregular shapes and vivid colors, always catch my eye.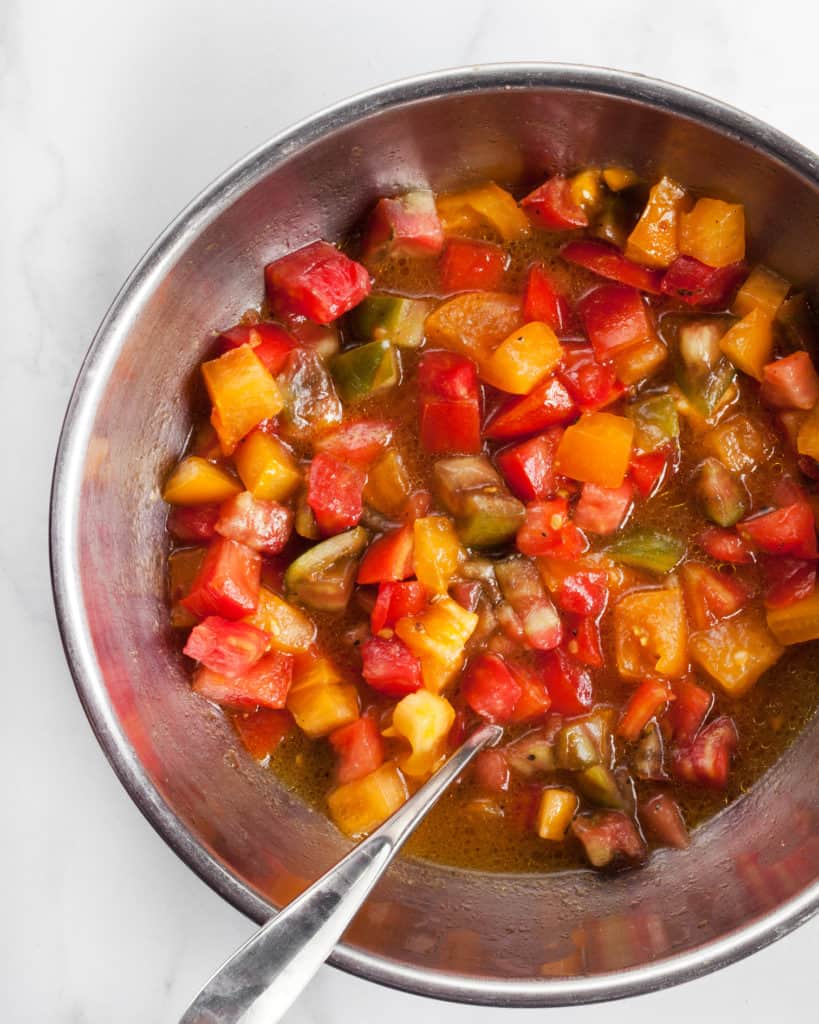 I bought an assortment without knowing what I would end up doing with them. My one requirement was that they had to stay raw.

I could have done a caprese salad or kept things even more simple eating them sliced with a sprinkle of flaky sea salt and olive oil.
It had been a while since I had noodles, so I decided to make heirloom tomato bruschetta pasta salad.

I started by roughly chopping the tomatoes and putting them in a bowl with a crushed garlic clove, olive oil, red pepper flakes, salt and pepper.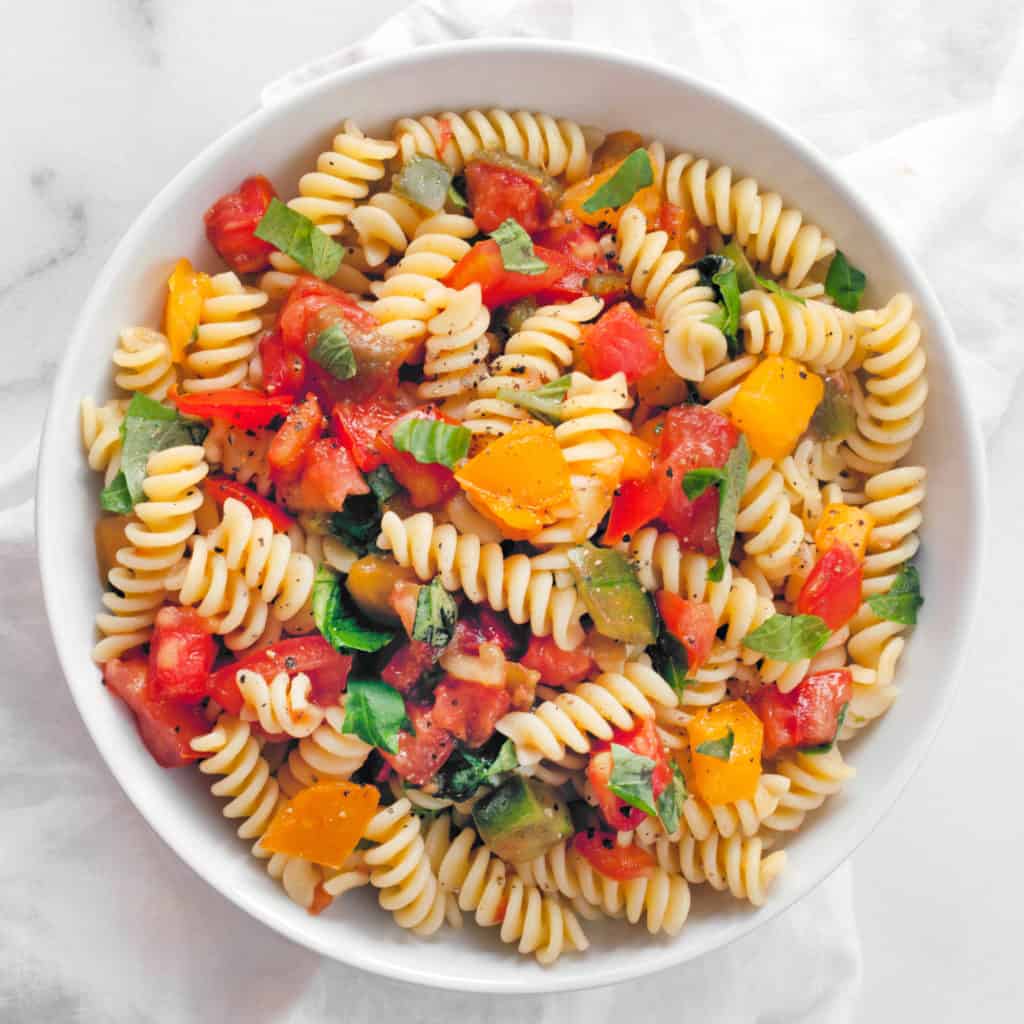 Then I let the tomatoes sit for a while. I wrote a few emails and ran a couple errands in the neighborhood before I came back to the tomatoes.

The mixture had gotten very juicy and fragrant.

I made a pot of fusilli, but you could use any shape you want. To cool down the pasta, I rinsed it in a colander.

I put the pasta in a big bowl and tossed it with the tomatoes and some of the juices. To finish off the heirloom tomato bruschetta pasta salad, I seasoned it with salt and pepper and stirred in torn basil leaves.
Print
Heirloom Tomato Bruschetta Pasta Salad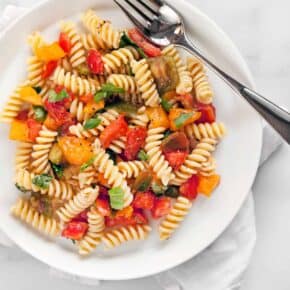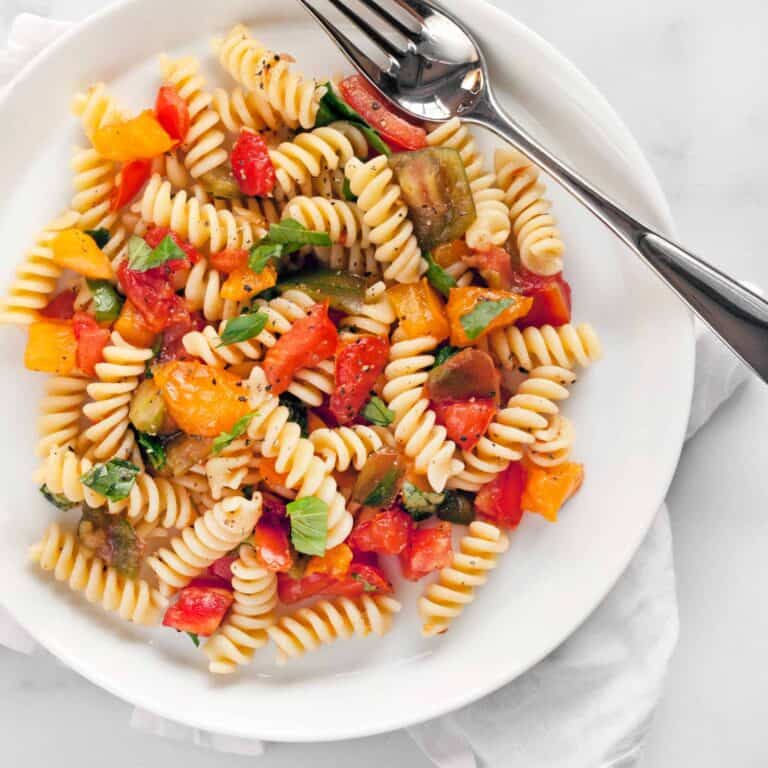 Prep Time:

30 minutes

Cook Time:

10 minutes

Total Time:

40 minutes

Yield: Serves

4

1

x
Scale
Ingredients
2 pounds assorted heirloom tomatoes, roughly chopped
1 garlic clove, peeled and smashed
1/4 cup olive oil
1 teaspoon salt
1/2 teaspoon black pepper
Pinch of red pepper flakes
8 ounces fusilli
1/4 cup torn fresh basil
Instructions
In a medium bowl, combine the tomatoes, garlic, olive oil, 1/2 teaspoon salt, 1/4 teaspoon pepper and red pepper flakes. Let the mixture sit for at least 30 minutes.
Bring a large saucepan of salted water to a boil. Cook the fusilli according to package instructions. Drain the pasta in a colander and rinse with cold water.
Transfer the pasta to a large bowl. Use a slotted spoon to add the tomatoes to the pasta. Stir in enough of the juices from the tomato bowl to coat the pasta, about 2-3 tablespoons. Fold in the basil and remaining salt and pepper before serving.
SHARE THIS