Milk Chocolate Peanut Butter Pudding Pie

Served chilled, this Milk Chocolate Peanut Butter Pudding Pie has a peanut butter cookie crumb crust. The filling is creamy and cool with lots of nutty milk chocolate.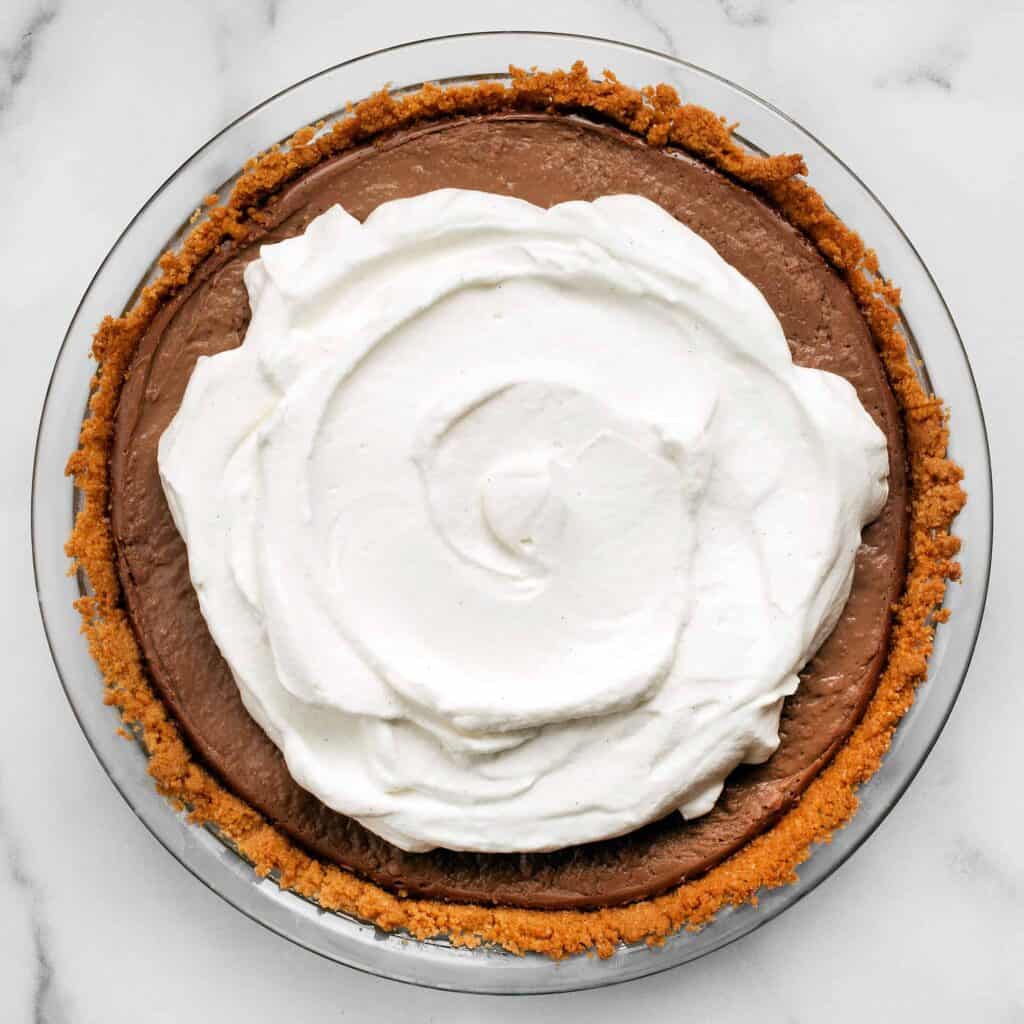 Pies come in two seasons. You have autumn with Thanksgiving apples and pumpkin. On the flip side, you have spring and summer with an overabundance of berries and stone fruit.

Often these pies come with double crusts or some sort of crumb base.

But not all pies are created equal. Some aren't filled with beautiful produce. These pies are more decadent, filled with chocolate, custard or another sugar-based concoction.
You could consider them season-less, but served cold, I think fridge pies are best for the warmer months.

Just to be clear, fridge pies aren't no-bake. You have to bake the crust, and sometimes you need to cook the filling on the stovetop.

These pies have to sit in the fridge to set. That's the catch. You need to serve them chilled.

My husband absolutely loves chocolate pudding. That inspired me to bake a milk chocolate peanut butter pudding pie.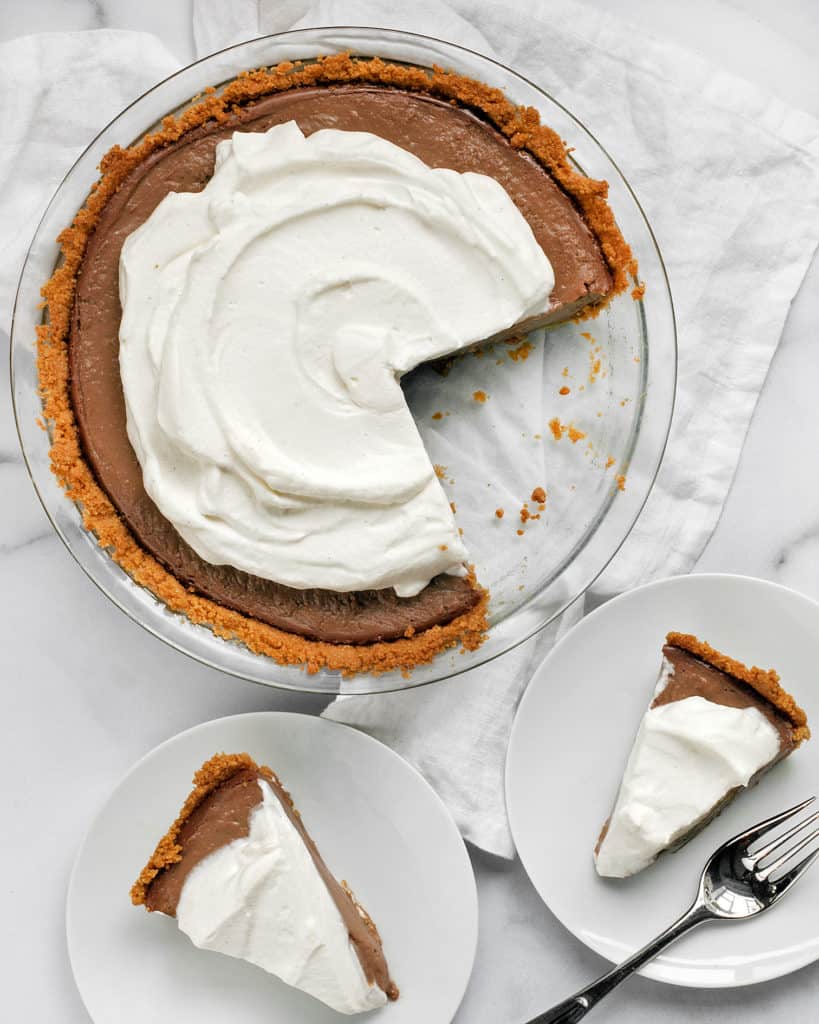 How To Make Milk Chocolate Peanut Butter Pudding Pie
For the crust, I ground peanut butter sandwich cookies in the food processor with granulated sugar and melted butter until it had the consistency of wet sand.
I pressed the crumbs into a pie dish and put it in the freezer for about 15 minutes. This helped to avoid any crust sag during baking.
Once the crust cooled, I made the pudding on the stove. I whisked together sugar, egg yolks, milk, salt and cornstarch to thicken up this custard. Then I folded in a combination of chopped semisweet chocolate and milk chocolate.
I wanted the pudding to be peanut buttery, too, so I reached for my jar of peanut butter powder.

If you've never heard of peanut butter in powder form, it is nuts that have most of the oils pressed out, and then they are pulverized into powder.

I use peanut butter powder in my smoothie every morning because it blends in so well. This was my first time trying it in dessert.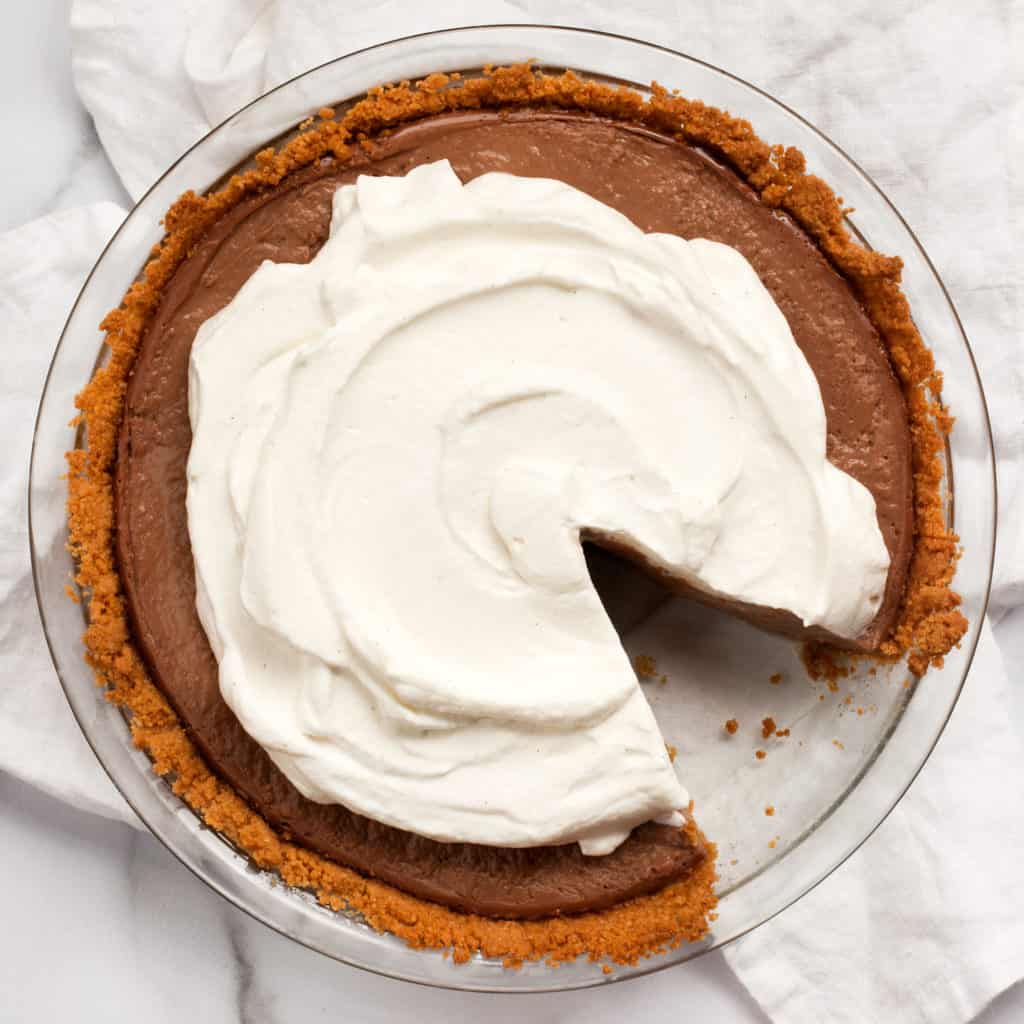 I poured the pudding into the pie shell and let it cool a bit at room temperature before moving it to the fridge to chill.
This milk chocolate peanut butter pudding pie needed something on top, so I made vanilla bean whipped cream.
I nearly covered the entire thing in whipped cream except for a ring of chocolate pudding peaking out next to the crust.
That first bite was an absolute dream. The pudding was creamy and cool with both milk chocolate and peanut butter to match the cookie crumb crust.
Print
Milk Chocolate Peanut Butter Pudding Pie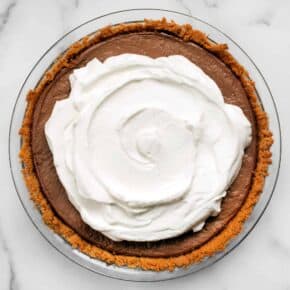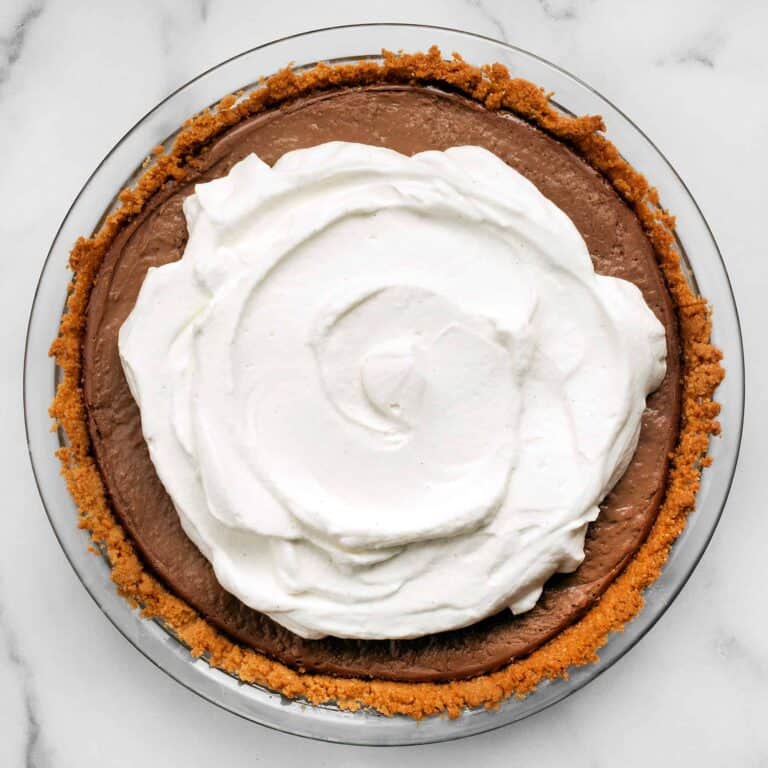 Prep Time:

20 minutes

Total Time:

4 hours 20 minutes

Yield:

Makes one 9-inch pie
Ingredients
For crust
6 ounces peanut butter sandwich cookies (about 15)
2 tablespoons granulated sugar
5 tablespoons unsalted butter, melted
1/4 teaspoon kosher salt
For filling
1/3 cup granulated sugar
1/4 cup cornstarch
1/4 teaspoon kosher salt
2 large egg yolks
2-1/2 cups whole milk
4 ounces milk chocolate, roughly chopped
2 ounces semisweet chocolate, roughly chopped
2 tablespoons unsalted butter at room temperature
1 tablespoon peanut butter powder
For whipped cream
1 cup heavy cream
2 tablespoons confectioners' sugar
1 teaspoon vanilla bean paste or 1 vanilla bean split and seeds scraped
Instructions
Preheat the oven to 375 degrees F.
For the crust, use a food processor to pulse the peanut butter cookies until they are finely ground. (You need to have 1-1/2 cups). Mix in the sugar, butter and salt.
Press the cookie crumbs into the bottom and up the sides of a 9-inch pie dish. Freeze for 15 minutes. Bake until golden and toasted, about 12 minutes. Cool completely on a wire rack.
For the pudding, whisk together the sugar, cornstarch, salt, egg yolks and milk in a large saucepan over medium-high heat. Continue whisking constantly and bring the mixture to a boil. Keep whisking for 2 minutes until it has thickened. Remove from the heat and stir in both chocolates until they have melted followed by the butter. Whisk in the peanut butter powder.
Pour the filling into the crust smoothing into an even layer. Let the pie stand at room temperature for 30 minutes. Chill in the refrigerator for 1hour before covering with plastic wrap, pressing directly onto the pudding. Chill until set, at least 2 hours up to 2 days.
For the whipped cream, use an electric mixer to beat the heavy cream, confectioners' sugar and vanilla to medium peaks. Spread the whipped cream on top of the pudding.
Serve immediately. Store leftovers covered in the refrigerator.
SHARE THIS