Mushroom Pepper Feta Crustless Quiche

Looking for an easy healthy egg dish for breakfast or brunch? Try this veggie-filled baked mushroom pepper feta crustless quiche with arugula.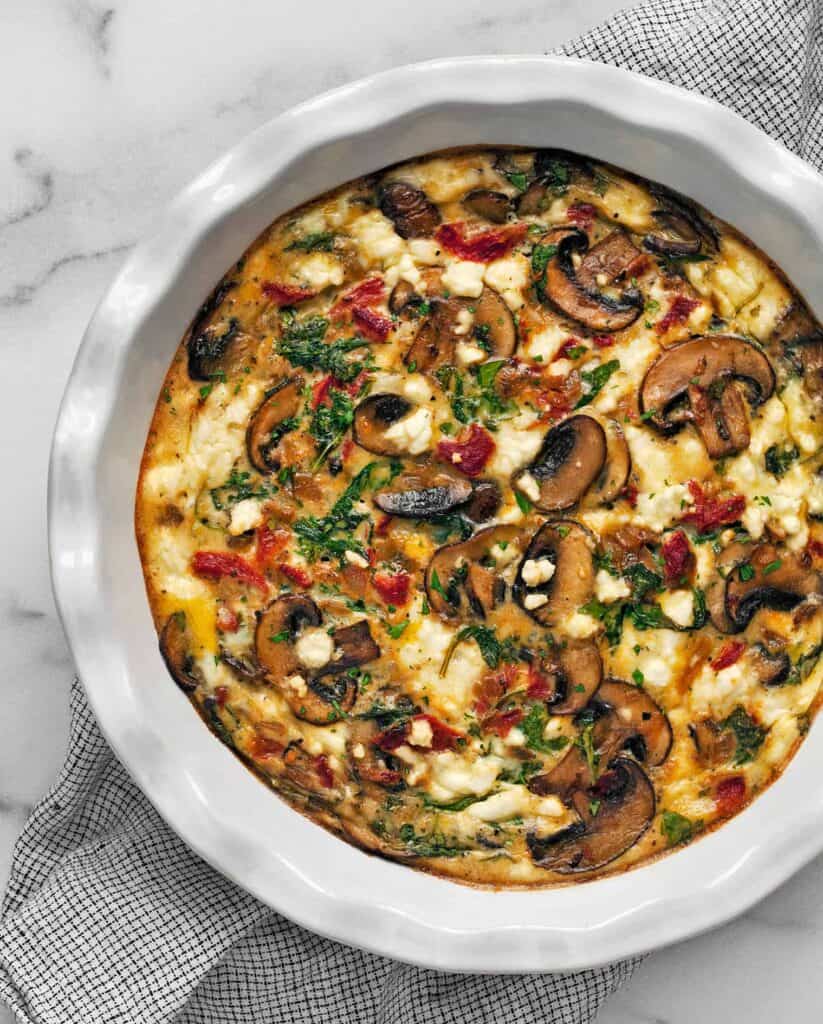 My definition of sleeping in is very different than it was when I was a teenager.
The 14-year-old me would never understand how making it to 8:30 am is total luxury.
Being a morning person as an adult, I look back on all those junior high and high school weekends sleeping till 11:00 am, or even noon, as a total waste of time.
Think of everything that can be accomplished in the first half of the day!
But I shouldn't be so hard on myself because that's just what comes with your teen years.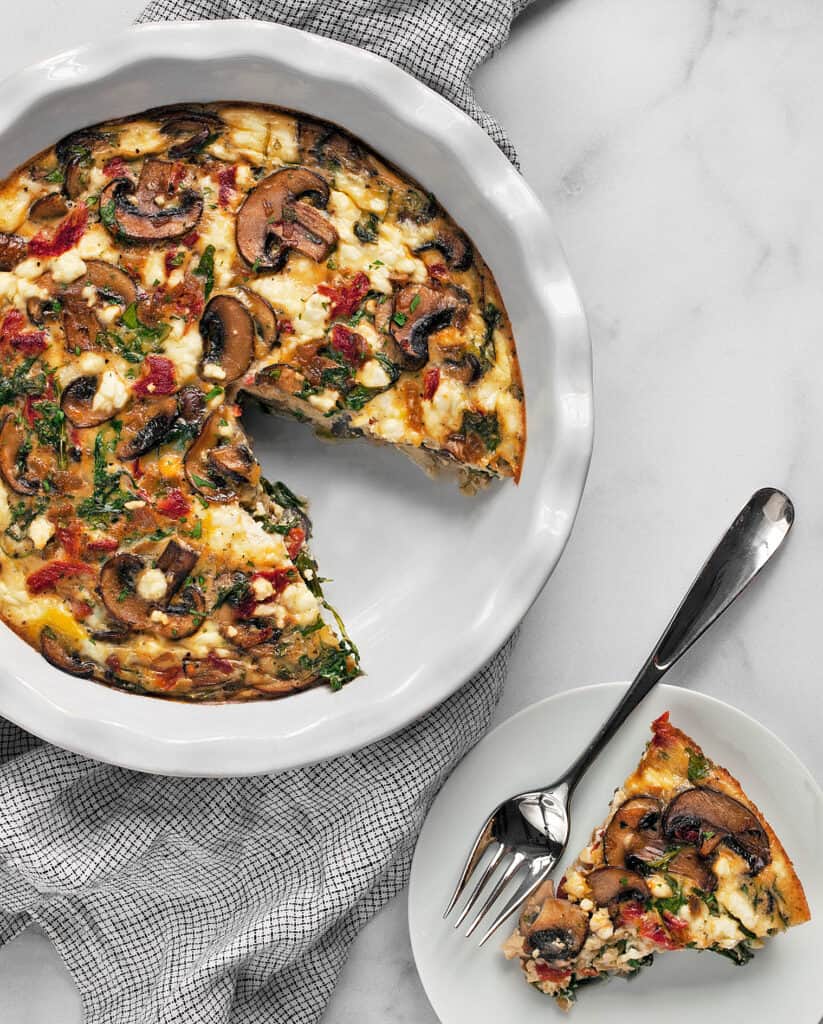 Since things are winding down with school and work for the year, embracing the un-rushed mornings we have together as a family is on my to-do list.
That means I am going to have to control myself and enjoy extended moments lingering in my pajamas.
And this year, we really don't have anywhere to be, so I have no excuse.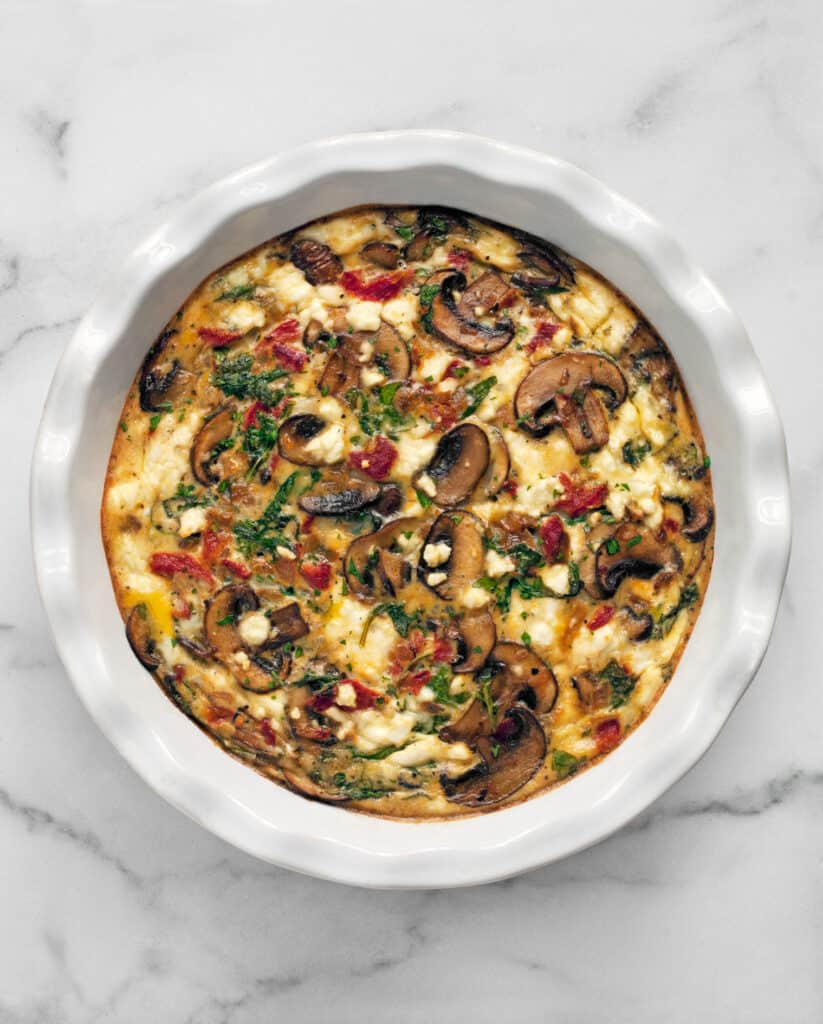 What I am planning to do during these lazy mornings is to put a lot of energy into breakfast.
One of our favorite bakeries in Chicago sells frozen croissants that you can take and bake. They are an absolute dream.
I never manage to have more than a third of one because my son eats his and then most of mine.
He's a growing boy!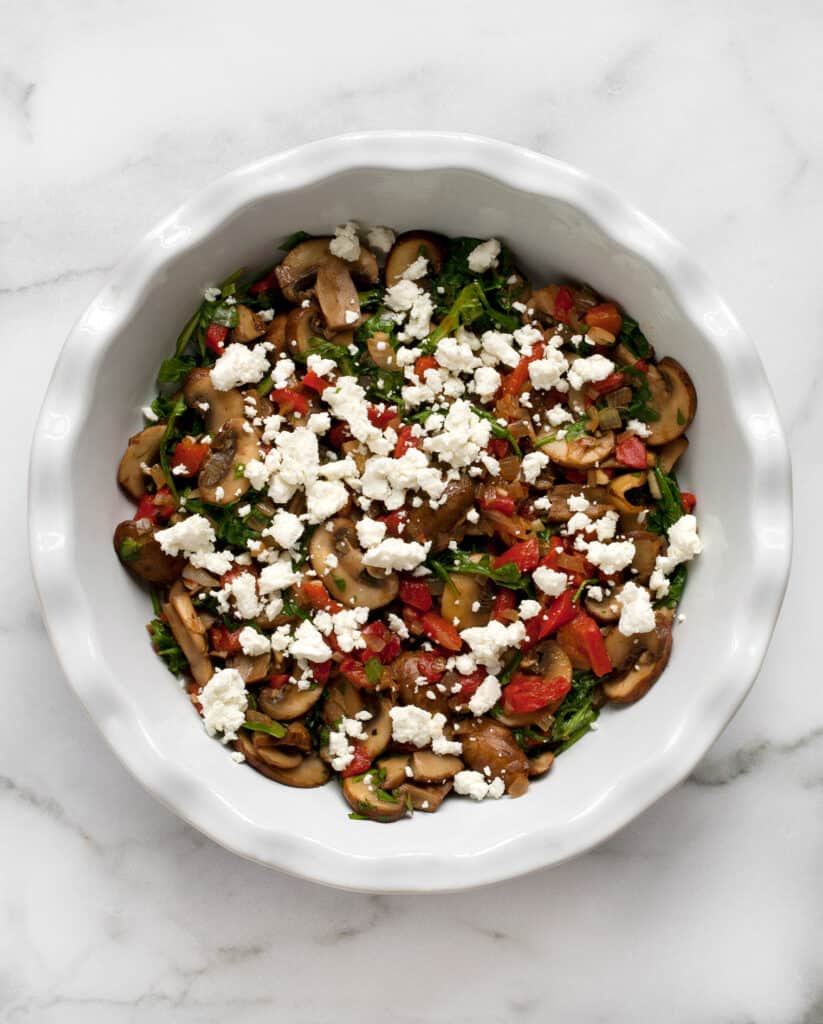 I will stick with leaving complicated pastries to the experts. Instead, I will be taking on dishes that are more in my skillset like yeasted waffles, overnight oatmeal and eggs.
Whether scrambled or poached, I love eggs in pretty much any form.
Baking eggs is an easy way to incorporate a bunch of interesting veggie fillings.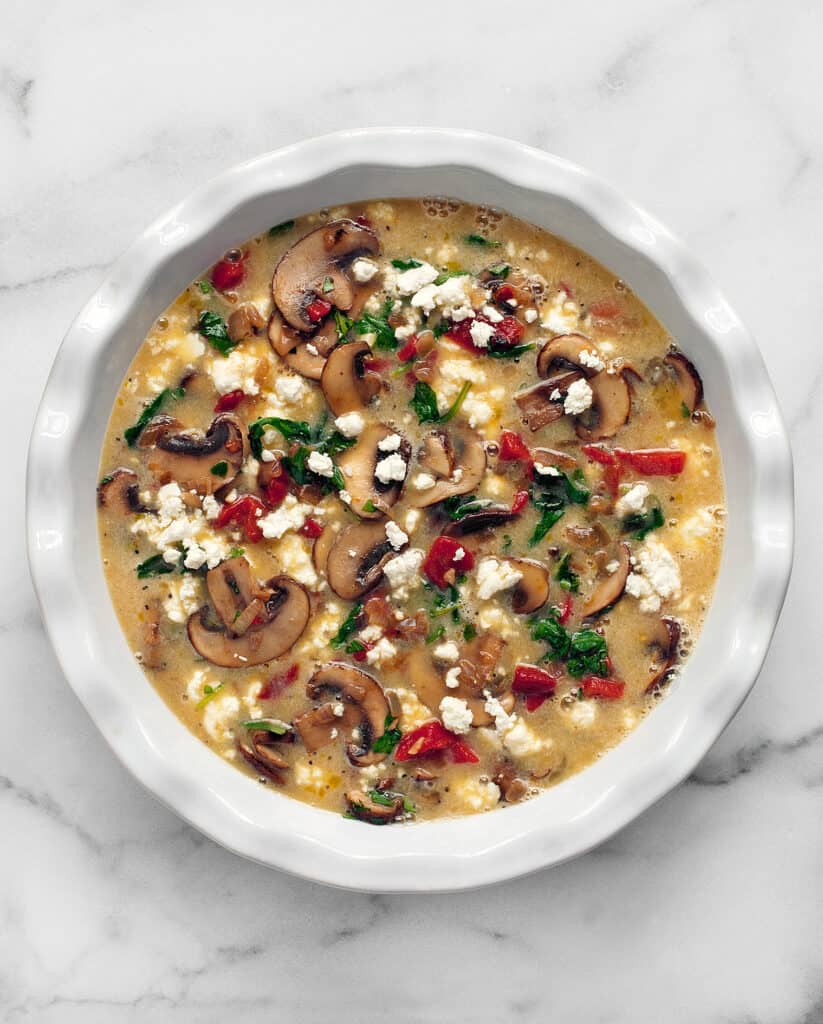 A frittata is great for breakfast and brunch and so is a quiche.
With this mushroom pepper feta crustless quiche, a much lighter version of the classic, I bend the rules on the definition of quiche.
In my opinion, one of the biggest differences between a frittata and quiche is that a frittata starts on the stovetop and is finished in the oven. Whereas a quiche is fully baked in a dish in the oven.
Quiche tends to turn out softer and fluffier. Frittatas are firmer.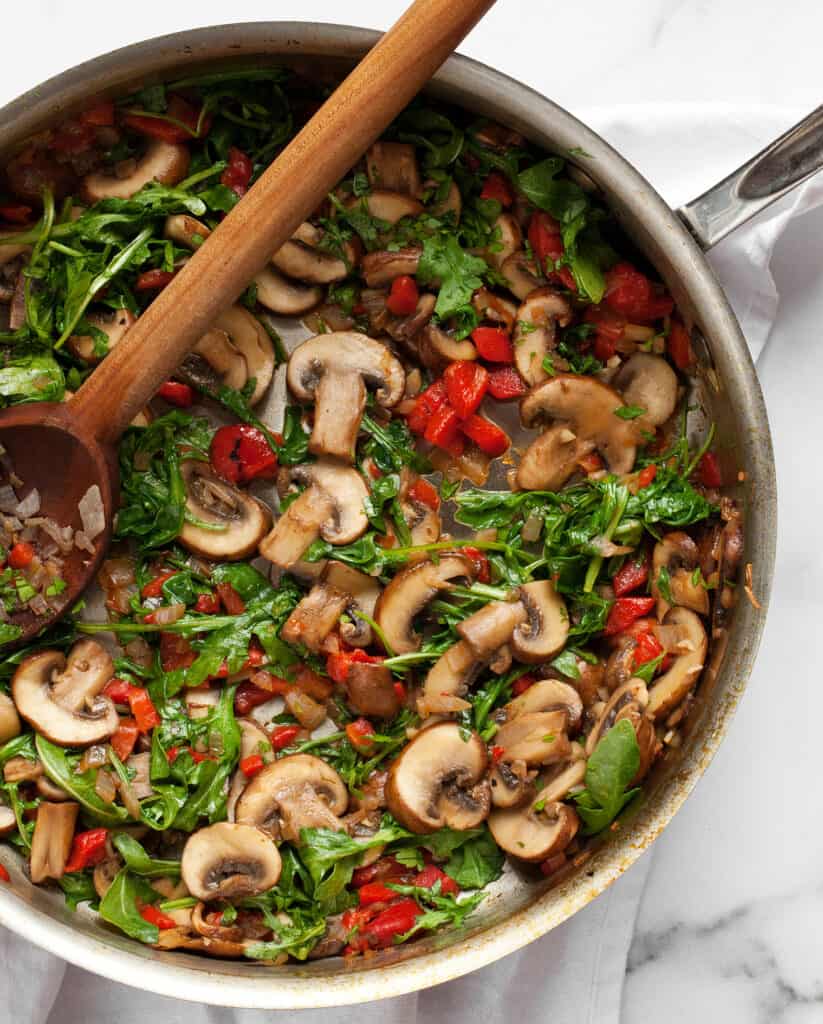 How To Make Mushroom Pepper Feta Crustless Quiche
For the quiche, I start working on the filling.
I sauté shallots followed by mushrooms in a skillet. Then I add minced garlic and chopped roasted red peppers. I make sure to give the mushrooms a chance to brown.
After that I pull the pan off the burner and fold in the arugula and parsley. The greens will wilt a bit.
Then I whisk together the eggs, milk, salt and pepper in a big bowl.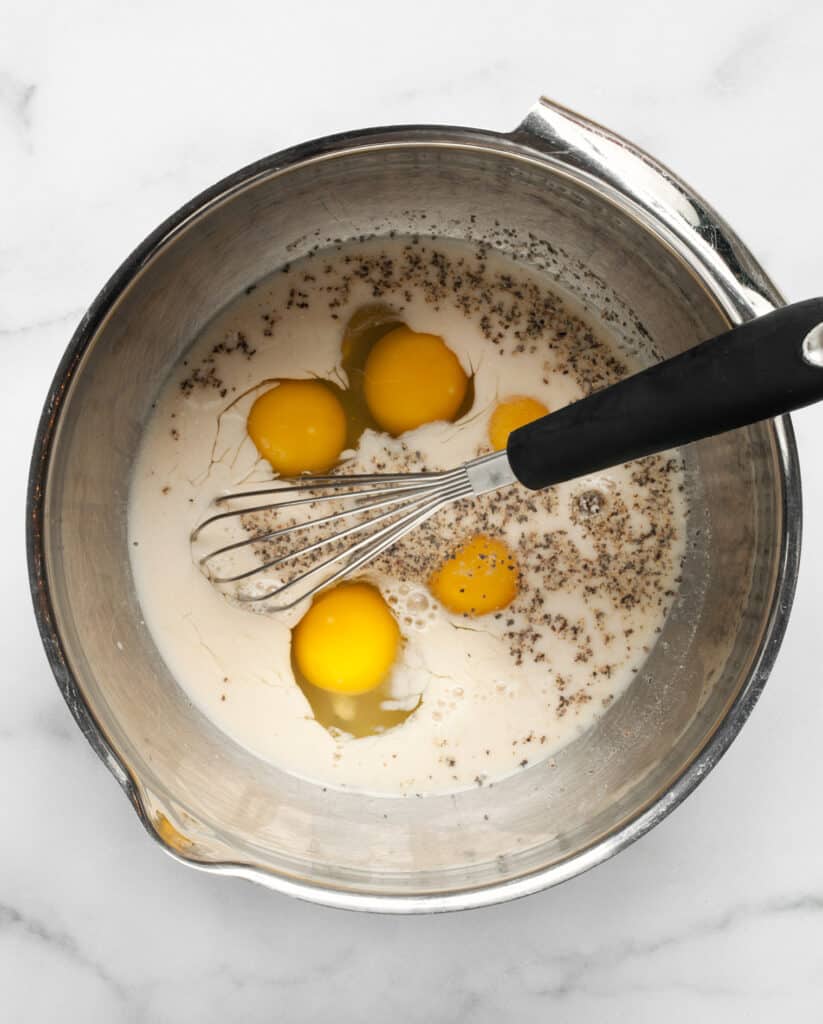 With everything ready, I assemble the mushroom pepper feta crustless quiche.
First, I put most of the filling in the bottom of the pie dish.
Next, I sprinkle on crumbled feta and pour in the eggs.
I always save some of the filling to sprinkle on top. It's a food styling trick, so then the some of the mushrooms and peppers will show once the quiche has finished baking.
When the quiche is out of the oven, I finish it with a parsley and then cut it into wedges to serve.
Print
Mushroom Pepper Feta Crustless Quiche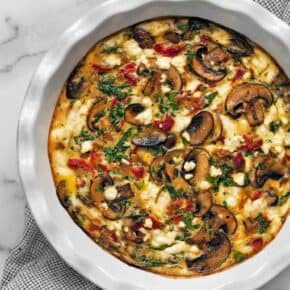 Author:
Prep Time:

10 minutes

Cook Time:

40-45 minutes

Total Time:

50-55 minutes

Yield: Serves

6

–

8

1

x
Scale
Ingredients
1 tablespoon olive oil plus more for pie dish
1 shallot, finely chopped
6 ounces cremini mushrooms, thinly sliced
1/2 cup chopped roasted red peppers
1 garlic clove, minced
2 ounces arugula
1 tablespoon chopped parsley plus more for serving
5 large eggs
1/2 cup milk (any type dairy or non-dairy)
1 teaspoon kosher salt
1/2 teaspoon black pepper
1/3 cup crumbled feta
Instructions
Preheat the oven to 350 degrees F. Lightly grease a 9-inch diameter pie dish with olive oil.
In a large skillet, heat 1 tablespoon olive oil over medium high heat. Sauté the shallots until they soften, about 2-3 minutes. Add the mushrooms and sauté for 5 minutes until they start to brown. Stir in the red peppers and garlic. Continue cooking for a few minutes until the mushrooms are caramelized and fragrant. Move the skillet off the heat and fold in the arugula and parsley letting the greens wilt slightly.
In a large bowl, whisk together the eggs, milk, salt and pepper.
To assemble the quiche, spoon the mushroom-pepper mixture into the bottom of the prepared pie dish, reserving 1/3 cup. Scatter half the crumbled feta over the filling.
Pour in the egg mixture. Top with the remaining mushroom-pepper mixture and feta.
Bake for 40-45 minutes until just set in the middle.
Sprinkle with chopped parsley before slicing into pieces and serving.
SHARE THIS