Black Bean Roasted Pepper Frittata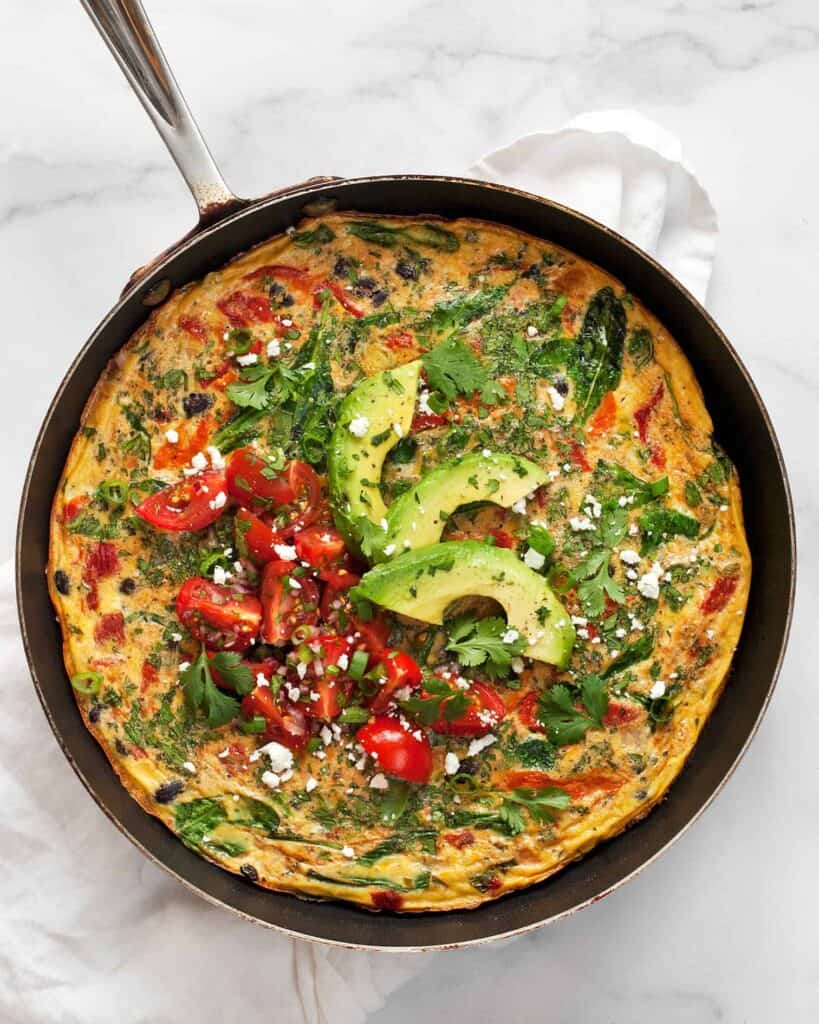 When I'm out of ideas of what to make for breakfast, lunch or dinner, I always reach for eggs.

They are just so quick and easy.
Much like a chopped salad with a bit of this and that mixed in, I do same thing with a messy random veggie scramble.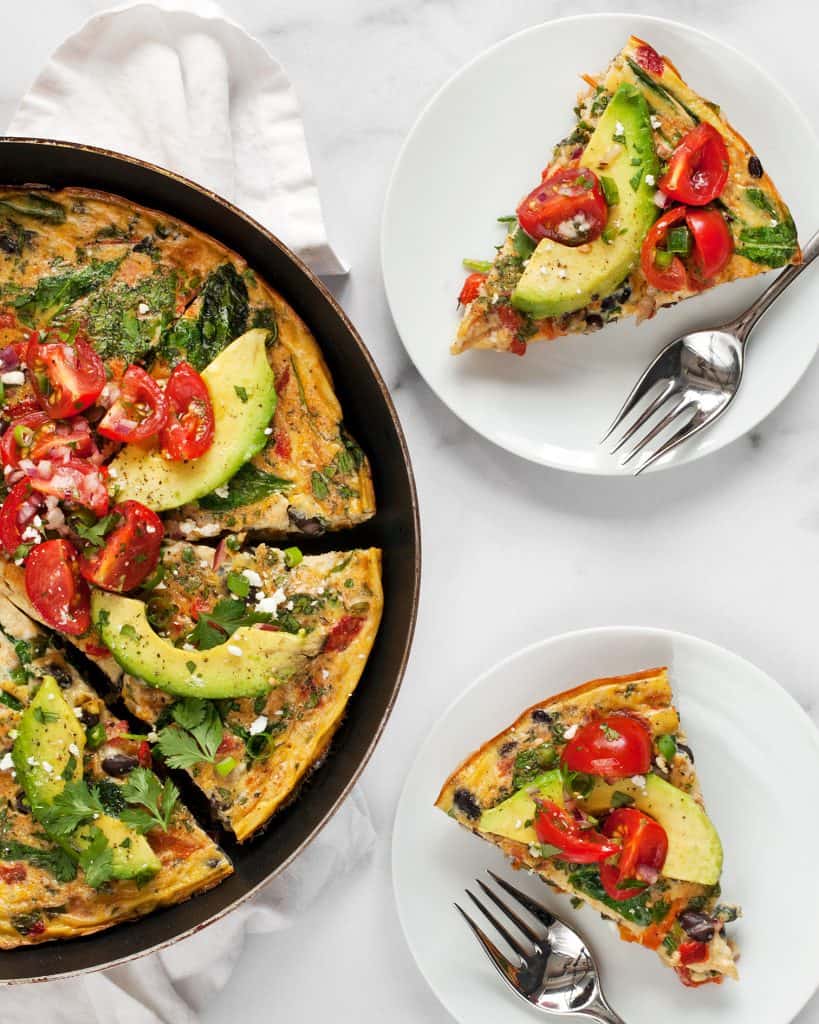 But sometimes with eggs, I like to do more work, so that I end up with the leftovers will last for a few days.

Eggs probably are not what come to mind first when you think about dishes that you can turn into multiple meals.

They key is to bake your eggs in a frittata rather than fry them.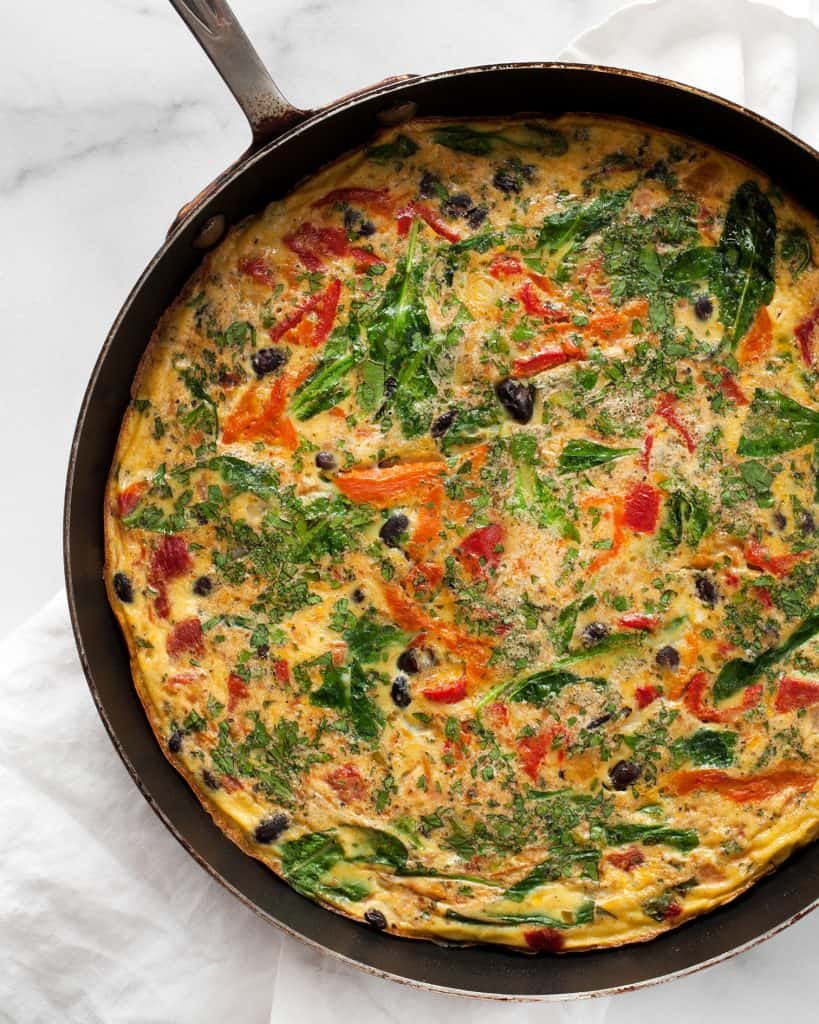 Frittatas can go in lots of different directions depending on your mood and what you have at home.

I've made frittatas with mushrooms, roasted tomatoes and spinach.
You can even bake them in muffin pans with roasted veggies for individual servings.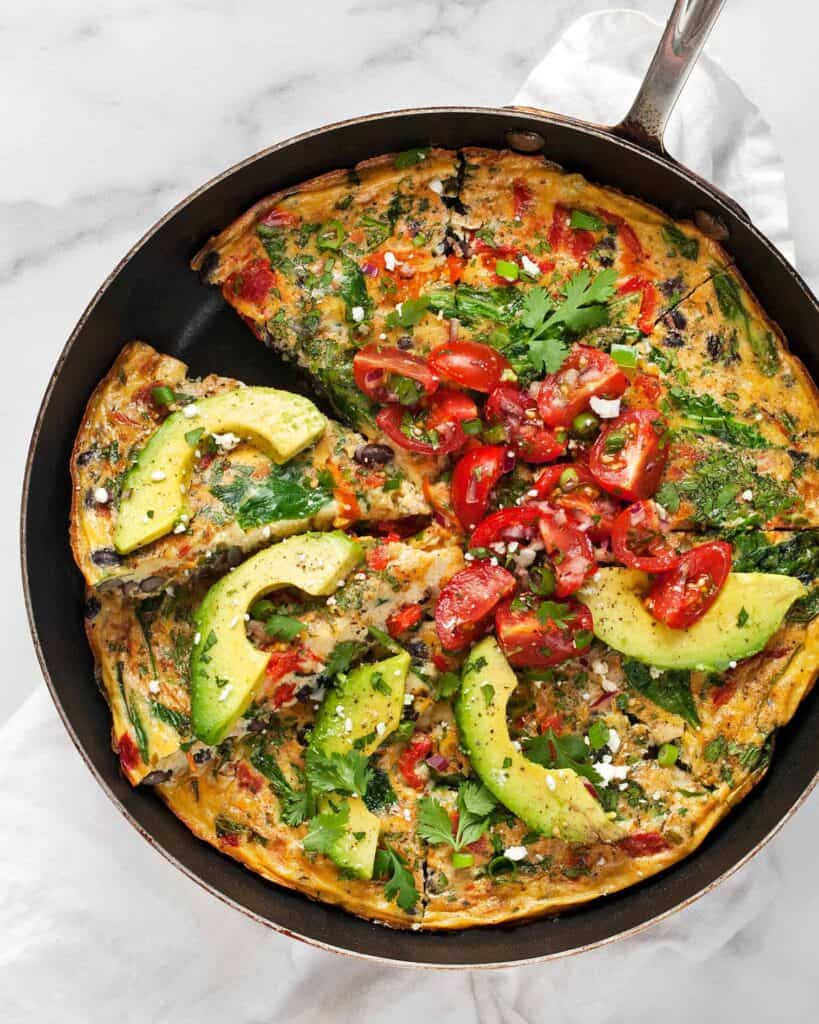 This black bean roasted pepper frittata is a result of my bean stocked pantry and inspiration from Cinco de Mayo.

Salsa is for so much more than just a dip for chips. I mix salsa into the eggs for flavor and heat.

You can just used jarred roasted peppers, or you can make your own. It's a great way to rescue wrinkled peppers that are past their prime.
I can't resist an opportunity to include greens, so to go with the peppers and greens, I like peppery arugula.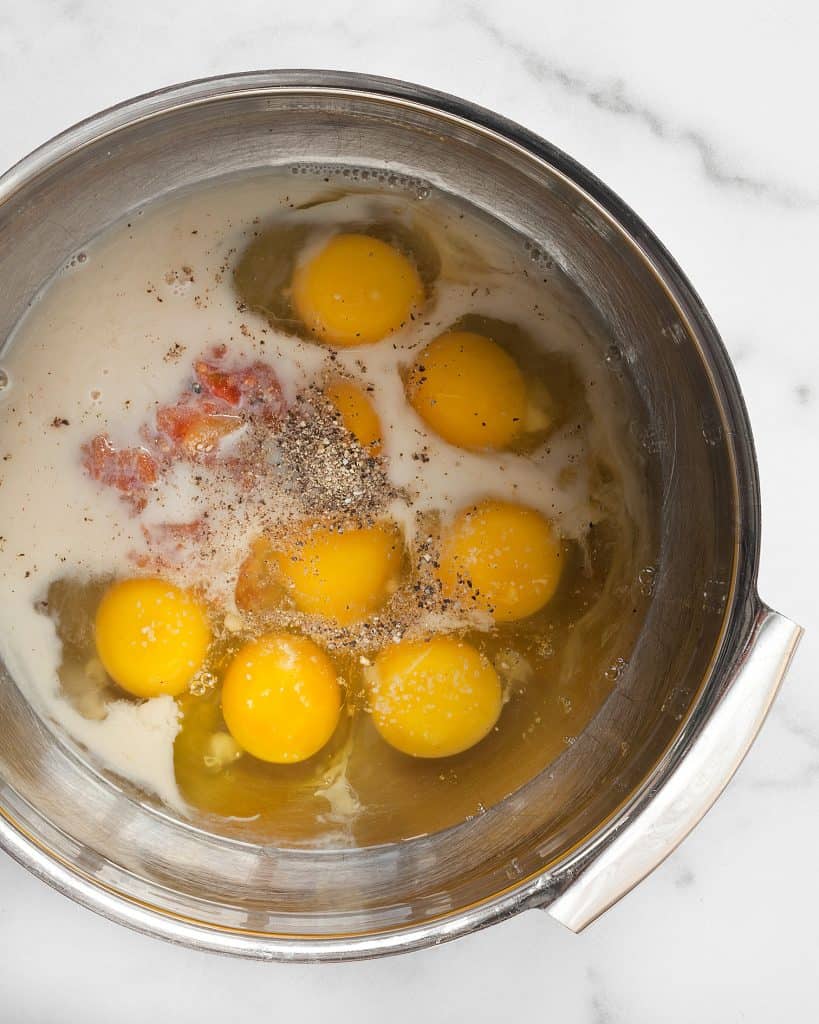 How To Make A Black Bean Roasted Pepper Frittata
For this black bean roasted pepper frittata, I whisk together eggs, milk, and salsa. You can also add chipotles en adobo sauce if you want it to be spicier.

A frittata cooks very quickly, so it's important to have the eggs and other ingredients mixed before you start cooking the filling.

In the skillet, I sauté the scallions and then add roasted peppers, torn arugula, black beans and cilantro.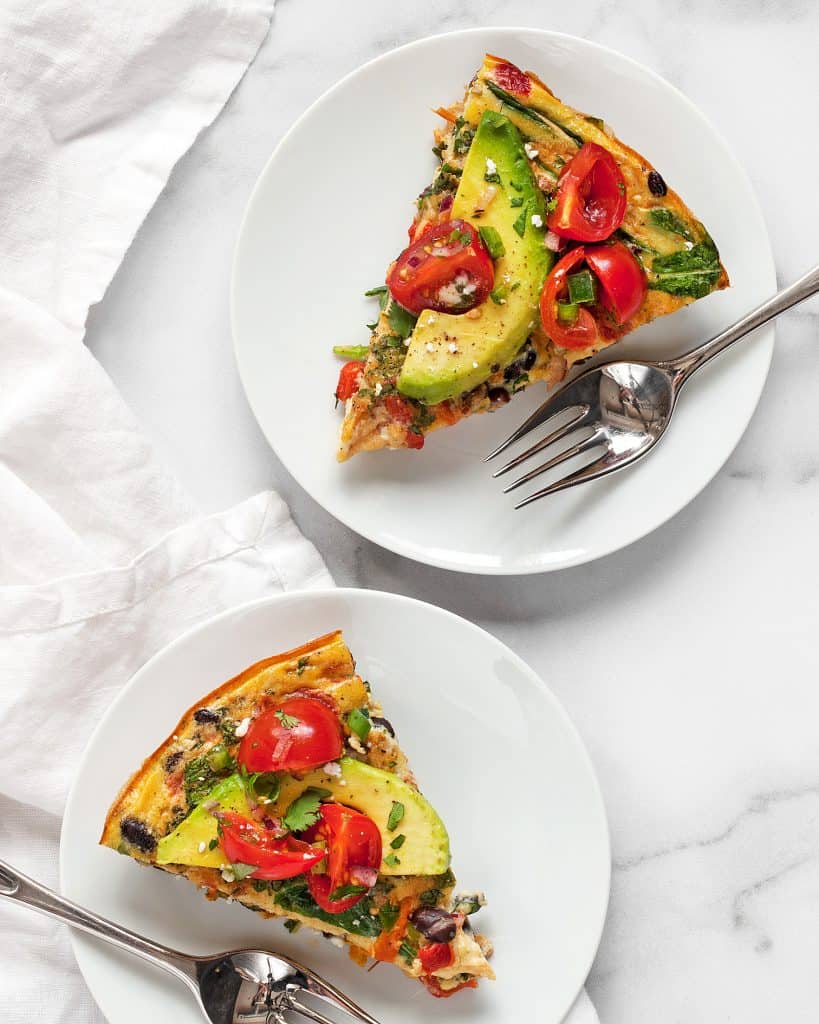 Then I pour in the egg mixture and give it a few minutes on the heat . Once the edges begin to set, it's time to move it into a 400 degree F oven.

While the frittata is baking, I stir together the pico de gallo, a combination of cherry tomatoes, red onions, jalapenos, cilantro and lime juice.

To serve, I top the frittata with sliced avocados, cilantro, pico de gallo and crumbled Cotija cheese.

I like eating leftover frittata cold from the fridge with a salad.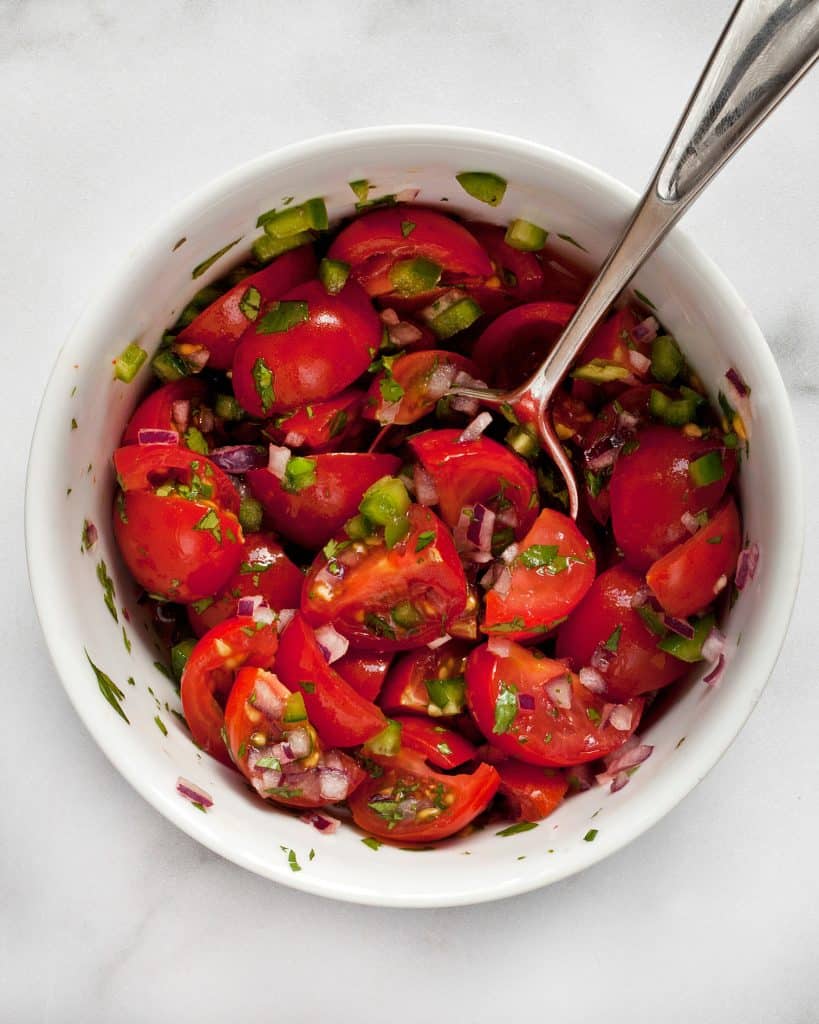 Print
Black Bean Roasted Pepper Frittata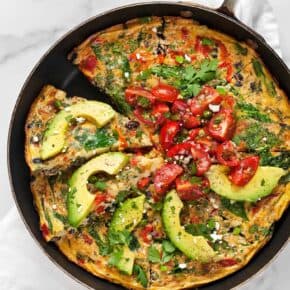 Prep Time:

5 minutes

Cook Time:

10-14 minutes

Total Time:

15-19 minutes

Yield: Serves

8

–

10

1

x
Scale
Ingredients
8 large eggs
1/3 cup milk
1/4 cup salsa
1 tablespoon chipotles en adobo sauce (optional if you want it to be spicy)
1 teaspoon kosher salt
1/2 teaspoon black pepper
1 teaspoon olive oil
2 scallions, thinly sliced, white parts and green parts separated
1/2 cup chopped roasted peppers
1 cup torn arugula
1-15 ounce can black beans, drained and rinsed
2 tablespoons chopped cilantro plus more for serving
Sliced avocado for serving
Crumbled Cotija cheese for serving
For pico de gallo
1 cup quartered cherry tomatoes
2 tablespoons finely chopped red onions
1 jalapeno, minced
Juice of 1 lime
1/2 teaspoon salt
1/4 teaspoon black pepper
Instructions
Preheat the oven to 400 degrees F.
In a large bowl, whisk together the eggs, milk, salsa, chipotles en adobo sauce, salt and pepper.
Heat the olive oil in a 10-inch non-stick ovenproof skillet over medium high heat. Sauté the white parts of the scallions until they are translucent, about 1 minute.
Stir in the peppers and arugula, letting the greens wilt, about 2 minutes. Stir in the black beans and cilantro and reduce the heat to low.
Pour in the egg mixture. Wait for the eggs to start to set at the edges, about 2-4 minutes. Transfer the skillet to the oven and bake for 8-10 minutes until just set in the middle.
While the frittata is baking, make the pico de gallo by combining the tomatoes, onions, jalapeños, lime juice, salt and pepper in a small bowl.
Top the frittata with pico de gallo and sliced avocados. Sprinkle with cilantro and cotija cheese before serving.
SHARE THIS