Pear Compote with Fresh Ginger
on Feb 20, 2015, Updated Jun 23, 2023
This easy pear compote is made with fresh ginger. It has only 6 ingredients and cooks in just 15-20 minutes. It is wonderfully fragrant and chunky. You can serve it warm or cool with yogurt, oatmeal, ice cream or on a toast. Also, this compote is gluten-free and vegan.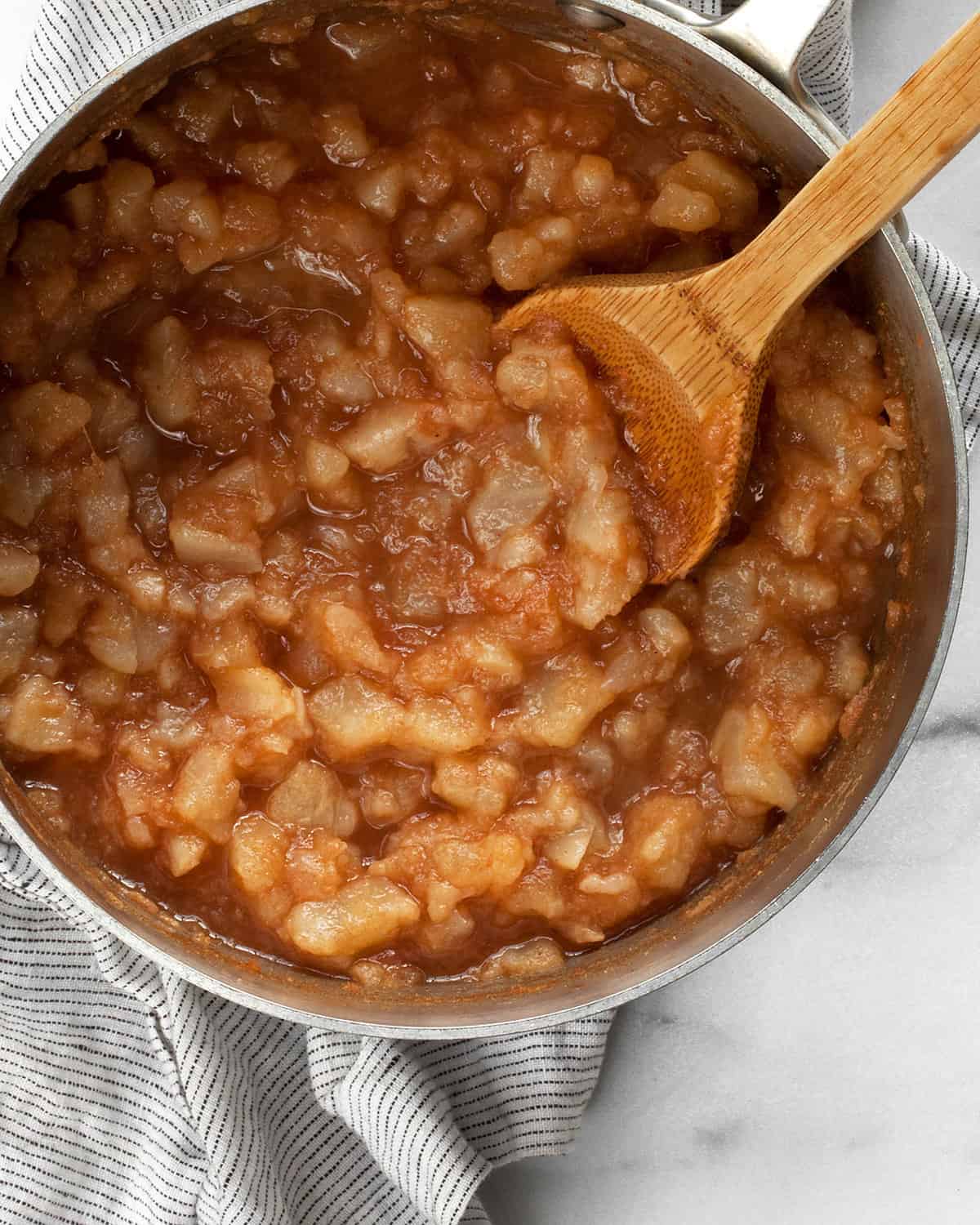 Why You'll Love This Recipe
This is a simple 6-ingredient recipe. If you've never made compote before, it is super easy. All you have to do is throw everything in a pot and simmer it.
There is no refined sugar, so this is a healthier version compote. To sweeten it, I use maple syrup rather than granulated sugar or brown sugar. What I like about doing this is that the compote has just the right amount of sweetness.
There are so many ways to serve compote. From breakfast to dessert, you can pair it with yogurt, oatmeal, waffles or pancakes.
What is Compote?
Whole fruit or chunks simmer and cook in a pot on the stove in a mixture of sugar syrup and spices. There is no thickener such as pectin that's needed in compote. The result is a more loose and spoonable spread than traditional jam. Typically the fruit in jam is mashed and crushed, so you can't see the shape of the fruit. Compote has pieces of fruit in it.
Best Types of Fruit for Compote
There are a lot of options when it comes to the best fruit for compote. You can use berries, stone fruit and more including:
Apples
Pears
Strawberries
Blueberries
Raspberries
Blackberries
Peaches
Plums
Cherries
Since blackberries and raspberries have tiny seeds, compotes using these fruits will have more texture and some crunch. You can use a combination of fruits instead of only 1 or 2.
The Ingredients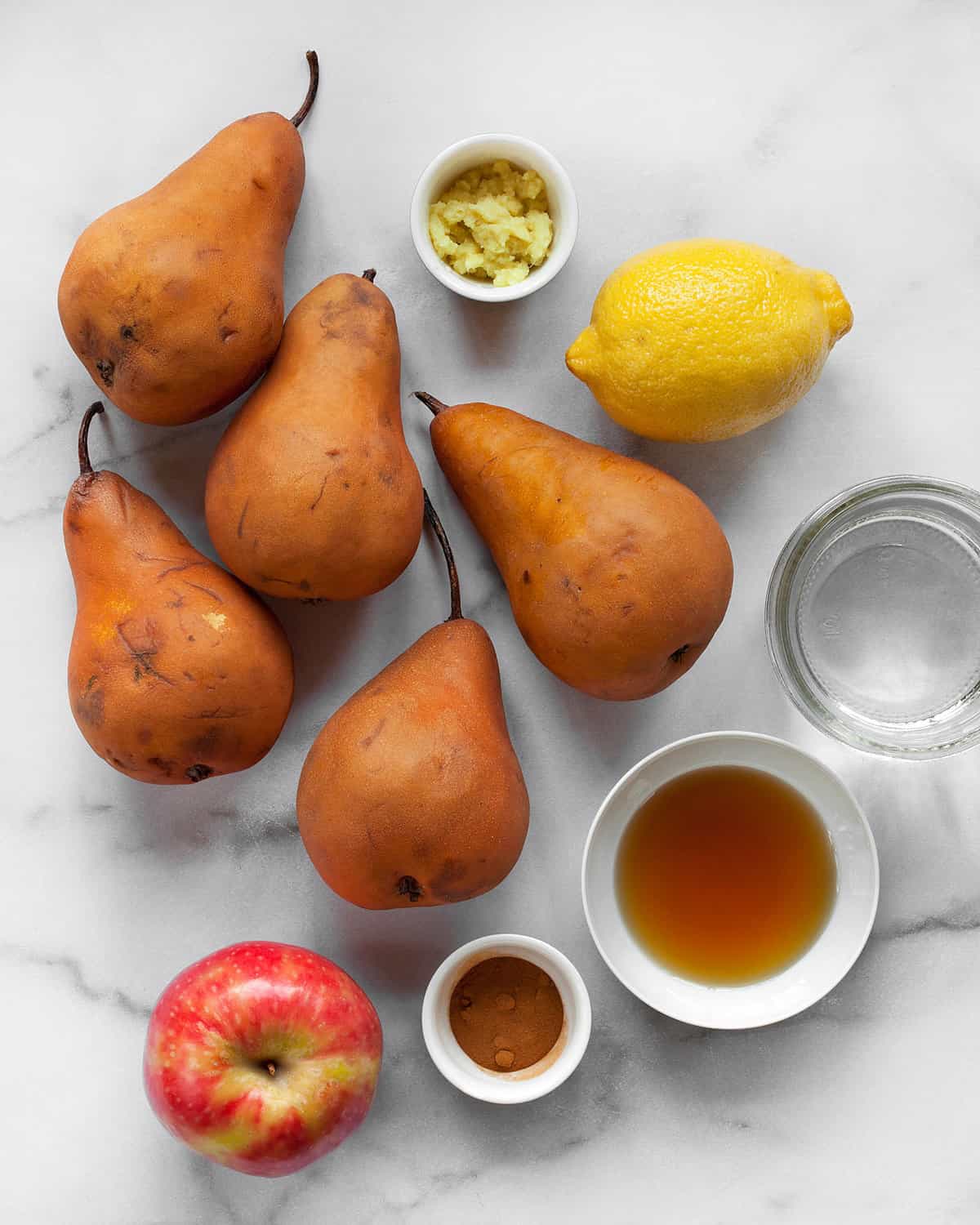 This is what you need:
Pears: The best kinds of pears for jams and compotes are Bosc, Anjou, Bartlett and Comice. To check if pears are ripe, press on the neck of the fruit. It should give a little, but not be completely soft.
Apples: I add an apple to the compote to layer in more flavor. My preferences are Pink Lady, Honeycrisp or Fuji apples.
Ginger: Use a vegetable peeler or even a spoon to peel off the skin from the fresh ginger. Then you can grate it with a microplane or finely chop it with a sharp knife.
Cinnamon: I like to add ground cinnamon, but you could use a combination of cinnamon, cardamom, ground cloves and nutmeg
Lemon juice doesn't make the compote overly citrusy. It just adds a bright, fresh taste that is pretty subtle.
Maple syrup: Rather than using sugar, I sweeten the compote with maple syrup. If you don't mind of it isn't vegan, you can substitute with honey.
Can You Turn This into Apple Compote?
Yes! The pears and apples are interchangeable in compote. You can use all of one or the other or makes it a 50-50 split.
How To Make this Pear Compote Recipe
1. Combine the ripe pears, apples, ginger, cinnamon, lemon juice, maple syrup and water in a large saucepan.
2. Stir everything together.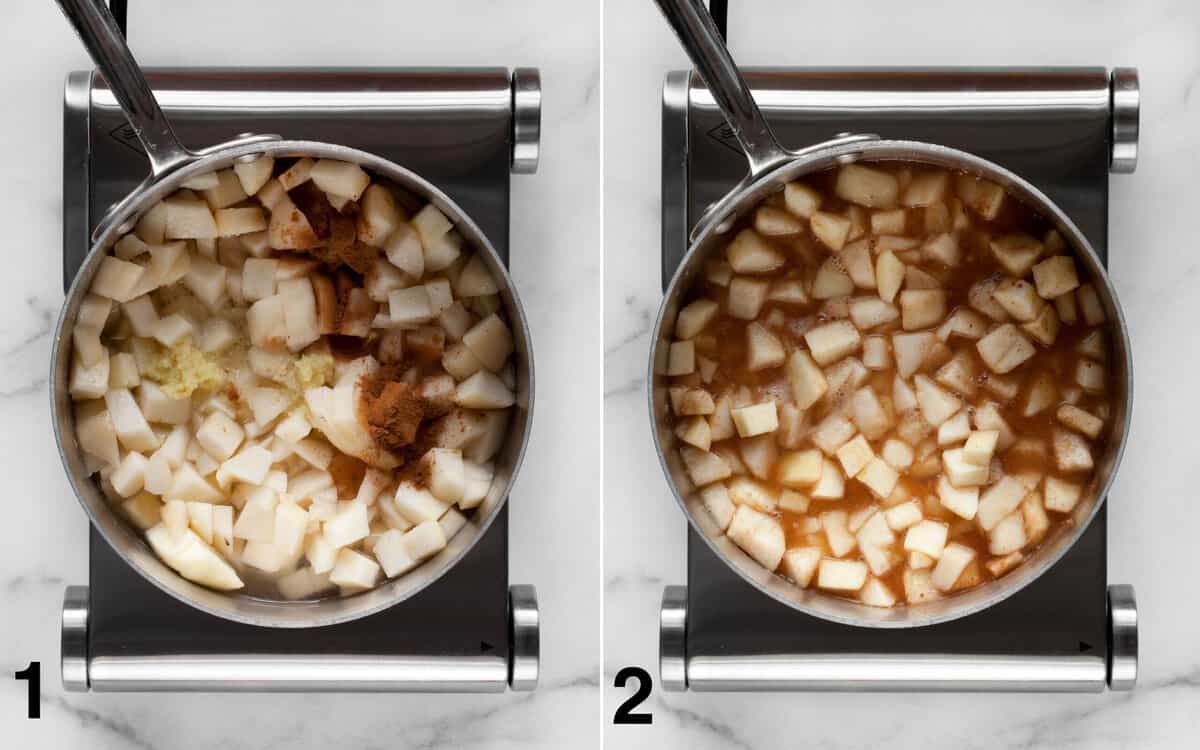 3. Over medium heat, bring the fruit to a simmer. Cook the compote until the fruit softens. This will take about 15-20 minutes.
4. You can mash the pears with the back of a wooden spoon. It is up to you how chunky you want to leave the fruit.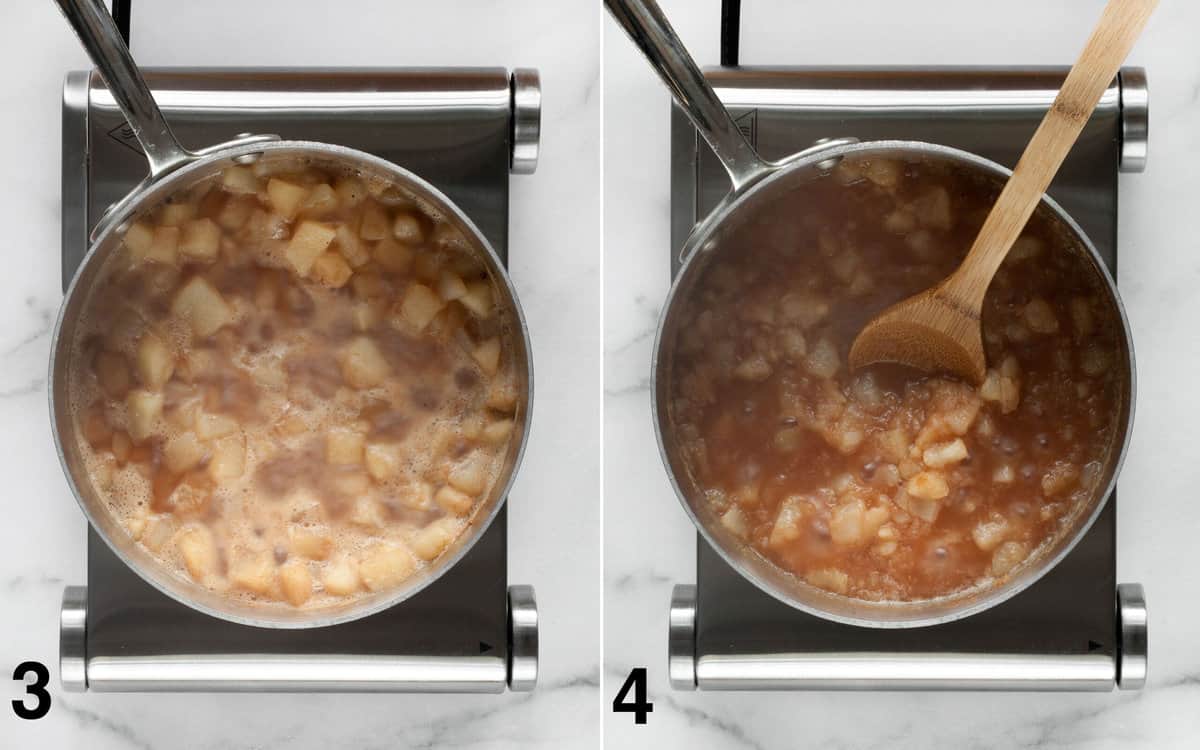 What To Serve with Compote
Think of this spiced compote like a sweet topping or dollop. It is great for breakfast, brunch and healthy snacks:
Swirl it into Greek yogurt
Spread it on a slice of toast
Spoon it onto waffles or pancakes
Add a scoop in a bowl of oatmeal
Top a scoop of vanilla or salted caramel ice cream
Leftovers, Storing & Freezing
Wait until the compote cools to room temperature before you transfer it to an airtight container. Store it in the refrigerator up to 7 days. Or you can freeze it up to 1 month.
FAQs
Do you need to peel fruit before making compote?
Yes. For fruits like apples and pears you need to peel the skin before simmering.
How do you puree compote?
If you prefer your compote smooth, without any chunks, you can use an immersion blender in the pot to puree it. Then you can eat it like applesauce.
What is the difference between compote and jam?
Compote has a chunkier consistency. With jam you can't see actual pieces of fruit. It is completely mashed and more spreadable than compote.
Can you serve compote with desserts?
You can absolutely use compote like a sweet condiment for cakes, ice creams and tarts.
More Pear Recipes
Pear Gorgonzola Salad
Roasted Beet Salad with Oranges and Pears
Shaved Brussels Sprout Pear Salad
Kale Brussels Sprout Pear Salad
Pear Blue Cheese Focaccia
Did you try to make this fruit compote. Please leave a rating and comment below. Thanks!
Pear Ginger Compote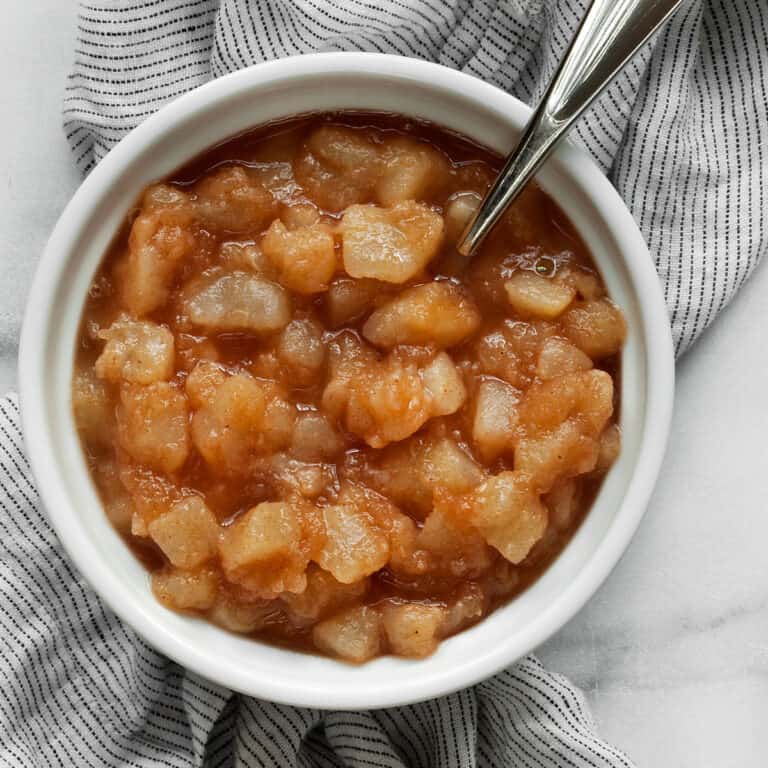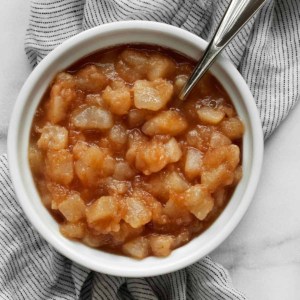 There are so many ways to enjoy this pear ginger compote that it will become your favorite fruit condiment. It's part spread and part sauce.
Ingredients
4

pears,

Bosc, Anjou, Bartlett or Comice, peeled seeded and chopped

1

apple,

Pink Lady, Honeycrisp or Fuji, peeled, seeded and chopped

1

tablespoon

minced fresh ginger

1

teaspoon

ground cinnamon

Juice of 1 lemon

2

tablespoons

maple syrup

1/4

cup

water
Instructions
In a large saucepan, combine the pears, apples, ginger, lemon juice, maple syrup and water.

Cook the fruit over medium heat, occasionally stirring, until it is soft and the compote has thickened.

Remove from the heat. The compote will thicken a bit as it cools.
Notes
Recipe makes about 2 cups.
Along with cinnamon, you can include a combination of ground cardamom, nutmeg or cloves.
Let the compote cool to room temperature before spooning into an airtight container. The compote can be stored in the refrigerator up to 1 week. To store it longer, you can store it in the freezer up to 1 month.
Serve the compote warm or cool with yogurt, oatmeal, ice cream, pancakes, waffles or toast.
Nutrition
Calories:
106
kcal
|
Carbohydrates:
28
g
|
Protein:
1
g
|
Fat:
0.3
g
|
Saturated Fat:
0.04
g
|
Polyunsaturated Fat:
0.1
g
|
Monounsaturated Fat:
0.1
g
|
Sodium:
3
mg
|
Potassium:
204
mg
|
Fiber:
5
g
|
Sugar:
19
g
|
Vitamin A:
49
IU
|
Vitamin C:
11
mg
|
Calcium:
26
mg
|
Iron:
0.3
mg
Nutrition information is automatically calculated, so should only be used as an approximation.
Originally published February 20, 2015. Updated: December 16, 2022.