Pear Pomegranate Arugula Salad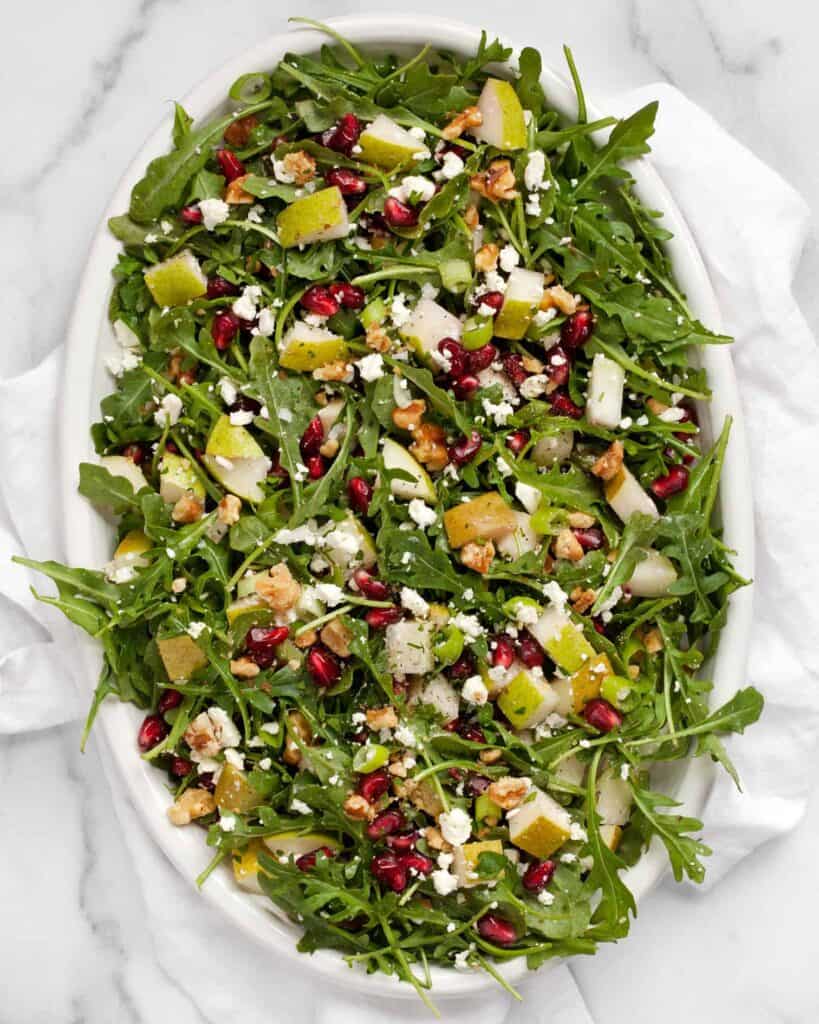 Arugula has been one of my go-to greens ever since I lived in London.

It's hard for me to believe that my husband and I moved back to the States nearly 10 years ago after our 3-year stint calling the UK home.

We were fortunate to have jobs that took us there. I have always loved food, but I really feel like my food awakening happened in London.

Saturday mornings we would find ourselves in South London at Borough Market.

It was just magical seeing all the stalls with everything from fruits and veggies to fresh baked bread and pastries to cheeses.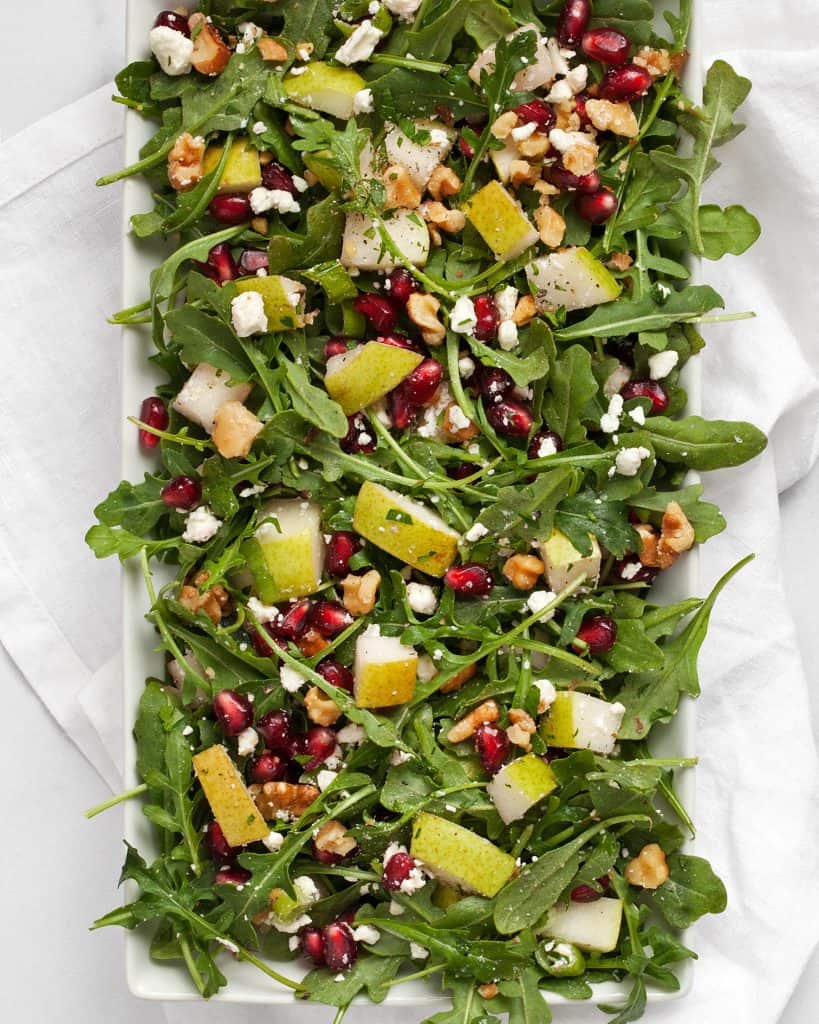 The best part about the market was that it was year round unlike Chicago where we still have a long wait until the farmers markets open again in June.

My preference for greens changed when we were in London. To this day I still can't believe how arugula is everywhere in England.

Instead of bland iceberg lettuce for filler greens, it was peppery and flavorful arugula—better known as rocket across the pond.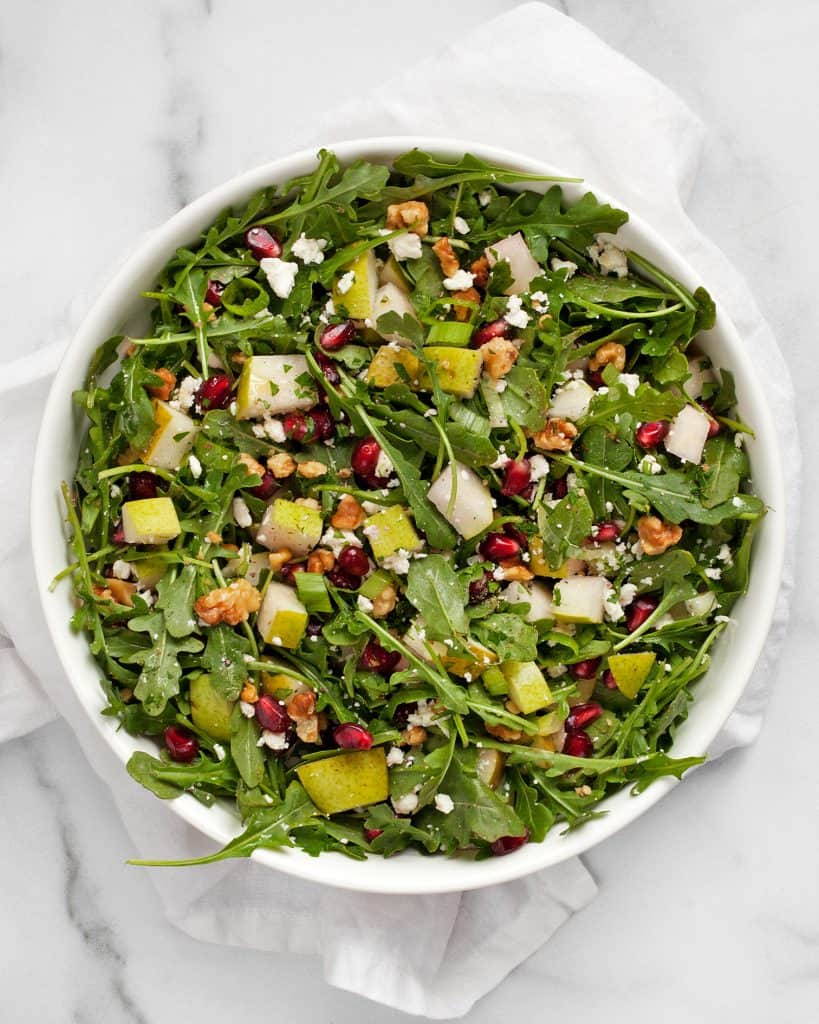 As if I needed another reason to be excited about salads!

Arugula must grow like a weed in that climate.

Lately, I've been all about kale, but I don't want to turn my back completely on arugula.

That's why I made this pear pomegranate arugula salad.
Pear Pomegranate Arugula Salad: The Ingredients
Not as sweet as berries, apples or other fruit in salads, pears are definitely a little more subtle.
Diced pears are a great balance with arugula, tart juicy pomegranate seeds and salty crumbled feta.
With this salad, I keep adding more to the bowl including scallions, fresh chopped parsley and toasted walnuts.

It's so important to take the time to toast nuts before you add them to any recipe. Just 5-7 minutes at 350 degrees F in the oven, makes them perfectly golden and nutty.
For the dressing, I whisk together a simple lemon vinaigrette.

I think now I'm going to go a bit easier on my kale kick and alternate with other greens like arugula.
Print
Pear Pomegranate Arugula Salad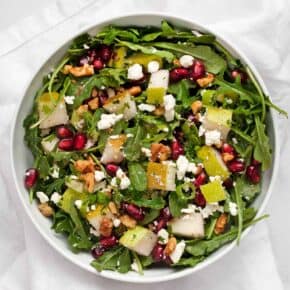 Prep Time:

10 minutes

Total Time:

10 minutes

Yield: Serves

4

1

x
Scale
Ingredients
For salad
5 ounces baby arugula
3 pears, cored and diced
1/3 cup pomegranate seeds
2 scallions, thinly sliced
1 tablespoon chopped parsley
1/4 cup chopped toasted walnuts
1/4 cup crumbled feta
For vinaigrette
Juice of 1 lemon
1 teaspoon Dijon mustard
1 teaspoon kosher salt
1/2 teaspoon black pepper
1/4 cup olive oil
Instructions
In a large bowl, toss the arugula, pears, pomegranate seeds, scallions, parsley, walnuts and feta.
For the vinaigrette, stir together the lemon juice, mustard, salt and pepper in a small bowl. Whisk in the olive oil until fully combined.
Toss the vinaigrette into the salad.
SHARE THIS