With rosemary-infused honey, almonds and sliced pears, this pear manchego salad is a fall/winter plate of greens that beautifully combines both savory and sweet.
Every January it's impossible not to feel guilty about what you eat.

I always dread the influx of diet commercials and articles touting the best way to shed extra pounds.
Is January really the best time to start a new habit? There's way less pressure to postpone things even if it's just by a few days after the 1st.
It is a huge relief when post-holiday health mania fades.

New beginnings are great, but they can happen no matter what time of year. The bigger challenge is to start and maintain them.
I like to selectively indulge year round. That gives me motivation to hit the gym on a regular basis. I like to eat, and I like to feel in shape.
Only the rare few, gifted with magical metabolism, can belong to the clean plate club while still staying fit and trim—I am not one of them.
With the cold weather, short days and lack of fruit and vegetables in season, January might be the worst month of the year to revamp what you eat.
It's a struggle in the dead of winter not to be on a diet of beige and brown food.
I have to work even harder by eating lots of vibrant soups and salads. The more color the better to get through those grey and snowy days.
Pear Manchego Salad: The Ingredients
I'm a huge fan of winter salads with a mix of greens and maybe even a little fruit for something sweet.
This pear Manchego salad provided much-needed freshness to my current eating regimen.
I started by infusing honey with a couple sprigs of fresh rosemary. Then I toasted chopped almonds in a little olive oil and tossed them with lemon zest, salt and pepper.
In a big bowl, I combined the greens with the almonds, sliced pears, red onions and salty Manchego cheese.

To finish it off, I drizzled on the rosemary honey, balsamic vinegar and olive oil.
Print
Pear Manchego Salad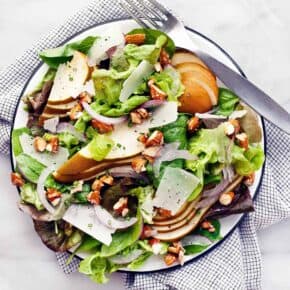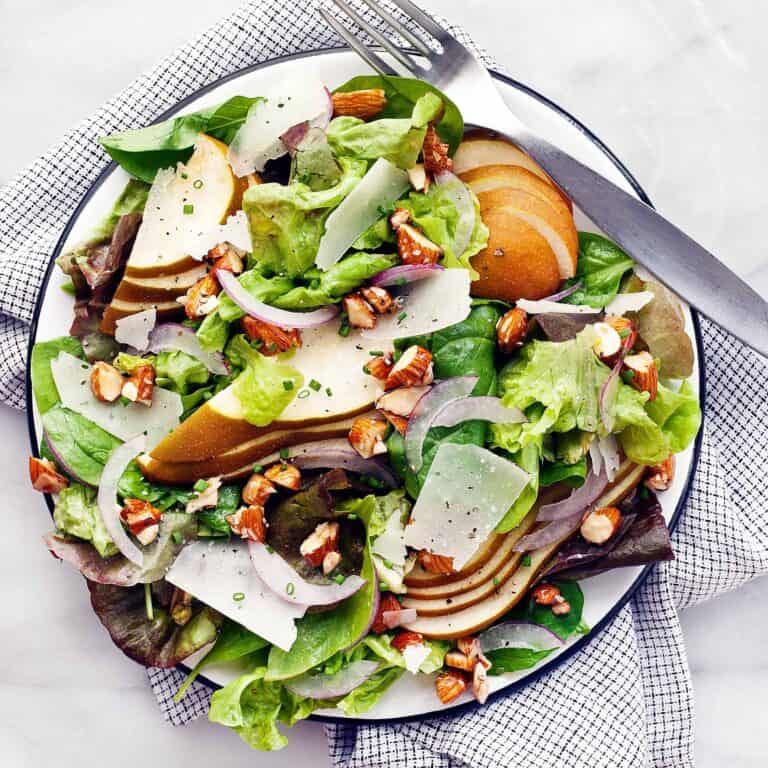 Author:
Prep Time:

5 minutes

Cook Time:

5 minutes

Total Time:

10 minutes

Yield: Serves

2

1

x
Scale
Ingredients
1 tablespoon honey
2 fresh rosemary sprigs
1 tablespoon hot water
1/4 cup almonds, roughly chopped
2 tablespoons + 1/4 teaspoon olive oil
1/4 teaspoon lemon zest
1/8 teaspoon salt
1/8 teaspoon black pepper
1 teaspoon balsamic vinegar
4 ounces mixed baby greens
1 pear (Bosc, Comice or Anjou), cored, halved and thinly sliced
1/4 small red onion, thinly sliced
1/2 ounce Manchego cheese, shaved
Instructions
In a small saucepan, heat the honey, rosemary and water. Simmer for 30 seconds and remove from heat.
In a small skillet over medium high heat, sauté the almonds in 1/4 teaspoon olive oil until they are toasted, about 5 minutes. Let the almonds cool before mixing with the lemon zest and salt and pepper.
For the dressing, whisk the remaining olive oil with the balsamic vinegar. Toss the mixed greens with the dressing, almonds, pears, red onions and Manchego. Remove the rosemary sprigs and drizzle with honey before serving.
SHARE THIS