I have an entire shelf in my pantry dedicated to grains.

It is a challenge to keep it organized. I always find myself buying a bag of something that I don't need.

The problem is when I have just a little bit left in a package and wrap it up with a rubber band, it's small and gets lots.
When things get too chaotic in that cabinet, I do some rearranging and consolidating.
I am never in short supply of quinoa.

This quick-cooking grain is one of my favorites for mixing with roasted or grilled vegetables and pesto, tahini and vinaigrettes.

But as I've been saying for the last couple weeks, I want variety out of the same ingredients that I have in my kitchen.
So now I've been combining two of my meal mainstays—veggies grain bowls and pizza—into one with quinoa pizza crust.

This gluten-free pizza base involves 6 core pantry ingredients plus a few dried spices that you may already have on-hand.
How To Make Quinoa Pizza Crust
Quinoa pizza crust requires a simple step in advance. You need to soak your quinoa grains in a bowl of water for at least 8 hours.

I usually do this the night before.

Softening quinoa in water makes it much easier to transform into batter for the crust.
With a food processor, I puree the drained quinoa with 1/4 cup water, baking powder, salt and spices.
I go all in on dried seasonings instead of relying just on the pizza toppings for flavor. My spice mix includes oregano, onion and garlic powder, oregano, red pepper flakes and black pepper.

It takes a few minutes in the food processor to get to a smooth batter.
Since the consistency is more like batter than dough, it is important to bake the crust in a rimmed pan.
I use an 8-inch or 9-inch round cake pan greased with non-stick cooking spray and lined with parchment paper.
The crust is baked on one side and then is flipped onto a sheet pan to finish baking on the opposite side.

Rather than traditional pizza crust made with flour, water, yeast and salt, quinoa pizza crust is closer to cauliflower pizza crust—almost like a thin chewy cake.

For toppings, I like tomato sauce, olives, roasted tomatoes and spinach.

My tendency is to go light on the cheese, just crumbling on Parmesan after the pizza is out of the oven, but of course you can melt shredded cheese on top.
Print
Quinoa Pizza Crust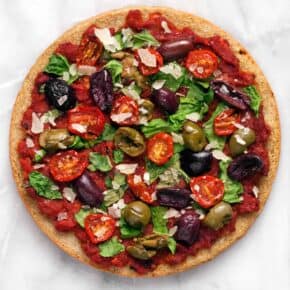 Prep Time:

5 minutes + 8 hours soaking

Cook Time:

25-35 minutes

Total Time:

30-40 minutes + 8 hours soaking

Yield:

One pizza
Scale
Ingredients
3/4 cup uncooked quinoa
1/4 cup water plus more for soaking
1 teaspoon baking powder
1/4 teaspoon kosher salt
1/4 teaspoon black pepper
1/4 teaspoon dried oregano
1/4 teaspoon onion powder
1/4 teaspoon garlic powder
Pinch of red pepper flakes
Non-stick cooking spray
Instructions
In a small bowl, soak the quinoa in water overnight (for at least 8 hours).
Preheat the oven to 425 degrees F.
Drain the soaked quinoa and transfer it to a food processor with baking powder, salt, black pepper, oregano, onion powder, garlic powder and red pepper flakes. Puree the mixture until smooth, about 3 minutes.
Grease an 8-inch or 9-inch cake pan with non-stick cooking spray and line the bottom with parchment paper. Pour the batter into the prepared pan and smooth into an even layer.
Bake the crust for 15 minutes until golden brown. Flip the crust out of the cake pan onto a parchment lined sheet pan. Continue baking for 5-10 minutes until it is golden brown on the other side.
Add toppings on the crust. Bake for 5-10 minutes until the toppings are warmed and the cheese has melted, if using.
SHARE THIS