Slow-Roasted Tomato Zucchini Orzo

Orzo is pasta, but with its shape and tiny size, it kind of functions like rice.
In the winter I like to throw it into veggie soups so they are more filling, but in the summer I take a different approach.
I still use orzo to turn a mess of veggies into a meal, but they aren't in the background.
Those grains act as a unifier, bringing all sorts of ingredients together into a dish that makes somehow makes sense.
I have trouble waiting for tomato season to be official. To improve the flavor of tomatoes that aren't quite at their prime, I roast them.
It's no secret that I keep a stash of these roasted cherry tomatoes in my fridge pretty much all year round.
It could be January, and I still buy cherry tomatoes. Yes, they tend to be expensive. No it's not very responsible when it comes to food miles, but they are a staple in my diet.


They came in handy when this somewhat random idea for slow-roasted tomato zucchini orzo popped into my head.
I recommend roasting the tomatoes in advance, so then the rest of the this dish will come together pretty quickly.
While the orzo cooked in a pot on the stove, I grilled the zucchini. I did this zucchini inside on my grill pan, but you could cook it outside on the grill. It just depends whether you think it's worth firing up the entire grill.
I diced strips of grilled zucchini and then added them to a bowl with the orzo and tomatoes.
For the sauce and an easy way to add flavor, I folded in a heaping spoonful of pesto, something else that I keep in my fridge at all times.
To stretch the slow-roasted tomato zucchini orzo into another meal, I added it to a bowl of baby greens to create a salad.
SaveSave
SaveSave
Print
Slow-Roasted Tomato Zucchini Orzo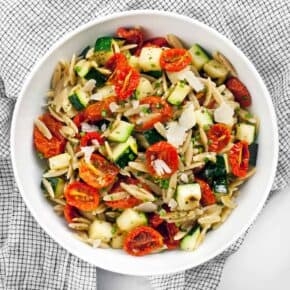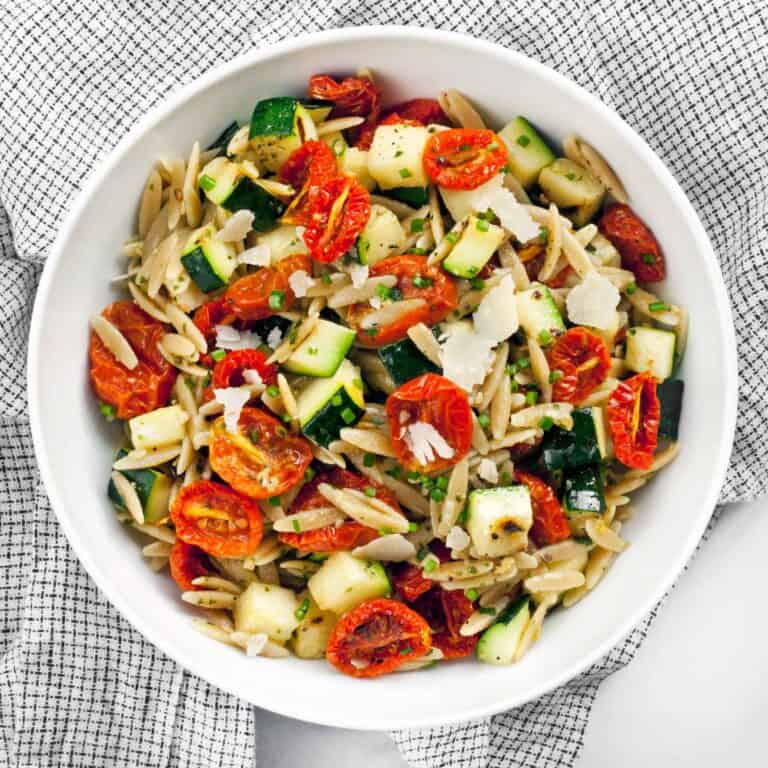 Prep Time:

10 minutes

Cook Time:

2 hours 10-40 minutes

Total Time:

2 hours 20-50 minutes

Yield:

Serves 2-3
Ingredients
For slow roasted tomatoes
1 pint grape tomatoes, halved
1 tablespoon olive oil
1/4 teaspoon kosher salt
1/4 teaspoon black pepper
For orzo
1 cup whole wheat orzo
1 zucchini, trimmed, quartered lengthwise and deseeded
1 teaspoon olive oil
2 tablespoons basil pesto
3/4 teaspoon kosher salt
1/2 teaspoon black pepper
Grated Parmesan for serving
1 tablespoon minced chives
Instructions
Preheat the oven to 225 degrees F.
For the slow roasted tomatoes, place the tomato halves in rows cut-side up on a parchment-lined sheet pan. Drizzle with olive oil and sprinkle with salt and pepper. Roast the tomatoes for 2 – 2-1/2 hours until they are wrinkled and mostly dried except for a little juice in the center. (If not using immediately, store in the refrigerator up to 3 weeks.)
Cook the orzo until al dente following package instructions. Drain and set aside.
Preheat a grill pan over medium high heat. Toss the zucchini with 1 teaspoon olive oil, 1/4 teaspoon salt and 1/4 teaspoon pepper. Grill the zucchini on one side for 2 minutes until grill marks appear. Flip it and grill for an additional 2 minutes. Let the zucchini cool slightly and dice into 1/4-inch pieces.
In a large bowl combine the orzo with the tomatoes, zucchini, pesto, chives and remaining salt and pepper. Serve topped with grated Parmesan.
Serve warm, room temperature or cold. If served cold, it will likely require more salt and pepper to bring out the flavors of the dish.
SHARE THIS