Roasted Eggplant Tomatoes and Chickpeas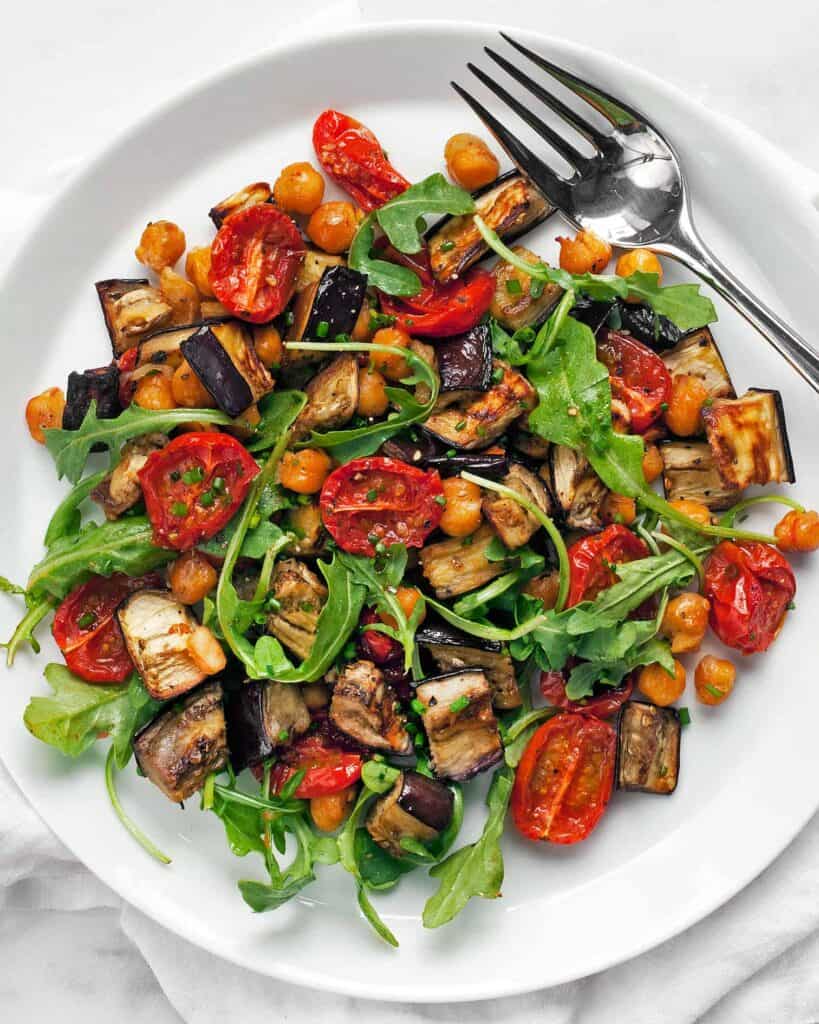 I've been dipping my toe back into roasting. Just my baby toe.

With Labor Day and the first day of school, fall seems unofficially official.

That doesn't mean I've completely given up on corn and berries, but I am looking ahead to the transitions between the seasons.

Just like the complications of picking out the right thing to wear, I embrace the in-betweens with figuring out what to eat. You can mix unexpected ingredients together.

My brain is only just beginning to dream about warm bowls of sweet potato soup and roasted butternut squash. I'm not quite there yet.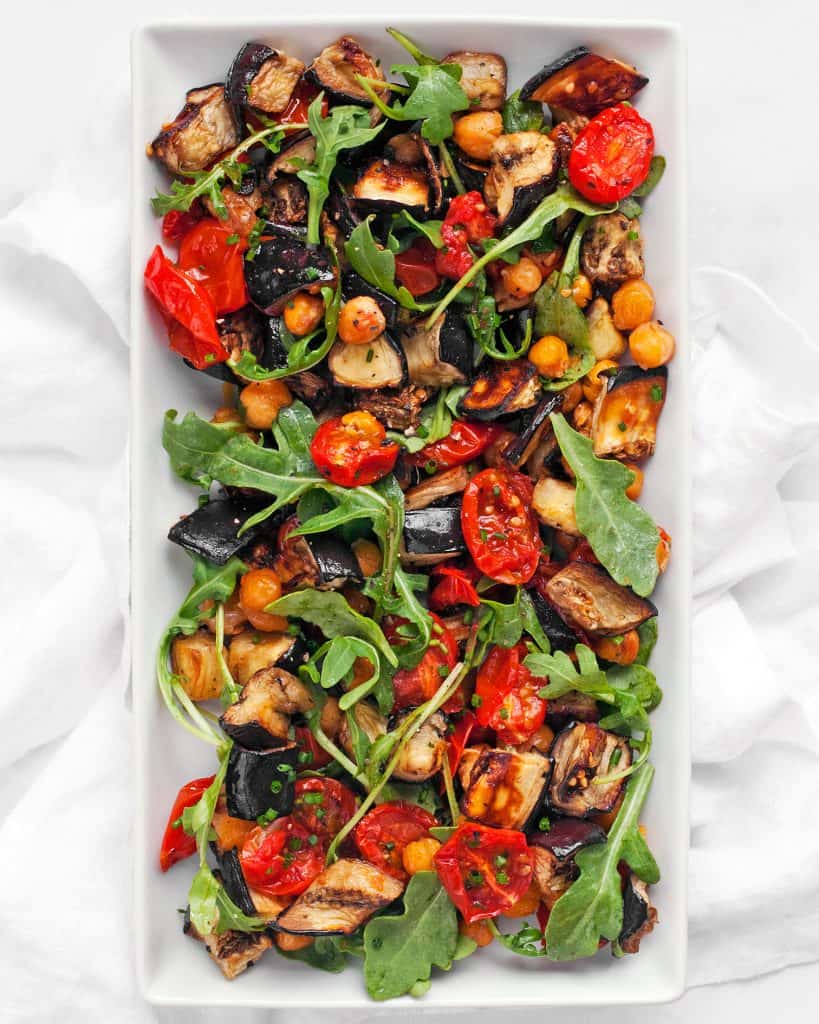 Since I made grilled caponata a couple months ago, I've rediscovered eggplant.
As silly as this sounds, eggplant used to intimidate me even in classic dishes like ratatouille.
Eggplant is basically a sponge, but treated with care, you don't have to end up with an oily and unappetizing vegetable.
To salt or not to salt. That's always a big question when it comes to eggplant.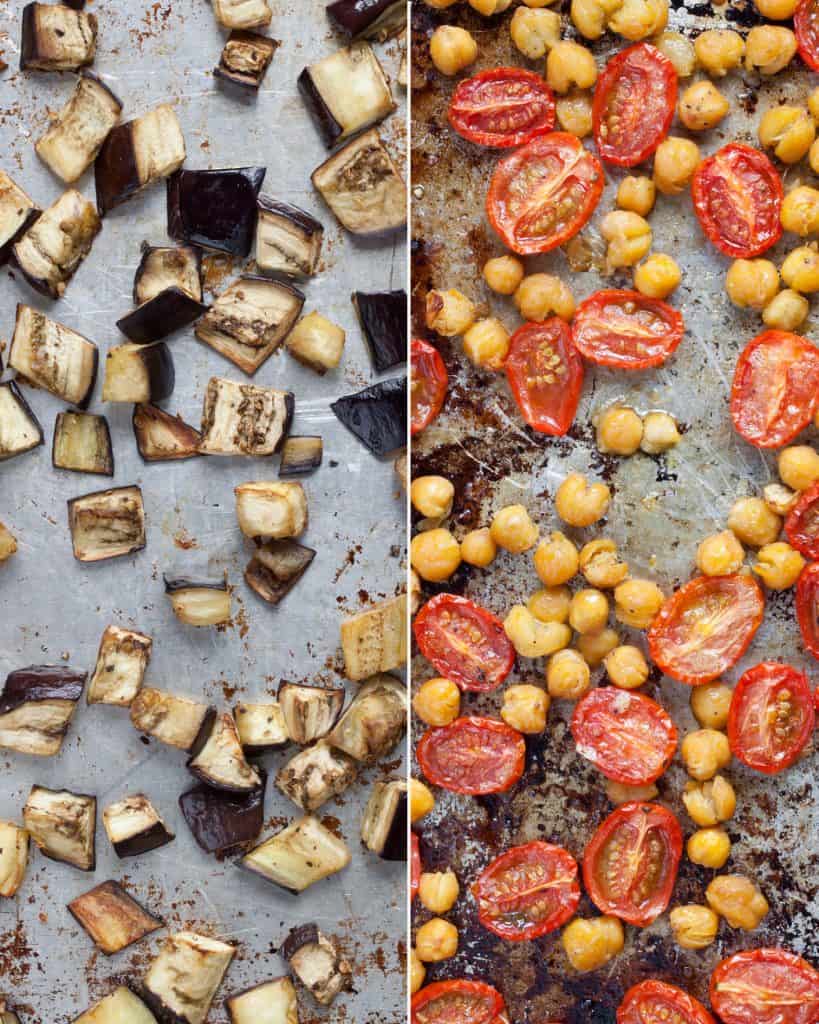 Call me impatient, even lazy, but I don't bother with it. Salting supposedly removes liquid from eggplant that can be bitter.
I find that it's an unnecessary extra step that adds time, something we are all severely lacking.
Not only do you have to wait to let the salt do its work, then you have to rinse off the salt afterward.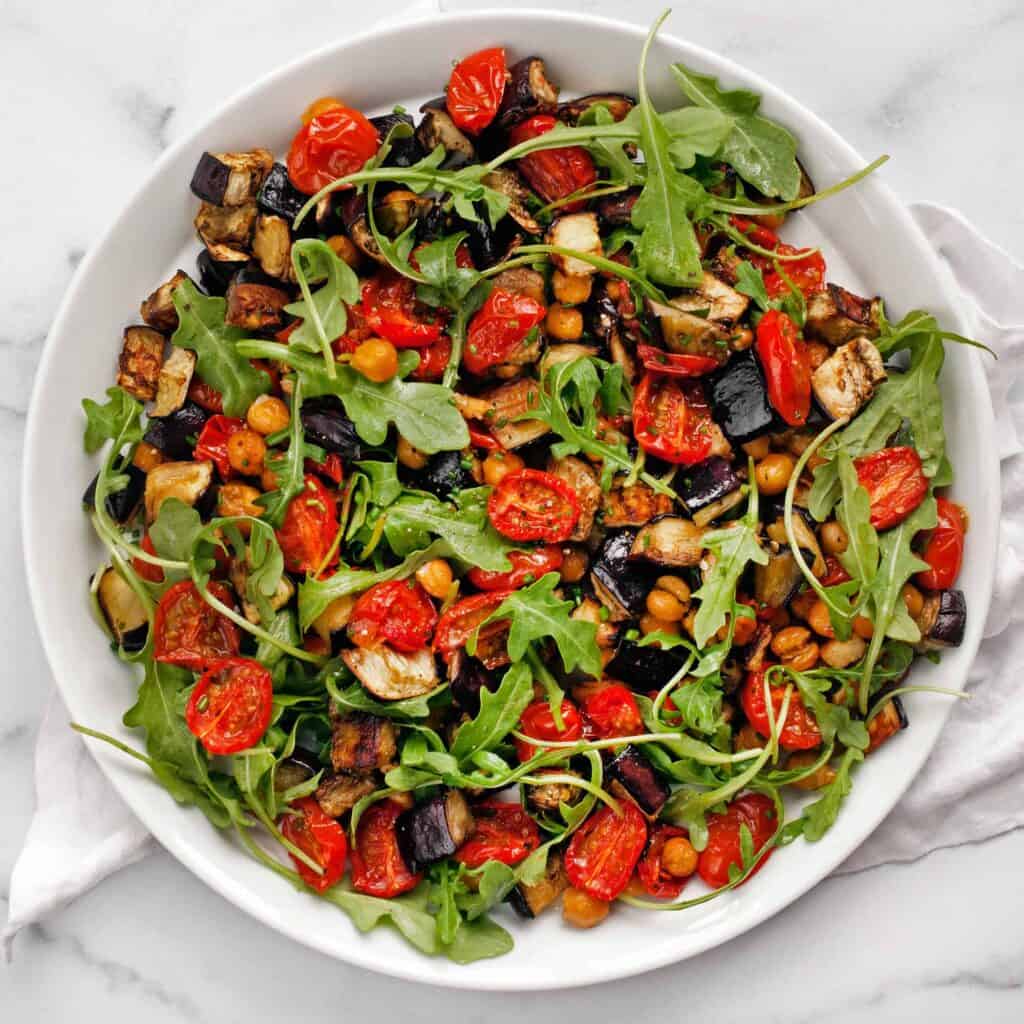 How To Make Roasted Eggplant Tomatoes and Chickpeas
When I made roasted eggplant tomatoes chickpeas, I used two separate sheet pans. I kept the eggplant solo, so it didn't absorb the juices from the tomatoes.
I also made sure to do the prep quickly. After tossing cubed eggplant with olive oil, salt and pepper, I got it in the hot oven right away.
Roasted eggplant takes on a wonderfully silky, lush texture. I love any veggie that gives me comfort food vibes.
I like leaving the skin on eggplant to maintain some structure and bite.
On the other sheet pan, I roasted halved cherry tomatoes and chickpeas until the tomatoes were wrinkled at the edges and the chickpeas were crispy.
Once the veggies were out of the oven, I combined them in a big bowl and stirred in baby arugula. The juicy warm tomatoes acted like a light dressing ever so slightly adding their flavor to all the ingredients.
Adding greens to my roasted eggplant tomatoes and chickpeas gives the vegetables certain fresh
Print
Roasted Eggplant Tomatoes and Chickpeas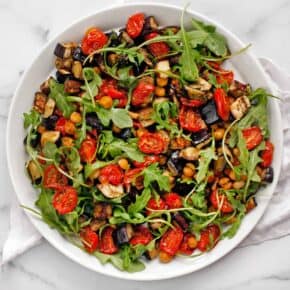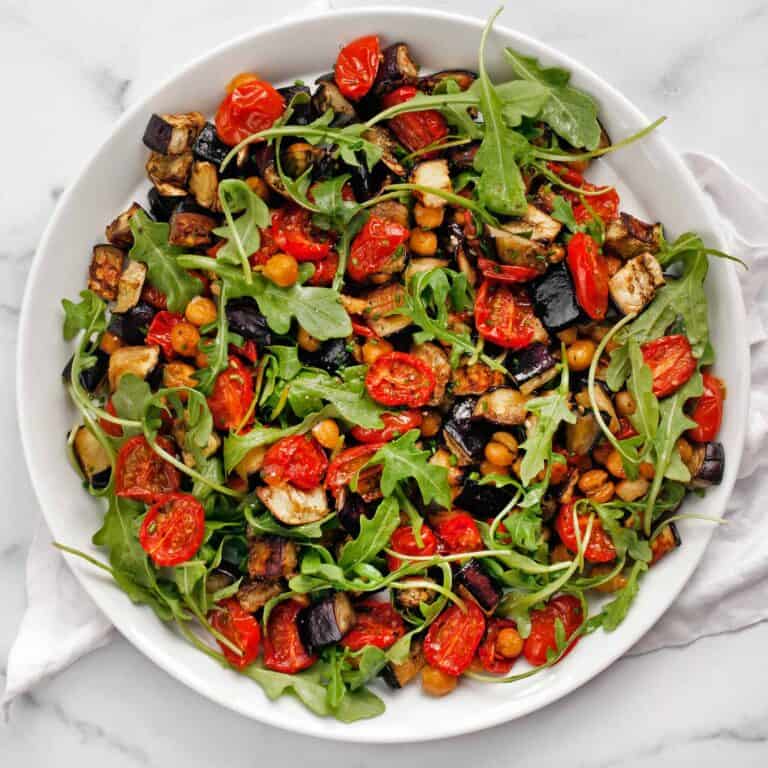 Prep Time:

10 minutes

Cook Time:

25-30 minutes

Total Time:

35-40 minutes

Yield: Serves

4

1

x
Scale
Ingredients
1–1/2 pounds eggplant (2 medium eggplants or 3 small eggplants), trimmed, cut into 1/2-inch dice
1 pint cherry tomatoes, halved
1 15-ounce can chickpeas, drained and rinsed
2 tablespoons olive oil
1 teaspoon kosher salt
1/2 teaspoon black pepper
2-1/2 ounces baby arugula
1 tablespoon minced chives
Instructions
Preheat the oven to 400 degrees F.
Place the eggplant on a sheet pan. Toss with 1 tablespoon olive oil, 1/2 teaspoon salt and 1/4 teaspoon pepper. Spread into a single layer.
On another sheet pan, toss the tomatoes and chickpeas with the remaining olive oil, salt and pepper. Arrange into a single layer with the tomatoes cut-side up.
Roast for 25-30 minutes until the eggplant has browned, the tomatoes are wrinkled at the edges and the chickpeas are crispy.
In a large bowl, combine the eggplant, tomatoes and chickpeas with the arugula and chives.
SHARE THIS