Herby Lemon Quinoa
on Mar 21, 2022, Updated Jul 08, 2022
The citrus, parsley and toasted pine nuts in this herby lemon quinoa make it an easy all-purpose side dish that goes with lots of different mains.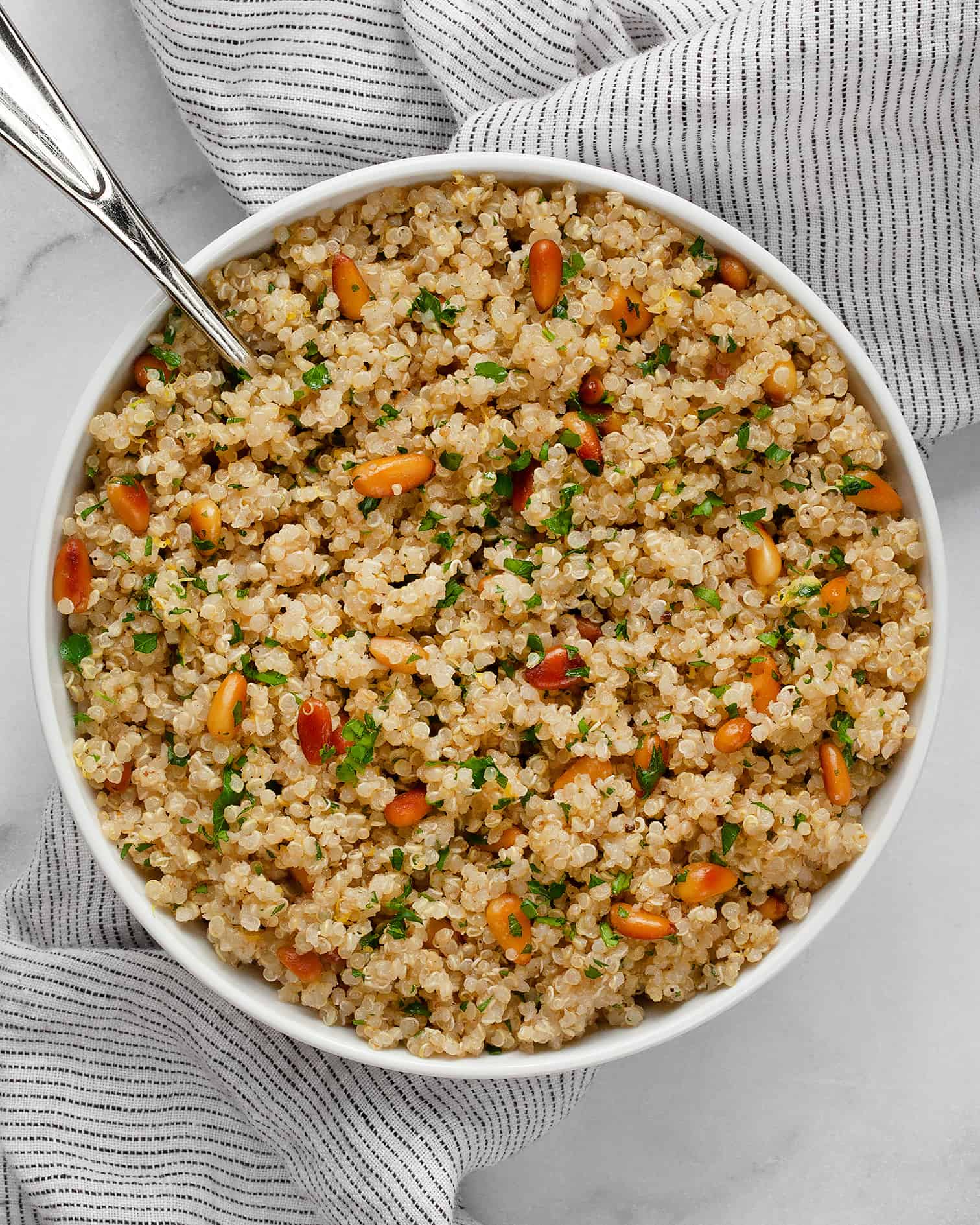 Growing up, my favorite side dish with any meal was white rice, plain with nothing else. I've come a long way since then. Now I have a pantry packed with different options for grains, pulses and so much more.
Vegetables are often my go-to for sides, but grains are a great choice too. They go with proteins including chicken and turkey. You also can pair them with raw and roasted vegetables.
This lemon herb quinoa recipe is fresh with citrus flavor and touch of garlic and pine nuts. It has far more personality than my childhood rice of choice, but it's endlessly versatile and adaptable to cuisines and seasons.
If you are looking for a healthy side dish to have on regular rotation, this quinoa is for you. I find myself making it so often that this easy recipe has a permanent spot in my brain. It takes a little more effort than brown rice, and that's definitely worth it.
What Is Quinoa?
At this point, I think quinoa has proved itself to be more than trendy a whole grain. It's not surprising considering how quick it is to cook, and the fact that it's packed with nutrition. It's one of those ingredients that you should always have in your kitchen.
Quinoa is actually a seed that's native to the Andes in South America. In terms of health, it's rich in fiber, protein and essential amino acids and is lower in carbohydrates and calories than white rice.
Before cooking quinoa, put it in a fine mesh sieve and rinse it with cold water. This removes any bitterness from saponin, the natural coating on the grains.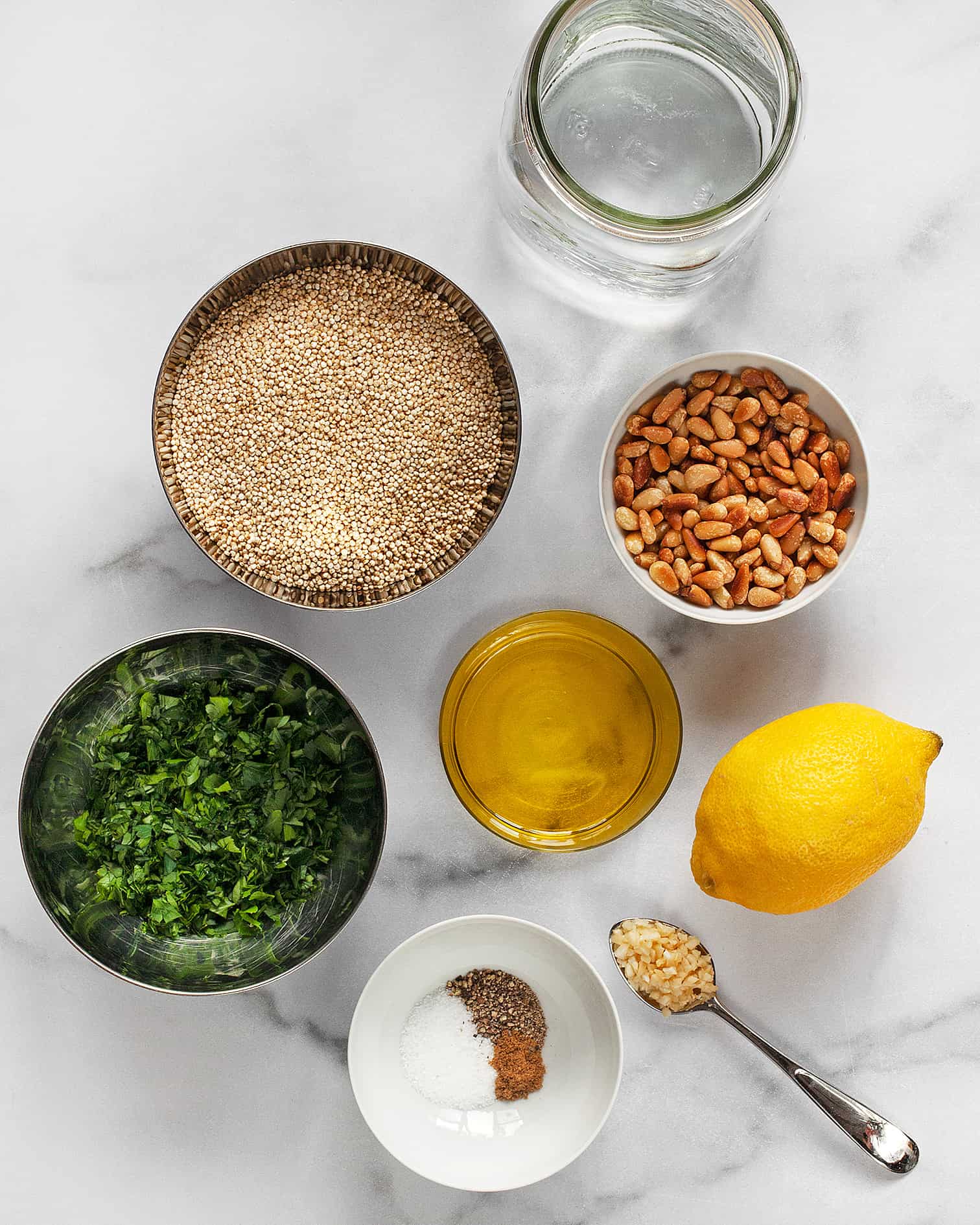 Ingredients & Substitutes
This is what you need:
Quinoa comes in white, red and black or a blend of all three. At the grocery, you can find it with the rice and grains or in the bulk section. Store dry quinoa in an airtight container in a cool, dark place like a pantry or cabinet.
Water: To keep things simple, I simmer the quinoa in water, but you can use vegetable broth or chicken broth if you want.
Garlic: There is one minced garlic clove in the recipe. It is subtle with the overall taste of the quinoa.
Cumin, salt and pepper make up the dried seasonings in the recipe. Cumin has a grounding earthy flavor.
Lemon: Nothing goes to waste because both the zest and fresh lemon juice are stirred into the grains.
Parsley and lemon are the stars in this simple recipe that calls for 1/3 cup chopped parsley leaves, so it has a lot of fresh herbs.
Pine nuts: Toast the nuts in a 350-degree F oven for 5 minutes or so. Keep an eye on them, so they turn golden brown and don't burn. You can swap them out and include almonds or walnuts instead.
Olive oil: Use high quality extra-virgin olive oil.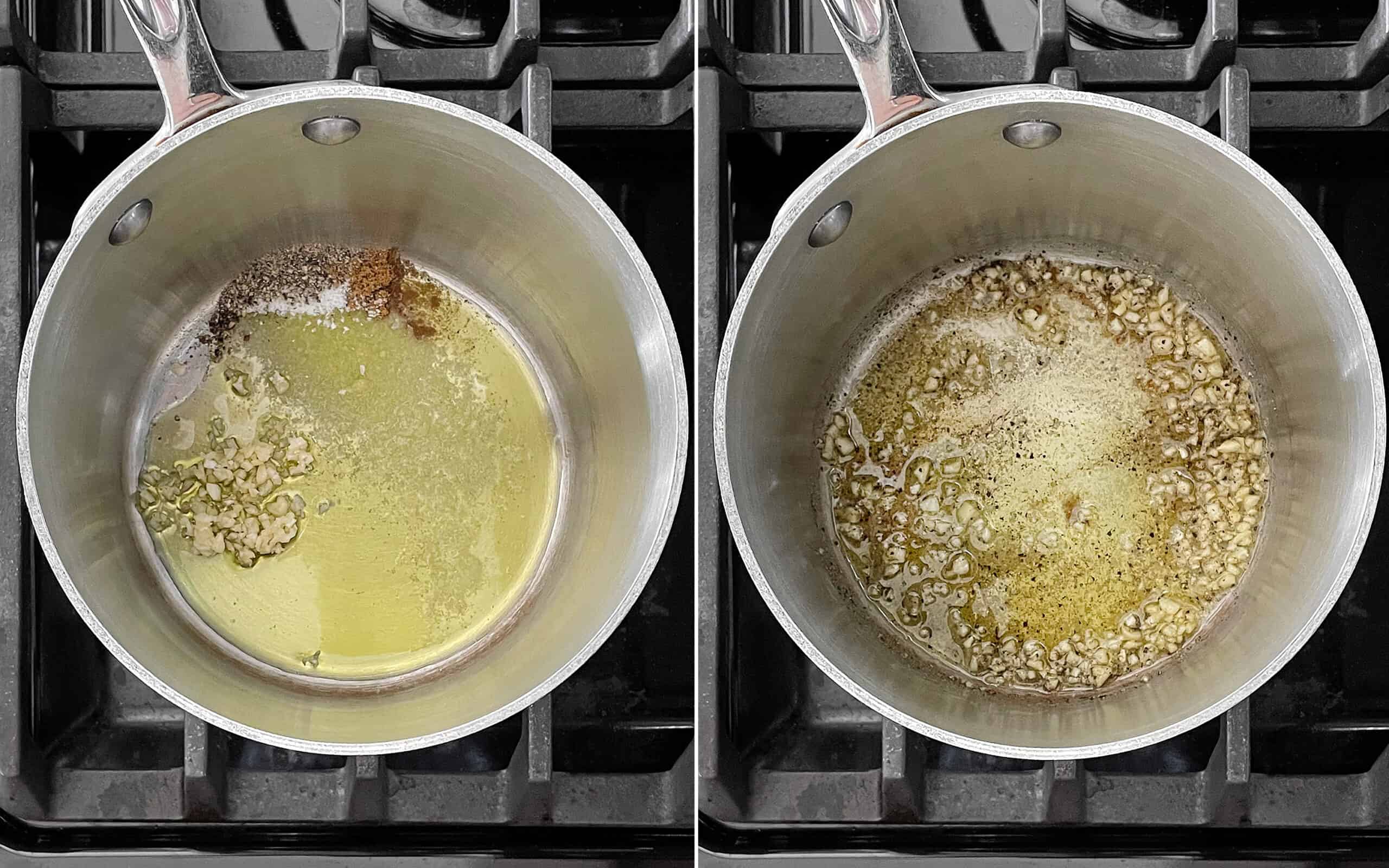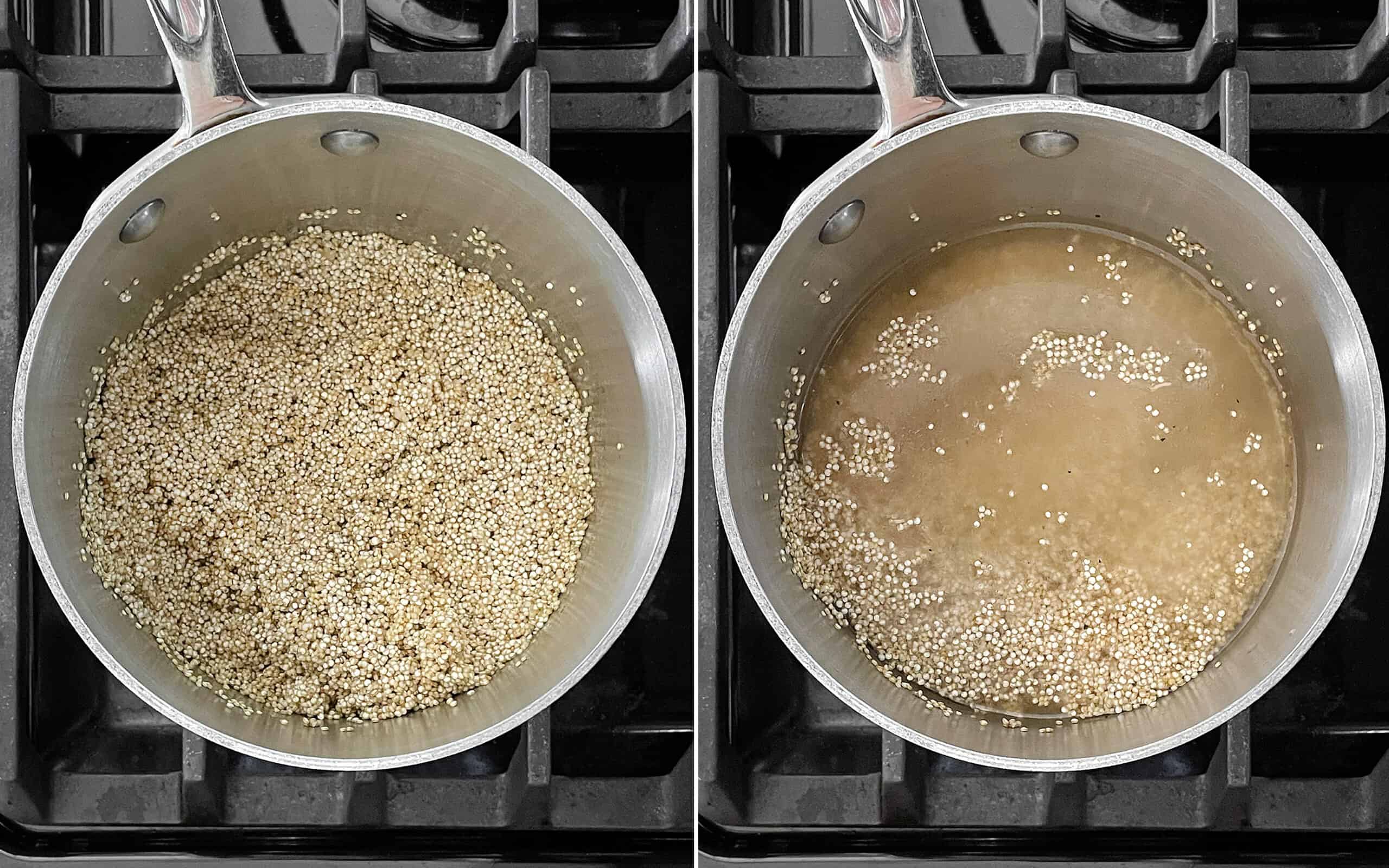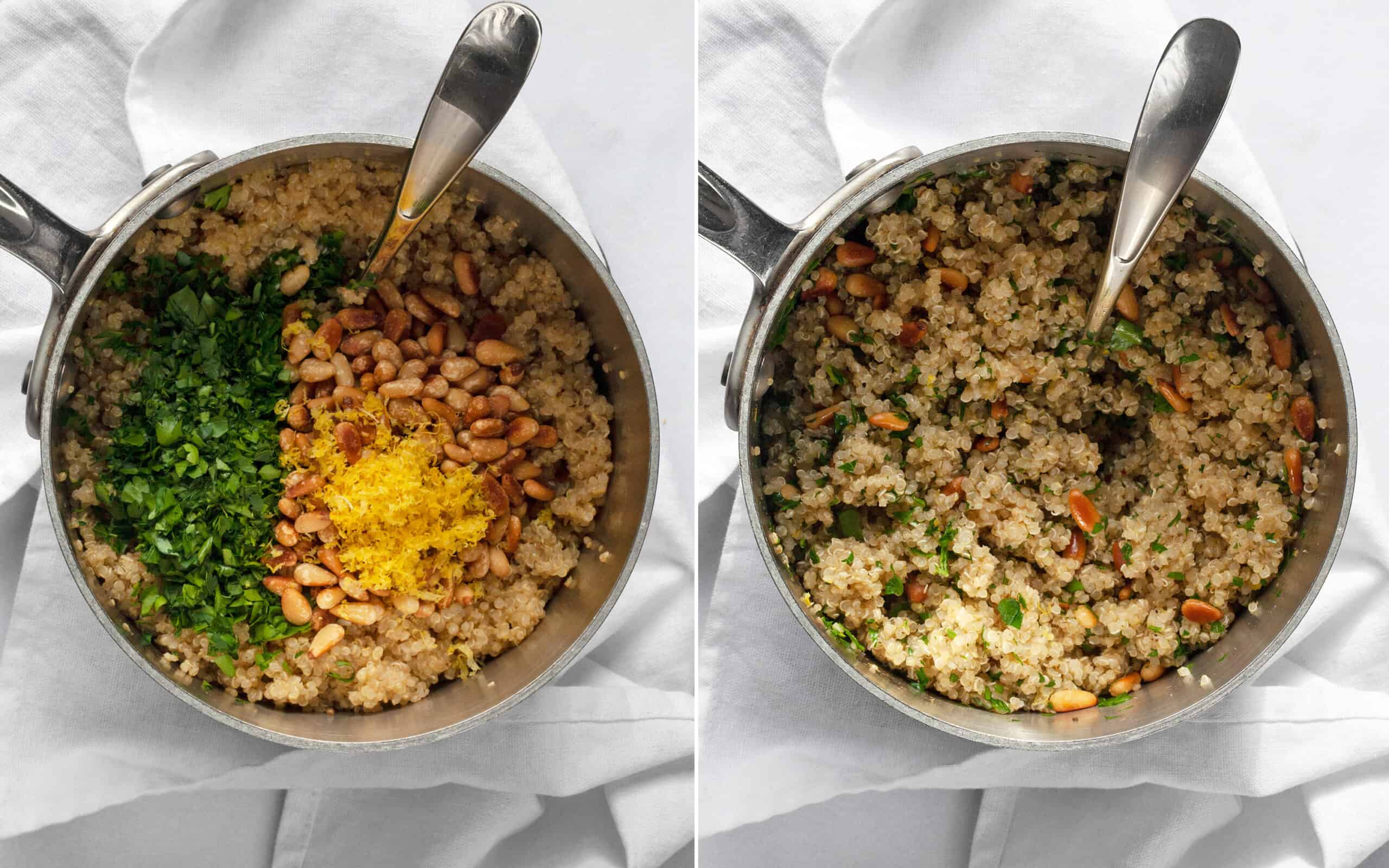 How To Make Herby Lemon Quinoa
Heat the olive oil in a medium pot over medium heat.
Sauté the garlic, cumin, salt and pepper. In just about a minute, everything will get fragrant.
Toast the rinsed quinoa in the oil and garlic for a couple minutes.
Pour in the water. Bring to a boil, cover and reduce the heat to low.
Simmer the quinoa until the grains are tender, and they have absorbed the water. This will take 12-15 minutes.
Take the pot off the heat and let the quinoa sit for 5 minutes. Keep the lid on.
Stir in the lemon juice and zest, parsley and pine nuts with a fork and fluff the quinoa.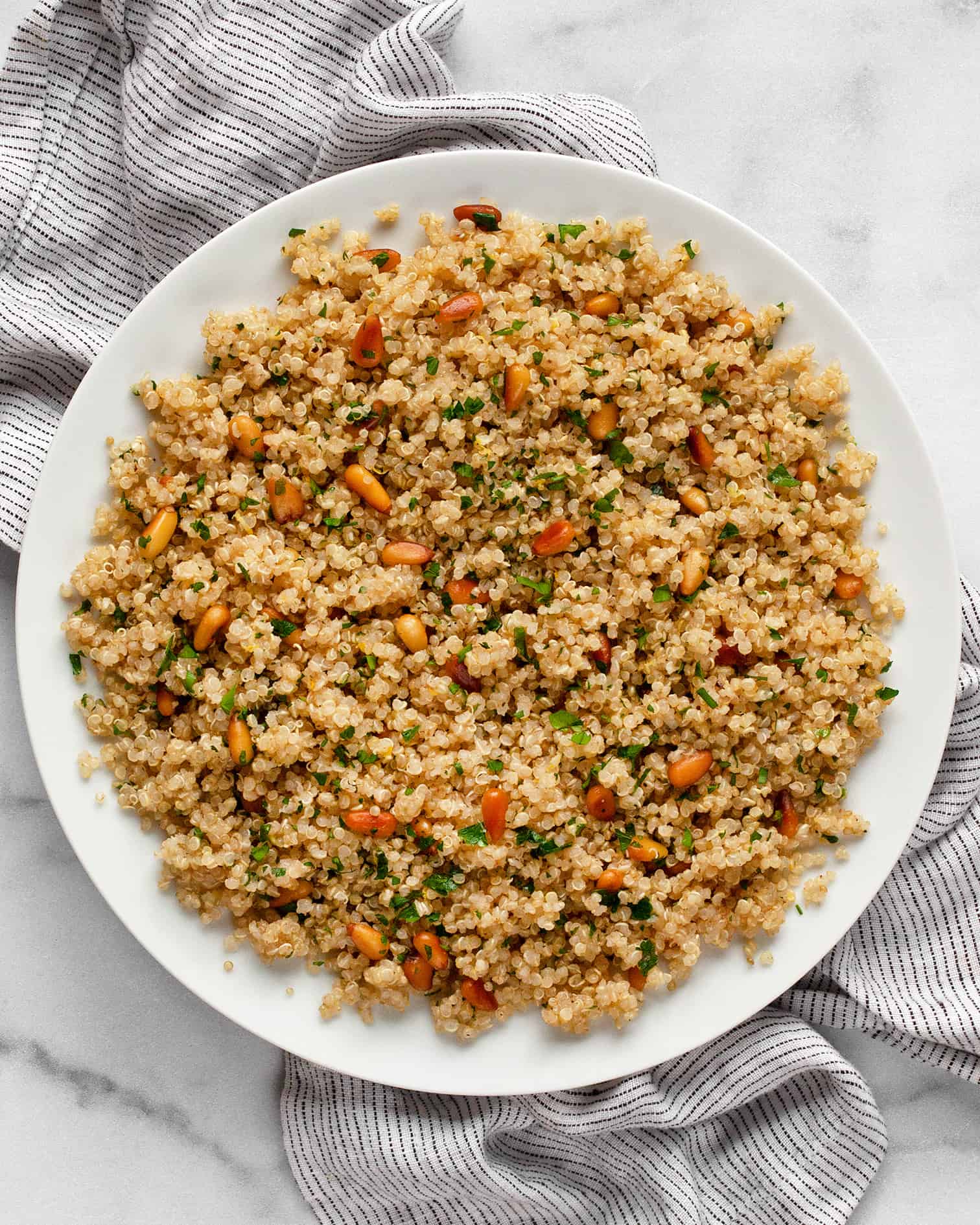 Additions & Variations
You can think of this lemon quinoa as a great base recipe and add more bold flavors to it including:
Roasted vegetables: This is a great way to stretch leftover cooked veggies into something else. I like sweet potatoes and butternut squash in the fall and winter, asparagus in spring and tomatoes in the summer.
Cheese: Try crumbled goat or feta cheese. Or stir in a little grated Parmesan.
Leafy greens: With spinach, arugula or kale, you can make a grain salad drizzling in any vinaigrette.
Onions: For a crisp bite, fold in sliced green onions or finely chopped red onions.
Beans: Crack open a can of beans, rinse and drain them and then stir them into the quinoa. I love white beans or even chickpeas.
Lime & cilantro: Really change things up, by using lime juice and cilantro instead of lemon and parsley. With this combination, I would also add black beans.
Serving
Spoon the quinoa into a medium or large bowl depending what additions you have stirred in, and place it on the table next to the main dish. This quinoa dish pairs well with other vegetable sides like roasted brussels sprouts, cauliflower, zucchini or acorn squash.
Leftovers
You can keep leftover quinoa in an airtight container the in the fridge up to 4 days. It's easiest to rewarm it in the microwave. Or eat it cold as a lemon quinoa salad.
More Quinoa Recipes
Roasted Tomato Chickpea Quinoa Salad
Quinoa Taco Salad
Roasted Ratatouille Quinoa
Roasted Broccoli Quinoa Salad
Green Bean White Bean Quinoa
One Pot Quinoa Chili
Herby Lemon Quinoa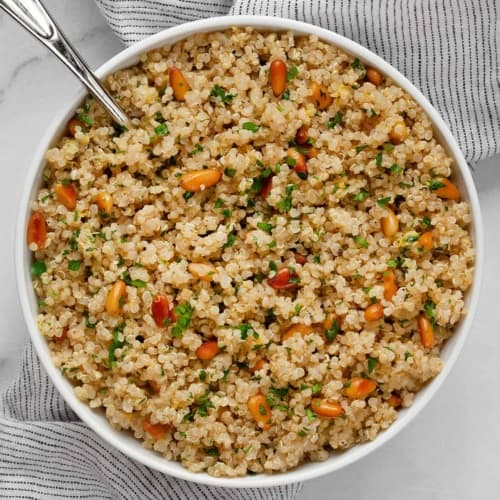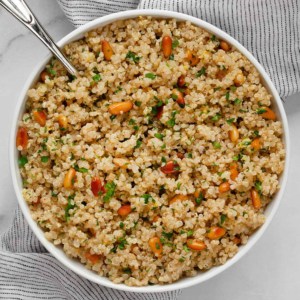 The citrus, parsley and toasted pine nuts in this herby lemon quinoa make it an easy all-purpose side dish that goes with lots of different mains.
Ingredients
1

tablespoon

olive oil

1

garlic clove

minced

1/4

teaspoon

cumin

1

teaspoon

kosher salt

1/2

teaspoon

black pepper

1

cup

quinoa

rinsed and drained

1-3/4

cups

water

Juice and zest of 1 lemon

1/3

cup

chopped parsley

1/4

cup

toasted pine nuts
Instructions
Heat the olive oil in a medium saucepan over medium heat. Sauté the garlic, cumin, salt and pepper until fragrant, about 1 minute.

Add the quinoa and toast for 2 minutes. Pour in the water and bring to a boil. Cover and reduce heat to simmer on low for 12-15 minutes until the quinoa is cooked, and the water has been absorbed.

Remove the quinoa from the heat. Let stand covered for 5 minutes. Then fluff with a fork and stir in the lemon juice, lemon zest, parsley and pine nuts.

Serve warm or at room temperature.
Notes
Leftovers can be stored in an airtight container in the refrigerator up to 4 days. Reheat in the microwave as desired or enjoy cold in a grain salad.
Nutrition
Calories:
248
kcal
|
Carbohydrates:
29
g
|
Protein:
7
g
|
Fat:
12
g
|
Saturated Fat:
1
g
|
Polyunsaturated Fat:
5
g
|
Monounsaturated Fat:
5
g
|
Sodium:
588
mg
|
Potassium:
326
mg
|
Fiber:
4
g
|
Sugar:
0.4
g
|
Vitamin A:
433
IU
|
Vitamin C:
7
mg
|
Calcium:
33
mg
|
Iron:
3
mg
Nutrition information is automatically calculated, so should only be used as an approximation.