Roasted Ratatouille Quinoa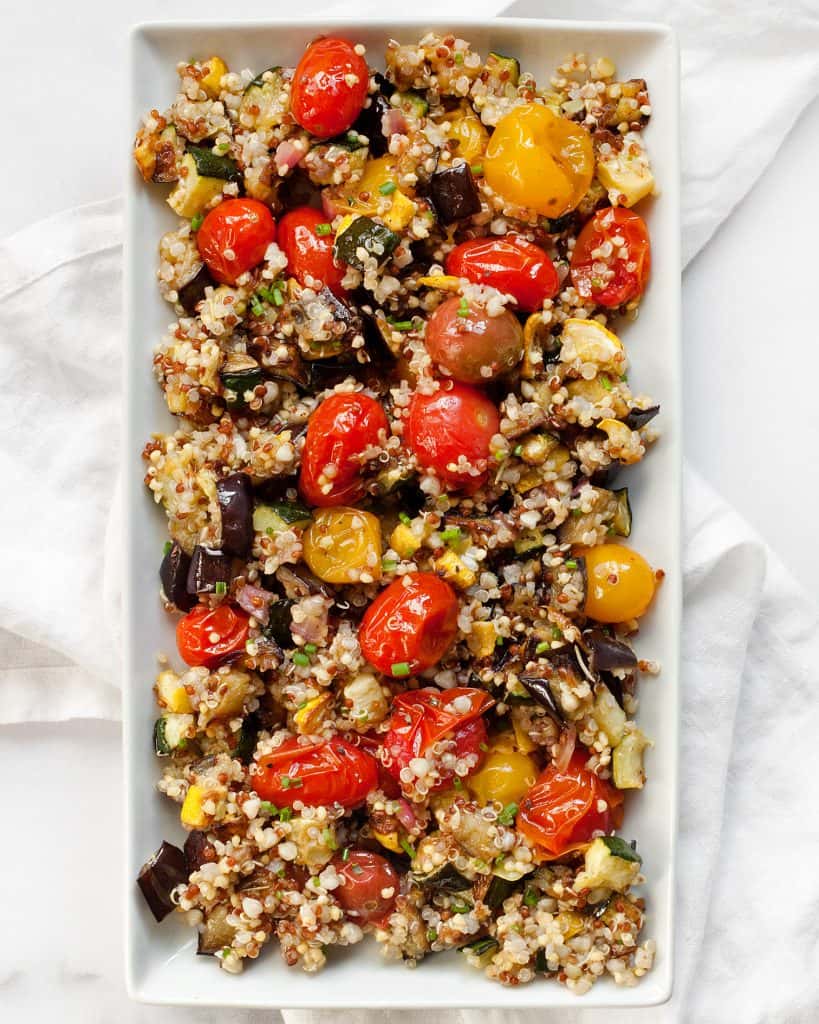 There are certain dishes I feel obligated to make at least once during their respective season.
It can something as simple as a caprese salad when tomatoes are at their best or a style of cooking like pretty much any slow-cooker soup during the cold winter months.

Every September I have to cook the French classic ratatouille because it's a guaranteed easy way to use up a lot of veggies at once.

And I always love a recipe with the opportunity for leftovers.
The traditional way to make ratatouille is to cook it on the stove going vegetable by vegetable including zucchini, tomatoes, peppers, eggplant and onions.
I have also used ratatouille to fill a tart shell giving it a more formal look for a dinner party.

Even though it's not hard to make ratatouille the usual way on the stove, I found myself feeling overwhelmed with getting back from vacation and gearing up for the first day of school.

I wanted a version that didn't require as much attention, so I made roasted ratatouille quinoa.

Lately, I've been completely obsessed with sheet pan meals and feeling very grateful for my oven.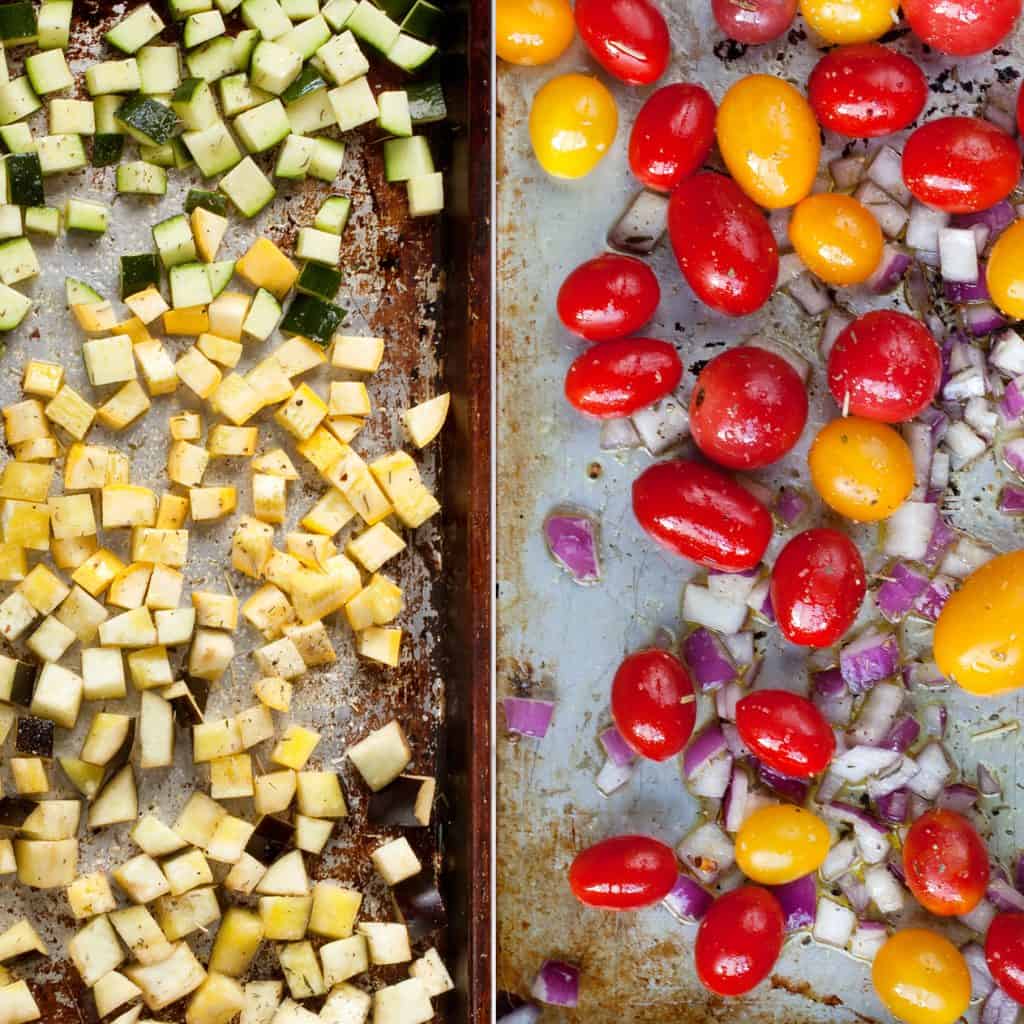 Roasted Ratatouille Quinoa: The Ingredients
On two sheet pans, I spread out zucchini, yellow squash, eggplant, cherry tomatoes and red onions in a single layer.
I didn't just toss them in olive oil and scoot the pans into the oven. The vegetables needed a spice blend to give them more personality.

In a small bowl, I combined dried thyme, rosemary and oregano along with garlic powder, red pepper flakes, salt and pepper.

While the vegetables roasted, I cooked the quinoa on the stovetop.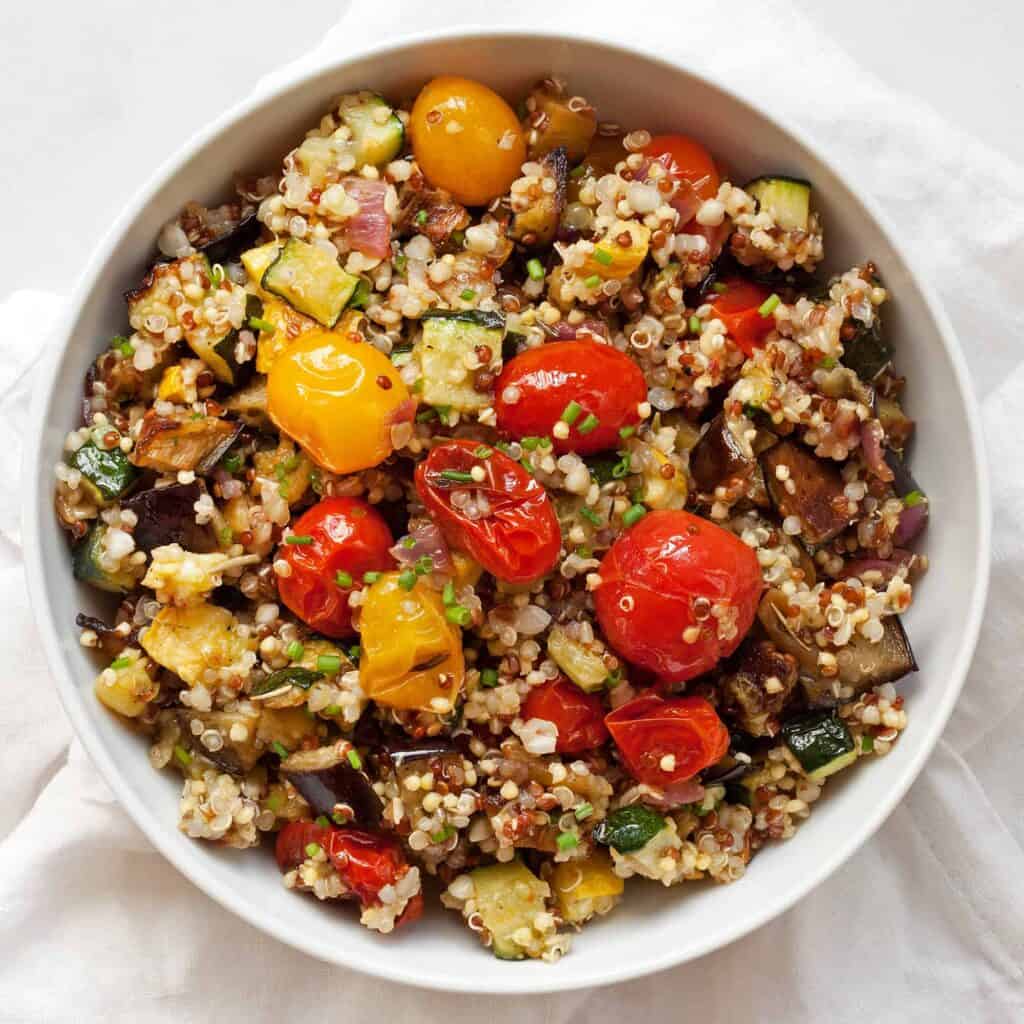 Once the vegetables were out of the oven, I folded them into the quinoa.
I took a few bites of the roasted ratatouille quinoa while it was still warm. For a split second, I thought about polishing it all off myself right then, but I waited. The flavors from the seasoning mix really came through.
By the time I had the rest of dinner ready, the quinoa cooled to room temperature.
It's one of those veggie and grain dishes that's tasty served whenever. I even loved the leftovers for lunch chilled straight from the fridge.
Print
Roasted Ratatouille Quinoa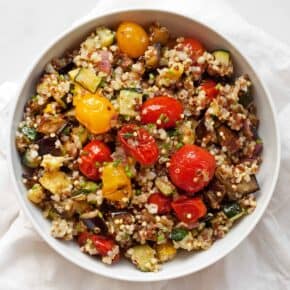 Prep Time:

10 minutes

Cook Time:

30-35 minutes

Total Time:

40-45 minutes

Yield: Serves

4

1

x
Scale
Ingredients
1/4 teaspoon dried rosemary
1/4 teaspoon dried thyme
1/4 teaspoon dried oregano
1/4 teaspoon garlic powder
Pinch red pepper flakes
1 teaspoon kosher salt
1/2 teaspoon black pepper
1 medium zucchini, diced 1/2-inch
1 medium yellow squash, diced 1/2-inch
1 small eggplant, diced 1/2-inch
1 pint grape or cherry tomatoes
1/2 small red onion, diced
2 tablespoons olive oil
1/2 cup tricolor quinoa
1 cup water
Instructions
Preheat the oven to 400 degrees F.
In a small bowl, combine the rosemary, thyme, oregano, garlic powder, red pepper flakes, salt and pepper.
On one sheet pan, toss the zucchini, squash and eggplant with 1 tablespoon olive oil and half the seasoning mix. Spread into a single layer.
Toss the tomatoes and red onions with 1 tablespoon olive oil and the remaining seasoning mix on another sheet pan and spread into a single layer.
Roast the vegetables for 25-30 minutes until the zucchini, squash and eggplant are browned, the tomatoes slightly wrinkled and the red onions are translucent.
While the vegetables are in the oven, make the quinoa. Combine the quinoa and water in a small saucepan over high heat. Bring to a boil, reduce heat and simmer for 10-12 minutes until the grains are cooked. Let stand for 5 minutes before fluffing with a fork.
In a large bowl, stir together the roasted vegetables and quinoa.
Serve warm, at room temperature or chilled.
SHARE THIS