Cherry Tomato Eggplant Pasta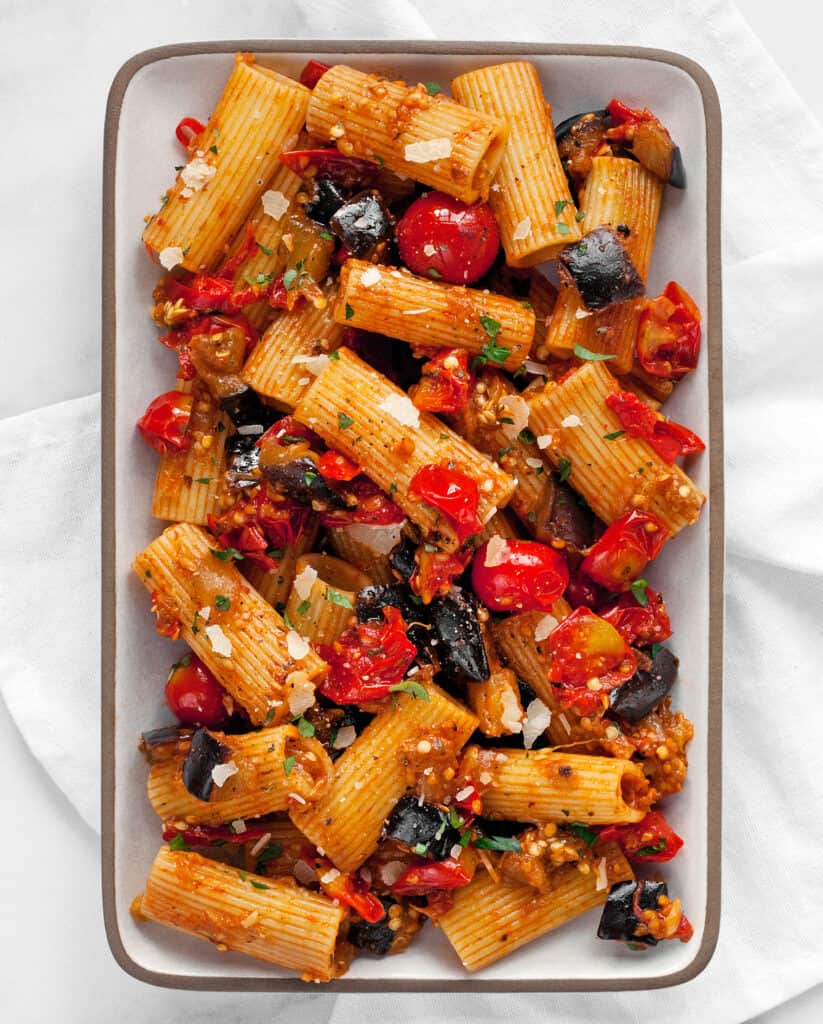 My panic buying has calmed down since its peak in March and April.

Never one to stock up, I've had to find all sorts of unexpected places to store pantry items that I hoarded just in case I wasn't able to get groceries.
Living in a big city, we don't have a ton of extra space.

I think back to my suburban childhood and the pantry where I would chose my afterschool snack.

It was the size of a shallow closet. Not a walk-in, but definitely generous.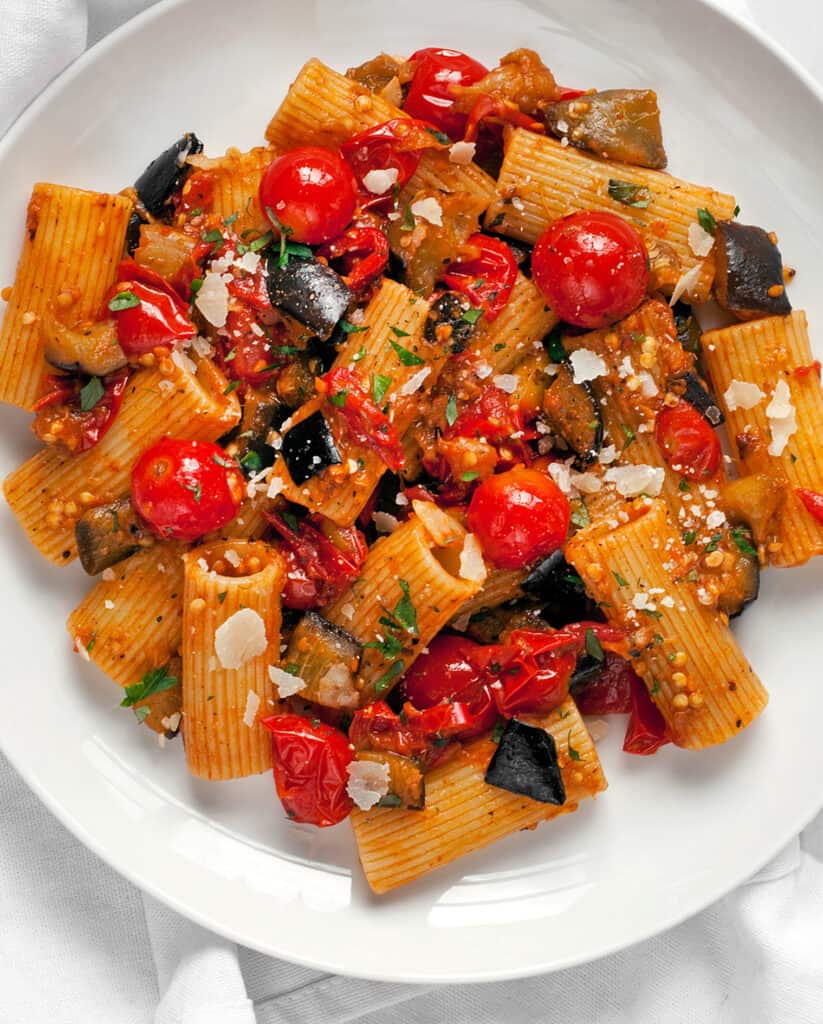 Now in our condo the shelves above the hanging rod in our coat closet are stacked with everything from a couple big jugs of liquid hand soap to oat milk, nuts and canned goods.

Slowly we've been cooking and eating our way through that stock.

It's nowhere near the amount I had saved a few months ago.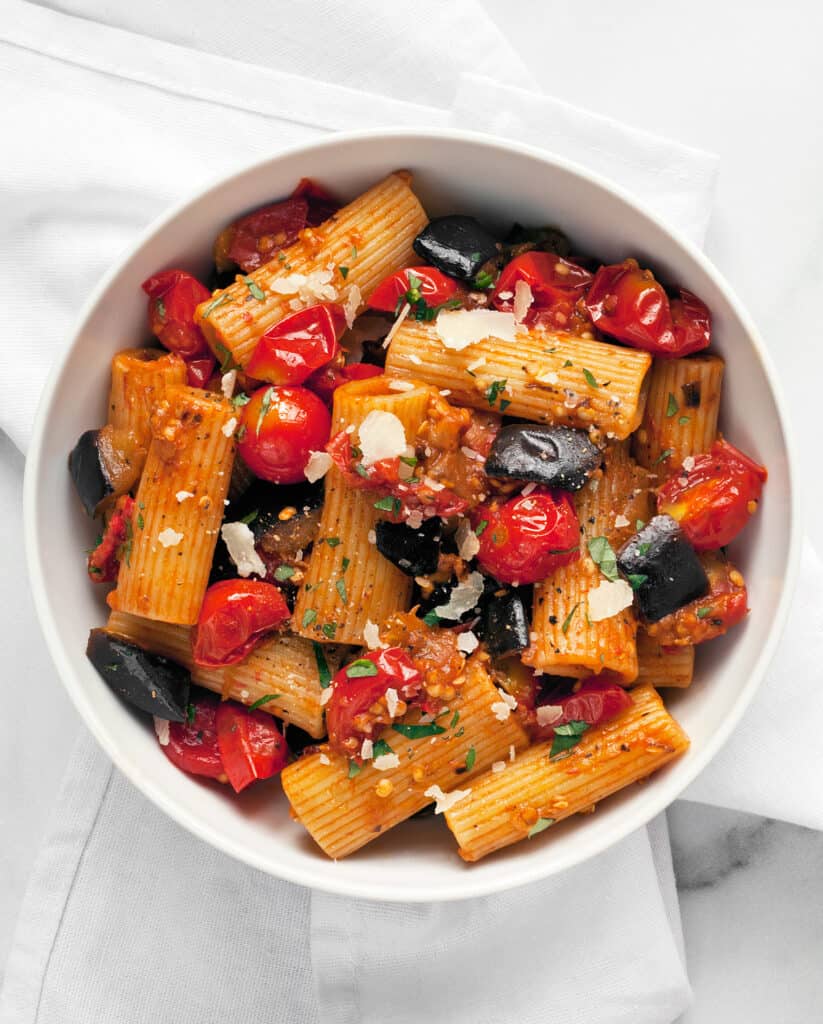 The other day my mom and I were talking about whether we should be thinking ahead to fall/winter and building up our reserves again, but I don't want to get to that point yet (if ever).

Instead my version of organizing this hodgepodge is to use it.
I've ended up with a few boxes of rigatoni. Some of it is from when my six-year-old would eat pasta. He's in a non-noodle phase right now.

I think tubular pasta, especially big tubes, work best with a chunkier veggie pairing.

It's tought to say whether this cherry tomato eggplant pasta is a sauce.

As the vegetables cook in a skillet, some of the tomatoes and diced eggplant fall apart, and they meld with the rigatoni.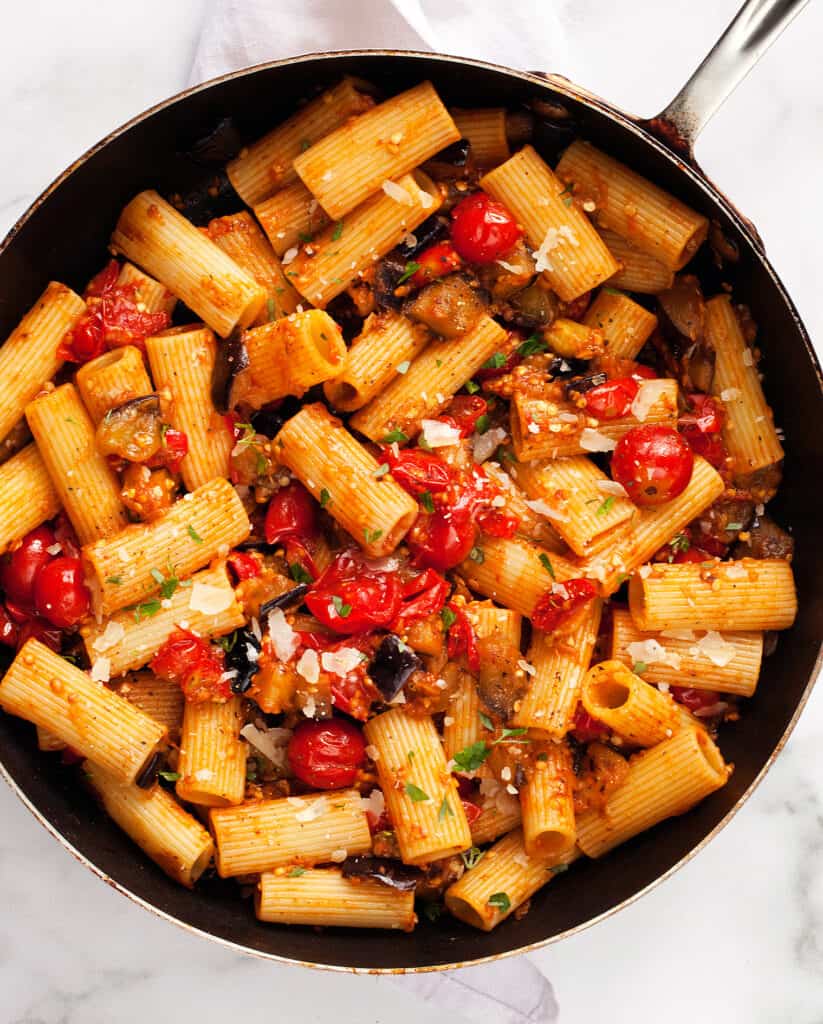 How To Make Cherry Tomato Eggplant Pasta
To start, I toss diced eggplant in salt to get some of the water out. This also prevents the eggplant from absorbing the oil while it sautés.

Before I cook the eggplant, I put the pasta in a pot of boiling water on a another burner.

If all goes as planned, the rigatoni will be ready at the same time as the eggplant and tomatoes.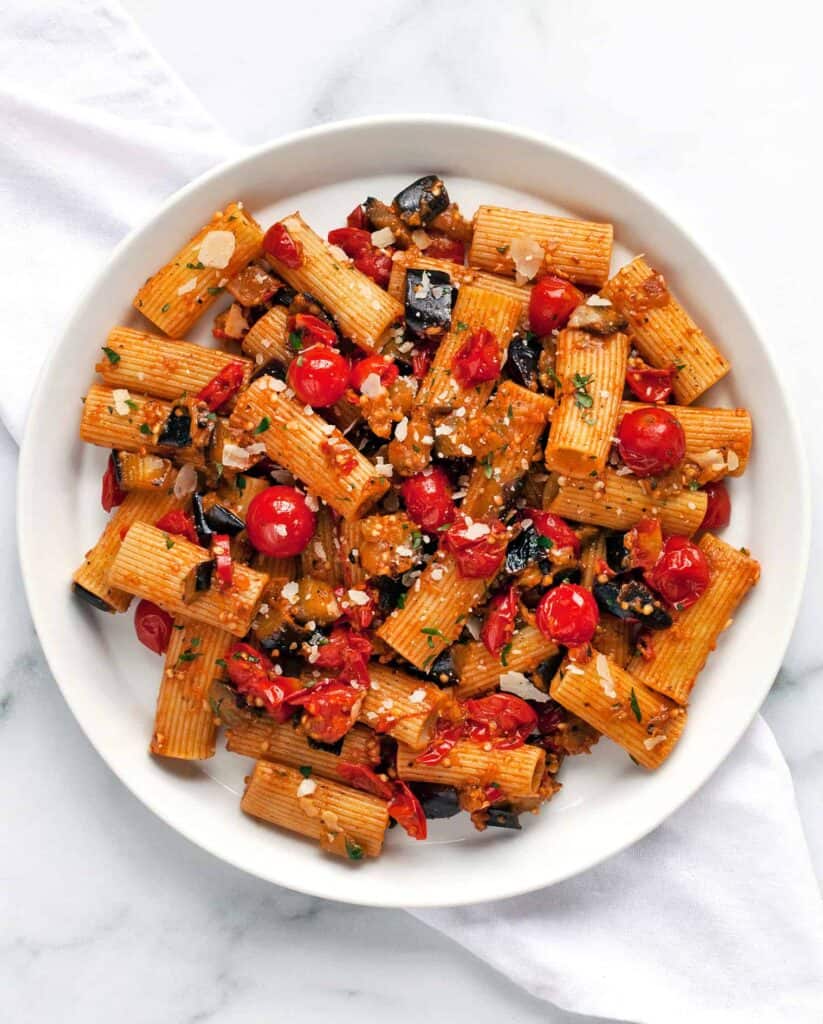 It's important to sauté the eggplant in 2 batches, so you don't crowd the pan.

Once the eggplant is lightly browned and soft, I add minced garlic and sliced red chilies.

I've been very into Bird's Eye or Thai chilies lately. They add just the right amount of heat without being too overpowering.

After that it's time for the tomatoes. I leave half the cherry tomatoes whole and slice the rest.

Using a mix of whole and halved tomatoes, keeps the almost-sauce chunky, but still helps it to coat the pasta when you stir it into the skillet.

Before serving this cherry tomato eggplant pasta, I sprinkle on chopped parsley and shaved Parmesan.

Print
Cherry Tomato Eggplant Pasta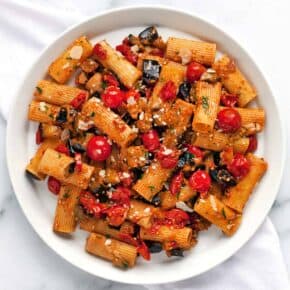 Prep Time:

20 minutes

Cook Time:

15 minutes

Total Time:

35 minutes

Yield: Serves

4

1

x
Scale
Ingredients
1 medium eggplant, diced
2 teaspoons kosher salt
12 ounces rigatoni or penne
1 tablespoon olive oil
2 garlic cloves, minced
1 red chili, thinly sliced
1 pint cherry tomatoes, half kept whole and the rest halved
1/2 teaspoon black pepper
Chopped parsley for serving
Shaved Parmesan for serving
Instructions
Toss the eggplant with 1 teaspoon salt in a strainer. Let the eggplant sit for 20 minutes. Pat dry with a towel.
Bring a large pot of salted water to a boil. Cook the pasta according to package instructions.
While the pasta is cooking, heat 1 tablespoon olive oil in a large skillet over medium high heat. Sauté the eggplant in 2 batches until it starts to brown and turn soft, about 3-4 minutes. Add the garlic and chilies, cooking for 1 minute until fragrant.
Add the tomatoes, 1 teaspoon salt and pepper and continue cooking for a few minutes. The tomatoes will get juicy and some will fall apart with the eggplant.
Use a slotted spoon to transfer the pasta straight from the pot to the skillet. Stir the pasta into the tomato eggplant mixture.
Top with parsley and Parmesan before serving.
SHARE THIS