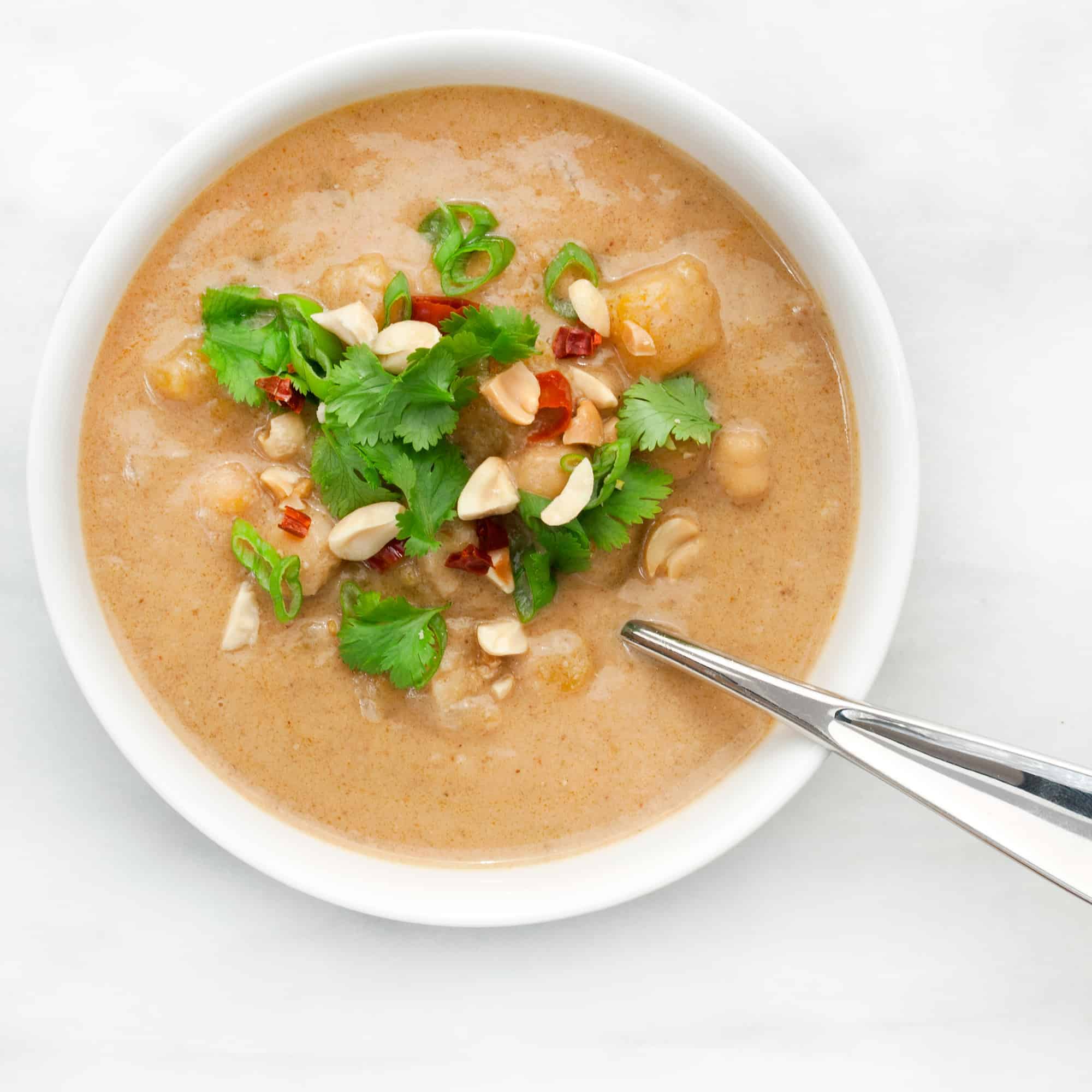 I love natural peanut butter, but I hate stirring a new jar. My trick of storing it upside down to make the task easier hasn't been working now that I've switched brands, and the jar is twice as big. After a mess of oil on the kitchen counter and on me, that was it. I dumped everything into the blender, and I had perfectly whipped peanut butter. I even timed it before my smoothie, so I saved a washing.
With my extra smooth peanut butter, I skipped the sandwich and made vegan spicy peanut soup with chickpeas and chunks of butternut squash. It had the thick consistency of stew, and each spoonful was hearty and mouth-tingling hot. I brought the leftovers for a week of lunches at the office, and it lasted longer than I expected. It was such a satisfying soup that I filled my bowl less than usual.
Spicy Peanut Soup
Adapted from Flour, Too by Joanne Chang
Serves 6 -8
1 tablespoon vegetable oil
1 medium white onion, roughly chopped
6 garlic cloves, peeled, smashed and minced
1 butternut squash (about 2-3 pounds), peeled, seeded and diced
1/2 teaspoon ground cumin
2 tablespoons crushed chile de arbol
1-2 teaspoons Sriracha sauce
2 teaspoons kosher salt
1/4 teaspoon black pepper
4 cups vegetable stock
1-15 ounce can chickpeas, drained and rinsed
1 cup smooth peanut butter
1/4 cup fresh lime juice
1/4 cup chopped fresh cilantro
2 scallions, thinly sliced for garnish
1/2 cup chopped, salted, roasted peanuts for garnish
Heat the oil in a large saucepan over medium high heat. Add the onions and garlic and cook for 1 minute until fragrant. Add the squash, cumin, chile de arbol, Sriracha, salt and pepper. Cook, stirring occasionally, for about 10 minutes. Add the stock and chickpeas and bring to a boil. Reduce the heat to a simmer and stir in the peanut butter until combined. If the soup seems too thick, add a little water. Remove the saucepan from the heat and stir in the lime juice.
Divide the soup into bowls and top with cilantro, scallions and peanuts before serving.
SHARE THIS