Slow Cooker Moroccan Chickpea Stew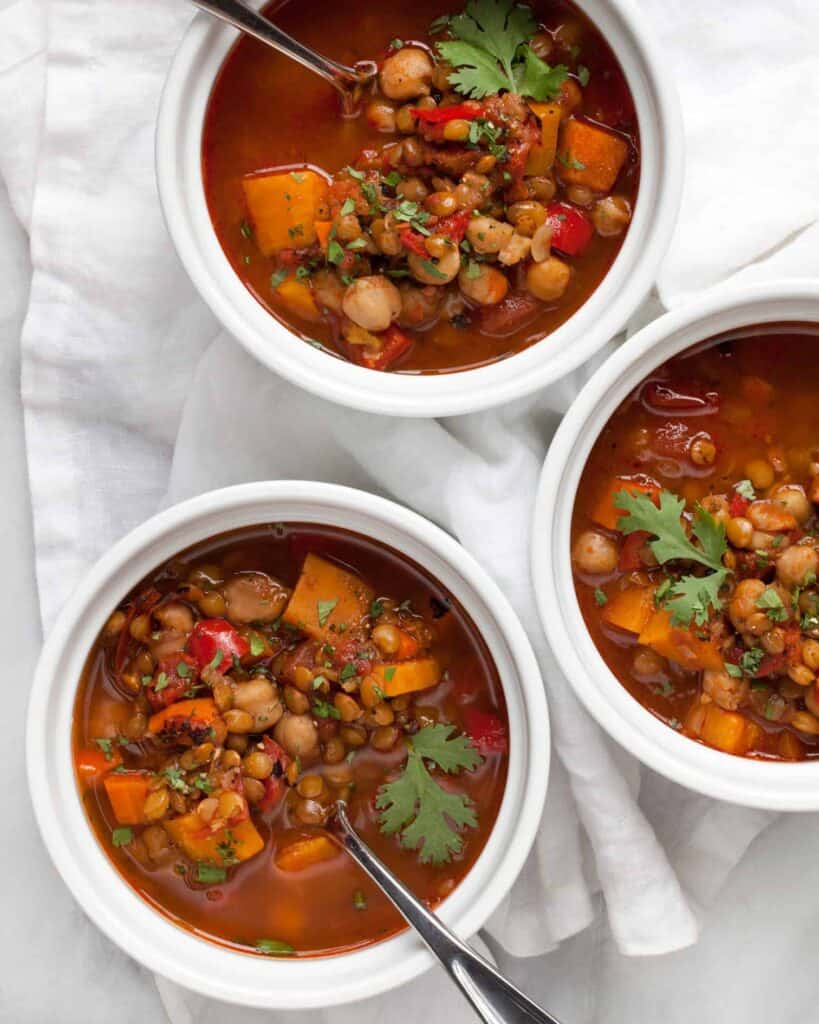 In the last week has anyone else used a dining chair to get to a high shelf to dust off their slow-cooker?
I can't be the only one.
It's finally time.
Because of my son's obsession with the weather channel, I am fully aware of what's happening beyond Chicago and the Midwest.
There have been heat waves and snowfall all in just the last week.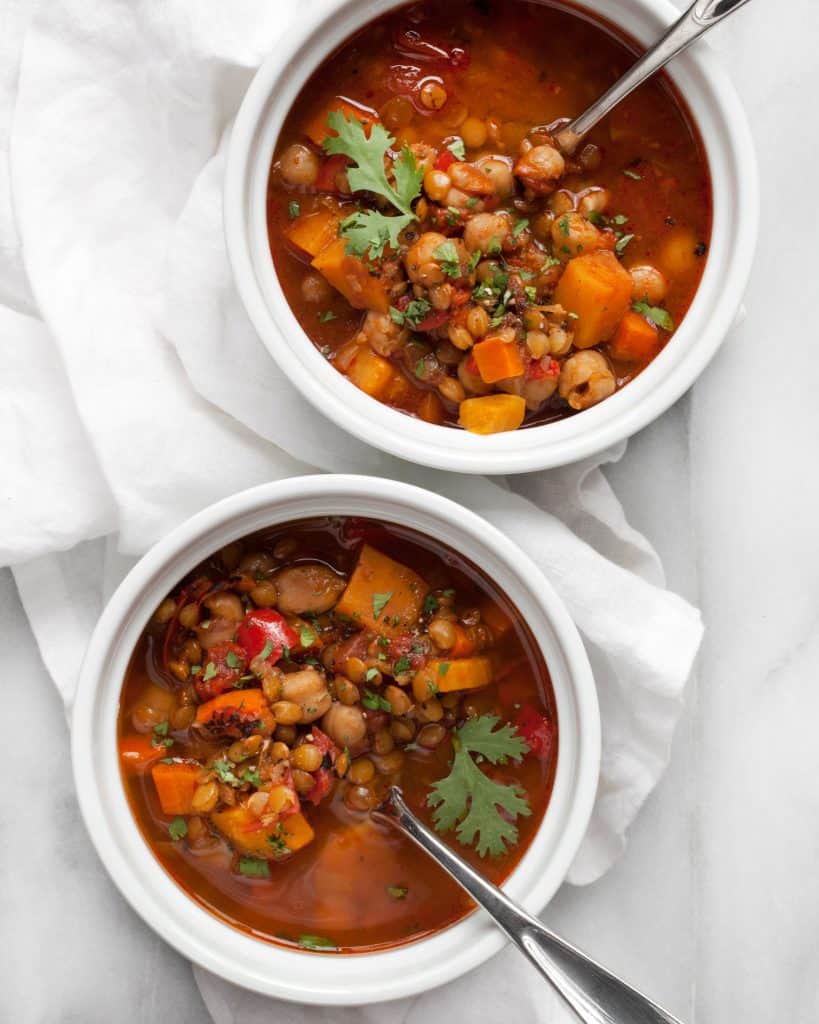 I wore a jacket, so I figured we are in slow-cooking season. And it's Crock-tober.

I had forgotten how easy it is to just throw in a bunch of ingredients and magically have a meal in hours.

Yes, I do have an Instant Pot, but I can't say I've used it as much as I thought I would when I put it on my holiday wish list a couple years ago.

Eventually I'm sure I will come around to it.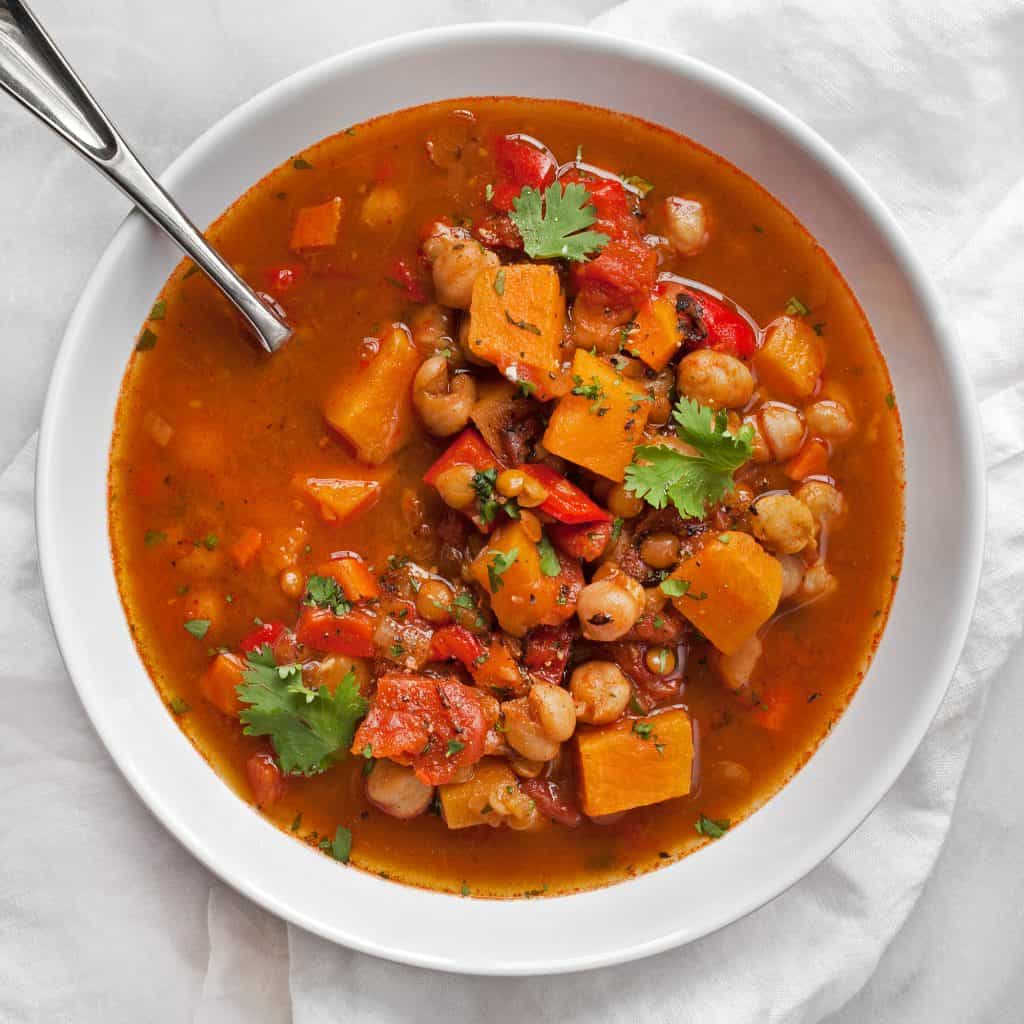 For my first crockpot meal to kick things off, I made slow-cooker Moroccan chickpea stew.
I find the more spices that go into any slow-cooker dish the better. Take advantage of all that time bubbling to let the flavors develop.

To start, I sauté onions, garlic and ginger on the stove. No matter what I am making in a slow cooker, I always start by browning those initial ingredients.

It's even easier if you have a slow cooker pot that is safe to use on a burner. If not, you can just do this step in a skillet and spoon everything in.
Slow Cooker Moroccan Chickpea: All About Spices
My Moroccan spice mix includes cumin, paprika, coriander, ginger, cinnamon, salt and pepper.

The dry spices aren't it. To amp up the heat, I stir in harissa, a chili pepper paste.

For veggies, I add chunks of sweet potatoes and carrots and diced red peppers and tomatoes to go with the chickpeas.

To make this hearty enough to be considered a stew and not a soup, green lentils are a must. Every bite is guaranteed to be filling.

Slow cooker meals are perfect for busy days. The minimal amount of prep for my slow cooker Moroccan chickpea stew, lets me get on with everything else on my to-do list.

Then by the end of the day dinner is ready.
Print
Slow Cooker Moroccan Chickpea Stew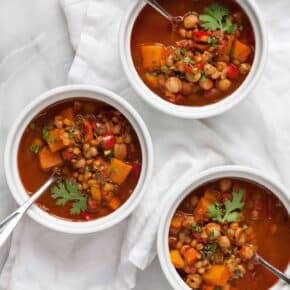 Prep Time:

15 minutes

Cook Time:

3-4 hours

Total Time:

3-4 hours 15 minutes

Yield: Serves

4

–

6

1

x
Scale
Ingredients
1 tablespoon olive oil
1 small white onion, diced
2 garlic cloves, minced
1 tablespoon minced fresh ginger
1 teaspoon cumin
1 teaspoon paprika
1/4 teaspoon coriander
1/4 teaspoon cinnamon
1/4 teaspoon ginger
2 tablespoons harissa paste
1-14.5 ounce can chickpeas, drained and rinsed
1-14.5 ounce can diced tomatoes
1 medium sweet potato, diced
2 carrots, trimmed and diced
1 red pepper, diced
1 cup green lentils
3 cups low sodium vegetable broth
1 cup water
Chopped parsley for serving
Instructions
In a skillet or stove-top safe slow cooker pot, heat the olive oil over medium heat. Sauté the onions until they are soft, translucent and just starting to brown at the edges, about 7-9 minutes. Add the garlic and ginger cooking until fragrant, about 1 minute.
Transfer the onions to the slow cooker. Add the cumin, paprika, coriander, cinnamon, ginger, harissa, chickpeas, tomatoes, sweet potatoes, carrots, red peppers, lentil, vegetable broth and water.
Cook on high for 3-4 hours or on low for 6-7 hours.
Top bowls with parsley before serving.
SHARE THIS