Spicy Red Lentil & Chickpea Soup
My slow cooker lives in an awkward cabinet above the refrigerator. I have to climb up on a dining chair to hoist it down.

It is in such an inconvenient spot as if I am doing my best not to use it, which is ridiculous.
I blame our nearly 13 year old kitchen.

Not only is it in dire need of reorganization, it could use a full-fledged renovation. Stay-tuned.

As a result, the slow cooker's inconvenient location means it doesn't get as much attention as it should.
Every time I do use it, I am reminded of just how great a small appliance, the mighty slow cooker is.

From entrees to soups to stews, it's a really versatile, time-saving device. I get why people are obsessed.
Whenever I pull my slow cooker out to make a warm hearty meal, the result is always big on flavor and takes little effort.

There's not much more I could ask for of a weeknight dinner!
The growing number of colder days ha me craving big bowls of soup. Instead of my usual veggie purée plus stock method of soup making, sometimes I reach for the slow cooker.
How To Make Spicy Red Lentil & Chickpea Soup
I love making of spicy red lentil & chickpea soup, so I keep a stash of red lentils in my kitchen.
The soup has a good dose of heat thanks to a generous amount of smoked paprika and red pepper flakes.
It's always a win-win to find a soup that's temperature hot and spicy hot because each bite is double the warmth.
This spicy red lentil & chickpea soup also has chunks of butternut squash and diced tomatoes. I finish off each bowl with a sprinkle of chopped parsley.
Soup in the slow cooker is so simple that I've been trying to stake out space for this gadget on a lower shelf where I would have easier access to it.
Print
Spicy Red Lentil & Chickpea Soup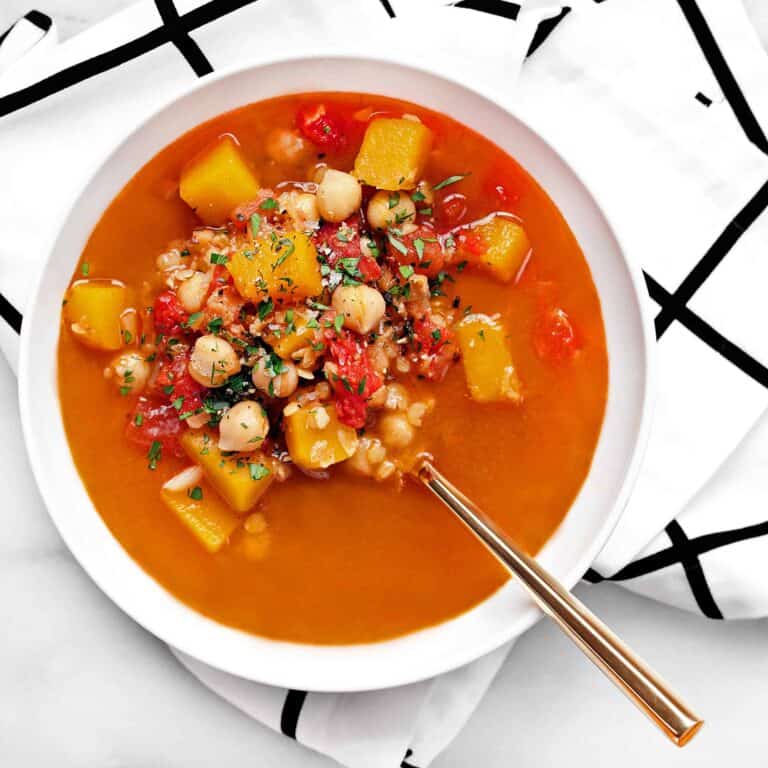 Prep Time:

10 minues

Cook Time:

5 hours

Total Time:

5 hours 10 minutes

Yield: Serves

4

–

6

1

x
Scale
Ingredients
2 teaspoons vegetable oil
1 white onion, finely chopped
2 garlic cloves, minced
1-inch piece fresh ginger, peeled and grated
2 teaspoons smoked paprika
1 teaspoon ground cumin
1/2 teaspoon red pepper flakes
1 teaspoon kosher salt
1/2 teaspoon black pepper
10 ounces peeled butternut squash, cubed
3/4 cup red lentils
1-15 ounce can chickpeas, drained and rinsed
1-14.5 ounce can diced tomatoes
3 cups water
3 cups vegetable stock
1/3 cup chopped fresh parsley
Instructions
Heat the oil in a large skillet over medium high heat. Sauté the onions until they start to soften, about 4 minutes. Stir in the garlic, ginger, paprika, cumin, red pepper flakes, salt and pepper and cook until fragrant, about 1 minute.
Transfer the onion mixture to a slow cooker. Add the squash, lentils, chickpeas, tomatoes, water and stock. Cook on low for 5 hours. Sprinkle with parsley before serving.
SHARE THIS