Lentil Wild Rice Soup
on Jan 28, 2021, Updated Jun 28, 2023
This vegan lentil wild rice soup is extra hearty with a mix of carrots, celery, mushrooms, tomatoes and spinach to go with the rice and lentils. It's finished with lemon juice.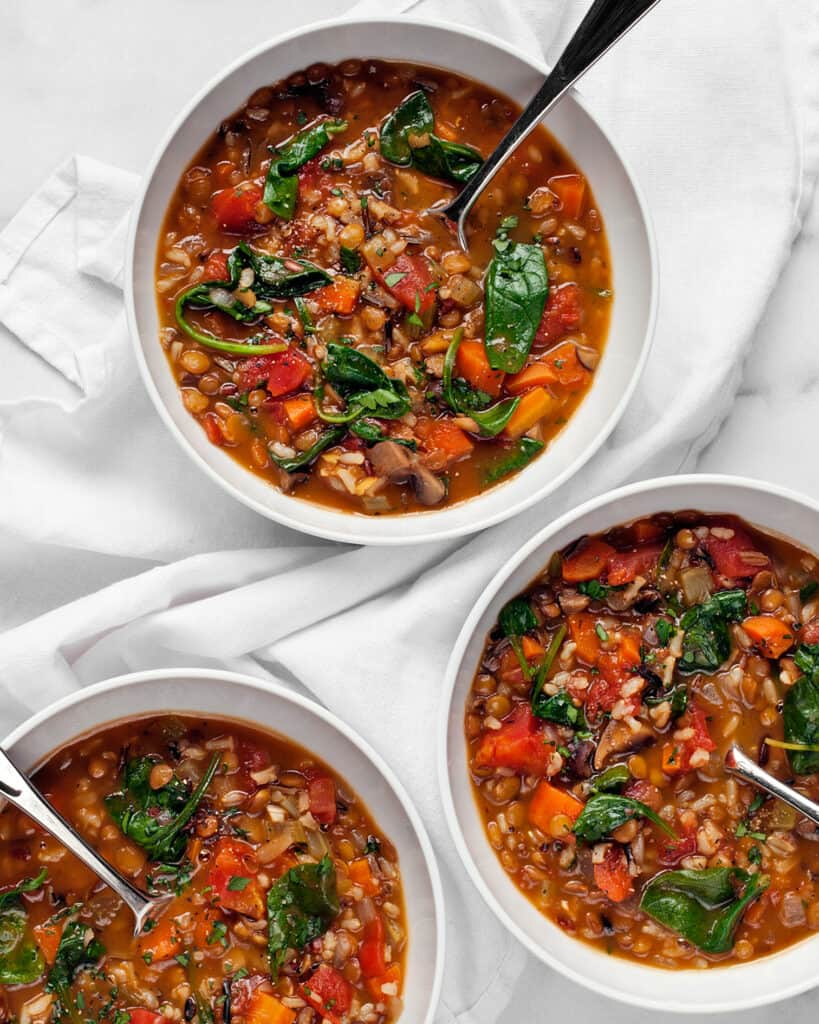 I love adding ingredients to soups that really bulk them up into a meal—so much that they don't require a hunk of bread or a sandwich to go with them.
Not that there's anything wrong with the classic pairing of a grilled cheese sandwich and tomato soup, which is total lunchtime perfection.
Canned beans and chickpeas are two of my go-tos for filling soups.
And of course, there are lentils, which can even stand up to a slow cooker. The ultimate is pairing rice and lentils into a tasty tomato-based soup that happens to be effortlessly gluten-free. You don't even need multiple pots since it all simmers in the same saucepan on the stovetop.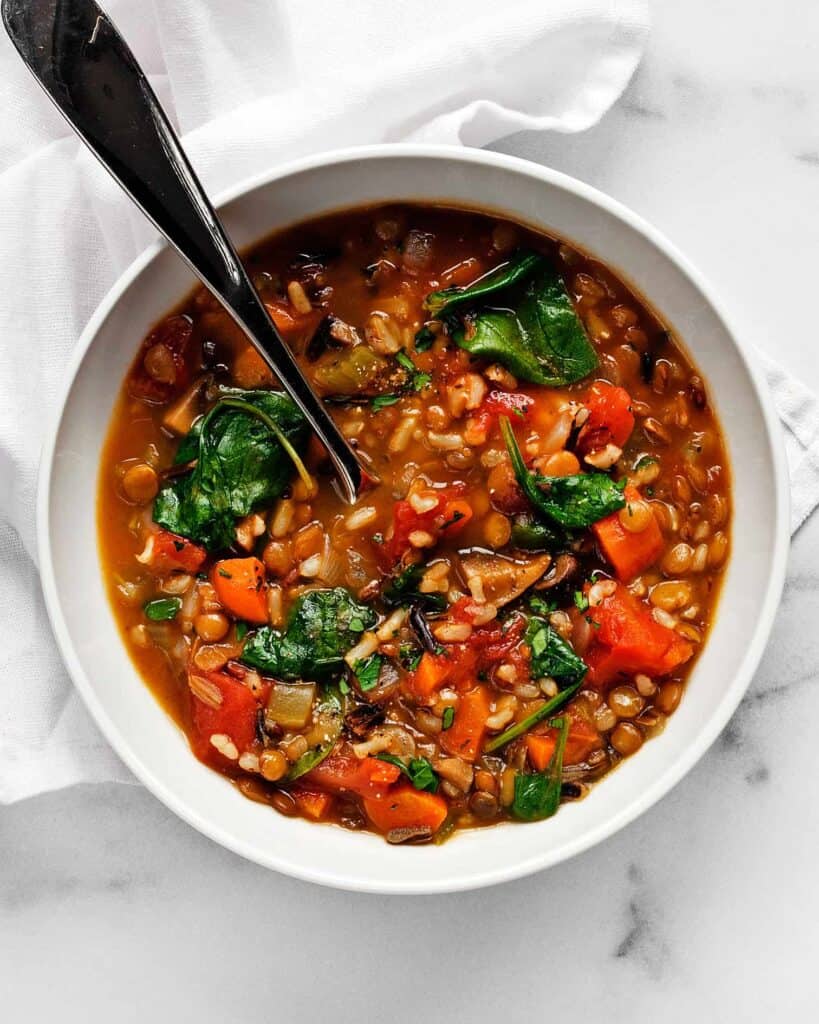 Why Wild Rice Soup Is The Best
I adore rice in soup. That's because it brings back memories of my grandma's chicken soup when I would request an extra scoop of rice. I love its texture and bite.
As a kid, white rice was my side of choice. No surprise that it took years for me to fall in love with vegetables.
Now I prefer more interesting rice like long grain brown rice and a wild rice blend with its multi-hued neutral palette.
Not to get too technical, but wild rice isn't actually rice. It is the grain of 4 different kinds of grass that grows in shallow freshwater. (source)
It has a nutty flavor that's stronger than brown rice. Also, it's grain has more bite, which is why it pairs so well with lentils in this soup.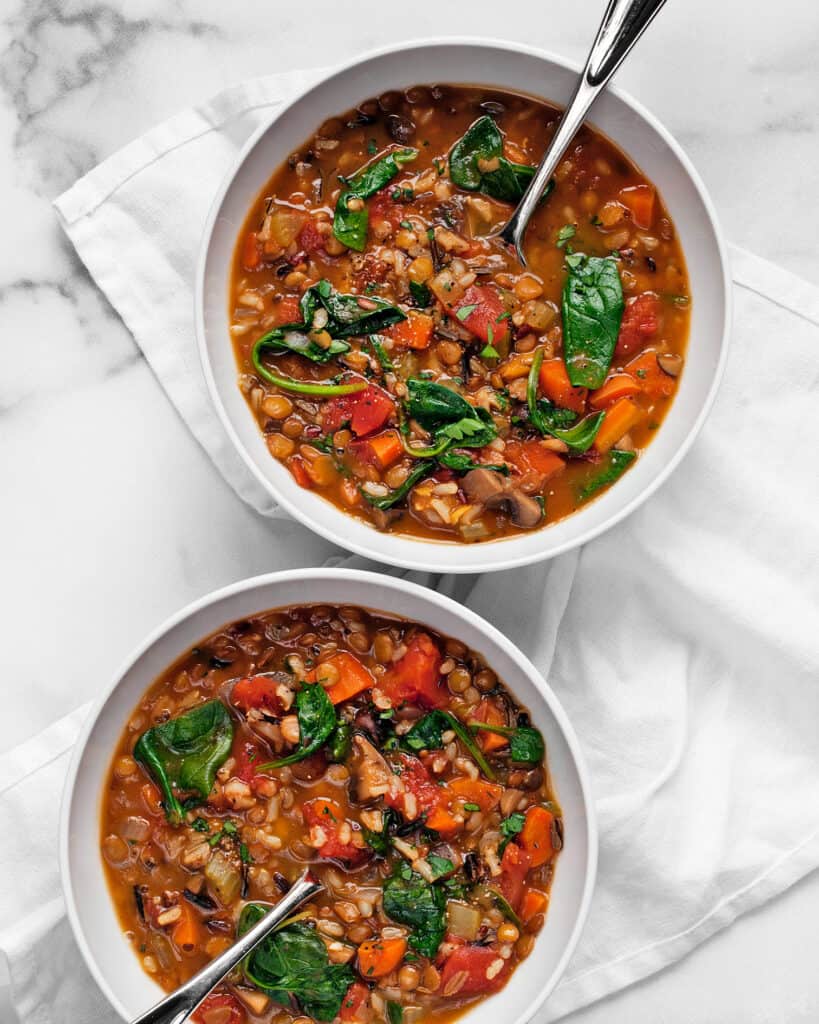 A Healthier Rice Soup
Because I include two of my favorite add-ins, this lentil wild rice soup is very filling. There's no need for heavy cream or dairy. You won't miss that rich creaminess. I prefer the focus being on the herby tomato broth.
In each spoonful there are lentils and wild rice, but you will also find tomatoes, mushrooms, carrots, celery and onions.
It is a kitchen sink / empty the pantry type of recipe in the best way.
Plus it's a total winter warmer!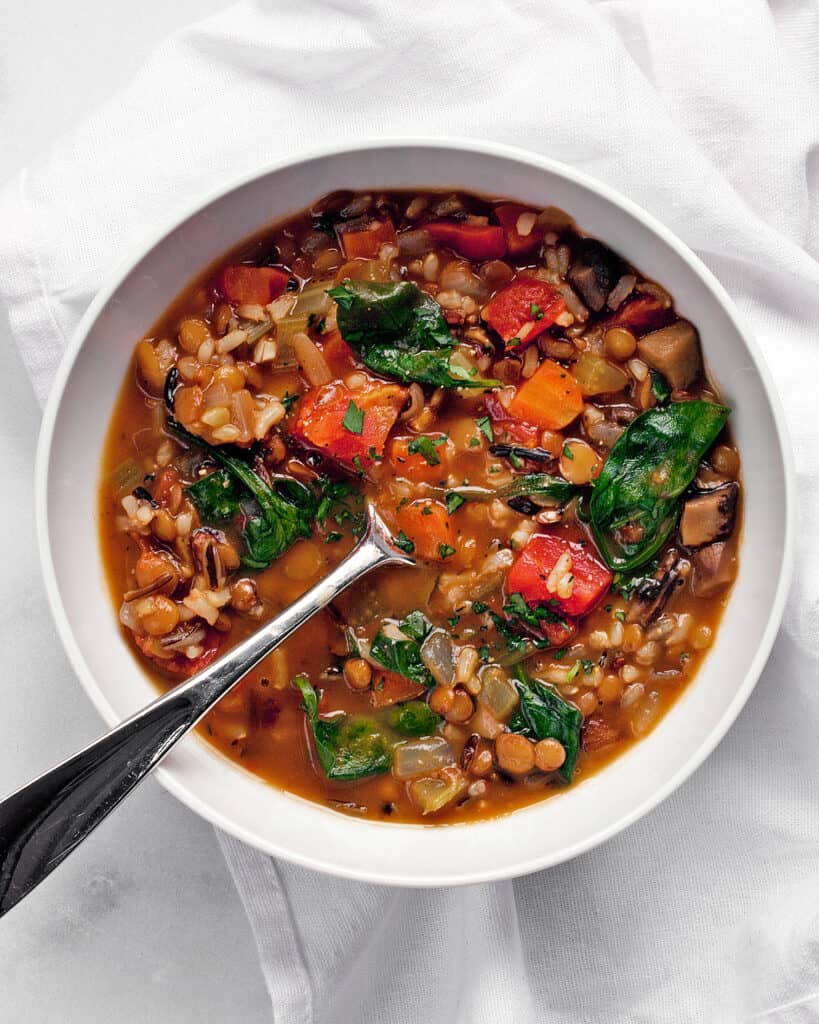 The soup is fragrant with minced garlic, cumin, thyme and red pepper flakes.
After it simmers and the rice and lentils are finished cooking, I stir in the juice of a lemon, chopped parsley and baby spinach.
It doesn't take long for the greens to wilt and for the soup to be ready.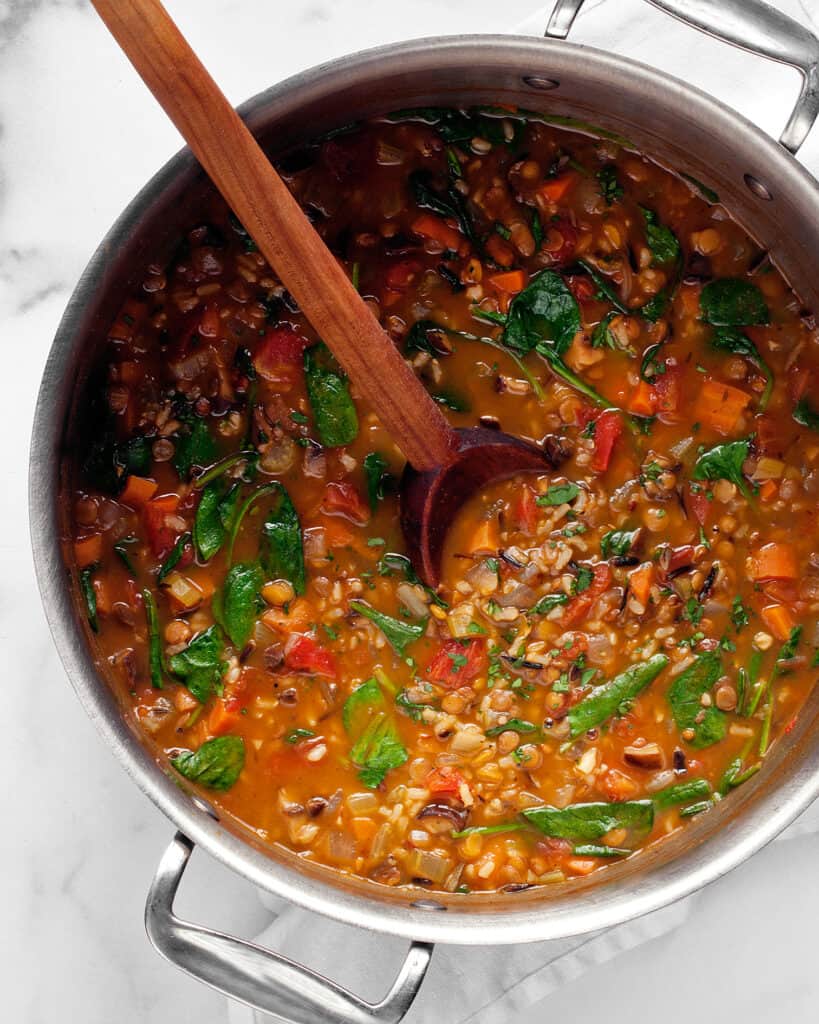 Ingredients & Substitutions
This is what you need to make this lentil rice soup:
Onions sautéed in olive oil are the base flavor for the soup.
Celery: Along with the onions, I also saute diced celery.
Carrots: Part of that combination of starter ingredients, I also include diced carrots.
Olive oil: Go with extra virgin olive oil. I skip butter and flour in more traditional rice soup recipes to keep it healthier.
Mushrooms: The recipe calls for chopped cremini mushrooms.
Garlic: Three minced garlic cloves may sound like a lot, but it's the right balance with the vegetables in the tomato broth, and they melt right into the olive oil and veggies.
Dried seasonings: The soup is seasoned with a mix of cumin, thyme, red pepper flakes salt and pepper. If you don't have thyme, rosemary is another good option.
Vegetable broth: It's best to use low-sodium vegetable broth, so you have full control over the seasoning of the soup, especially salt. If you don't mind if the soup isn't vegan/vegetarian, you can use chicken broth instead.
Wild rice: I like to try out different brands of wild rice since the blends can vary so much.
Green lentils: The lentils and wild rice simmer together in the soup.
Spinach: Stir the spinach in when it finishes simmer and the leaves will quickly wilt. You can use kale, too, depending what greens you have at home. If it is a sturdier leaf, it will just talk a little longer to wilt.
Lemon: Lemon juice adds the most wonderful brightness to the soup.
Parsley: For something herby, I add chopped fresh parsley. Soup is another reason, besides salad dressing, pasta and baked goods to keep a couple lemons in your fridge.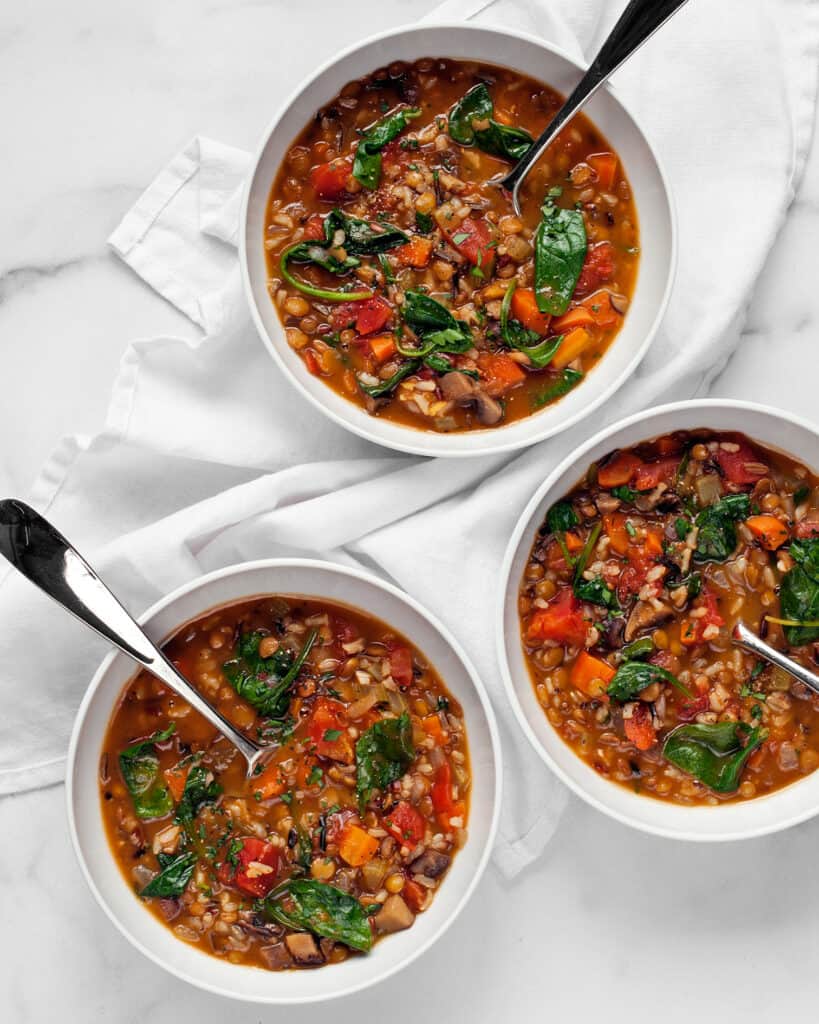 How To Make Lentil Wild Rice Soup
Heat the olive oil in a large pot over medium heat.
Sauté the chopped onions, carrots, celery and mushrooms for about 4-5 minutes until they soften.
Stir in the aromatics and seasonings including the minced garlic, cumin, dried thyme, red pepper flakes, salt and pepper.
Pour in the diced tomatoes, vegetable broth, water and wild rice.
Simmer the soup for 10 minutes to give the wild rice a head start before the lentils since they take longer to cook.
Add the lentils. I use an equal amount of rice and lentils (3/4 cup each) because I find that's the right balance.
Stir in the lemon juice, parsley and spinach, which will wilt quickly.
Taste the soup and add more salt and pepper if needed.
If you want your soup to have more liquid, you can definitely make adjustments adding more broth or water. I recommend waiting until the rice and lentils finish cooking since they will absorb some of the liquid.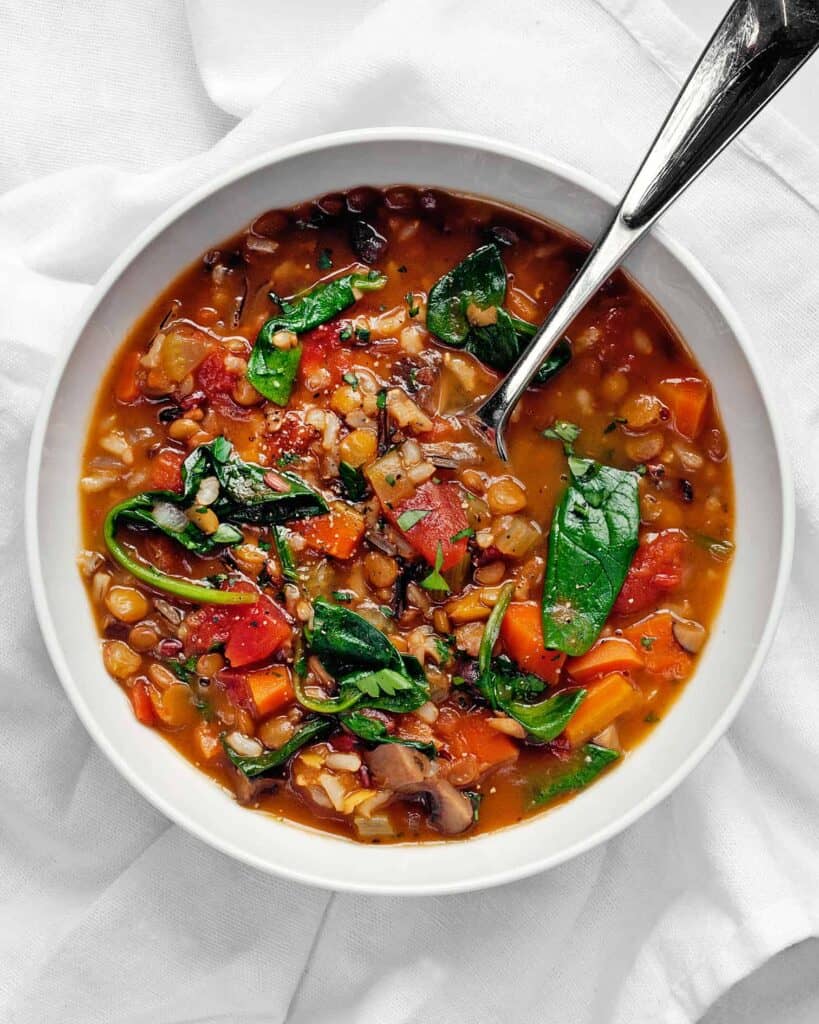 Storage
The soup can be refrigerated up to 5 days in an airtight container. If you want to store it longer, freeze it up to 1 month.
Serving
Serve the soup with a crusty hunk of bread or focaccia. You can also pair it with a mixed greens salad. Soup & salad is such a solid choice for lunch or dinner.
More Soup Recipes
Slow Cooker Lentil Tortilla Soup
Roasted Tomato Soup
One Pot Quinoa Chili
Spicy Tomato Carrot Lentil Soup
Minestrone Soup
Pasta e Fagioli
White Bean Sweet Potato Tomato Soup
Lentil Wild Rice Soup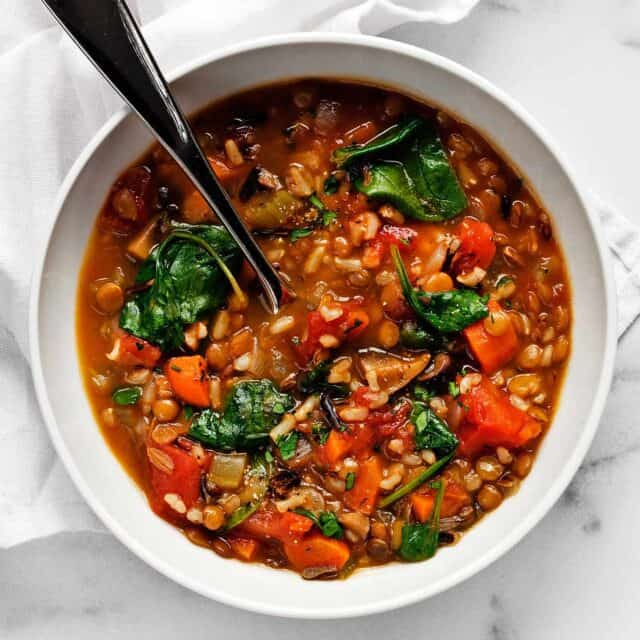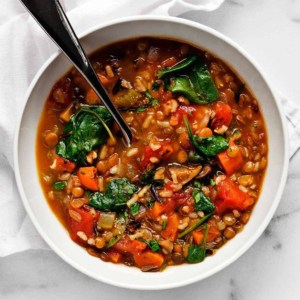 This vegan lentil wild rice soup is extra hearty with a mix of carrots, celery, mushrooms, tomatoes and spinach to go with the rice and lentils. It's finished with lemon juice.
Ingredients
1

tablespoon

olive oil

1

white onion

roughly chopped

2

celery stalks

diced

2

carrots

diced

1

cup

chopped cremini mushrooms

about 3 ounces

3

garlic cloves

minced

1/4

teaspoon

cumin

1/4

teaspoon

dried thyme

Pinch

of red pepper flakes

1

teaspoon

kosher salt

1/2

teaspoon

black pepper

1-14.5

ounce

can diced tomatoes

4

cups

low sodium vegetable broth

4

cups

water

3/4

cup

wild rice

3/4

cup

green lentils

2

ounces

baby spinach

Juice of 1 lemon

1

tablespoon

chopped parsley
Instructions
Heat the olive oil in a large saucepan over medium high heat. Then sauté the onions, celery, carrots and mushrooms until they start to soften, about 4-5 minutes. Add the garlic, cumin, thyme, red pepper flakes, salt and pepper and cook for another minute until fragrant. Stir in the tomatoes, vegetable broth, water and wild rice.

Bring the mixture to a boil. Reduce the heat and simmer for 10 minutes. Add the lentils and continue simmering for 20-25 minutes until the rice is cooked and the lentils are tender.

Stir in the baby spinach, lemon juice and parsley letting the greens wilt.

Taste the soup. Add more salt and pepper, if needed.
Nutrition
Calories:
337
kcal
|
Carbohydrates:
60
g
|
Protein:
17
g
|
Fat:
5
g
|
Saturated Fat:
1
g
|
Polyunsaturated Fat:
1
g
|
Monounsaturated Fat:
3
g
|
Sodium:
782
mg
|
Potassium:
1007
mg
|
Fiber:
17
g
|
Sugar:
8
g
|
Vitamin A:
6667
IU
|
Vitamin C:
28
mg
|
Calcium:
113
mg
|
Iron:
5
mg
Nutrition information is automatically calculated, so should only be used as an approximation.