Slow Cooker Lentil Tortilla Soup

With black beans and corn, this vegan Slow Cooker Lentil Tortilla Soup is satisfying and hearty with plenty of spicy and smoky chipotle flavor.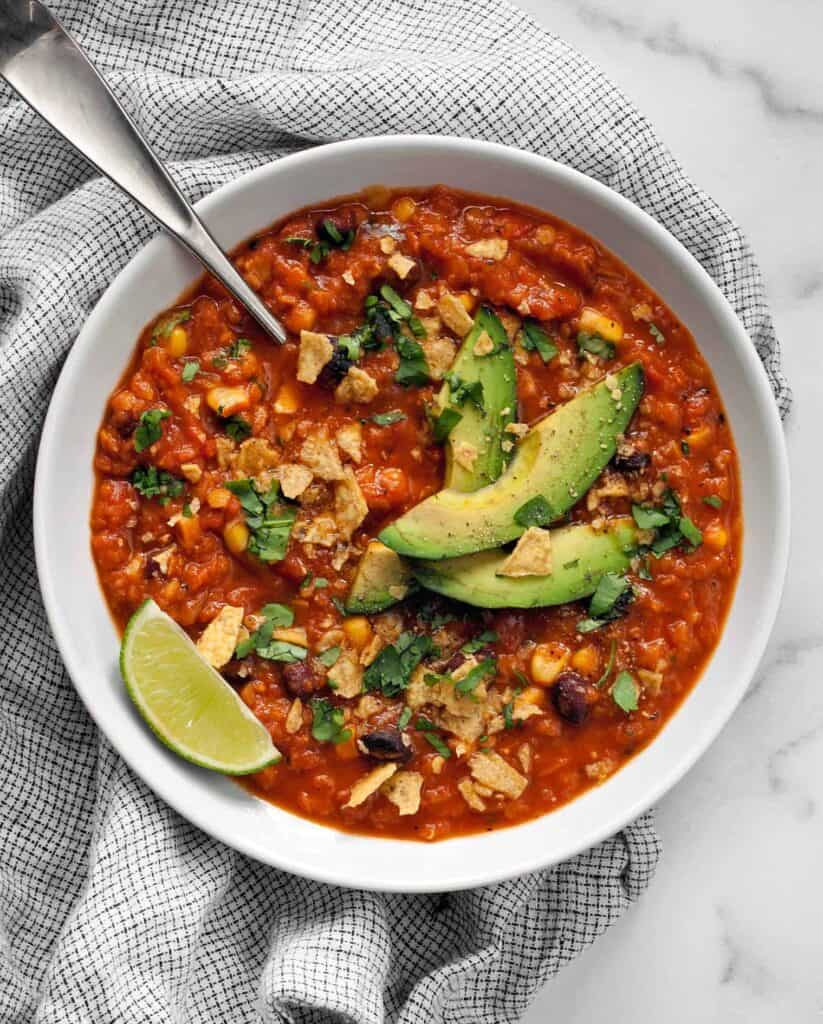 Excitement and regret are two feelings that sometimes come as a package deal.

I can hardly type right now because I would rather be in my closet figuring out what to wear tomorrow.

The right layered look is so important for the first day of fall sweater weather.

There will that moment of shock when I open the door to head outside. It's a reminder and only a hint of the cold to come.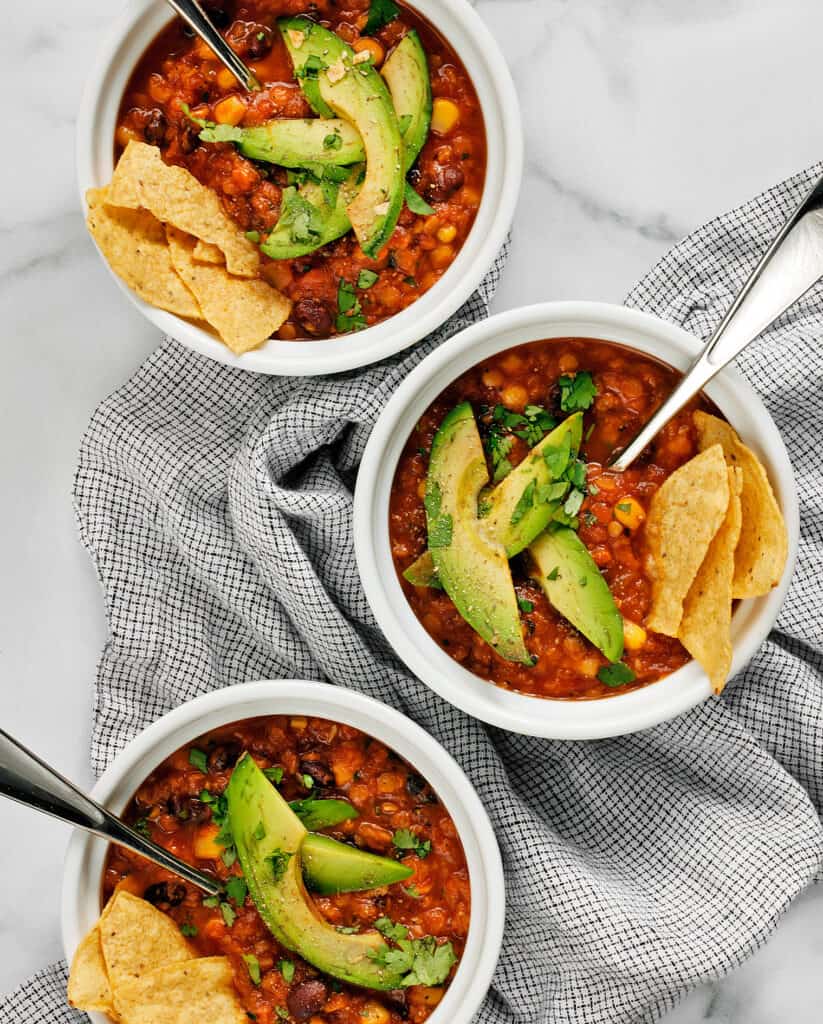 Usually my excitement lasts through the holidays.

Come January the cold seems like a never ending slog of me trying not to peak too early with my warmest outerwear.

I haven't worn socks with shoes other than to work out since May. That alone should make it pretty obvious that I will eventually regret my initial thrill for the chill.

Fortunately, my fridge and freezer are already stocked with soup.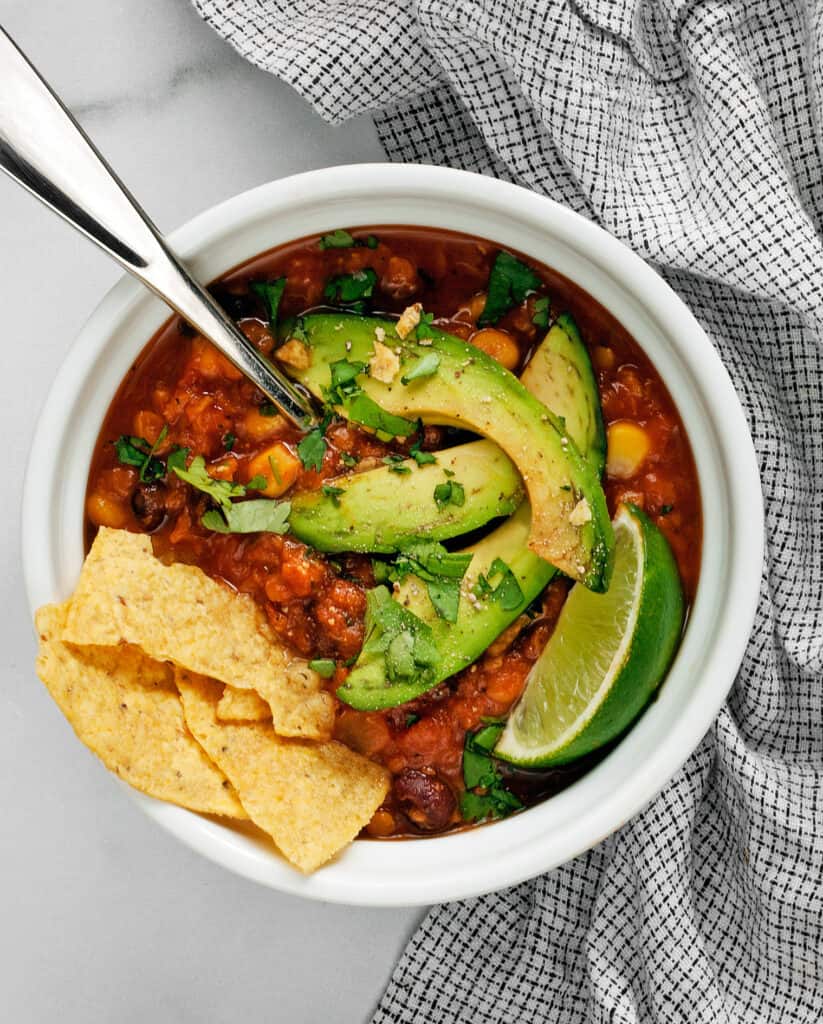 Last weekend I got reacquainted with my slow cooker.

It was as if I was catching up with an old friend.

Within seconds we were completely in sync like we had never been apart.

The result was this slow cooker lentil tortilla soup.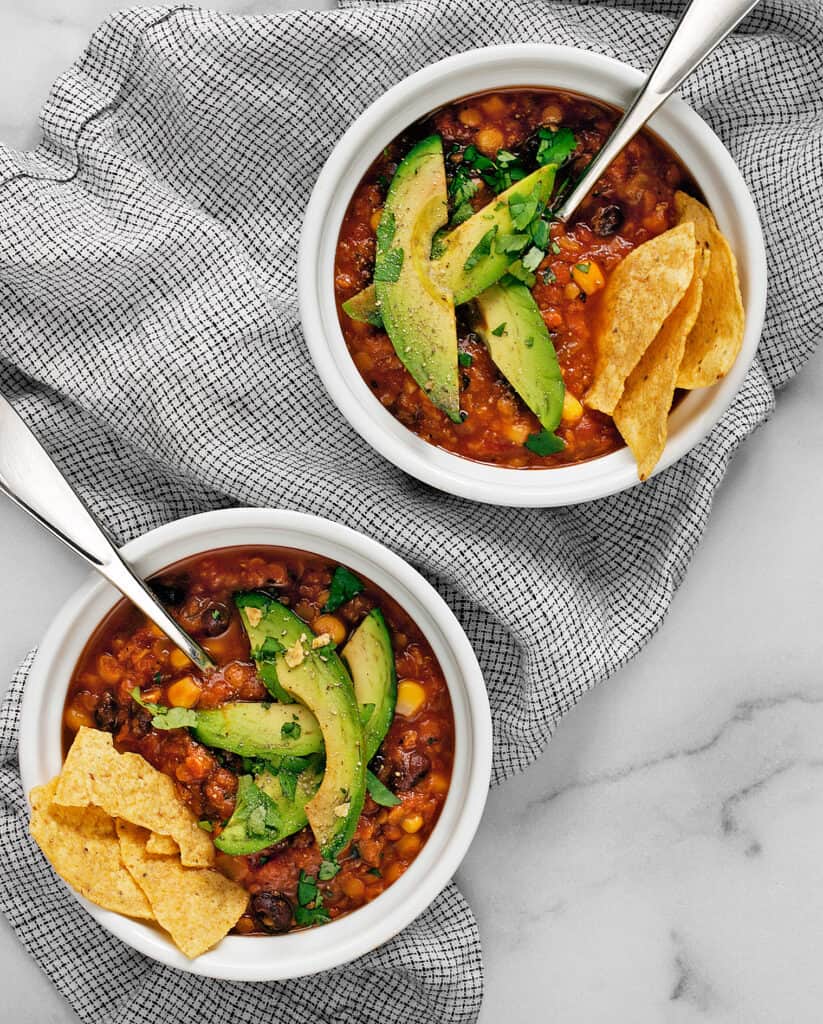 Tortilla soup was my gateway into soup.
But soup wasn't on the menu at my house.
I first remember eating tortilla soup at a Tex Mex restaurant my friends and I would go to in high school.

Why I ordered it is a total mystery to me, but it continues to be one of my favorites.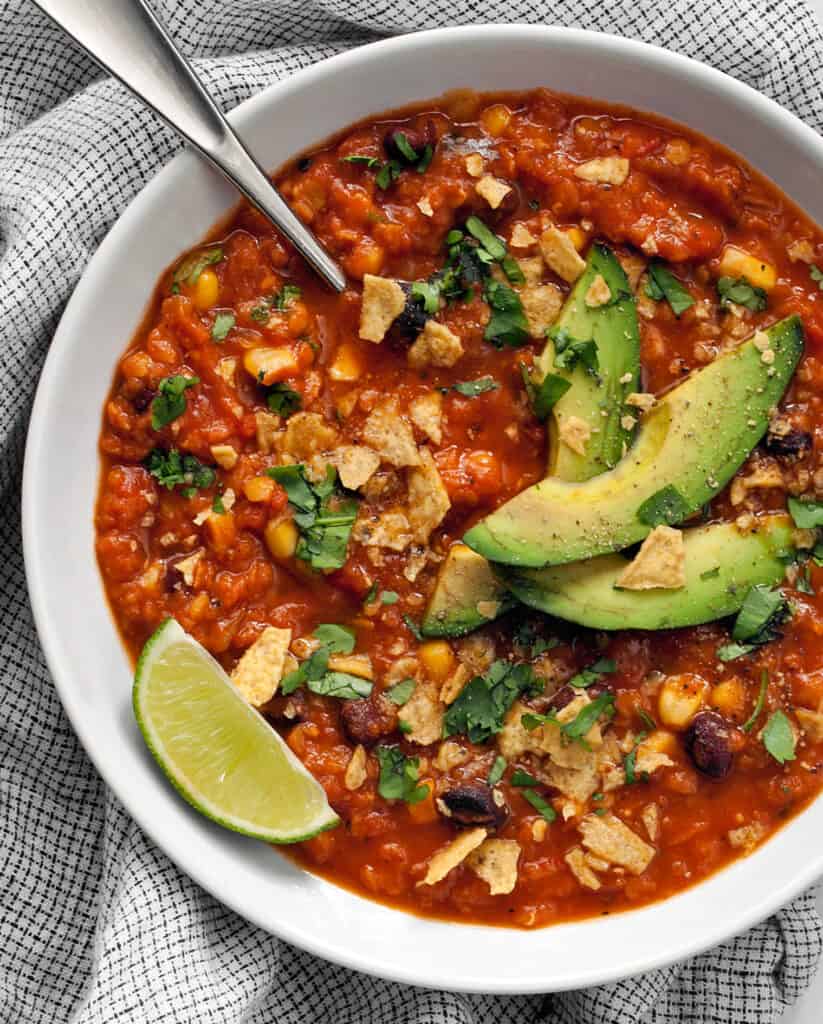 With slow cooker meals, you can do a quick and efficient pantry cleanout.

If you don't have space on your shelves for more canned goods in this shared urge to hoard that is our current world, just make a soup or stew that's packed with beans and veggies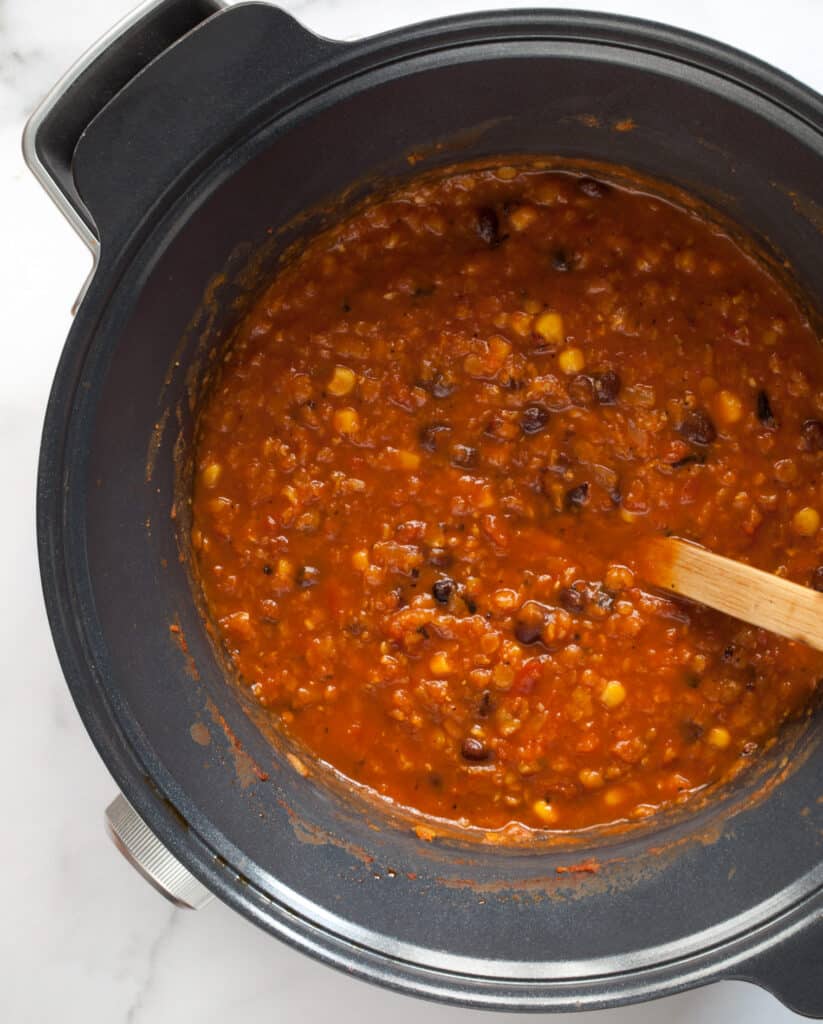 How To Make Slow Cooker Lentil Tortilla Soup
For this slow cooker lentil tortilla soup, first I sauté the ingredients that will be the base of the spicy, smoky flavor.

They include chipotles en adobo, red onions, garlic, cumin, oregano, salt and pepper.

With my slow cooker I can take out the pot and put it directly on the stove. If you can't with yours, just use a skillet to cook these initial ingredients and then transfer them to your slow cooker.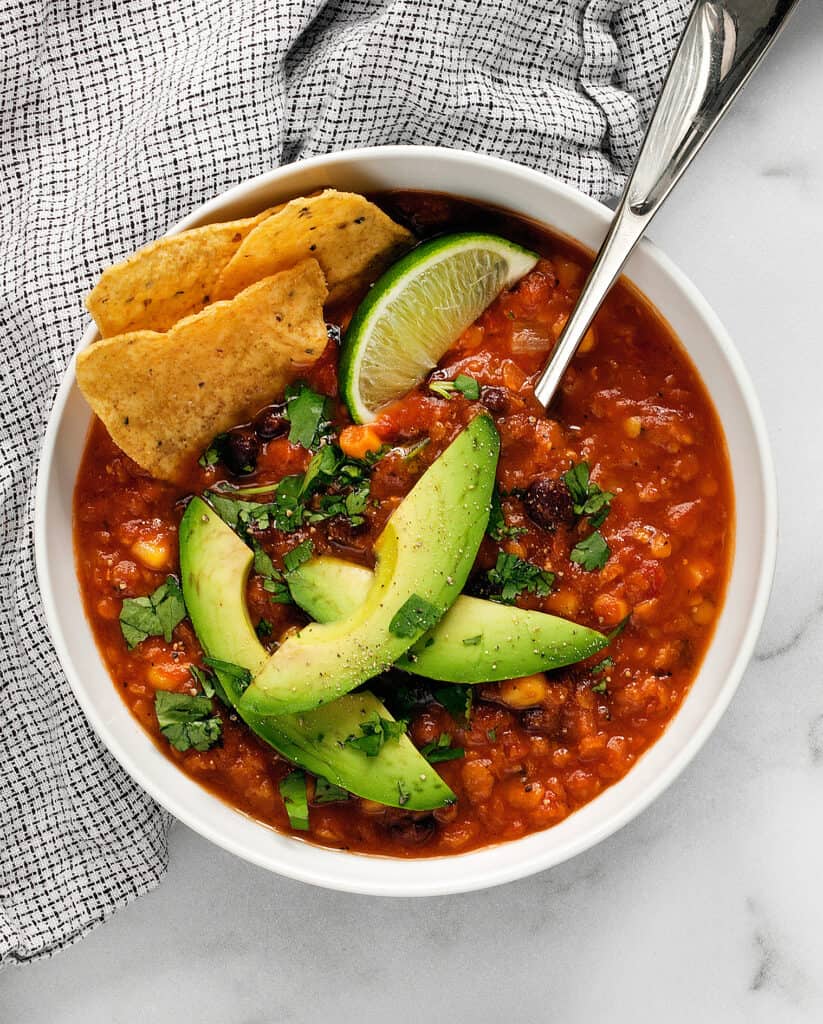 Once the onions and garlic are soft and fragrant and in the slow cooker, add the remaining ingredients: red lentils, crushed fire-roasted tomatoes, veggie broth, black beans and corn.

I cook the soup on high for 4-5 hours. The lentils will lose their red color and almost melt into the soup.

This slow cooker lentil tortilla soup is thick and hearty, and it's vegan, too. I like to top my bowl with avocado, crushed tortilla chips, chopped cilantro and a squeeze of lime juice.

Save half the leftovers in the fridge and the rest in the freezer like I did the last time I made it.
Print
Slow Cooker Lentil Tortilla Soup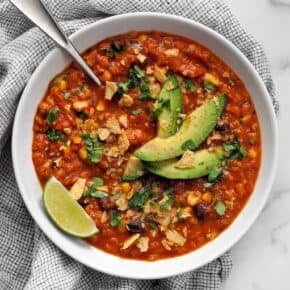 Prep Time:

10 minutes

Cook Time:

4-5 hours

Total Time:

4-5 hours 10 minutes

Yield: Serves

6

1

x
Scale
Ingredients
1 tablespoon olive oil
1 red onion, roughly chopped
2 garlic cloves, minced
2 tablespoons chipotles en adobo sauce
1 teaspoon cumin
1/4 teaspoon dried oregano
1 teaspoon kosher salt
1/2 teaspoon black pepper
1-28 ounce can crushed fire-roasted tomatoes
1 quart vegetable broth
1 cup red lentils
1-15 ounce can black beans, drained and rinsed
1-15 ounce can corn, drained and rinsed
Chopped cilantro, sliced avocado, tortilla chips and lime wedges for serving
Instructions
Heat the olive oil in a skillet over medium high heat, add the onions and sauté until they start to turn soft and translucent, about 5-7 minutes. Add the garlic, chipotles en adobo sauce, cumin, dried oregano, salt and pepper stirring until fragrant, about 30 seconds.
Transfer the onion mixture to a slow cooker. Add the tomatoes, vegetable broth, red lentils, black beans and corn. Cook on high for 4-5 hours.
Divide the soup into bowls and top with chopped cilantro, avocado and tortilla chips. Serve the soup with lime wedges.
SHARE THIS