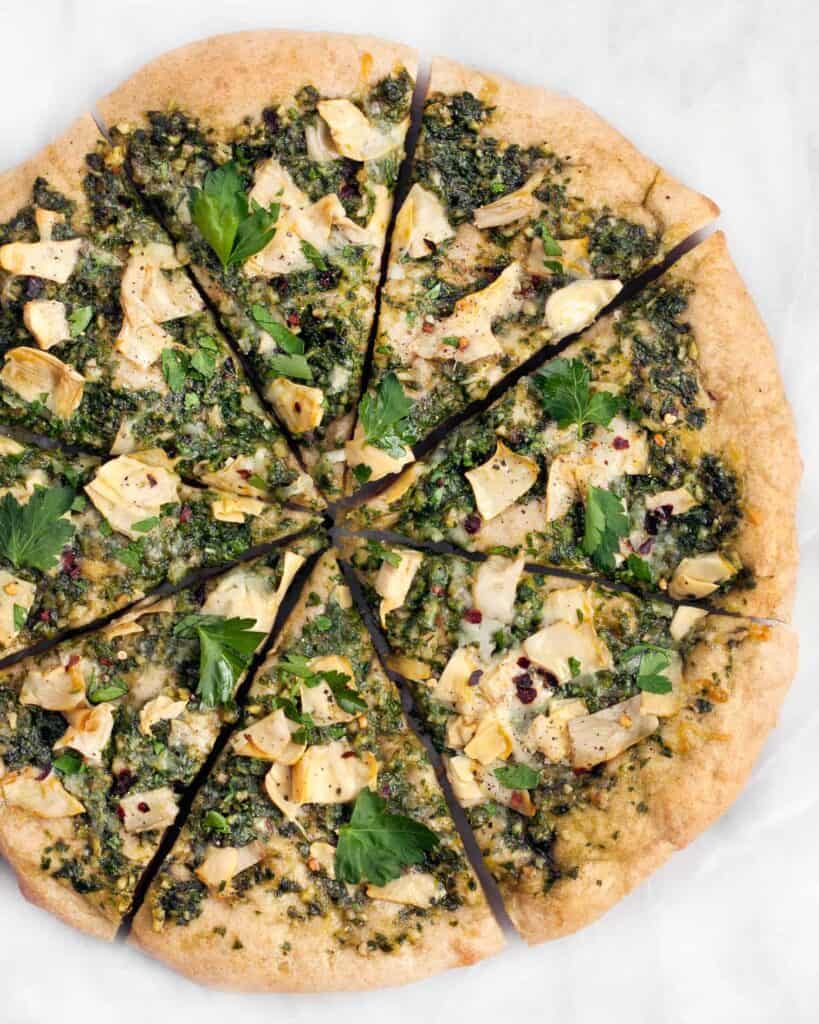 I have no official statistics or research, but I bet the Super Bowl must be a close second to Thanksgiving in the importance of food holidays.
In the week leading up to the big game, my cooking and recipes are focused on football, but they won't be limited to just this Sunday. I will be making them long after the 4thquarter is finished.

Pizza is on my list of favorite foods no matter what time of the day, month or year.

With the Super Bowl on my mind, I made a spinach artichoke pizza inspired by the classic dip.

When I think of spinach & artichoke dip, I picture a thick, rich mixture with plenty of cream cheese, sour cream and Parmesan. Not what I want in a pizza.I prefer going light on the cheese and heavy on the vegetable toppings.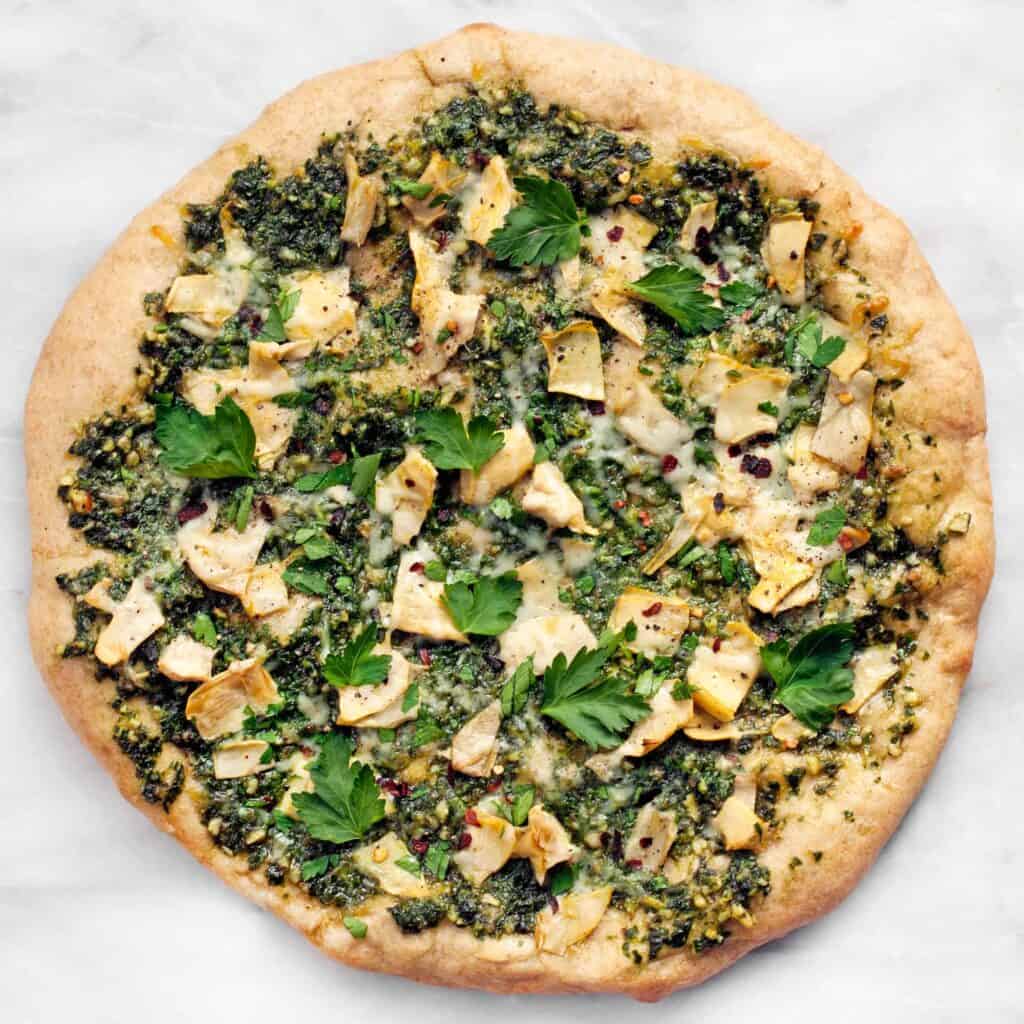 Since this was a sauce-less pizza, I needed another kind of spread for the base. I whipped up spinach pesto with garlic, parsley and walnuts in the food processor. It was a more exciting way of getting spinach onto a pizza instead of just wilting it. Plus then there was spinach in every bite.
For the crust, I used a combination of bread flour and whole wheat flour, which I find gives it more flavor and chew.
I love making dough from scratch. Of course it's absolutely fine to use store-bought dough or even one of those premade flatbreads.
I gave the crust a head start in the oven on a baking stone, and then I smeared on the spinach pesto followed by the artichokes and just a little of shredded cheese. I put the pizza back in the oven, so the cheese could melt.
When the pizza finished baking, I sprinkled on red pepper flakes for some heat and fresh parsley.
Print
Spinach Artichoke Pizza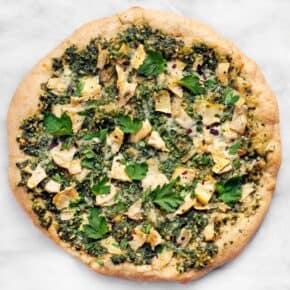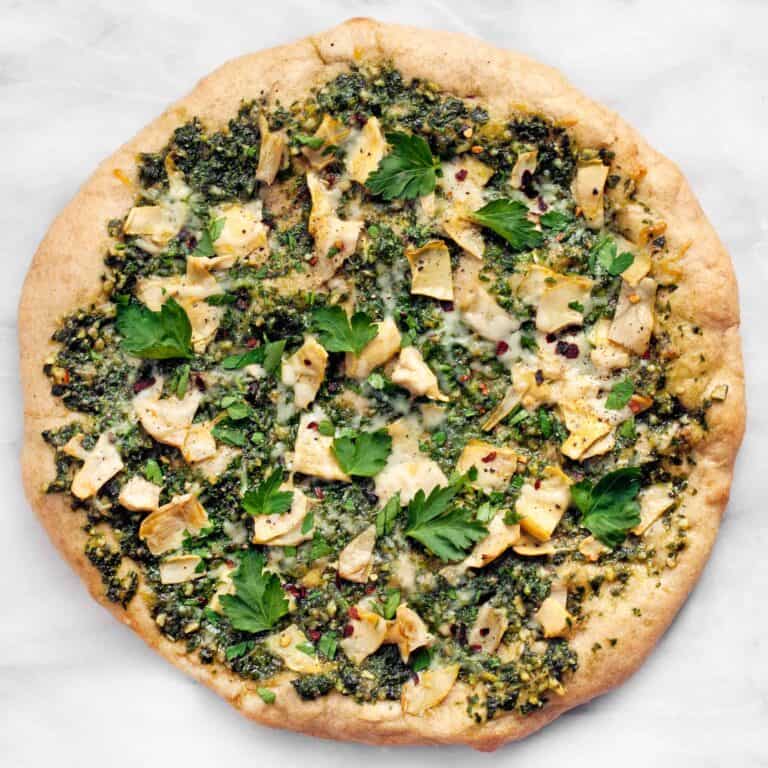 Prep Time:

2-1/2 hours

Cook Time:

10-12 minutes

Total Time:

2 hours 40-42 minutes

Yield:

1 pizza
Ingredients
For crust
2/3 cup warm water
1/2 teaspoon dry active yeast
1/2 teaspoon granulated sugar
1 teaspoon olive oil plus more for bowl
1 cup bread flour plus more for work surface
1/2 cup whole-wheat flour
Cornmeal for pizza stone
For pesto
1 garlic clove, peeled
1 cup baby spinach
1/4 cup parsley leaves
1/4 cup grated Parmesan
1/2 teaspoon kosher salt
1/4 cup black pepper
1/4 cup olive oil
For toppings
1/3 cup roughly chopped marinated artichokes
1/4 cup shredded Italian cheese blend
Whole and chopped parsley leaves
Red pepper flakes
Instructions
In a small bowl, combine the water, yeast, sugar and olive oil. Let stand until foamy, about 5 minutes. In the bowl of a food processor, pulse both the flours and salt. Add the yeast mixture and process until a ball of dough forms. Transfer the dough to an oiled bowl. Cover and let rise until doubled in volume, about 2 hours or up to overnight in the refrigerator.
For the pesto, finely chop the garlic in a food processor. Add the spinach, parsley, walnuts, Parmesan, salt and pepper, and process into a paste. While the food processor is running, pour the olive oil in a fine stream until the pesto is fully combined.
Preheat the oven to 450 degrees F with a pizza stone inside the oven.
On a lightly floured work surface, roll out the pizza dough into a 12-inch diameter circle. Sprinkle the preheated pizza stone with cornmeal and place the dough on it. Bake the crust for 5 minutes before spreading on the pesto, leaving a 1-inch border, followed by the artichokes and cheese. Continue baking for 5-7 minutes until the crust is golden brown and cooked through and the cheese has melted.
Sprinkle the pizza with red pepper flakes and parsley before serving.
SHARE THIS