Vegan and Gluten Free Chocolate Cherry Tartlets
This post is sponsored by So Delicious Dairy Free.
Even though apples and pecans get all the attention in the height of pie season, I still default to chocolate desserts. I know I can't be the only chocoholic who's feeling a bit lonely.

Determined to make a case for my favorite sweets, I baked these vegan and gluten free chocolate cherry tartlets with a chocolate crust, cherry preserves and a wonderfully rich ganache filling.

Each bite was decadent despite not involving heavy cream or the usual ingredients.
I started by baking the crusts, a combination of almond flour, cocoa powder, coconut oil and maple syrup. Once they cooled, I spread a spoonful of cherry preserves on each tartlet and filled them with a dark chocolate and coconut milk ganache.

I wanted more fruit to balance out the chocolate, so I reached for a pint of So Delicious Dairy Free Frozen Mousse in Cranberry Cherry Swirl.
The frozen mousse was light, fluffy and added both sweet and tart flavors with the pairing of cherries and cranberries. I served each tartlet with a generous dollop on top.

The recipe makes 6, but they can definitely be shared especially after a big meal. Cut them into halves, thirds or quarters, and trust me, they will satisfy any sweet tooth at the table.
So Delicious Dairy Free Frozen Mousse comes in seven flavors. I'm also a big fan of Salted Caramel Swirl and Peanut Butter Swirl.

You could definitely swap out the cherry preserves at the base of the tarts with peanut butter or caramel and use one of these flavors. If you do that, I recommend sprinkling the tarts with flaky sea salt to amp up the magic of a salty and sweet dessert.
I don't' think of myself as a polish-off-the-pint kind of person, but the mousse was so light that I had trouble putting down my spoon. Each pint only has 300-330 calories, so I didn't feel bad about devouring more than I had planned!
Print
Vegan and Gluten Free Chocolate Cherry Tartlets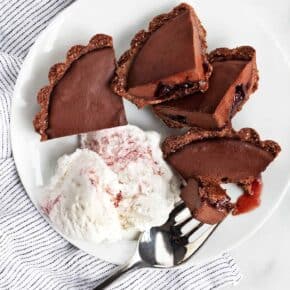 Prep Time:

20 minutes

Cook Time:

10-12 minutes

Total Time:

30 minutes + cooling

Yield:

6 tartlets
Instructions
Preheat the oven to 350 degrees F. Grease 6 mini tart pans with non-stick cooking spray.
In a large bowl, combine the almond flour, cocoa powder, coconut oil, maple syrup, vanilla extract and salt. Stir the mixture until it has the consistency of wet sand. Press into the bottoms and sides of the prepared tart pans. Place them on a sheet pan and bake for 10-12 minutes until the crust is just firm. Cool completely on a wire rack.
For the filling, place the chocolate in a large heatproof bowl. Heat the coconut milk in a small saucepan over medium heat. When bubbles start appearing at the edges, pour the coconut milk over the chocolate. Let stand for 2 minutes and then gently whisk until the chocolate has melted.
To assemble, spread a tablespoon of cherry preserves on the bottom of each tart. Pour in the ganache and refrigerate until set, about 2 hours. Top each tart with So Delicious Dairy Free Frozen Mousse before serving.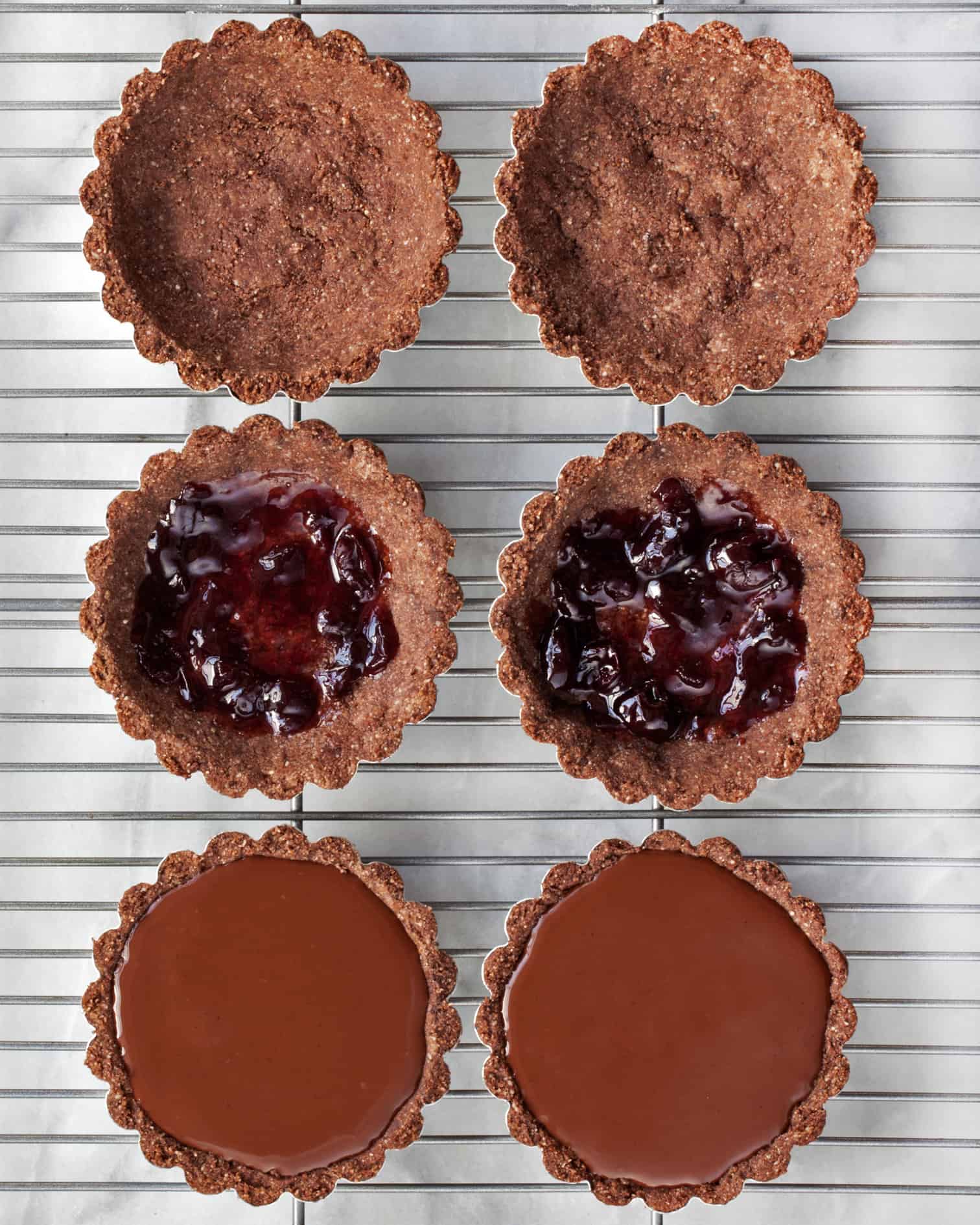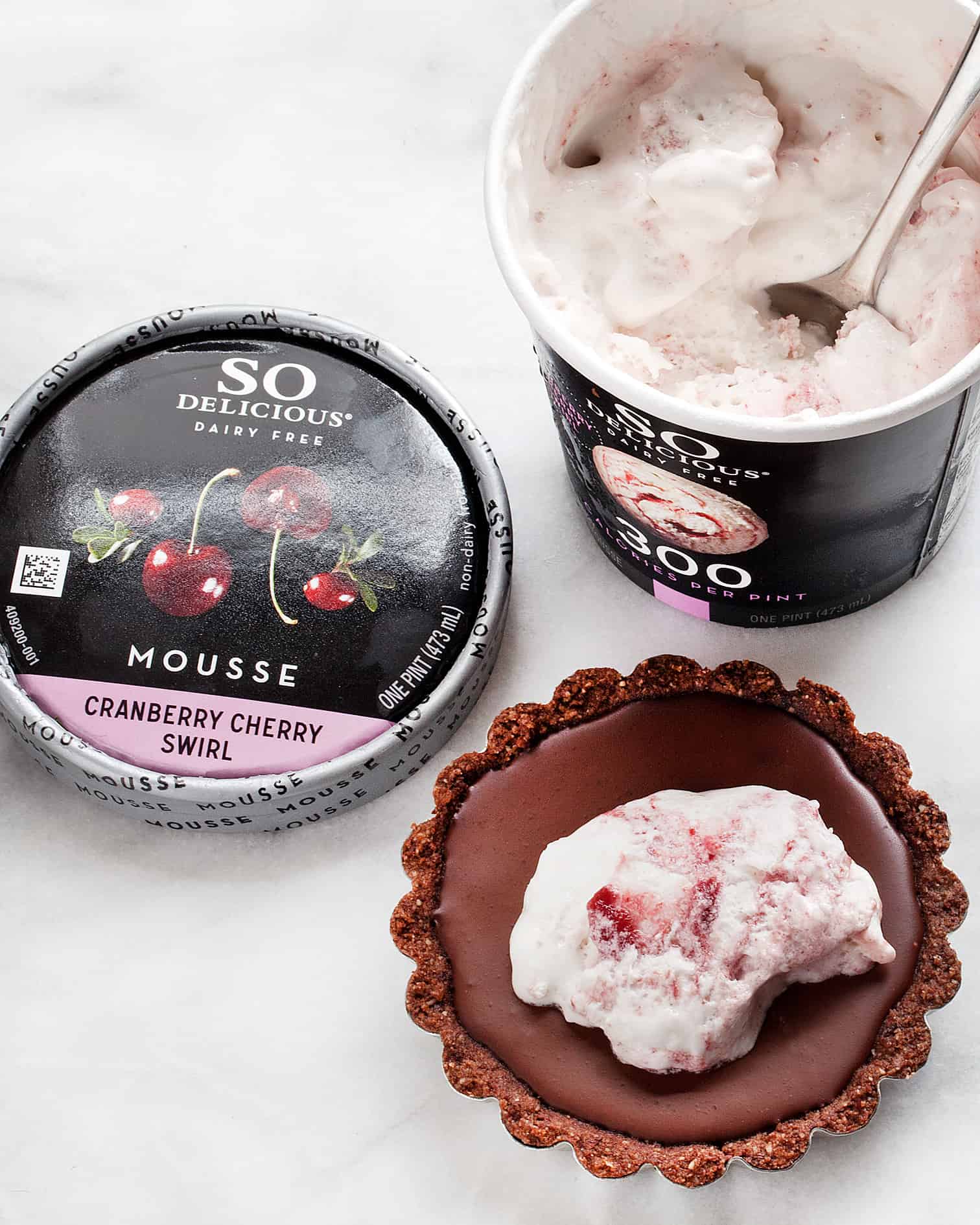 SHARE THIS