Zucchini Noodles and Cherry Tomatoes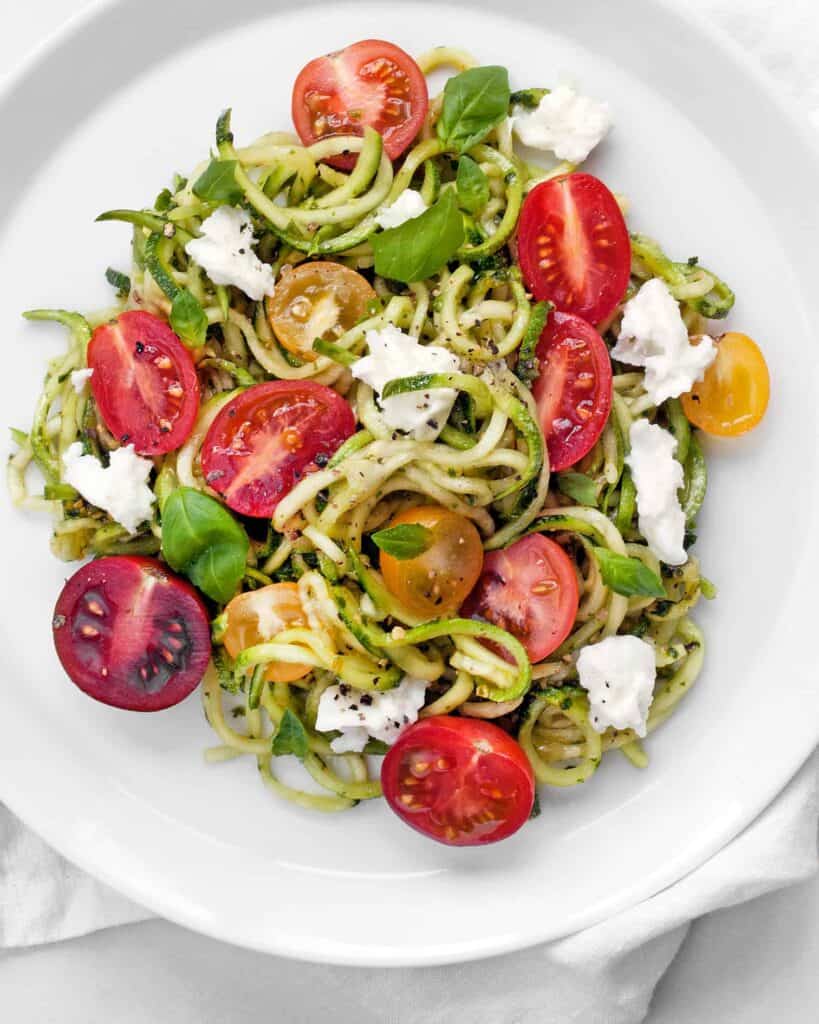 Every year when tomato season is in full swing it becomes part of my (almost) daily routine to roast a sheet pan full of sliced tomatoes.
It doesn't matter the size, color or variety, I drizzle them with olive oil and sprinkle on salt & pepper.
Then they wrinkle a bit in the oven revealing their most tomato-y flavor.
I use these tomatoes in everything from scrambled eggs to orzo to potato salad.
Roasted tomatoes are the best.
That is until the inevitable summer heatwave hits.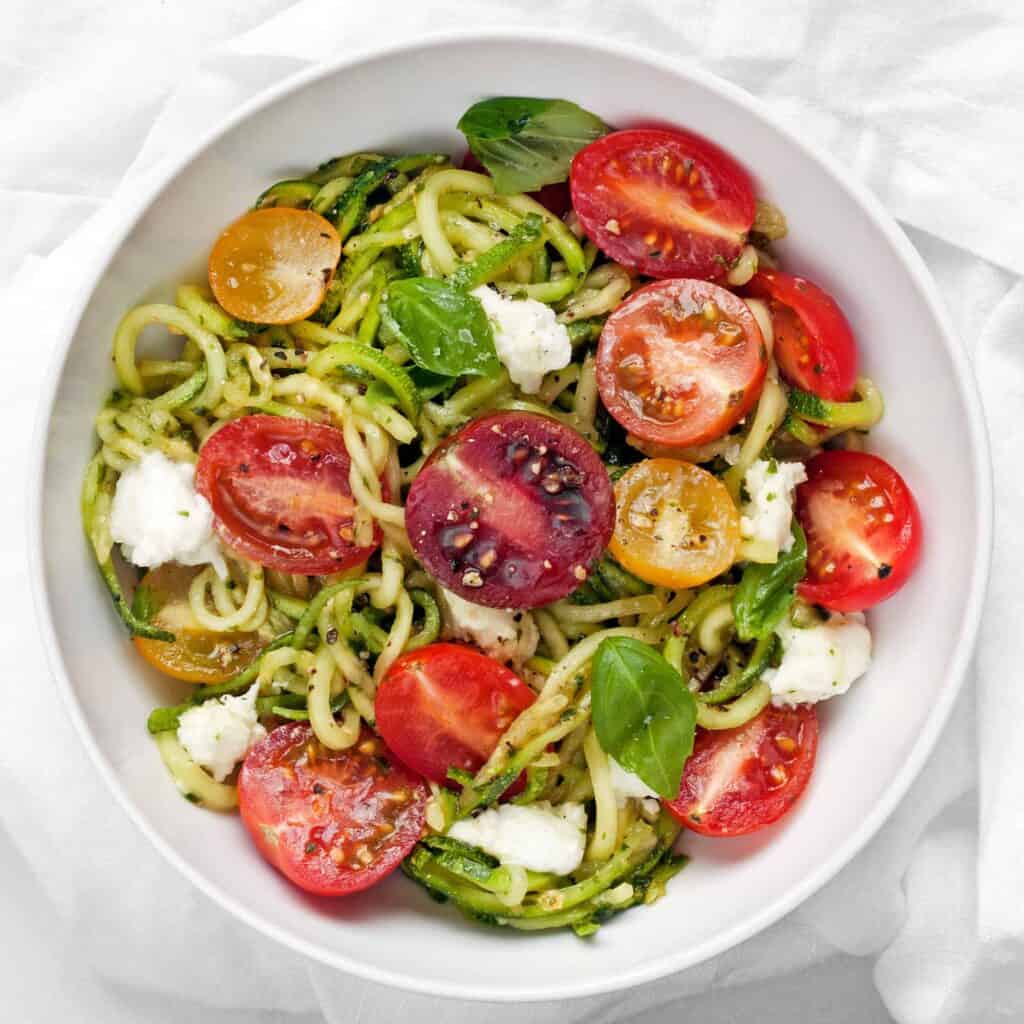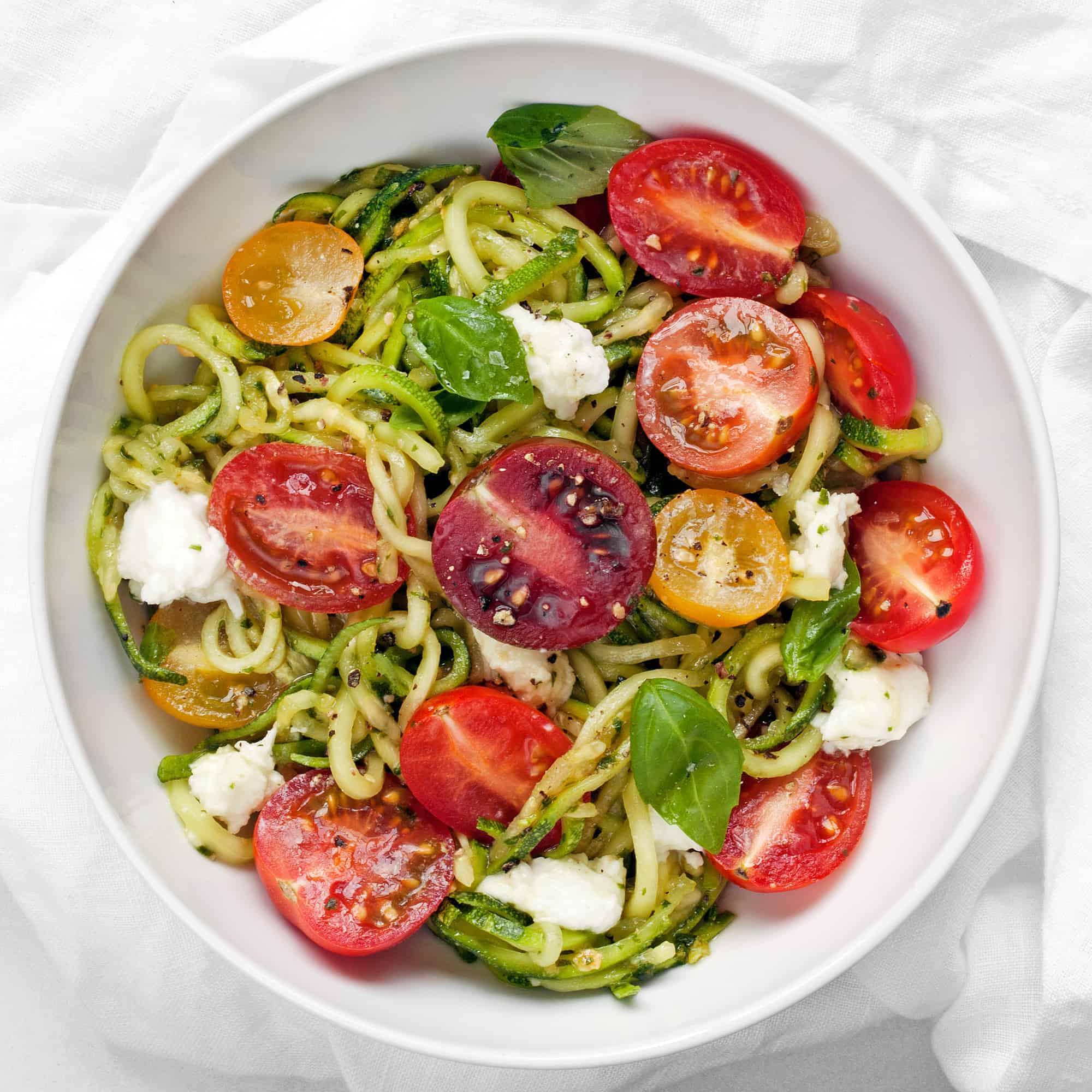 My anxiety takes over, and I sweat it out at home. I don't want my air conditioner working overtime for fear of it breaking when it's 95+ degrees in the shade.
That's when those kinds of emergencies always happen.
How To Make Zucchini Noodles and Cherry Tomatoes
With things warmer outside and inside, the time has come to give the oven a rest and enjoy summer in the raw.
I pull out my spiralizer and made zucchini noodles and cherry tomatoes.
Zoodles can be a love-it or hate-it kind of thing.
I will never say no to traditional pasta, but zucchini noodles make things take on a more salad vibe.

Those expecting veggie noodles to taste like actual noodles will be very disappointed.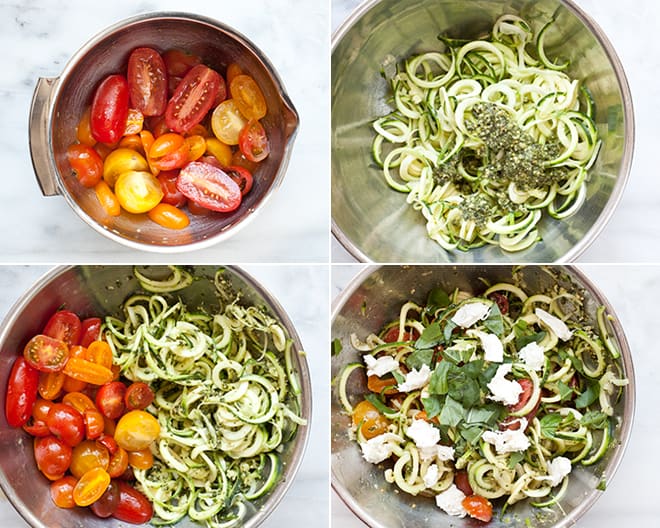 To dress up my noodles, I toss them in basil pesto. You can't get much more summer than that!
Then come the tomatoes. As much as I want to roast them, I control myself.
I just slice cherry tomatoes in half. Then I let them sit for about 10 minutes in a bowl with garlic, olive oil, salt and pepper.
To go with the zucchini noodles and cherry tomatoes, I add torn fresh mozzarella and basil leaves.
Since we are in season, now is the time to enjoy these kinds of vegetables at their most flavorful and fresh.
There will be plenty of time to have the oven on the rest of the year especially during root vegetable and soup season.
Print
Zucchini Noodles and Cherry Tomatoes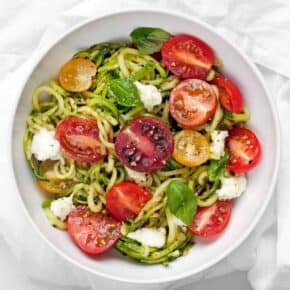 Prep Time:

15 minutes

Total Time:

15 minutes

Yield: Serves

4

1

x
Scale
Ingredients
1 pint cherry tomatoes, halved
1 garlic clove, grated
2 tablespoons olive oil
1/2 teaspoon kosher salt plus more for serving
1/4 teaspoon black pepper plus more for serving
4 medium zucchini
3 tablespoons basil pesto
1/4 cup torn basil
3 ounces mozzarella, torn into pieces
Instructions
In a medium bowl, combine the tomatoes, garlic, olive oil, salt and pepper. Let stand for 10 minutes.
Trim and spiralize the zucchini. Cut any long noodles, so they are about the length of spaghetti. Transfer to a large bowl and stir in the pesto. Add the tomatoes, basil and mozzarella. Season with salt and pepper before serving.
SHARE THIS