Sometimes you need a vacation after your actual vacation, or at the very least, a couple days to get back into the swing of things. With a three-year-old, the whole family needs that time to transition into reality. We spent the week of the 4th visiting family and playing in the sand at the beach. It was a wonderful trip. Despite flight delays, our son was incredibly patient. I kept thanking him for that. We are lucky to have a good traveler!
Preoccupied with the stress that comes the moment you set foot in an airport, on our outbound journey I realized I packed my little guy's snacks, but nothing for me. Without much thought, I headed to a grab & go and picked up a chickpea salad with a southwest twist. It far surpassed my expectations for terminal fare. At home I made my version, a three bean salad with black, pinto, & navy beans and plenty of lime and cilantro.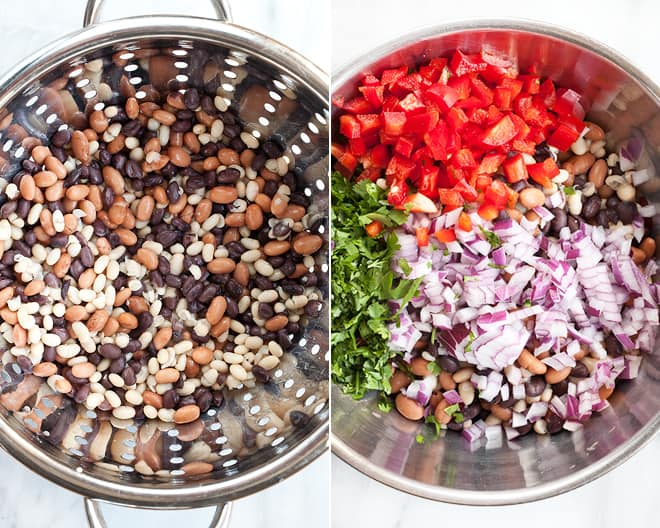 Three Bean Salad

Serves 4
1/4 cup olive oil
Juice of 1 lime
1-1/2 teaspoons kosher salt plus more for serving
1/2 teaspoon black pepper plus more for serving
1-15 ounce can black beans, drained and rinsed
1-15 ounce can pinto beans, drained and rinsed
1-15 ounce can navy beans, drained and rinsed
1/4 cup finely diced red onions
1 red bell pepper, diced
2 handfuls cilantro, roughly chopped
2 tablespoons minced chives
In a small bowl, whisk together the olive oil, lime juice, 1/2 teaspoon salt and 1/4 teaspoon pepper.
In a large bowl, combine the black beans, pinto beans, navy beans, onions, bell peppers, cilantro, chives and remaining salt & pepper. Stir in the lime vinaigrette. Taste the salad and add more salt and pepper as desired before serving.