Green Bean Tomato Olive Salad

Ready in 10 minutes, this green bean tomato olive salad with Parmesan and scallions is fresh and full of crunch. It can be served as a side, too.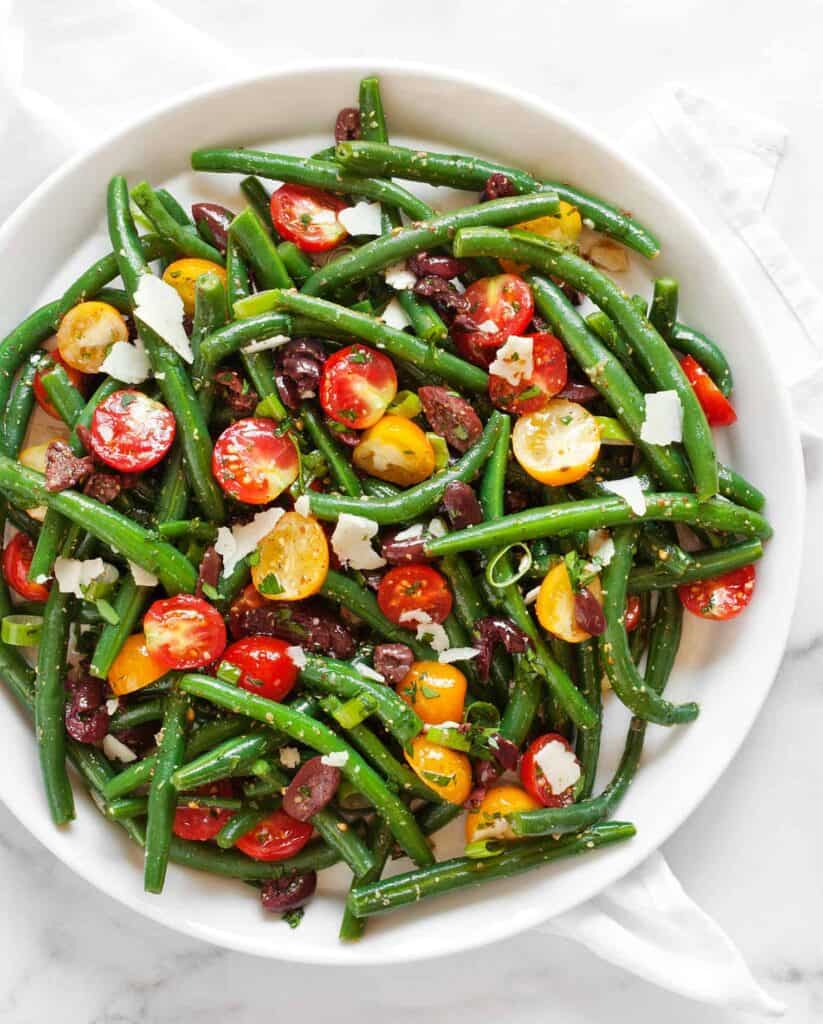 My summer fling with green beans is still going strong.

We've moved past the infatuation stage, but we're not official yet.

This isn't all my doing.

For what seems like the last 6 weeks, I've ended up with a big bag of them in my CSA.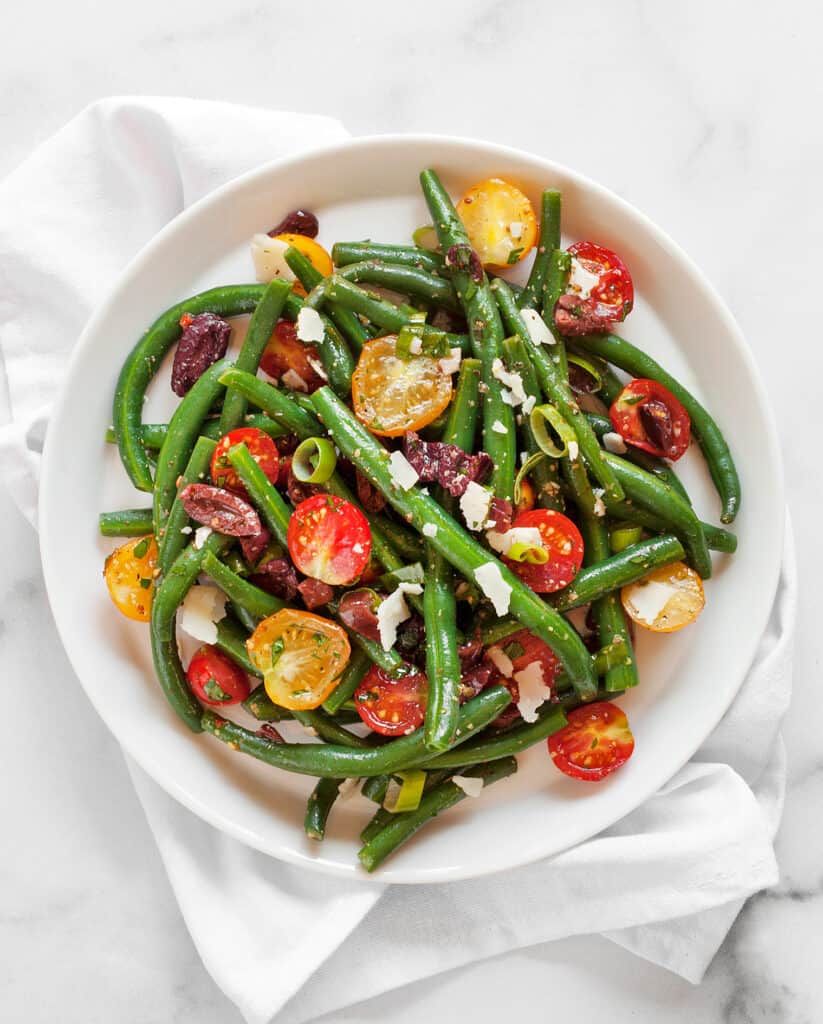 I kicked off things with a green bean white bean quinoa that could be considered a salad or side because I love when a dish can be served in more than one way.

Green beans are a more recent veggie obsession for me. Before I might use them in a pot of minestrone, but not much else.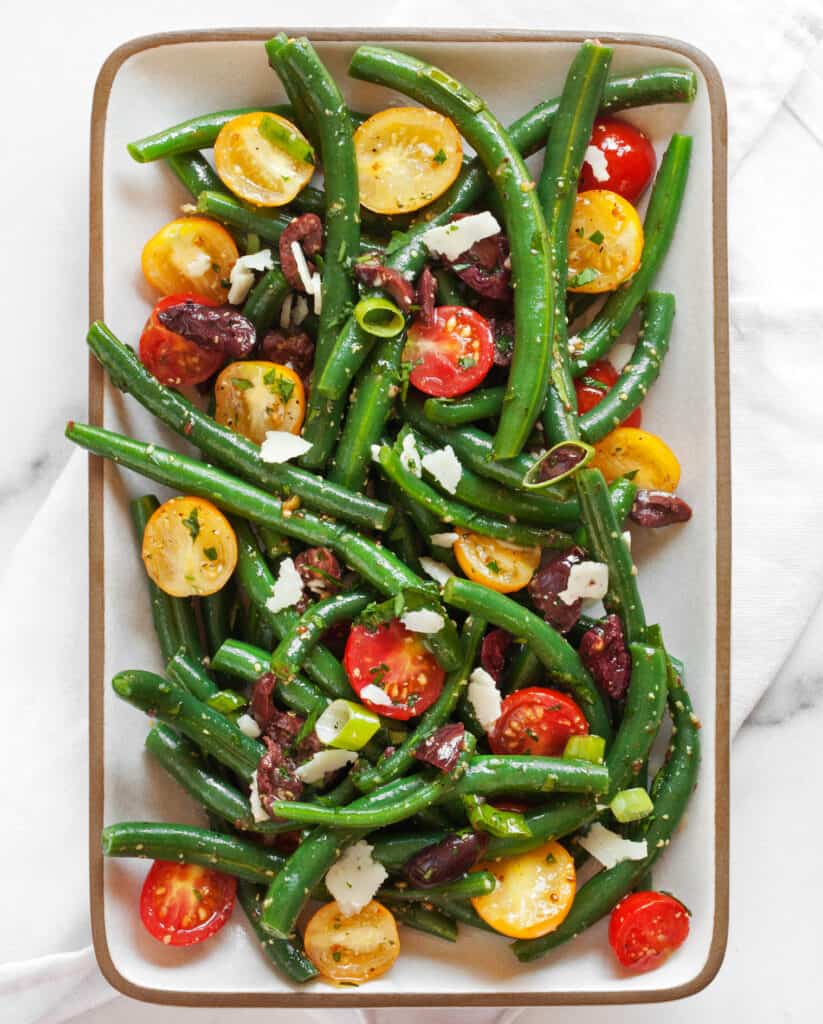 To eat my way through my CSA, I've been making green beans my main green in salads, not even bothering to use lettuce.

That's how this green bean tomato olive salad happened for the first time.
It was the end of the week, and I was short on leafy greens.

I had just enough spinach for my morning smoothie, but not enough for that and a salad.

In my never-ending mission to consume a good amount of greens and vegetables each day, I decided to keep things simple and go with green beans only.
How To Make A Green Bean Tomato Olive Salad
To start, I trimmed the green beans and blanched them in boiling water on the stove.

It's important to give green beans just a few minutes to cook. You want them to keep their crunch.

I used a slotted spoon to dunk the green beans in a bowl of ice water to cool off. After that I patted them dry with a towel and moved them to a big bowl.

After that I added halved cherry tomatoes from our container garden along with scallions, parsley and roughly chopped kalamata olives.

I am a big fan of adding olives to salads and pastas for their salty, briny flavor.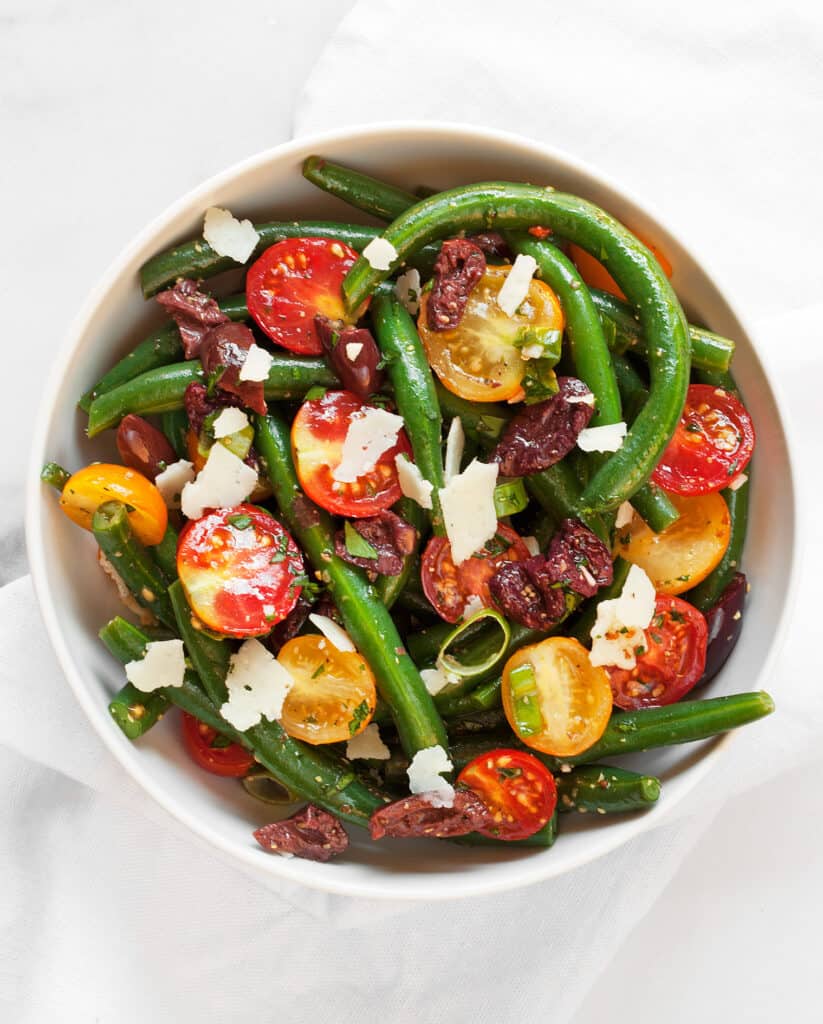 In a small bowl, I whisked together a vinaigrette with Dijon mustard, white wine vinegar, olive oil salt and pepper and drizzled it into the bowl with the green beans.

Usually a salad doesn't make good leftovers because the lettuce gets soggy, but by skipping the leaves, I was able to eat this green bean tomato olive salad straight from the fridge the next day.
It tasted even better because the mustard vinaigrette had more time to marry with the veggies and olives.
Print
Green Bean Tomato Olive Salad
Author:
Prep Time:

7 minutes

Cook Time:

3 minutes

Total Time:

10 minutes

Yield: Serves

4

1

x
Scale
Ingredients
1 pound green beans, trimmed
1 cup halved cherry tomatoes
1/2 cup roughly chopped pitted Kalamata olives
1 scallion, thinly sliced
1/2 ounce shaved Parmesan
2 tablespoons chopped parsley
1 teaspoon Dijon mustard
2 tablespoons white wine vinegar
1/4 cup olive oil
1/2 teaspoon kosher salt
1/4 teaspoon black pepper
Instructions
Cook the green beans in a pot of salted boiling water until just tender but still crisp, about 3 minutes. Use a slotted spoon to transfer the green beans to a bowl of ice water. Once the green beans are cool, drain the water and pat dry with a towel.
In a large bowl, combine the green beans, tomatoes, olives, scallions, Parmesan and parsley.
In a small bowl, whisk together the mustard vinegar, olive oil, salt and pepper.
Pour the vinaigrette into the green beans, tomatoes and olives, tossing to coat.
SHARE THIS