Rigatoni with Tomato Sauce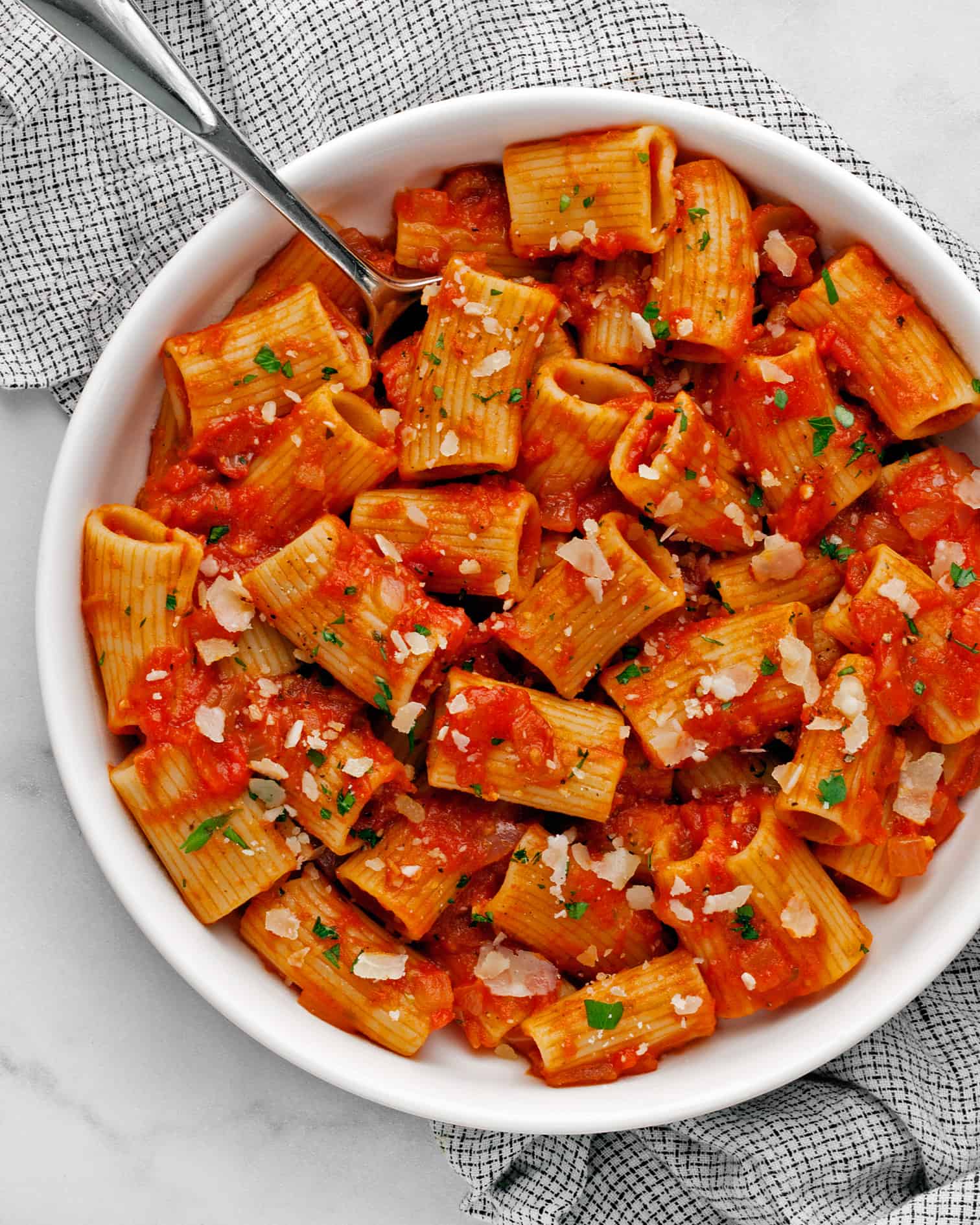 I don't like to make a big deal out of tomato sauce. Canned tomatoes are a pantry staple, so I think of them as a weeknight/whenever go-to ingredient. I know there are people who spend hours crafting their rendition of a treasured family recipe, but my version is finished simmering in 20 minutes. Keeping with that simple, no fuss meal prep, last week I made rigatoni with tomato sauce.
There is a range of effort that I find myself putting into this sauce depending on my mood. While minced onions are a nice addition, they aren't critical like garlic. I use crushed tomatoes, but if I want a smoother sauce, I put an immersion blender straight into the pot to puree it. I will even simmer it a little longer if I'm planning to use it for pizza. I always throw in a Parmesan rind as the sauce bubbles away.
Rigatoni with Tomato Sauce
Serves 4
1 tablespoon olive oil
1 small white onion, minced
2 garlic cloves, minced
1/4 teaspoon red pepper flakes
1 teaspoon kosher salt plus more to taste
1/4 teaspoon black pepper plus more to taste
1-28 ounce can crushed tomatoes
Parmesan rind, optional
1 pound dried rigatoni
Grated Parmesan for serving
In a large saucepan, heat the olive oil over medium heat. Add the onions and sauté until they soften, about 5 minutes. Add the garlic, red pepper flakes, salt and pepper and cook until fragrant, about 2 minutes. Add the tomatoes and Parmesan rind, if using, and bring the mixture to a boil. Reduce the heat to simmer for 15-20 minutes until the sauce has thickened.
Cook the rigatoni according to package instructions. Reserve 1 cup of pasta water. Stir the rigatoni into the sauce and add the pasta water by the 1/4-cupful to thin the sauce. Season to taste and top with grated Parmesan before serving.
SaveSave
SaveSave