Baked Tomato Farro Risotto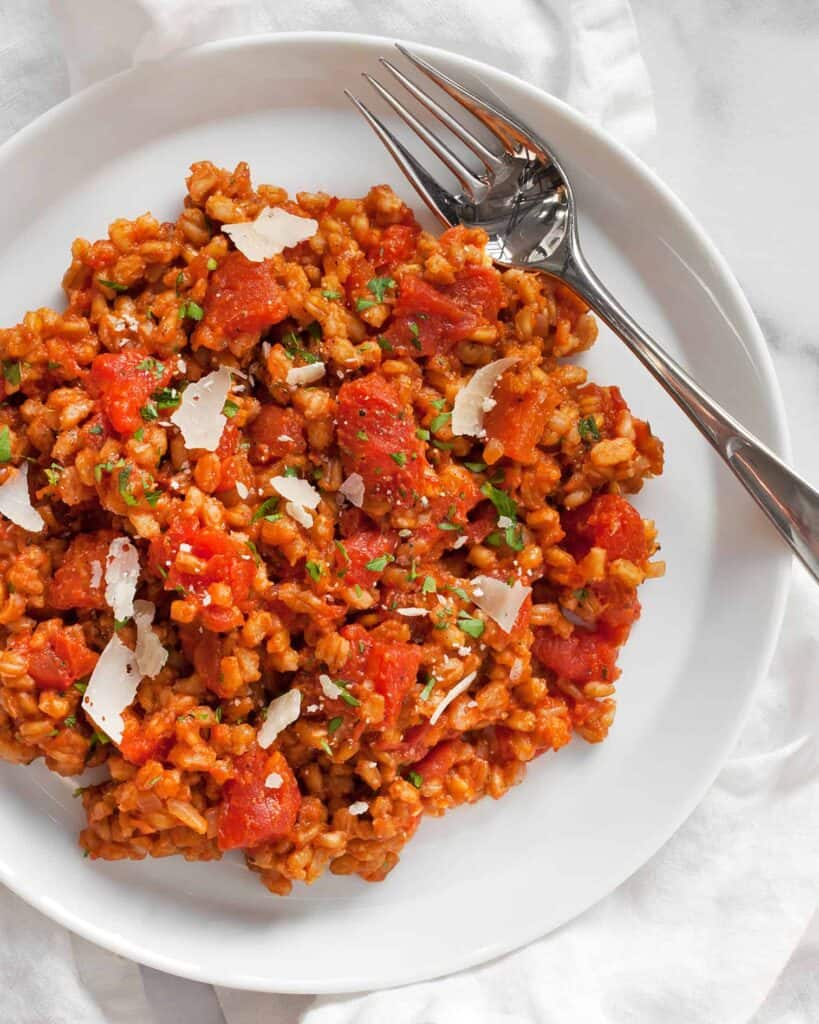 It's not unusual for me to spend hours on my grocery list. That's part of my normal routine every week.
That planning time comes with being a food blogger, but I think shopping has become very complicated for all of us.

I haven't been to the grocery in 2 weeks. And in a typical week I would go three times—that's not an exaggeration.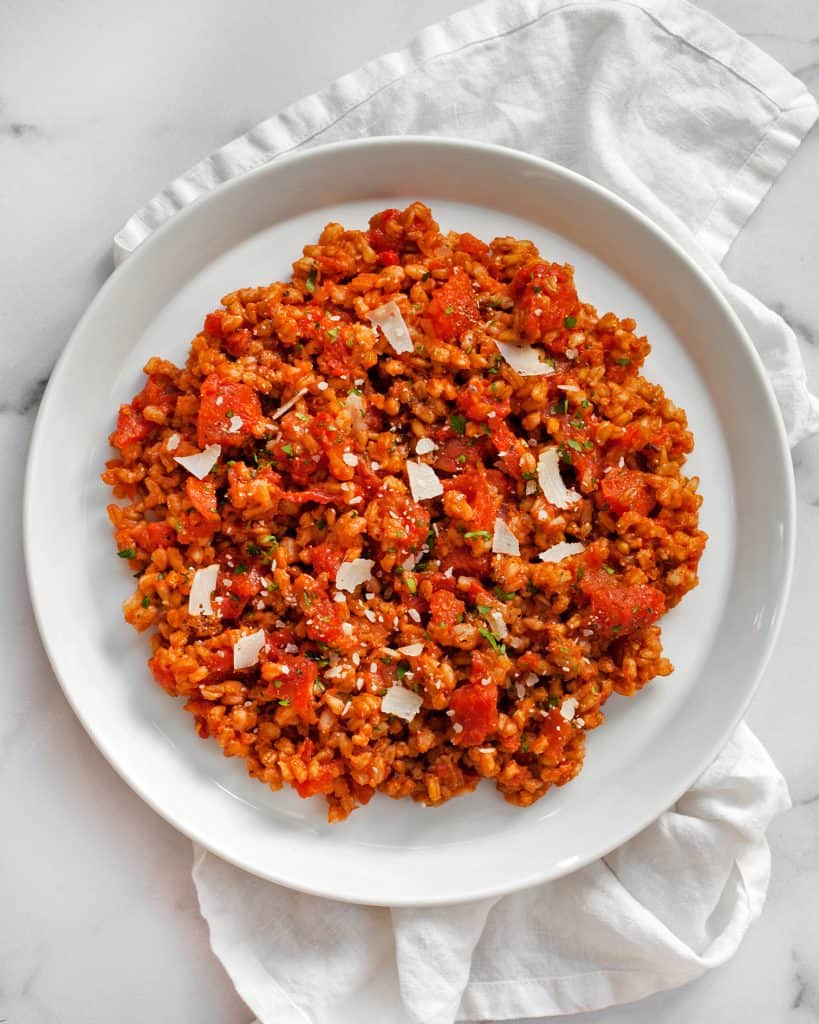 On that last trip, I was at the store when it opened at 6am.
I'm a morning person, so I'd seen it before in the early hours, and that day there was a crowd.

My goal was to fully stock up on pantry items like canned goods and grains.
Now my shopping has gone online where it is a test of patience and creativity.

In those glass half-full moments, I like to think of it as the ultimate pantry challenge.

Aren't we all trying to stay positive?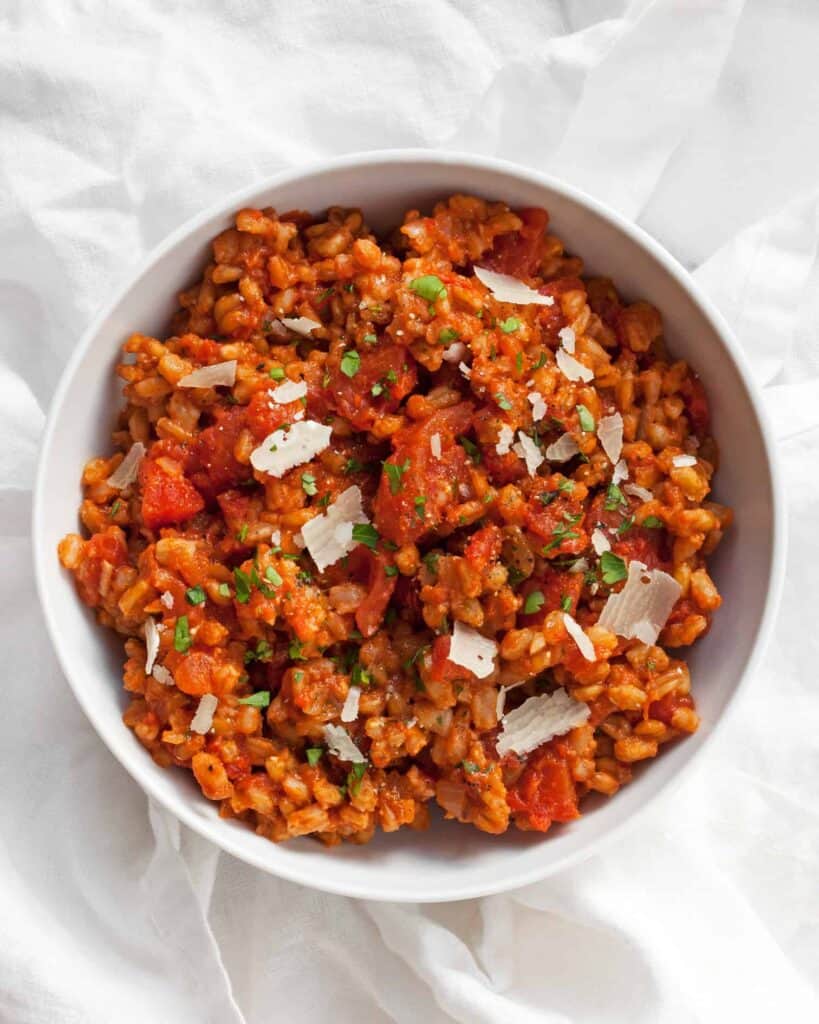 I always keep a supply of canned tomatoes at home no matter the circumstances. They are so simple to turn into a sauce for pasta or pizza or a hearty soup.

From crushed to diced to whole, I like the big 28-ounce cans. Having them stacked up in my cupboard feels like my food security blanket.
Grains also have a permanent spot in my kitchen. Just like tomatoes, I find that barley, quinoa and any rice can easily become a meal.

Now I've been using them together.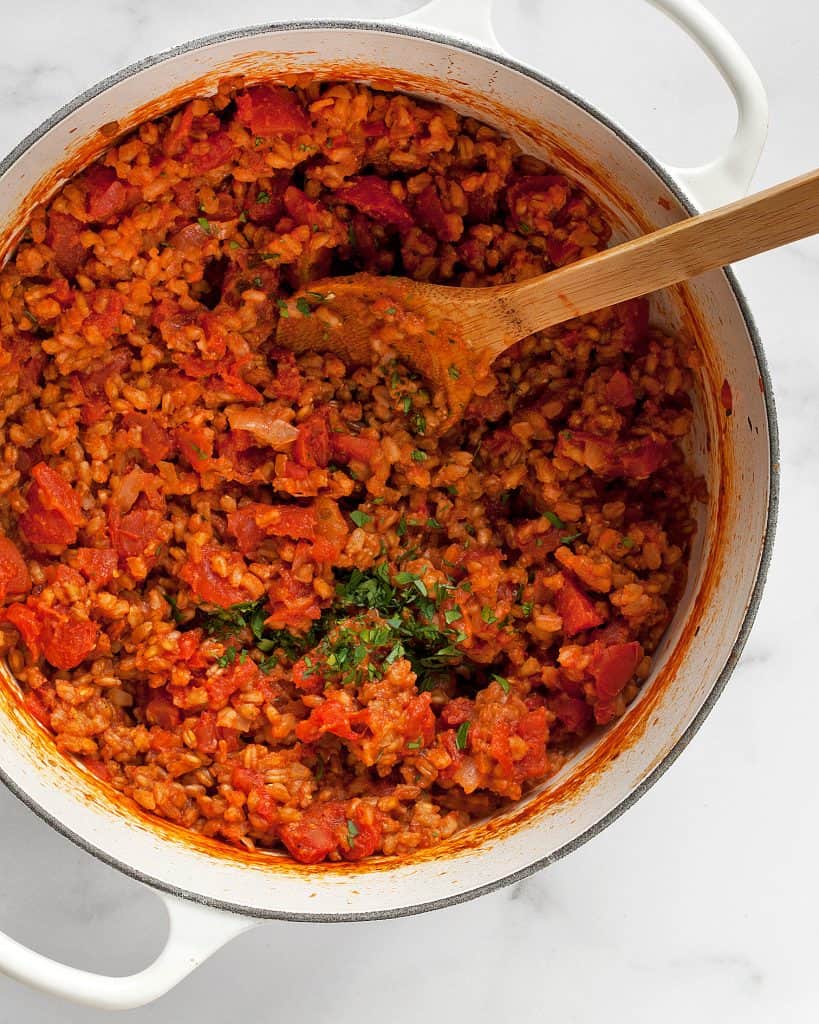 How To Make Baked Tomato Farro Risotto
A few months back I stopped making risotto the traditional way. Instead of stirring in cup after cup of broth, I let the oven do the work.
And that's what has brought risotto back into my life. Baking risotto lets me multitask!

To make this baked tomato farro risotto, I start by sautéing onions in olive oil. Then I add fragrant minced garlic and red pepper flakes.
After I stir in the grains, I give it a splash of dry white wine that takes seconds to absorb and bubble away.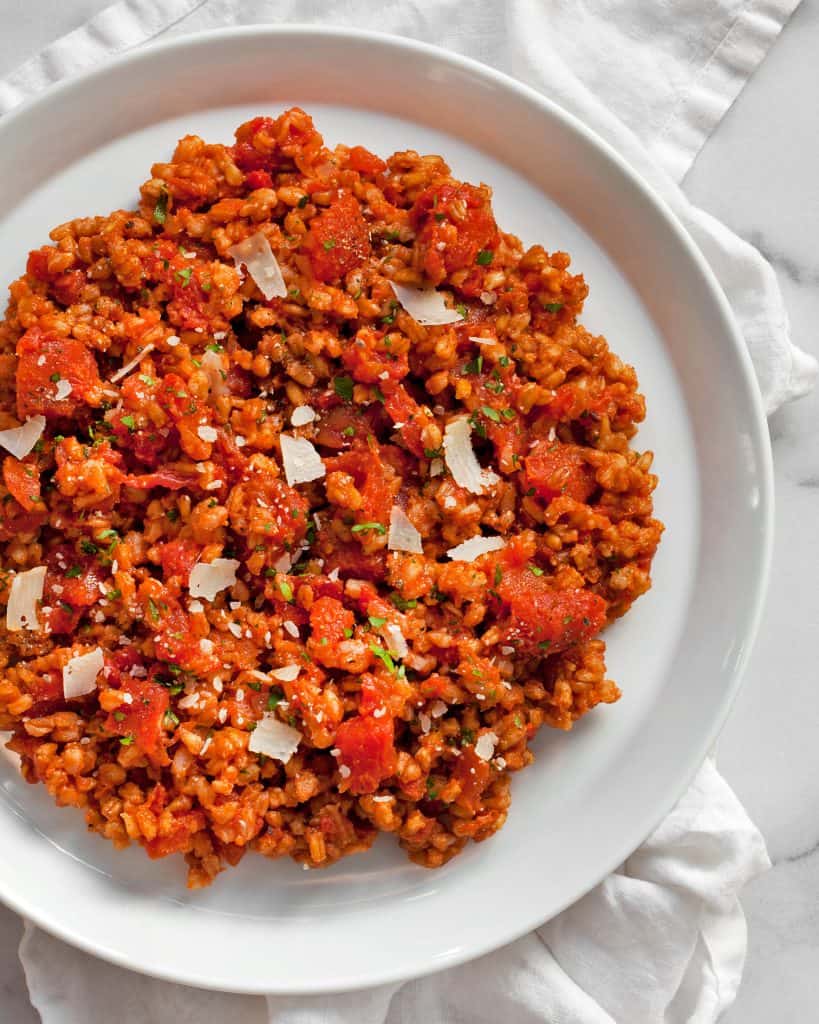 Then it's time for the can of tomatoes. I use diced because I like ending up with chunks of tomatoes in the farro.

The tomatoes don't have enough liquid on their own for the grains, so I also pour in a couple cups of veggie broth.

I bring the mixture to a boil and then put a lid on the pot and let it finish cooking in the oven.

Once the grains are tender, I fold in grated Parmesan.
Print
Baked Tomato Farro Risotto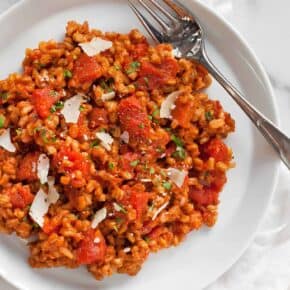 Prep Time:

5 minutes

Cook Time:

40-45 minutes

Total Time:

45-50 minutes

Yield: Serves

4

1

x
Scale
Ingredients
1 tablespoon olive oil
1 small white onion, diced
2 garlic cloves, minced
1 teaspoon kosher salt
1/2 teaspoon black pepper
1/4 teaspoon red pepper flakes
1-1/2 cups farro
1/2 cup dry white wine
1-28 ounce can diced tomatoes
2 cups low-sodium vegetable broth
1/4 cup grated Parmesan plus shaved Parmesan for serving
1 tablespoon chopped parsley for serving
Instructions
Preheat the oven to 400 degrees F.
In a large ovenproof saucepan, heat 1 tablespoon olive oil over medium high heat. Sauté the onions until soft and translucent, about 3-4 minutes. Add the garlic, salt, pepper and red pepper flakes cooking until fragrant, about 30 seconds.
Stir in the farro and cook for 1 minute. Pour in the wine, letting it bubble and be absorbed by the farro.
Add the tomatoes and vegetable broth and bring to a boil. Cover the saucepan with a lid and transfer to the oven.
Bake for 30-35 minutes until the farro is tender. Stir in grated Parmesan and parsley. Top with grated Parmesan before serving.
SHARE THIS