Crispy Roasted Brussels Sprouts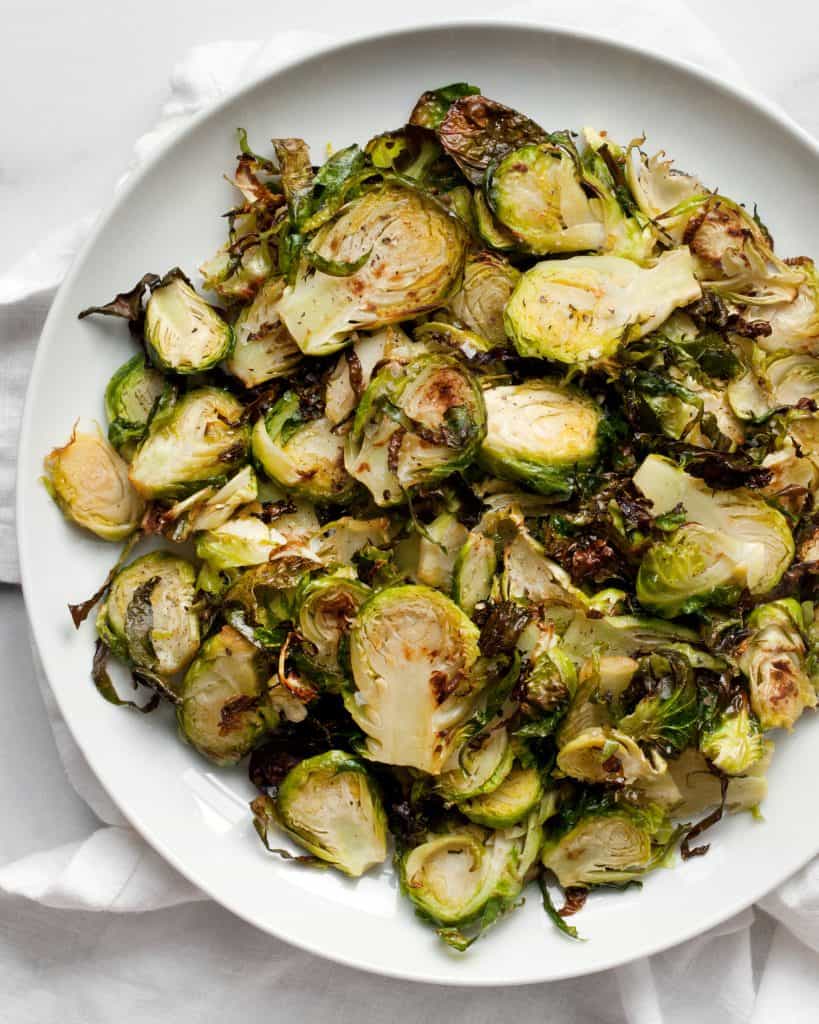 You might consider me more of a newbie when it comes to brussels sprouts.

My childhood didn't involve being forced to stay at the table to finish my sprouts or any other vegetable at dinner.

Looking back I'm pretty confident my 10-year-old self wouldn't believe that I am obsessed with vegetables. Brussels sprouts make it on my top 10 list.

Sprouts are one of my go-to greens for fall and winter salads. I shred them and keep them raw for a salad with pears and kale. They are great for a twist on a Caesar salad, too.

It's only on occasion that I roast brussels sprouts. I make a grain bowl with wheat berries and sweet potatoes.

Roasting brussels sprouts can be tricky, even though it should be a very straightforward side.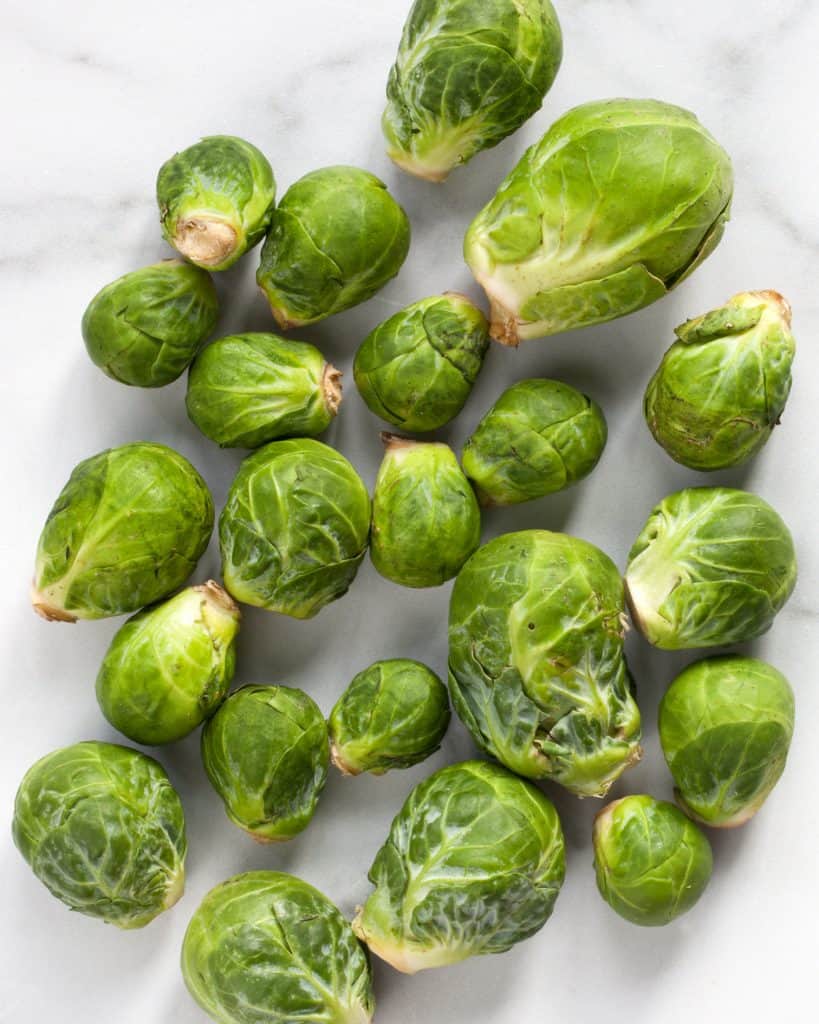 When I buy sprouts at the farmers market, I get to select each one from a big bin.

It's different at the grocery where they are pre-packed in mesh bags. That means you go home with big and little sprouts.
When brussels sprouts are different sizes, cook time varies. You end up with smaller ones that are borderline too dark and larger sprouts that aren't cooked all the way through.
How To Make Crispy Roasted Brussels Sprouts
My solution to this problem is to thinly slice brussels sprouts lengthwise. Then it doesn't matter if they're not all the same size.
I love crispy roasted brussels sprouts with browned edges.
To get them crisping up the moment they start roasting, I put the sheet pans in the oven as it preheats.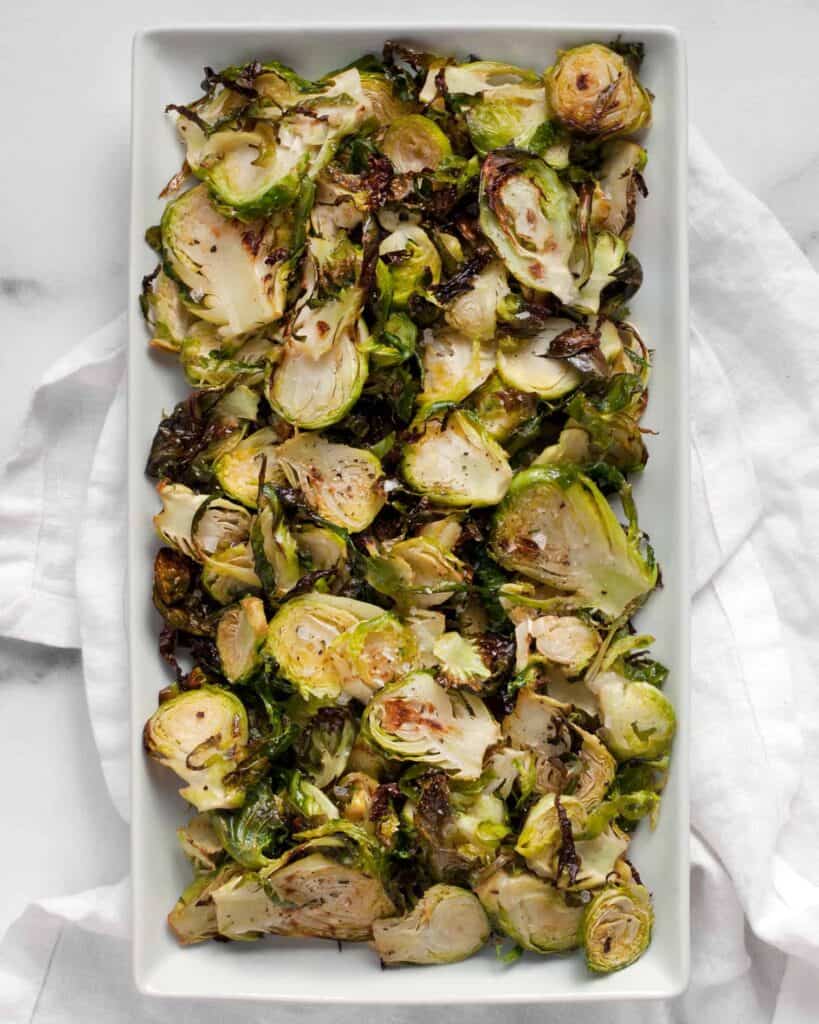 After I toss the sliced sprouts in olive oil, salt and pepper, I carefully spread them over the hot sheet pans.
The moment they make contact with the metal they are sizzling.
It only takes 15-20 minutes for the sprouts to finish roasting. When they are about halfway cooked, I use a spatula to flip them around, so they brown in other spots.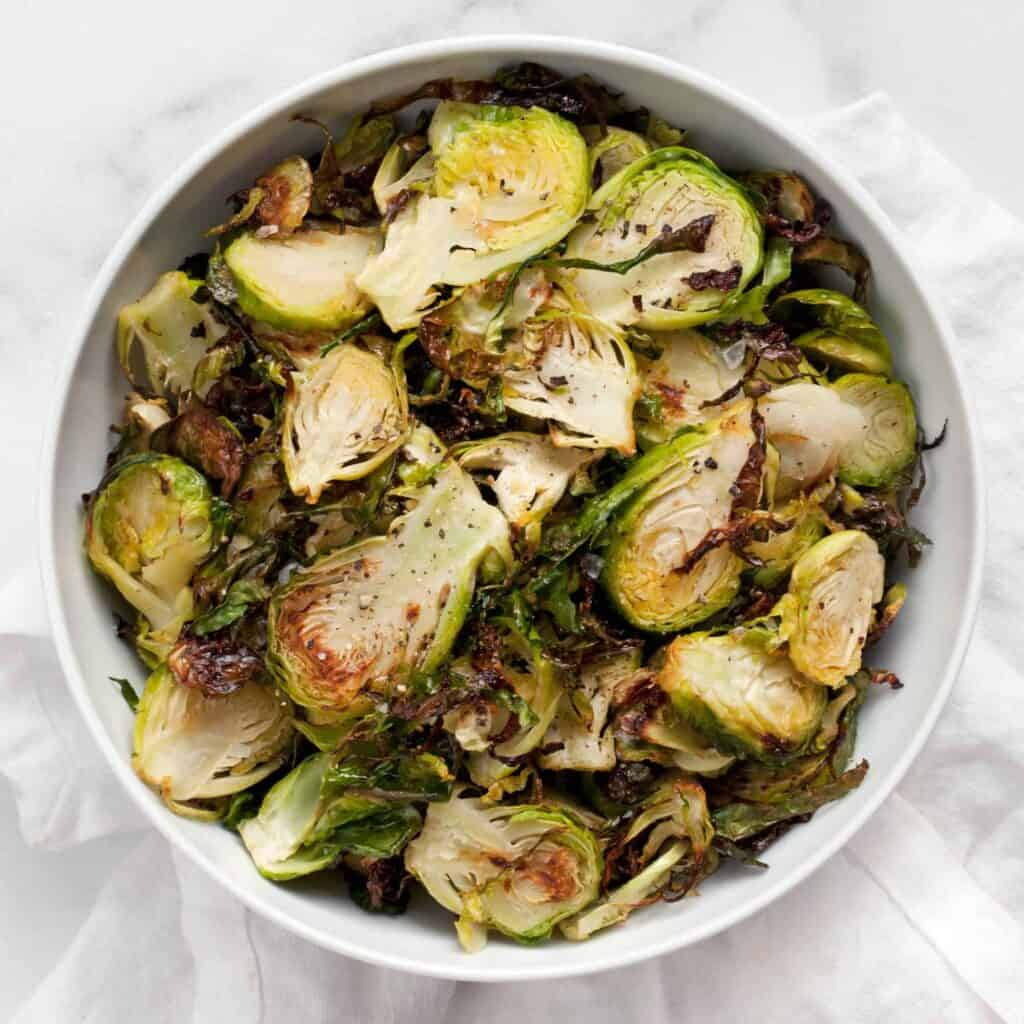 I transfer the brussels sprouts to a bowl and toss them with lots of fresh lemon juice before serving.
Crispy roasted brussels sprouts are best eaten warm. They can't be made in advance, but they don't take long. You could leave them last for your dinner prep.
Print
Crispy Roasted Brussels Sprouts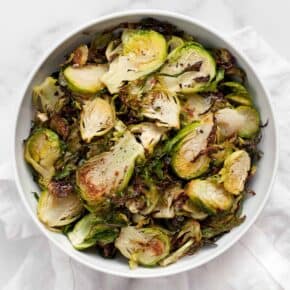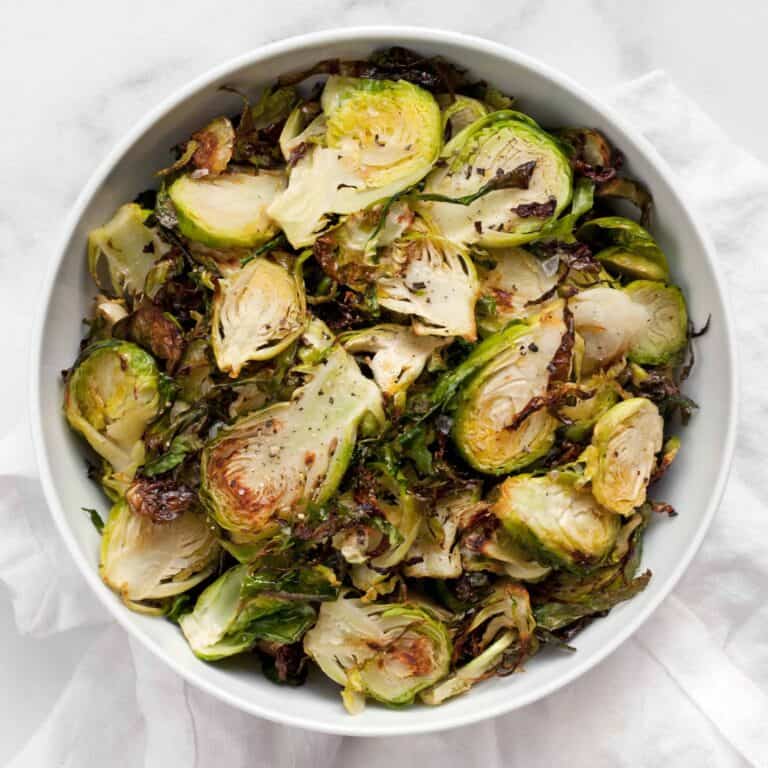 Prep Time:

10 minutes

Cook Time:

15-20 minutes

Total Time:

25-30 minutes

Yield: Serves

4

1

x
Scale
Ingredients
2 pounds brussels sprouts, root end trimmed, if large
1/4 cup olive oil
1 teaspoon kosher salt
1/2 teaspoon black pepper
Juice of 1 lemon
Instructions
Preheat the oven to 400 degrees F with 2 sheet pans on the center racks.
Thinly slice the brussels sprouts lengthwise. Toss with olive oil, salt and pepper in a large bowl. Remove the preheated sheet pans from the oven. Spread the brussels sprouts on them.
Roast for 15-20 minutes until brown and crisp at the edges using a spatula to flip and toss the sprouts about halfway through cooking.
Transfer the brussels sprouts to a bowl and stir in the lemon juice before serving.
SHARE THIS